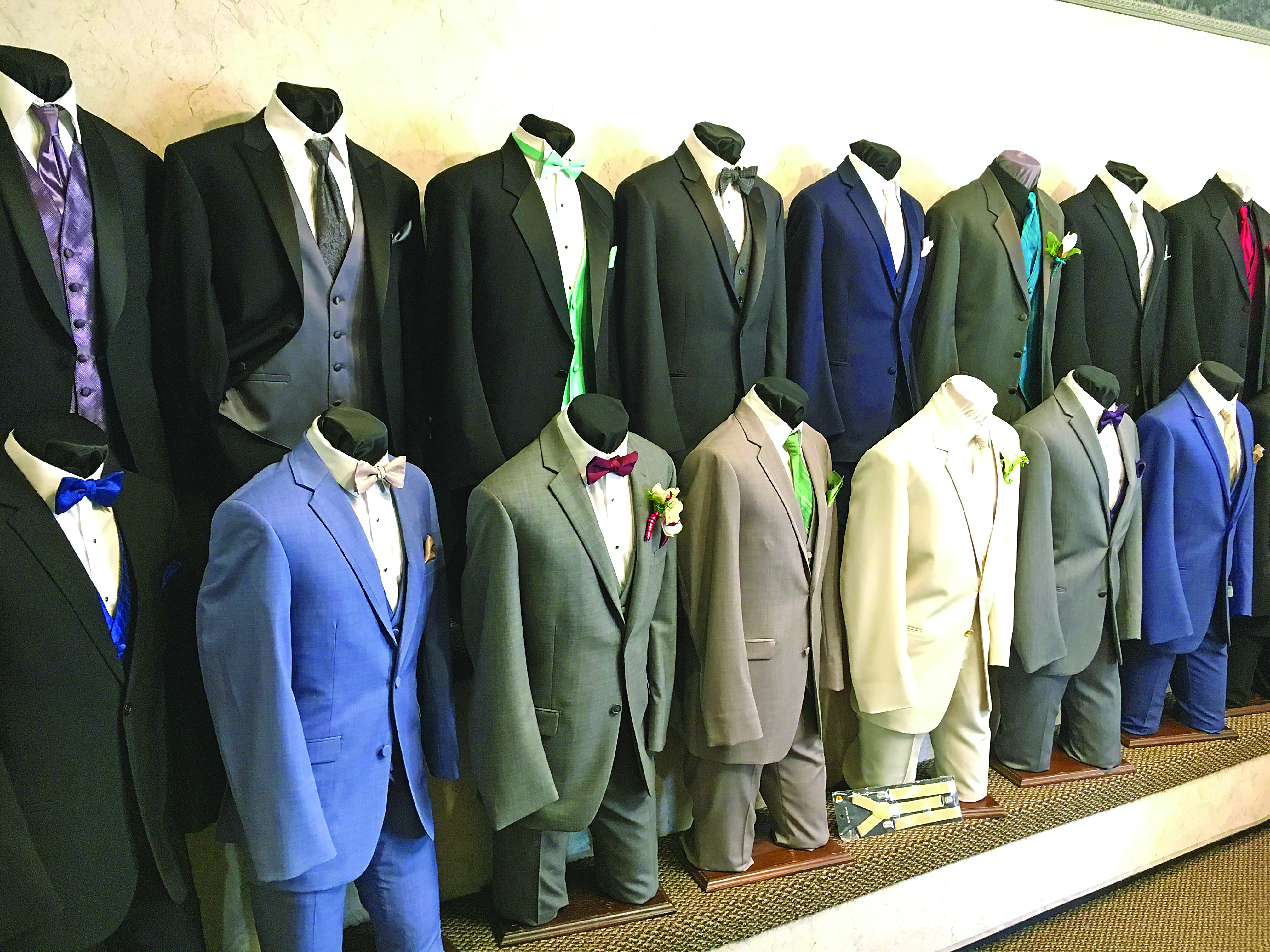 The New Groom
More relaxed weddings mean traditional black tuxes are giving way to color and casual style.
Used to be that the classic black tuxedo was the standard garb for grooms. It was simple and no-frills, while still fancy and formal. It looked good without drawing any attention away from — let's face it, the focus of the whole affair — the bride and her gown.

For most modern grooms, though, the classic black tuxedo is far from the go-to option. On the contrary, today's grooms and their groomsmen are opting for almost anything else: different colors; suits instead of tuxes; outfits that shirk wedding day conventions entirely. The trends have changed.

"Overall, in the past five years or so, we have definitely noticed more guys wanting a more slim-fit or tailored look," said Natalie Lange, proprietor of Natalie's Bridal & Tuxedo in Traverse City. "Color-wise, greys and blues have become increasingly popular. Blue is the trending color for 2019, with anything from navy to cornflower. And a lot of guys are wanting suits rather than tuxedos."

While these styles might account for what is hot men's wedding fashion right now, the truth is that nothing is off the table. According to Maurie Allen, proprietor of the Traverse City men's clothing store Captain's Quarters, the biggest change to come along in men's formalwear in the past 5 to 10 years is the "real diversification" of what grooms are looking for. Part of that shift is fashion-driven, and on that front, Allen's views align with Lange's. He says greys and blues are by far the most popular options for wedding tuxes and suits right now, with tan and khaki also seeing huge surges of popularity for summer beach weddings.

However, Allen also notes that some grooms will still go for classic black, while others might opt for nothing fancier than jeans, a nice dress shirt, and a classy vest. For a casual summer wedding, he's seen many grooms skip the dress shoes in favor of sandals. Captain's Quarters serves customers that run this full gamut — a fact Allen attributes to northern Michigan's rapidly growing status as a wedding destination.

"Captain's Quarters is servicing weddings from all over the country," Allen said. "And it used to be that pretty much everybody we worked with was from within a 50-mile radius."

Often, out-of-town brides and grooms that choose Traverse City, Mackinac Island, or other northern Michigan spots for their wedding destinations prefer a local store like Captain's Quarters for suit or tux rentals, so groom and groomsmen don't have to travel with their formalwear. Allen says that wedding parties from other parts of the country bring different tastes and stylistic preferences to the table, pushing the diversity of what the store needs to offer.

But out-of-town influence isn't the only factor driving more versatile wedding fashions Up North. On the contrary, northern Michigan's elevated status as wedding utopia has also led to the proliferation of wedding venues in the area, which means the region is now servicing more types of weddings than it used to.

For years, the go-to wedding venues in northern Michigan were some mix of churches, hotels, country clubs, and event centers. But Allen has noticed a definite trend toward less formal weddings. Today's hot venues are on beaches, in barns, or at vineyards. There's also been a big spike in the popularity of backyard receptions. These shifts have had a notable affect on the outfits that grooms choose — to the point where Captain's Quarters actually encourages customers to decide on a venue before even thinking about tuxes or suits.

"For some of those venues, having tremendously formal outfits just doesn't fit the bill," Allen said. "If it's a church wedding, it's typically more formal; if it's a barn wedding, it's not. So, I think the first part of the decision is selecting the venue. Once that's decided, we can go from there and offer a lot of suggestions."

Lange agrees. For hot-weather weddings especially, she says grooms can and should skew toward less formal (and less heavy) outfits.

"If you're getting married in the summer, or going for a more relaxed or casual look, lose the jacket," Lange said. "It's totally unnecessary in the heat, or at a backyard ceremony. Opt for dress pants and a dress shirt, with vests and ties that coordinate with the bride and bridesmaids."

All the diversification in venue, vibe, and theme means that brides and grooms have more freedom with men's wedding fashion than ever before. Jacket or no jacket; tie or open collar; dress shoes or sandals; the unified look of a three-piece tuxedo or the relaxed mismatch of a navy sport coat over white pants and a white shirt. There's a ton of room for grooms to make their wedding style their own.

The uptick in variety also means formalwear shops like Natalie's Bridal and Captain's Quarters need to be prepared for a range of preferences. Natalie's Bridal has 25 tux and suit styles in store, plus over 100 others that grooms can order. Captain's Quarters has 45 different tux styles, all in various colors, plus a slew of different suit options. The store can also order from tux rental catalogs like Jim's Formalwear and Milroy's Tuxedos, if grooms want something that isn't already in stock.

Wedding parties shopping at Captain's Quarters can take advantage of other resources, too. For instance, the store has a book on hand that is packed with color samples — for vests, ties, pocket squares ,and other accessories — sourced from local bridal shops, which share details about their popular colors and styles so that Captain's Quarters can plan accordingly and match colors for men. The Downtown Traverse City shop even has an online app that lets grooms build their outfits virtually, drawing from every tuxedo style, tie style, and color the store has to offer.

These resources allow northern Michigan's formalwear stores to serve the increasingly disparate and dynamic needs of grooms and groomsmen. Whether you are looking for a classic black tuxedo, a vibrant blue suit, or a casual outfit that will be comfortable to wear on a beach in the 90-degree July heat, these shops have you covered. And if they don't, they're willing to jump through hoops to help you achieve a certain vision.

"We're seeing more and more adventure every year," Allen said. "Sometimes we just have to cringe and say, 'Oh, I think that's a great idea. Let's make that happen for you.' But we're learning as we go. And truly, I think it's great when we have all those variations of interest in people that come in to consult with us, because then we start thinking of new ideas too. It's good for everybody."
Trending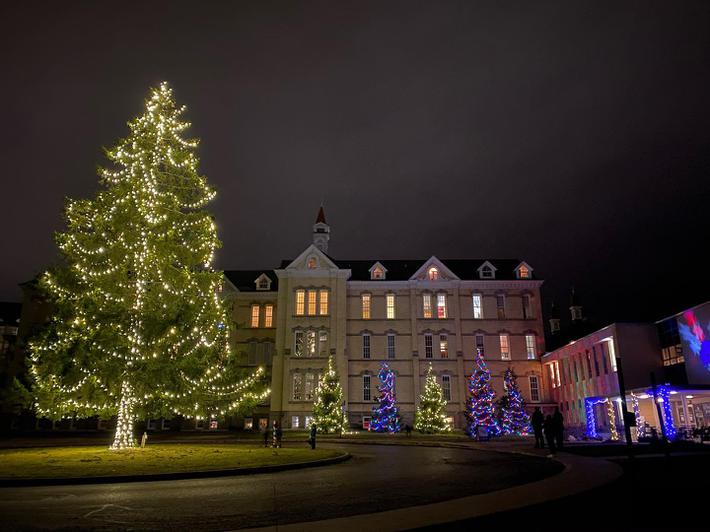 An Uncommon Celebration
The Village at Grand Traverse Commons is a shopping destination all year round, but we especially love a visit during thei...
Read More >>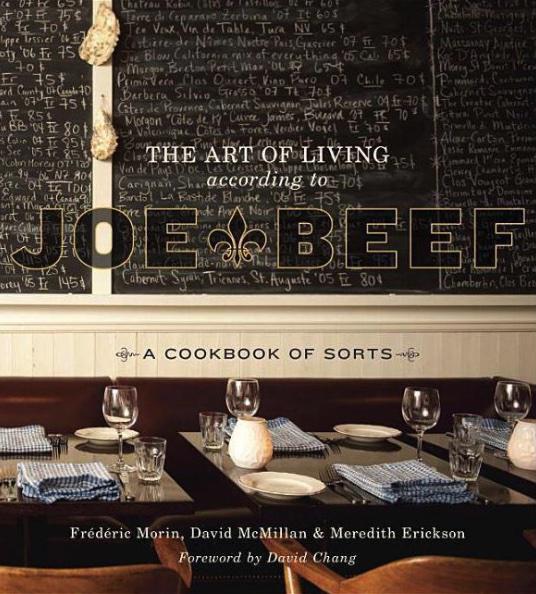 Cookbooks and Canadians
The beloved amical Cookbook Dinner Series is back, and this month the TC restaurant features The Art of Living According t...
Read More >>
Christmas on the Farm
If you'd like your ho-ho-ho to be a bit more e-i-e-i-o, then look no further. First up: Christmas with Alpacas at No...
Read More >>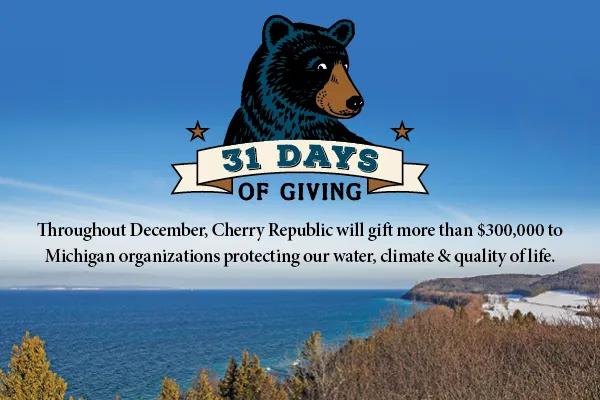 31 Days of Giving
Giving Tuesday, which falls every year on the Tuesday after Thanksgiving, is typically a busy day for northern Michigan, g...
Read More >>