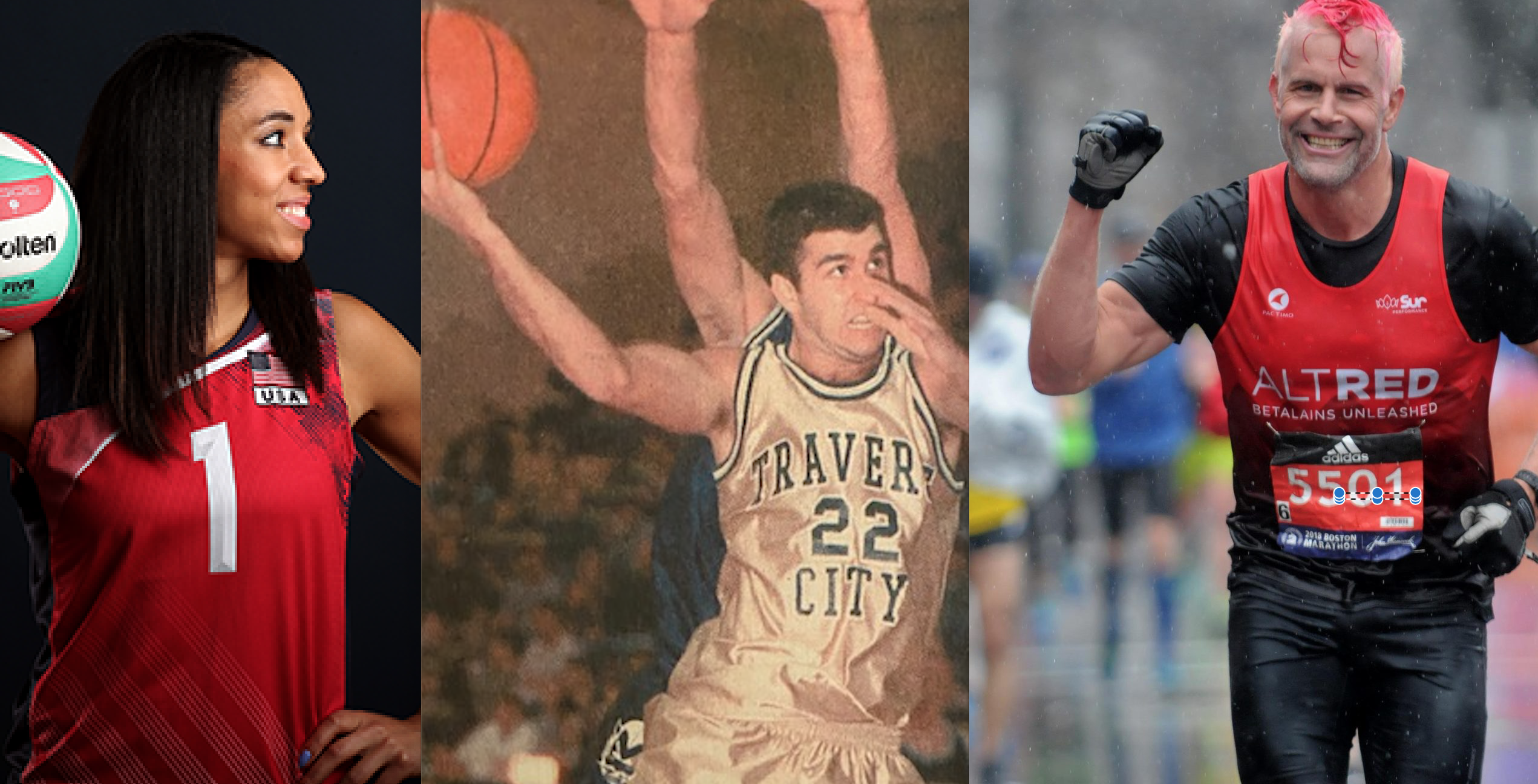 Hall of Fame Athletes: Where Are They Now?
We track down some of the North's greatest jocks.
Some became Olympians, some became doctors. Some were the stars of their college sports teams, others chose to focus on other things. Northern Michigan's former standout high school athletes have taken a multitude of paths over the years. And while the region has had no shortage of resounding athletic success stories, we picked out seven to highlight — and tracked them down to find out what their lives look like today.
ALISHA GLASS
Where she was then: Alisha Glass (now Alisha Glass Childress) made a name for herself as one the greatest high school volleyball players in Michigan history during her time at Leland High School. Coached by her mother (Laurie Glass, still Leland's head volleyball coach), Glass earned first-team all-state honors during each of her four high school seasons, setting both state and national high school records for season aces (296), career aces (937), and career kills (3,584). In 2006, she led Leland to a Class D state championship and earned major individual accolades, such as being named the state of Michigan's "Miss Volleyball" and winning the Michigan Gatorade High School Player title for volleyball.
Where she's been since: After her high school successes, Glass followed a scholarship to Penn State University, where the setter led her team to consecutive NCAA titles in 2007, 2008, and 2009. When all was said and done, Glass's college teams had amassed a 142­–5 win-loss record during her time at Penn State, and Glass herself earned All-American honors three times. Since college, Glass has played for numerous international volleyball clubs (including teams based in Brazil, Poland, Turkey, and Italy), as well as for the United States women's national volleyball team. With Glass on the team, USA earned silver and bronze medals at the FIVB Volleyball Women's World Cup (in 2011 and 2015, respectively), a gold medal at the 2014 FIVB Volleyball Women's World Championship, and a bronze medal at the 2016 Summer Olympics in Rio de Janeiro. Glass also earned Best Setter honors at the 2016 Olympics.
Where she is now: After the Olympic Games, Glass retired from professional volleyball to focus on family, marrying former Stanford University basketball star Josh Childress. The two have two daughters. In January 2019, she took an assistant coaching job with the Stanford women's volleyball program.
TREVOR HUFFMAN
Where he was then: Trevor Huffman played point guard for the Petoskey High School varsity boys basketball team in the late '90s, leading the Northmen to three Class B regional titles and helping the team reach the semifinals of the Michigan High School Athletics Association (MHSAA) state championships on two occasions. Huffman graduated from Petoskey in 1998 and holds the school's record for most assists to this day.
Where he's been since: In March 2002, Huffman was the subject of a Washington Post article titled "The Guard That No One Wanted." The article detailed Huffman's post-high school career, explaining how he nearly played Division II basketball because no Division I colleges had recruited him. He ultimately headed to the D-1 Kent State as a walk-on — winning a scholarship the week before his freshman year started because he so impressed coaches and other players in an unorthodox on-campus "tryout." As a senior in 2002, Huffman ended up leading Kent State to its best season ever, including a 16–2 record and an Elite Eight berth in the NCAA Basketball Tournament. He remains Kent State's all-time leading scorer (with 1,820 points) and his jersey number, 24, was retired by the university a year after the impressive 2002 season.
After graduation, Huffman tried out for two NBA teams and made neither (he describes himself now as a "two-time NBA micro-failure"). Instead, he built a professional playing and coaching career overseas in countries like Germany, Portugal, France, and Belgium.
Where he is now: In 2016, Huffman founded Huffman Basketball, a Northern Michigan "collective of former professional and high-level collegiate basketball players and coaches" that works with youth players to develop their skills, training habits, and discipline. Through the business, Huffman has coached multiple youth basketball camps throughout Northern Michigan, including in Traverse City, Petoskey, and Harbor Springs. Currently, Huffman is offering a virtual basketball club, which provides live Zoom coaching, workouts, and drills for $5 a month. Huffman is also the founder of Swish House, a Chicago-based organization that offers "one-hour, high-intensity" basketball workouts for anyone who wants to get into "peak basketball shape."
PAUL MCMULLEN
Where he was then: Paul McMullen graduated from Cadillac High School in 1990 after bringing considerable glory to the school by way of his track and field exploits. A middle-distance runner, McMullen won the Class B state title in the 1600 meters (usually referred to as the mile) his senior year, running a 4:19.9. The same year, he finished as runner-up in the 800-meter run, in 1:55.9.
Where he's been since: For a time, McMullen was one of America's preeminent distance runners. After high school, he headed to Eastern Michigan University, redshirting his freshman season due to injury but coming out swinging in subsequent seasons to become an eight-time NCAA All-American. In 1995, fresh out of college, he won a championship title at the 1995 USA Outdoor Track & Field Championships, in the 1500m (3:43.90). In 1996, McMullen came back and won the Olympic Trials in the 1500m distance with a 3:43:86 mark. He represented the United States at the 1996 Olympic Games in Atlanta (becoming Cadillac's first Olympian in the process) and made it to the semifinals in the 1500 meters, missing out on the finals despite a time of 3:37.81.
Then, in 1997, disaster struck. McMullen was weeks out from another USA Track & Field Outdoor Championships when he cut off the majority of his right foot's second and third toes in a lawnmowing accident. The fear, of course, was that McMullen would never run again. Instead, he relearned how to run, found (healthy) ways to compensate for his missing toes, and came back strong, passing Steve Holman (then thought to be American's fastest miler) in the homestretch of the 1600m run at the 1998 USA Indoor Track & Field Championships to win the race in 3:55.84. While McMullen missed out on an Olympic opportunity in 2000, he ultimately ran the fastest times of his career in 2001: a 3:33.89 1500m in Monaco, a 3:54.94 mile in London, and a 1:45.71 800m in Germany.
Where he is now: While McMullen's professional running years are behind him, the 48-year-old former Olympian is still a heavily active athlete — though he's now traded the half-mile and mile distances of his past for marathons and ultramarathons. He lives in Grand Haven, works for Siemens as a building infrastructure account executive, and operates a west Michigan youth running club called Chariots of Fire, designed to get boys and girls between the ages of 7 and 12 interested in running.
BAILEY RAY
Where she was then: A 2013 graduate of Traverse City St. Francis High School, Bailey Ray had never played tennis before high school. Then, two weeks ahead of tryouts, inspired by friends who had played tennis for years and were going out for team, Ray picked up a racquet for the first time. Her friends must have been good coaches; not only did Ray manage to make varsity her freshman year but also, just weeks after playing tennis for the first time, she went on to win the first tennis-singles state title in St. Francis school history. In June 2012, on her 18th birthday, Ray won a 6–4, 7–5 match against Erin Moncrief of Pontiac Notre Dame Prep to claim a Division 4 state championship in No. 4 singles. The very next day, she was back in Traverse City, giving a graduation speech as the valedictorian of the St. Francis class of 2012.
Where she's been since: While Ray didn't go on to play tennis at college, she did head to Hillsdale to major in biochemistry. After graduation, she continued on to the Wayne State University School of Medicine, where she earned her medical degree.
Where she is now: Dr. Bailey Ray finished medical school this past spring and is officially a licensed physician. She matched at the Medical College of Wisconsin for her residency, where she's focusing on internal medicine.
KENDALL ROBINSON
Where he was then: The way Traverse City West Senior High Athletic Director Jason Carmien tells the story, Kendall Robinson was arguably the first great athlete in West's history. In 1997, due to overcrowding, Traverse City High School effectively split in two, forming the schools that are now Traverse City Central (the renamed version of the original school) and Traverse City West (the brand-new school). Most of Traverse City High School's upperclassmen — including many of the school's standout athletes — chose to finish out their high school years at Central. That meant opportunities for underclassmen at West — including Robinson, who ended up as a varsity soccer and basketball starter as a freshman. It also meant some tough seasons for West's undeveloped teams: West's soccer team posted a 7–13 record its inaugural season, while the basketball team only won four of its first 21 games.
Carmien says that Robinson was crucial in building the Titans into the athletic force they are today, leading both teams to much more favorable results in later seasons. As a junior, Robinson helped West win its first BNC titles in both soccer and basketball, as well as its first district basketball crown. As an individual, Robinson earned all-state honors in basketball for both his junior and senior seasons, as well as all-state recognition in soccer for his senior year. Robinson still holds three school records for West's basketball program: career points (1,295), single-season scoring average (20.5 points per game), and single-season steals (62).
Where he's been since: While Robinson admits that basketball was his superior sport, he says he didn't get many calls from Division 1 coaches to play ball at the college level. While he could have played D-2 basketball, he said he wanted to go to a big college and ultimately took an offer to play D-1 soccer at Western Michigan University. After a couple seasons, though, Robinson said he was ready to hang up his cleats and put his focus elsewhere.
"Eventually you figure that you're not going to that next level," Robinson told Express. I think I just made the decision that I'd rather enjoy college and kind of broke ties with a sport that I'd been playing since preschool."
Robinson graduated from Western in 2005 with a bachelor's degree in sales and marketing from the university's Haworth of College of Business. Then it was off to the big city: Chicago, for a job as a mortgage broker. He rode out the subprime mortgage crisis on a mix of good luck and hard work, eventually finding his way to a job with Wells Fargo in 2013, where he was named newcomer of the year.
Where he is now: Robinson still works as a home mortgage consultant for Wells Fargo, though he has since transferred from Chicago to Charleston, South Carolina, where he and his wife, Shannon, are raising their three kids.
LIZ SHIMEK
Where she was then: Liz Shimek (now Moeggenberg) graduated from Maple City-Glen Lake in 2002 with a mighty impressive resume under her belt. Not only did the basketball star win Michigan's Miss Basketball title for her senior season, but she also went all-state in basketball, volleyball, and track, as Glen Lake's team captain in all three. In her senior year of basketball, she managed 24 points and 15 rebounds per game en route to a 24–2 team record. She still holds the Michigan high school record for most rebounds total (1,533) and most rebounds in a season (417), which she set in 1999 and then tied in 2000. On top of everything else, Shimek found time to excel in her classes: She was Maple City-Glen Lake's co-valedictorian in 2002.
Where she's been since: Armed with a full-ride athletic scholarship, Shimek headed to Michigan State University (MSU) in the fall of 2002. Over the course of 131 games for the Spartans (all of them starts), Shimek put her name in the record books as MSU's all-time leading scorer (1,780 points) and all-time leading rebounder (1,130 rebounds). She was the first Spartan — and one of just five players in Big Ten women's basketball history — to finish her college career with at least 1,700 points and 1,100 rebounds.

Her last two seasons were particularly miraculous. As a junior, Shimek broke MSU's single-season record for rebounds (335) and tied the single-season scoring mark (546); as a senior, she averaged 17.6 points per game, shattered her own single-season scoring record (597), and added a single-season record for most field goals (249). Again, she still found time for her studies, earning a bachelor's degree in business administration.
Following her collegiate career, Shimek was selected 18th overall in the WNBA draft by the Phoenix Mercury, though she was quickly traded to Houston Comets and then to the Chicago Sky. She played in Chicago for two seasons before heading overseas for stints with two French basketball clubs: ASPTT Arras and Tarbes Gespe Bigorre. She retired from professional basketball in 2009.
Where she is now: Shimek married fellow MSU grad Lucas Moeggenberg in October 2006. Eventually, the couple found their way back to northern Michigan, joining Liz's parents (Tom and Linda Shimek, Leelanau farmers known for their sweet corn) and her brother TJ (a realtor with Serbin Real Estate) in her hometown. Shimek also made a grand return to her high school alma mater in 2012, taking up coaching responsibilities for Glen Lake's JV girls basketball team and also becoming the head volleyball coach. But her primary role right now is mother: she and Lucas have four kids, the youngest of which was born last year.
WILL WEBER
Where he was then: A 2007 Gaylord High School graduate, Will Weber was a four-year varsity hockey player. A defenseman, he remains the most decorated player in Gaylord hockey history. He played in a total of 107 varsity games at Gaylord (a school record), helped the team to a 2004 state championship game (and a runner-up finish), and went on to captain the team (and score 38 points) during his senior season. In 2007, Weber committed to play as part of the hockey program at Miami University of Ohio, landed on the shortlist for Michigan's Mr. Hockey award, and was drafted in the second round of the NHL draft (53rd overall) by the Columbus Blue Jackets.
Where he's been since: Despite being drafted by an NHL team, Weber went ahead with his plans to go to Miami of Ohio, graduating in 2012 with a degree in supply chain management. During his college career, Weber and his team made it to the Frozen Four twice (the name given to the semifinals and finals of the NCAA Division I Men's Ice Hockey Tournament) and played in the 2009 NCAA National Championship once (in 2009, ultimately losing 3-4 in overtime to Boston College). For the 2009-10 season, Weber was named Best Defensive Defensemen, an annual conference-wide award given out in the Central Collegiate Hockey Association (CCHA).
After graduating, Weber signed his first professional contract with the Columbus Blue Jackets organization. He played three seasons in the American Hockey League (AHL, the primary developmental league for the NHL), competing as part of the Jackets' AMA affiliate, the Springfield Falcons. After additional contracts with the San Antonio Rampage (another AHL team) and the Fort Wayne Komets (part of the ECHL), Weber began playing professional hockey in Germany.
Where he is now: Since 2018, Weber has been signed with the Fischtown Pinguins, a team based in Bremerhaven, Germany that competes in the Deutsche Eishockey Liga (DEL, Germany's top-tier professional hockey league). He and his wife, Gibson, who Weber met while attending Miami University, have a son who turns one in November. Following a sixth-place finish for the Pinguins in the DEL last season, Weber says he is hoping to return to Germany soon for what would be his ninth professional hockey season.
Trending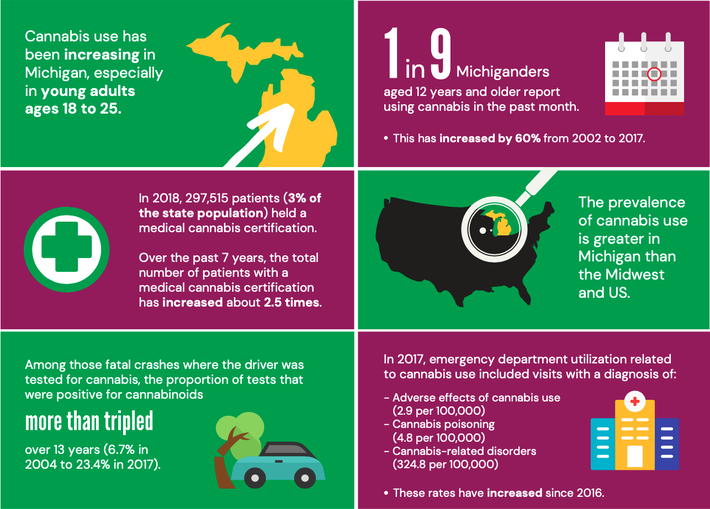 Buzzkill
In 2008, Michigan voters approved the use of medical cannabis by residents with certain health conditions. A decade later,...
Read More >>
The DIY Lobotomy
"Did you read the review in The New Yorker of the new Philip Roth biography?" I asked my well-read conservativ...
Read More >>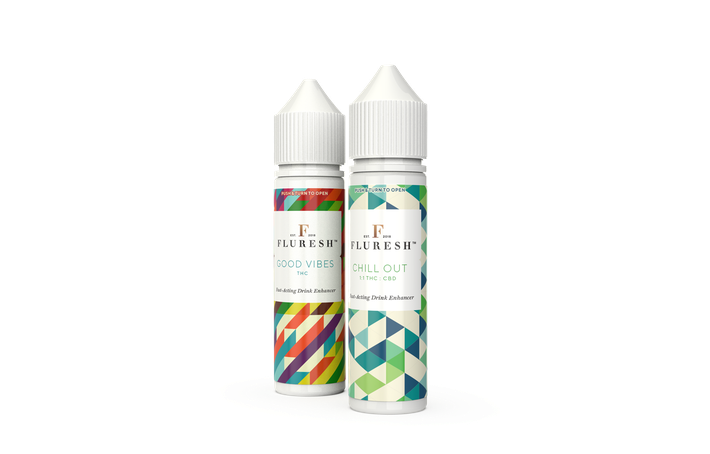 Eat, Drink, Rub: THC Products Review
Progress, thy name is marijuana. Despite what for any other industry would be major stumbling blocks — major disrup...
Read More >>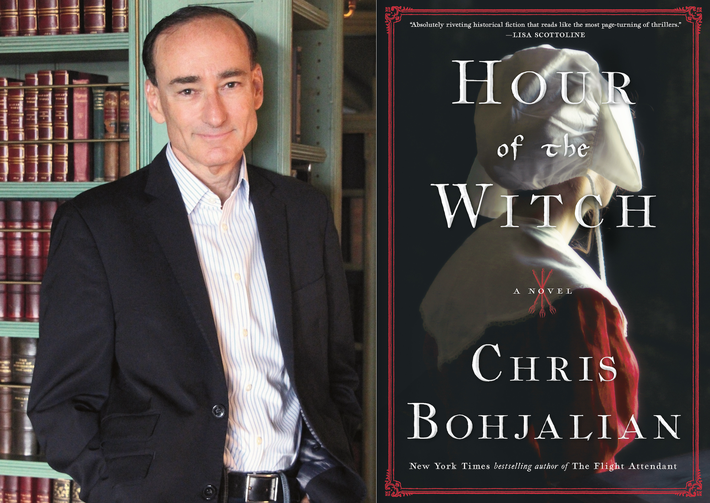 Sneak Peek: Chris Bohjalian to Talk with Locals Before Next Novel Drops
Award-winning author Chris Bohjalian is one of those people who was born to write. A schoolroom hobby-turned-carefully-hon...
Read More >>
↑