The Retro-now Sound of Postmodern Jukebox Coming to Traverse City
City Opera House to host viral phenomenon
Trends are said to always happen in cycles, with everything old becoming new again. Few manage to capitalize on that phenomenon better than the music collective Postmodern Jukebox — aka PMJ — an ever-rotating group of performers that recasts hit songs of recent decades as throwback tunes that sound straight out of the '40s, '50s, and the turn of the 20th century.

SOLO GROWTH
Robyn Adele Anderson is one of PMJ's featured singers, and is currently on tour with the band, which is helmed by Scott Bradlee. Anderson has been with PMJ since it morphed from a Bradlee solo project into an ensemble — a shift that made the group a viral phenomenon.
"Scott originally started Postmodern Jukebox by himself," Anderson said.

"He'd been recording solo piano covers and putting them on his YouTube channel, and started kind of casually bringing in friends to perform with him, mostly quirky ragtime covers of hip-hop songs. A lot of them didn't even have singers at first."

THRIFTY TUNE
The pair became friends in 2011, and in 2013, Bradlee asked Anderson to sing in one of his videos.

"We'd done some karaoke together, so he said, 'Yeah, let's try this.'"

They decided to record a ragtime version of Macklemore and Ryan Lewis' hit single "Thrift Shop," with minimal expectation.

"I had to learn the lyrics and give it more of a melody, so it was less rap and more of a tune," Anderson said. "We recorded it, he put it on YouTube, and we thought, this will be fun, we'll get maybe a few thousand views. We woke up the next morning, and it had gone viral."

CAN'T STOP
The Postmodern Jukebox version of "Thrift Shop" snagged over 1 million views in its first week and 4 million in a year.

"It was then that we thought, well, I guess we've hit on the right formula of song choice, performance, and styling," Anderson said. "After that, we covered Miley Cyrus' 'We Can't Stop' right after she was on the MTV Video Music Awards, and Scott's fan base started growing really quickly."

Their second cover single got them plenty of attention, loads of industry buzz, and a coveted performance spot on ABC TV's Good Morning America — and it was all uphill from there.

VINTAGE FILTER
Bradlee worked to rapidly expand what PMJ was doing; at first, they'd just recorded the tracks in his living room in Queens, New York.
But he soon started putting together more elaborate ensembles and sets, covering pop and rock songs by everyone from Beyonce to Lady Gaga, The Backstreet Boys to Queen, Vanilla Ice to Metallica — always with a throwback sound.

Often, she added, Bradlee will test out a song through several different genres before settling on one, but it's always with the aim of funneling a tune's original genre through PMJ's vintage filter.

ECLECTIC SUCCESS
To say the formula is working is an understatement; PMJ has now collected nearly 800 million YouTube views and 3 million subscribers and has featured 70 different guest performers.

Touring is a big part of the PMJ machine now, too; it has hit four different continents, and on this current tour, it's bringing along a rotating roster of guest vocalists, plus an eclectic mix of their revamped cover songs, both old and new.

"Everyone takes turns singing each other's songs, too, so you'll pretty much always hear something familiar," Anderson said.
Scott Bradlee's Postmodern Jukebox will be in concert at the City Opera House in Traverse City on Sunday, Oct. 29 at 7pm. For tickets and more information, visit cityoperahouse.org or call (231) 941-8082.
Trending
Very Busy Very Fast
This isn't going to be easy. President Joe Biden and his thin congressional majority are walking into troubled times both ...
Read More >>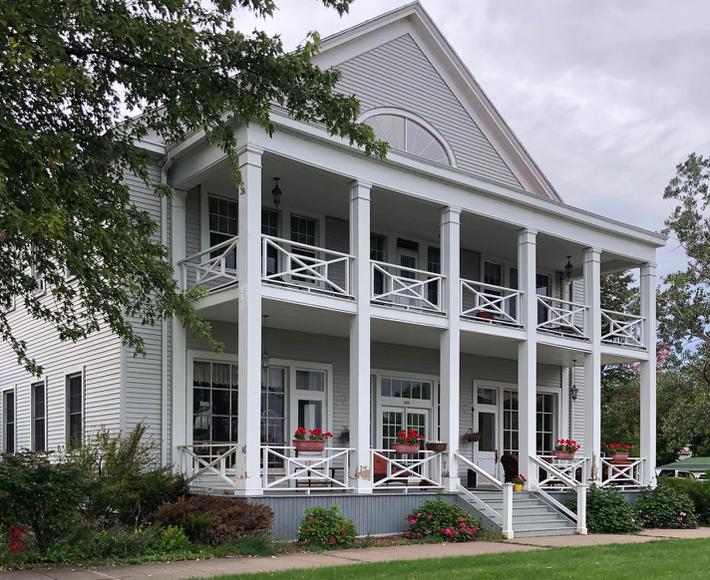 Thunder Bay Inn
Former playground to Henry Ford and part of a famous film and novel based on a real-life murder in the town, the courtroom...
Read More >>
Forty Acres' Spa Day Martini
Myriad methods of cocktail creation are on display at bars around the world. There are flaming drinks, compotes laden with...
Read More >>
He's Gone, Now What?
Wounded and fearful, America watched the 45th President leave the nation's capital. On a hastily arranged stage at a...
Read More >>
↑