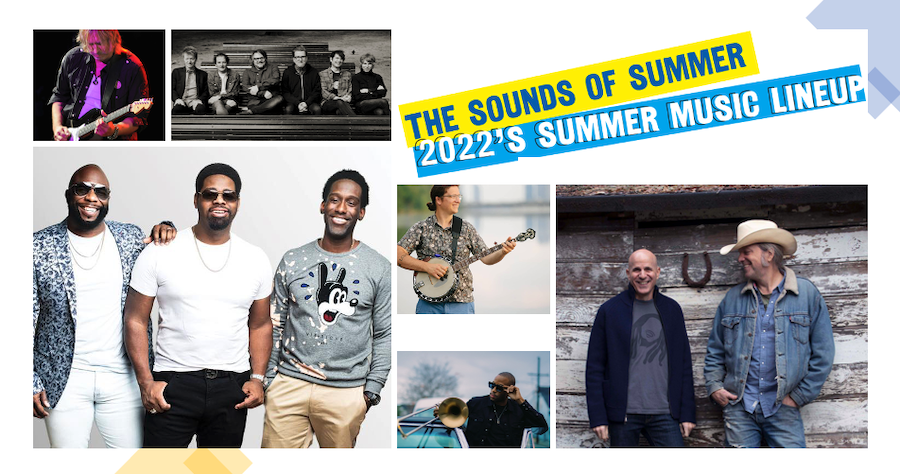 The Sounds of Summer
2022's Summer Music Lineup
From ageless rock stars to Americana troubadours, classical masters to blistering Blues shouters, summer 2022 has it all. And it's right here in your backyard.
Between headliner shows, don't forget all the performances that will take place at various wineries, brewpubs, restaurants, and other similar venues across the region, such as Jeff Christian and Danni Smith at Stormcloud Brewing July 14. The two Lakeside Shakespeare veterans will be performing music inspired by Shakespeare outside the Parkview Taproom in lieu of theater performances by the troupe this year, as road construction has closed the only route to its venue on Tank Hill.
That's just a sampling of what will be on hand at area watering holes, many of which will host live music. As for more formal settings—at least as formal as northern Michigan gets in the summer—read on. For ticket information or additional details, visit the appropriate venue websites.
Paul Nelson (Encore 201, Traverse City: June 10 | Alpena Blues Festival: June 11 | Rotary Performing Arts Pavilion, Cadillac: Aug. 18)
How do you describe Paul Nelson? Blues legend Johnny Winter's producer and music director. Studio veteran. Singer and songwriter. Nelson has done it all, and for the last several years (since Winter's passing in 2014) has concentrated on his solo career. His album Badass Generation was a blues rock tour de force, which maybe should have been expected from someone who's played alongside icons like Buddy Guy, Slash, Billy Gibbons, Paul McCartney, Bootsy Collins, and countless others. You want awards? Nelson has a few: a Grammy for his work on Winter's Step Back, a BMA Blues Music Award for "Best Blues/Rock Album," and the Blues Foundation's "Keeping The Blues Alive Award." Find him at several spots across northern Michigan or at paulnelsonguitar.com.
Eric Engblade (The Cabbage Shed, Elberta: June 25)
The Grand Rapids resident grew up in Ludington and has performed at venues across the region over the years, from Union Street Station to City Park Grill. He calls his music "folk-rock with teeth," and cites as his influences everyone from Paul Simon and Brian Wilson to Nick Drake. "I'm glad we're coming back, and I'm excited to bring up some new material," Engblade said. That includes "The Golden Link," a song celebrating the S.S. Badger, the ferry which plies Lake Michigan between Ludington and Manitowock, Wisconsin. He released the song last month as part of the ferry's 70th year celebration. Both his grandfathers worked for or on the boat, while Engblade himself worked there part of a summer after high school. See where you can sing along this summer by visiting ericengblade.com.
Boyz II Men (National Cherry Festival, Traverse City: July 9)
The vocal harmonies of the members of the chart-topping Boyz II Men have continued to populate the airwaves since Cooleyhighharmony in 1995. The group formed while still attending high school in Philadelphia, and 25 years on, the group ranks among the elite, with 50 cumulative weeks at No. 1 on the Billboard chart. That places them behind only Drake, Rihanna, Elvis Presley, the Beatles, and Mariah Carey (with whom they shared vocals and chart time on the song "One Sweet Day"). In June 2017, a section of Broad Street in Philadelphia near their alma mater, the High School for the Creative and Performing Arts, was renamed "Boyz II Men Boulevard." They remain among the biggest names in a cappella and R&B, their unique approach harmonizing in a classic soul/r&b style over hip hop tracks leading the way for numerous others in the boy-band scene.
Mulebone (Various locations: July)
Mulebone, the popular blues duo of John Ragusa and Hugh Pool, will be returning to northern Michigan for a series of shows this summer. The duo has recorded five albums, won accolades as "Blues Artist of the Year" from radio stations across the country, and, most importantly, thrilled audiences from coast to coast. Their versatility is their hallmark. Ragusa plays conch shell, Jew's harp, cornet, all manner of flutes, tin whistle, and chimes in on harmony vocals. Pool plays guitars, harmonica, boot board, and sings. Their music is blues-based, but runs from slide guitar boogies to country blues of all shapes and sizes, touching on Howlin' Wolf-style earthy urban blues, the folky, gospel-styled music of Reverend Gary Davis, and points in between. Mulebone will play across the state in July in Suttons Bay, Cross Village, Petoskey, and Elk Rapids, among other stops. Check the band's website for dates: mulebonemusic.com.
Wilco (Interlochen Center for the Arts: August 17)
Combining the attitude of alternative music with a pop sheen, avant garde rock, and jazzy interludes, Wilco grew out of the alternative country band Uncle Tupelo. In the nearly three decades since it formed, Wilco has cited influences ranging from new wave favorites Television to British folk royalty Fairport Convention. Rolling Stone described Wilco as "one of America's most consistently interesting bands." Its dozen-plus recordings have sold over 2 million units, proof of the band's enduring appeal. Cruel Country, the band's latest entry, takes it back to its roots in alternative country. Frontman Jeff Tweedy gets most of the accolades, but eclectic, jazzy guitarist Nels Cline—who leads the Nels Cline Singers, which has no vocalists—is the band's not-so-secret weapon.
Trombone Shorty (Great Lakes Center for the Arts, Bay Harbor: September 4)
Multi-instrumentalist Troy Andrews, aka Trombone Shorty, hails from New Orleans, and his music is a spicy gumbo of R&B, rock, funk, jazz, and all the other styles that give the Crescent City its reputation. Equally at home on trombone and trumpet, he also plays drums, organ, and tuba. His band Orleans Avenue includes guitars, more horns, and a rhythm section, all of which join in the festivities. Andrews got his start and his nickname when he made his first onstage appearance at age four performing with Bo Diddley. Within two years, he was leading his own brass band, and as a teen joined Lenny Kravitz. He's since played with the likes of Jeff Beck, the Red Hot Chili Peppers, Pharrell, Bruno Mars, and even Ringo Starr.
National Cherry Festival
July 2 – Sheryl Crow
July 3 – Dwight Yoakam
July 4 – Tesla
July 5 – Nelly
July 8 – ZZ Top
July 9 – Boys II Men
Interlochen Center for the Arts
June 20 – Bruce Hornsby & the Noisemakers
June 21 – Trey Anastasio
June 25 – Darius Rucker
July 2 – Jeremy Camp
July 6 – The King's Singers
July 20 – Buddy Guy and John Hiatt
July 22 – Detroit Symphony Orchestra
July 23 – Bonnie Raitt
July 27 – Brothers Osborne
Aug. 11 – Fitz and the Tantrums with Andy Grammer
Aug. 12 – Ziggy Marley
Aug. 13 – Boz Scaggs w/Robert Cray Band
Aug. 17 – Wilco
Aug. 19 – Chris Young
Aug. 20 – Joshua Davis
Aug. 26 – The Fab Four
Great Lakes Center for the Arts
June 11-12 – Lifted Up In Song, Northern Michigan Chorale
June 24 – Marty Stuart
July 9 – 5th Anniversary Gala with John Fogerty
July 16 – Lyle Lovett
July 23 – Pilobolus
July 27 – Justin Willman
July 30 – Lt. Colonel Dan Rooney
Aug. 10 – Joshua Bell and Peter Dugan
Aug. 17 – Collision of Rhythm
Aug. 21 – The Doo Wop Project
Aug. 27 – Chris Botti
Sept. 4 – Trombone Shorty and Orleans Avenue
Baroque on Beaver, Beaver Island: July 27-Aug. 6. Numerous performances across the island, including the Lincoln Trio with Martha Guth, piano soloist Nathan Lee July 30, Brass on the Grass Aug. 1, and performances by the Festival Orchestra and Chorus.
Beaver Island Music Festival: July 14-16. Artists include the Accidentals, the Bootstrap Boys, Soul Patch, Erin Zindle and the Ragbirds and more.
Music on Bear Lake: June 25, July 23, Aug. 27 – Artists TBA
Concerts in downtown Beulah
June 30 – Soul Patch
July 7 – The Accidentals
July 14 – bAREFOOT
July 21 – Bill Freary & The Frequency
July 28 – Bill Hicks Blues Band
Aug. 4 – Jazz North
Aug. 11 – Dig A Pony
Boyne City
June 15 – Full Moon Jam Band
June 22 – Nelson Olstrom
June 29 – James Michael Duo
July 6 – The Third Degree
July 13 – Wyatt & Shari Knapp
July 20 – The Hazel James Band
July 27 – Bill McAllister
Aug. 10 – On Tap
Aug. 17 – Matt Gabriel
Aug. 24 – The Real Ingredients
Aug. 31 – Full Moon Jam Band
Lavender Hill Farm, Boyne City
June 25 – Ty Parkin & Nashville Nights
July 8 – Funky Butt Brass Band
July 9 – Dancing Dream
July 22 & 23 – The Accidentals
Aug. 6 – Steel City Rovers
Aug. 13 – The Insiders
Sept. 3 – Mark Lavengood Band
Sept. 4 – Horton Creek Bluegrass
Spirit of the Woods, Brethren: June 18. Performers include Seth Bernard and Jordan Hamilton, Gavin Mendonca, Stringtown Trio.
Depot Music Festival, Cadillac: July 30. Performers include Late March, Adam Joynt, Chris Winkelman and Son, Dre, and Tyler Roy.
Coyote Crossing Resort, Cadillac
June 4 – Luke Winslow-King
June 11 – Ward Davis
June 18 – Drew Hale Band
June 25 – Myron Elkins & the Dying Breed
July 9 – Roosevelt Diggs
July 16 – Josh Meloy
July 23 – Joe Stamm Band
July 30 – Steppin' in It
Aug. 6 – Michigan Rattlers
Aug. 13 – Drew Hale Band
Aug. 27 – Sam Morrow
Sept. 3 – The Insiders
UpBeat Cadillac
June 23 – Jack Pine Savages
June 30 – Ted Alan and the Under-Privileged
July 7 – Double Trouble
July 14 – James Armstrong
July 21 – Greg Nagy's Men of Leisure
July 28 – Bobby Murray's Detroit All-Stars
Aug. 3 – Planet D Nonet
Aug. 11 – Robert Pace's Nature's Brew
Aug. 18 – Paul Nelson Band
Aug. 25 – Eat It Up Trio
Sept. 1 – Duffy King Koalition
Cedar Polkafest: Aug. 25-27. Artists include Mollie B. & Ted Lange with Squeezebox, Bavarski-Polkas NYC, Duane Malinowski, and Dynabrass.
Charlevoix Live on the Lake: Thursdays at East Park Odmark Performance Pavilion, artists TBA.
Jammin' on Betsie Bay, Waterfront Park, Elberta
June 20 – Jack Pine Savages
June 27 – Ted Alan and the Under-Privileged
July 4 – Double Trouble
July 11 – James Armstrong
July 18 – Greg Nagy's Men of Leisure
July 25 – Bobby Murray's Detroit All-Stars
Aug. 1 – Planet D Nonet
Aug. 8 – Robert Pace's Nature's Brew
Aug. 15 – Paul Nelson Band
Aug. 22 – Eat It Up Trio
Aug. 29 – Duffy King Koalition
Elk Rapids Evening on River Street
June 29 – Dags und Timmah!
July 6 – Brotha James
July 13 – Nick Vasquez
July 20 – Delilah DeWylde
July 27 – Drew Hale
Aug. 3 – Sweetwater Blues Band (kickoff for Harbor Days)
Aug. 10 – Plumville Project
Elk Rapids at the Harbor
June 26 – Eric Engblade
July 2 – 1000 Watt Prophets
July 3 – Birds of Prey
July 16 – The Gasoline Gypsies
Aug. 5 – Aaron Benjamin
Aug. 20 – Nathan Walton
LivelyLands, Backyard Burdickville campground, Empire: Aug. 19-21, performers TBA.
Big Fam Music and Arts, Farwell: Sept. 2-5. Artists include Twiddle, Truth, The Widdler, many others.
Garden Theater, Frankfort
June 15 – Joshua Davis
July 1 – Whiskey Wolves of the West
July 27 – May Erlewine
Aug. 15 – Nicki Bluhm w/special guests Jesse Noah Wilson, Zach Schmidt, and Jackie Berkley
Grow Benzie, Frankfort: June 10 – Sally Rogers and Claudia Schmidt.
Big Ticket Festival, Gaylord: July 7-9. Various Christian artists, including We The Kingdom, For King & Country, Phil Wickham, Reach City Worship, many others.
Manitou Music Festival, Glen Arbor
June 1-23 – Sound Garden Quintet, various locations
June 30 – Quintango
July 30 – Traverse City Dance Project
Aug. 27 – Drummunity
Blissfest, Harbor Springs: July 8-10. The roots/rock festival returns with headliners Shawn Colvin and Leftover Salmon, joined by Laith Al-Saadi, The Accidentals, May Erlewine, and others.
Farmfest, Johannesburg: Aug. 12-14. Artists include Bluewater Ramblers, Kirby, Eric Engblade, Oh Brother Big Sister, many more.
Dunesville Music Festival, Lake Ann: June 22-24, Harmony Pines/the Harm Farm. Performers will include Blue Water Ramblers, Galactic Sherpas, Brotha James and the Gazing North Band and others.
LACA Summer Concert Series, Waterfront Park, Ludington
June 22 – Jack Pine Savages
June 29 – Ted Alan and the Under-Privileged
July 6 – Double Trouble
July 13 – James Armstrong
July 20 – Greg Nagy's Men of Leisure
July 27 – Bobby Murray's Detroit All-Stars
Aug. 3 – Planet D Nonet
Aug. 10 – Robert Pace's Nature's Brew
Aug. 17 – Paul Nelson Band
Aug. 24 – Eat It Up Trio
Aug. 31 – Duffy King Koalition
Little River Casino, Manistee
June 4 – Martina McBride
July 9 – Gabriel "Fluffy" Iglesias
Aug. 5 – Happy Together
Aug. 13 – The Beach Boys
Manistee Shoreline ShowCase, First Street Beach
June 21 – Jack Pine Savages
June 28 – Ted Alan and the Under-Privileged
July 5 – Double Trouble
July 12 – James Armstrong
July 19 – Greg Nagy's Men of Leisure
July 26 – Bobby Murray's Detroit All-Stars
Aug. 2 – Planet D Nonet
Aug. 9 – Robert Pace's Nature's Brew
Aug. 16 – Paul Nelson Band
Aug. 23 – Eat It Up Trio
Aug. 30 – Duffy King Koalition
Ramsdell Regional Center for the Arts, Manistee: Brass Transit, Chicago tribute band, Aug. 19.
Manistee Roots on the River: Thursdays June 3-Aug. 27, performers TBA.
Northern Exposure Campground, Mesick
June 4 – Drew Hale
June 18 – Skarcasm
Northport in the Park
June 24 – Soul Patch
July 1 – New Third Coast
July 8 – Igor & the Red Elvises
July 15 – 1000 Watt Prophets
July 22 – Mulebone
July 29 – Reverend Raven & the Chain
Smoking – Altar Boys
August 5 – Dune Brothers
August 12 – Thunderwude
August 19 – Looking Forward
August 26 – TBA
September 2 Ron Getz/Don Julin Quartet
Northport Performing Arts Center: June 19 – Peter Bergin and Bob Milne ragtime show
Portage Lake Onekama Village Park
Mondays June 27-Aug. 15 TBA
July 27 – Cousin Curtiss
Odawa Casino, Petoskey
June 17 – Firehouse
July 31 – The Guess Who
Aug. 27 – Michael King is Michael Jackson
Sept. 16 – Cher Tribute
Bay View Music Festival, Petoksey: The community north of Petoskey offers numerous free performances by staff and visiting artists, including chamber music, opera, musical theater and pops shows.
Grand Traverse Pavilions, Traverse City: Summer concert series Thursday nights, performers TBA.
Hoxeyville, Wellston: Aug. 19-21 – Trampled By Turtles, Railroad Earth, The Infamous Stringdusters, Yonder Mountain String Band, many others.
Trending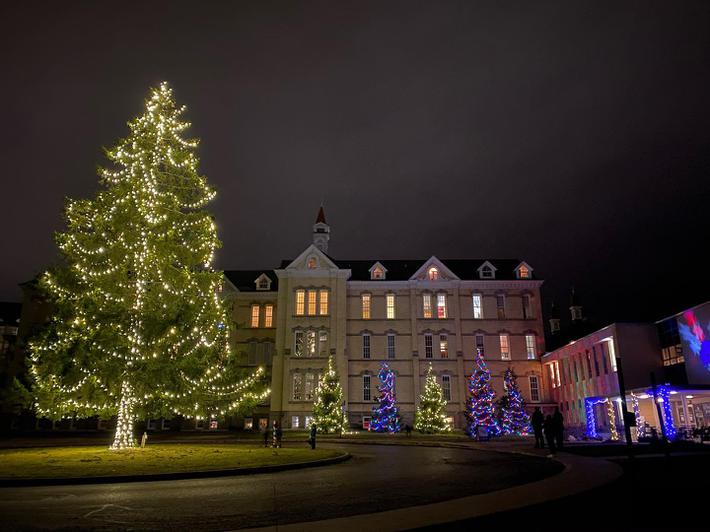 An Uncommon Celebration
The Village at Grand Traverse Commons is a shopping destination all year round, but we especially love a visit during thei...
Read More >>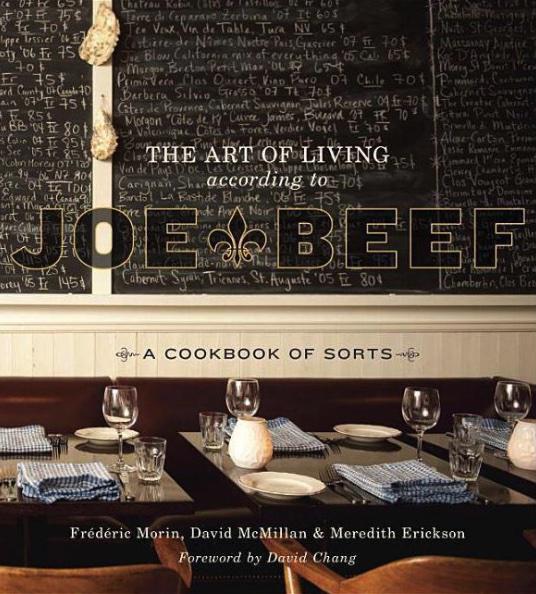 Cookbooks and Canadians
The beloved amical Cookbook Dinner Series is back, and this month the TC restaurant features The Art of Living According t...
Read More >>
Christmas on the Farm
If you'd like your ho-ho-ho to be a bit more e-i-e-i-o, then look no further. First up: Christmas with Alpacas at No...
Read More >>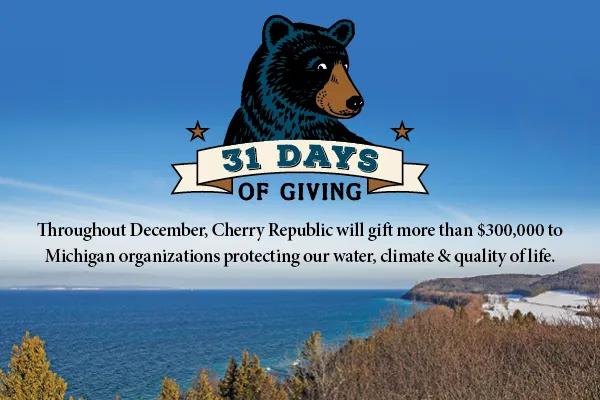 31 Days of Giving
Giving Tuesday, which falls every year on the Tuesday after Thanksgiving, is typically a busy day for northern Michigan, g...
Read More >>