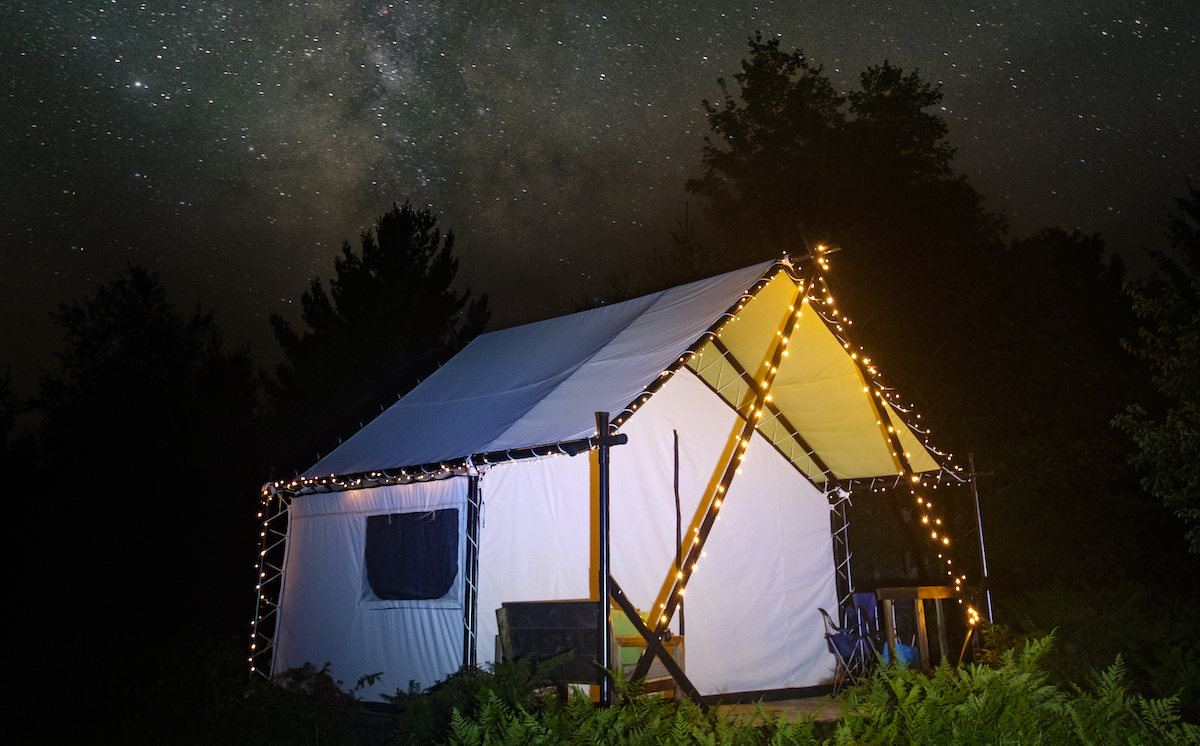 Three Awesome Overnights Up North
Perfect spots for beginner, intermediate, and advanced campers
As we near the summer season in northern Michigan, campgrounds across the region are preparing for the arrival of novice and die-hard nature enthusiasts alike. Not sure what camping style suits you and your outdoorsy skill levels best? Well, Northern Express has done the research. What follows are our top three suggestions based on beginner, intermediate, and experienced camper tiers that offer a variety of activities, diverse scenery and wildlife, and the glorious opportunity to commune with nature.
Wilderness State Park: Beginner & Family-Friendly
First up is an easily accessible option, ideal for families and those just beginning their camping adventures. Wilderness State Park, situated on Lake Michigan's shoreline, is a short 11 miles west of Mackinaw City, a popular destination full of restaurants and shops. Being near civilization can be a good choice for novice campers who may not have all the gear—or patience—for full-time rustic living. Plus, you'll be within easy driving distance of U.P. attractions above the Mighty Mac when you need some time away from the campsite.
Within the domain of Wilderness, you'll find 26 miles of lake frontage, over 20 miles of trails for biking and hiking, and both swimming and pet-friendly beaches. This state park offers a diverse landscape, including coniferous and hardwood forests, meadows, ponds, and wetlands. Campers can also fish, try out paddlesports, enjoy the picnic area, or even attend the Michigan State Park Explorer weekly nature-based programs. Bonus: the park is also a designated dark sky preserve and just nine miles away from Headlands Dark Sky Park.
Nine different campgrounds are at your fingertips, and you can choose from modern campsites, full hook-up sites, tent-only sites, and rustic cabins or bunkhouses depending on how confident you feel about your camping skills. (With contemporary amenities in some areas like flushing toilets and running water, Wilderness State Park is an especially good fit for groups with children.) We recommend making reservations in advance, as this is a popular camping locale with 10,000-plus acres ready to be explored. Make your reservations at midnrreservations.com.
Beaver Island: Intermediate & Glamping
For intermediate campers—those of you who have tested your mettle and survived without luxurious conveniences—we recommend Beaver Island. The third largest island in the state rests just 32 miles off the coast of Charlevoix in Lake Michigan and offers two traditional campgrounds: Saint James Township Campground and Bill Wagner Memorial Campground.
The former is nestled on the north end of Beaver Island with a $15/night per campsite fee. The latter resides on the island's east side and costs $10/night per campsite. Both options are rustic and primitive, with pit toilets and hand pumps. (The nearby Emerald Isle Hotel offers showers, complete with soap and towels, when needed, with fees of $10/adult and $5/child.) During the day, be sure to explore the island by visiting quaint museums and the lighthouse, renting kayaks and paddleboards, and stopping by Whiskey Point Brewery.
Neither campground accepts reservations and operates on a first-come, first-served basis. Additional information can be found at beaverisland.org.
Now, suppose you give this intermediate-level camping a try only to discover that roughing it isn't your thing. In that case, Beaver Island has an alternative—Beaver Island Retreat. Revel in your natural surroundings while savoring the luxuries of a private, 180-square-foot glamping tent, a fully-stocked guest kitchen, and individual bathhouses. A reservation includes unlimited ice, firewood, and lump charcoal, plus a bottle of wine upon arrival.
Maria and Brian Vaeth, owners of Beaver Island Retreat, opened the business in July of 2019, and since, the demand for their services has outpaced the number of sites.
"Guests enjoy a quiet setting with an extraordinary view of the night sky, including the Milky Way," Maria explains. "Many vacationers book up to a year in advance to ensure their preferred weekend is available, but sometimes would-be glampers can find a midweek spot three or four months in advance." For more information and to book your reservation, visit beaverislandretreat.com.
Ottawa National Forest: Experienced & Off-grid
Finally, we present the pièce de résistance for the most experienced campers: Ottawa National Forest. Located in the western Upper Peninsula, Ottawa National Forest spans nearly 1 million acres of far-reaching wilderness containing waterfalls, 500 lakes, 2,000 miles of rivers, rolling hills, forests, diverse wildlife, numerous trails, and a variety of camping opportunities.
With 22 campgrounds available, you can choose what type of adventure you'd like to embark on. If the standard campsite options sound too tame, Ottawa National Forest offers wilderness or dispersed camping areas. (Dispersed camping is when you camp outside the designated campground without water or restroom facilities.)
"Designated wilderness offers solitude, freedom, primitive recreation, challenge, risk, and personal connection with nature," says Lisa Klaus, the public and administrative affairs forest service officer for Ottawa National Forest. "A positive wilderness experience is unparalleled; however, it means recognizing your own abilities. As you plan your trip, ask yourself about the type of experience you are seeking and realize that wilderness camping requires self-reliance and good judgment."
For this type of camping, Klaus suggests leaving your trip itinerary with someone, making sure you know your entry points and routes, and remembering that communication is limited due to remote locations. And whatever you pack in, you must pack out to maintain the integrity of the land.
Regardless of which camping option you choose, Ottawa National Forest lets you fish, hike, canoe, and kayak. Most campgrounds are first-come, first-served, but some require reservations. Explore the different campgrounds at fs.usda.gov/ottawa and make reservations at recreation.gov.
Pro Tips for Summer Camping
Thanks to Lisa Klaus of Ottawa National Forest and Merrith Baughman, director of interpretation and visitor services at Sleeping Bear Dunes National Lakeshore, we have some helpful tips to share for campers of all skill levels.
1. Make your reservations as far in advance as possible! Consider checking out less congested campgrounds, campsites, and areas of parks.
2. Always pack an up-to-date first aid kit, emergency supplies (flashlight, compass, maps, etc.), and appropriate clothing and shelter, including a tent with a rainfly and sleeping bags geared toward the season.
3. Since forests are susceptible to disease and non-native insects, do not bring your own firewood but instead purchase it from approved vendors.
4. Arrive early while the sun still shines! This allows you to check over the site and safely set up camp.
5. Keep your campsite clean and garbage-free to ward off bears and other critters. Consider keeping food in a hard-sided vehicle or a bear box.
6. If you're up and around at night, use a flashlight to warn nocturnal animals of your presence.
Trending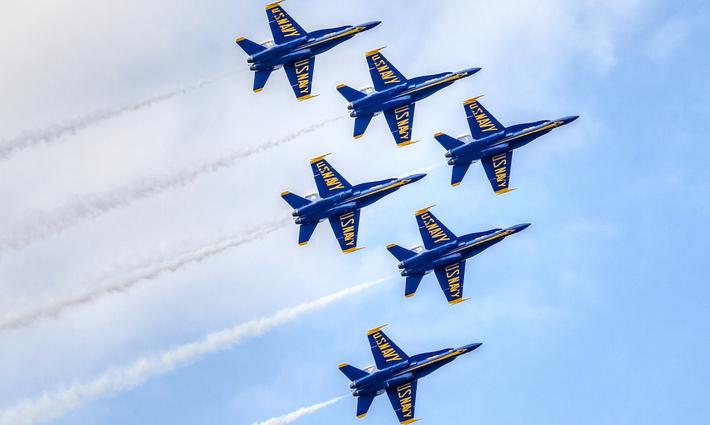 The Wind Beneath the Blue Angels' Wings
Crowds gather along Grand Traverse Bay to gaze into the sky for the biggest beach bash of the year. A voice shouts, &ldquo...
Read More >>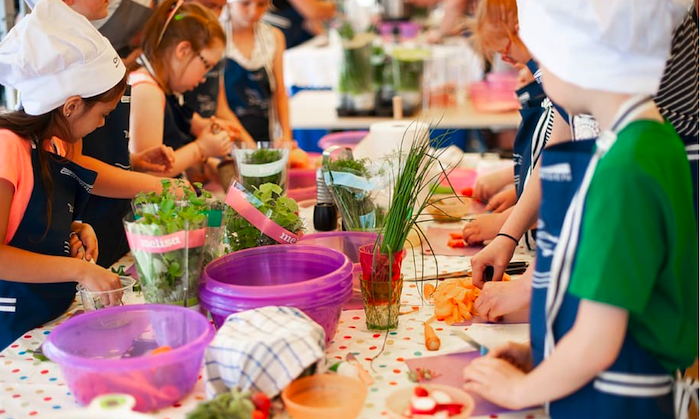 Creative Solutions to Food Insecurity
Food insecurity remains an ongoing concern in Michigan, with the nonprofit Feeding America reporting that in our state, 1 ...
Read More >>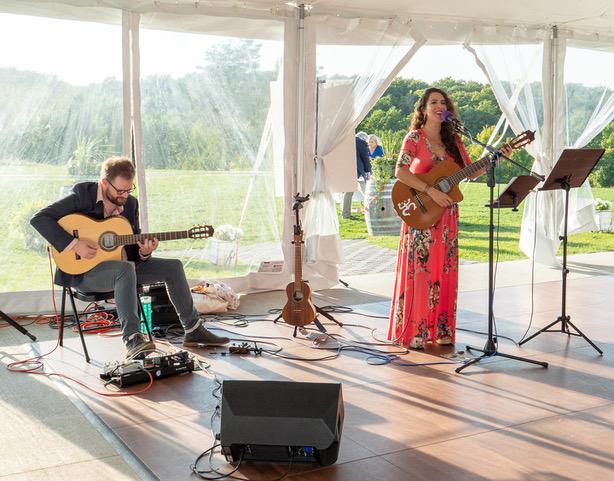 In Gratitude
"In Gratitude," a free community concert, will be held at 7:30pm on June 30 to thank the many donors and suppo...
Read More >>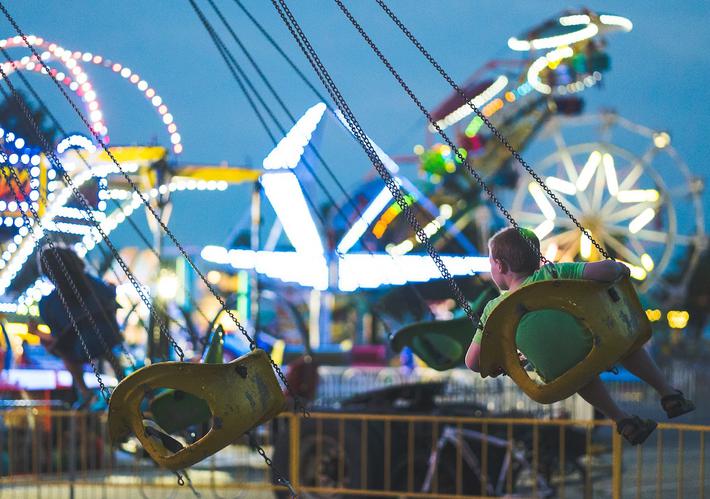 Forest + Festival = Fun
For more than 80 years, folks in Manistee County have been celebrating the Manistee National Forest Festival. This year, t...
Read More >>
↑