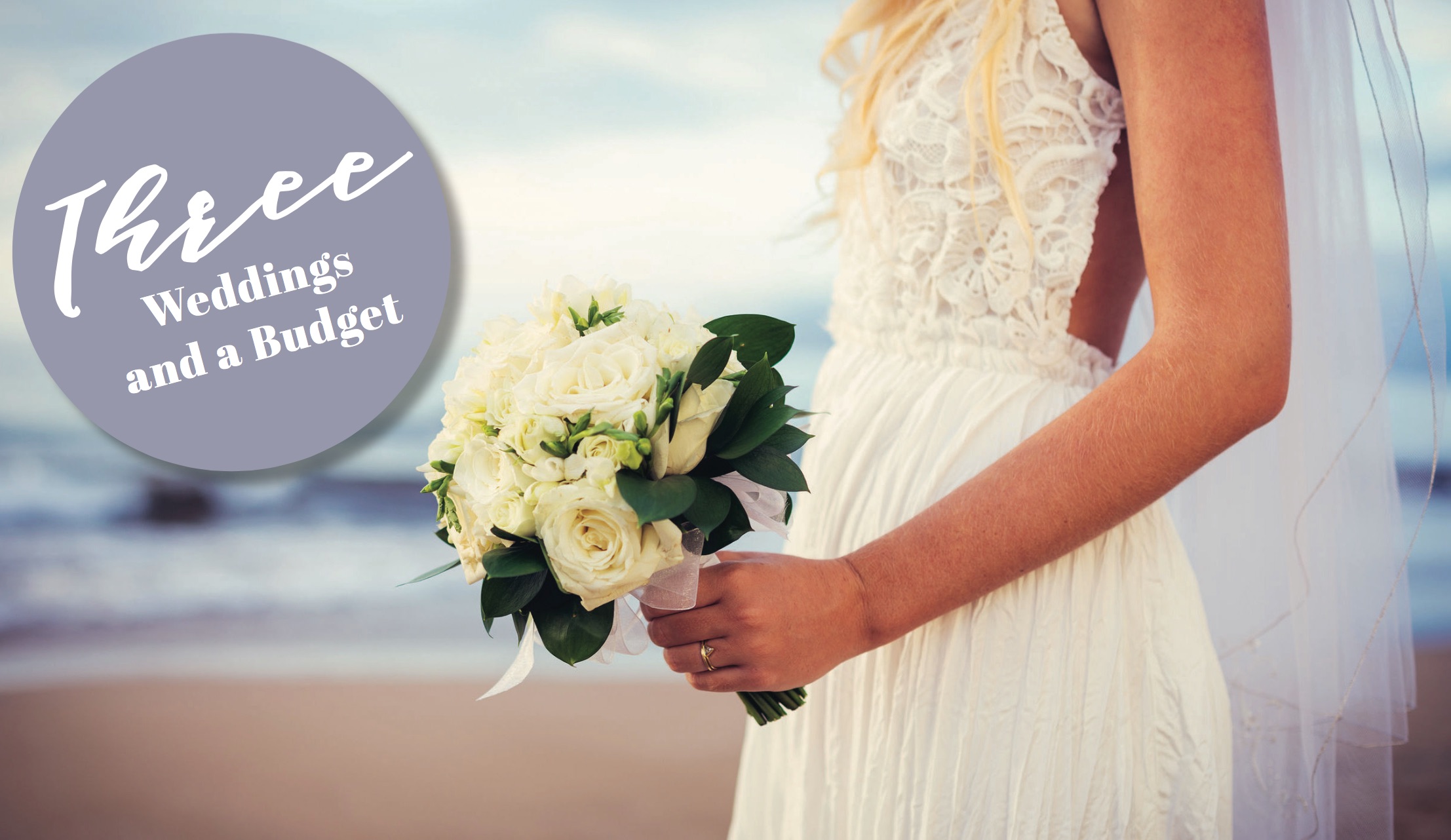 Three Weddings And A Budget
Weddings come in a variety of shapes, sizes and prices, all with the same basic needs but different savings and splurge options to consider at every budget level.
Each element of a wedding is a personal choice, perhaps most notably the ring, wedding dress and venue departments, and it's not always about the money. A family heirloom wedding ring, a thrift shop gown with sentimental meaning or that favorite beach where you met can be just as perfect as a diamond stunner, a high–end designer dress or a glamorously decorated hall.

Of course, the many options available to brides and grooms can really add up, so here are some ideas for your wedding at three price points: a modest wedding at $5,000, a mid–level celebration at $25,000 and an extravagant event at $100,000.
PLANNING
Kris Rundblad of Merry Makers, Charlevoix (merrymkr.com)
$5,000
Save: At $5,000, you might want to keep your guest list to 25–50 people and make it an afternoon or brunch event. Then you can typically serve champagne and mimosas but you won't need a full bar. Call on talented friends like musicians or friends with a good camera and use a professional photographer for maybe just an hour or two for the ceremony and some portraits.
Splurge: The couple should feel great about how they present themselves to each other at the ceremony, so the bride should have a beautiful dress she really loves and the groom should have a suit he can wear again.
$25,000
Save: Limit the bar or even have a dry reception, with great flavored coffee drinks with garnishes and sodas made with fancy syrups. And be conservative with the food menu; choose more simple dishes but make sure they're prepared with really good quality ingredients.
Splurge: A farm to table dinner is always nice. Music is another good splurge for dancing; make sure you hire a DJ who has a great reputation or add some live music. And photography is so important, as that's what you have left at the end of the day.
$100,000
Save: You don't need to save much at $100,000!
Splurge: Consider making it a big outdoor event where you create your own space just as you want it, with tents, a stage, a dance floor, the works. People often don't realize how expensive things like tents and chairs are, but you can afford it at this level. And hire a videographer in addition to a photographer.
Sheila Dodson–Wright of Tableau Events, Petoskey (tableauevents.com)
$5,000
Save: Really try to maximize what can be included in your venue fee – some venues include things like house linens and house chairs if you ask, which can save a lot of money. And really emphasize flowers to add to the ambiance.
Splurge: Since you're probably getting very basic linens and dishware at this level, try to find some nice decorative plates, chargers or bread and butter plates to add color and impact to the table.
$25,000
Save: Utilize local vendors to maximize resources locally. Instead of "importing" suppliers from out of town or downstate, you'll save so much on delivery fees, labor fees and travel expenses by thinking locally.
Splurge: Pick one or two focal points and emphasize those pieces, such as a beautiful standout fabric backdrop for the head table or a chandelier cluster overhead if you're using a tent.
$100,000
Save: You can mix a combination of linens at different price points by incorporating the premium linens the couple loves into high profile areas and then being creative in the other areas of the reception with your other linen combinations.
Splurge: Layer lots of customized and personalized details throughout the whole wedding – things like beautiful tableware and tablescapes and dramatic location décor like amazing floral arrangements and personalized touches. You can really "brand" your wedding at that budget with details that are significant to the couple.
FLOWERS
Cindy McCoy of The Flower Station, Traverse City (flowerstationtc.com)
$5,000
Save: You can choose different, less expensive flowers to save money and still get the look you want with the less expensive but similar–looking flower in the same color scheme you were going for – for instance, if you want calla lilies, choose mountain lilies, which are less pricey.
Splurge: On the bridal bouquet since it's in every photo!
$25,000
Save: Similar to the $5,000 budget, substitute less expensive flowers that look similar and you'll still keep your wedding dream alive; also keep the centerpieces at the reception more simple.
Splurge: More elaborate, full arrangements of reception table flowers.
$100,000
Save: Choose simpler containers for the reception and church flowers since most of the focus is on the flowers themselves.
Splurge: Add in ceremony extras at the church, like dressing the chairs and pews with flowers, and bring in lots and lots of flower petals for the bride to walk through.
Jennifer Haf of Bloom, Charlevoix (bloomfloraldesign.com)
$5,000
Save: I'd suggest making everything DIY and picking up plenty of flowers at the farmers market.
Splurge: On the bridal bouquet. Always.
$25,000
Save: Keep the floral centerpieces on the tables very petite.
Splurge: Splurge on the personal flowers for the bride, bridesmaids and groomsmen; let those really go over the top. Also maybe consider one big statement floral piece for the reception.
$100,000
Save: Keep it to just one big centerpiece per table but of rich, beautifully selected flowers.
Splurge: I'd do a giant flower arch for the ceremony!
CAKES
Jessica Stubbs of Simply Sweet by Jessica, Petoskey (simplysweetbyjessica.com)
$5,000
Save: For the more modest wedding, we could do a small two–tier wedding cake and have sheet cake to serve to the rest of the guests.
Splurge: Add fresh flowers to the cake, which is always so pretty.
$25,000
Save: I'd suggest a full four–tier buttercream wedding cake.
Splurge: Get both the four–tier wedding cake and a dessert bar, with a mixture of cupcakes, cake truffles, macarons, cannoli and cookies.
$100,000
Save: Definitely a six–tier wedding cake.
Splurge: The six–tier and then a huge dessert bar, which we can set up on hutches and cabinets that we bring in ourselves; you could also get a fondant wedding cake at that level with gold leaf right on the wedding cake or a unique hand–painted watercolor cake.
Nancy Collard of Top Tier Cakery, Traverse City (toptiercakery.com)
$5,000
Save: To maximize that amount, they really need to do everything they can themselves.
Splurge: You could get a very small cutting cake and cupcakes but that would be for maybe a dozen people.
$25,000
Save: You can get a "naked cake" or buttercream banding on the cake, which makes it look like there's a horizontal ribbon going around it.
Splurge: Add handmade sugar flowers to the cake.
$100,000
Save: I can't imagine anyone settling for a low–end cake at that budget.
Splurge: Lots and lots of handmade sugar flowers and lots of intricate handmade details on the cake – it takes so much time to make those flowers; they are very time consuming, and time equals money.
MUSIC
Mike Valliere of DJ Mikey, Acme (funhotstuff.com)
$5,000
Save: Unfortunately, we can't really accommodate an event at that price point.
Splurge: I'd suggest renting some sound equipment and hooking up an iPod; that works pretty well.
$25,000
Save: To save, you could skip the lighting options and just hire the DJ.
Splurge: A nice splurge is to add ceremony music and then bring in uplighting and a monogram projection for the reception.
$100,000
Save: This would be the same as the $25,000 option, really – the DJ plus music at the ceremony and special lighting at the reception.
Splurge: Well, at $100,000, they're probably going to want to hire Tiësto or someone, not some guy from Traverse City!
Scott Perry of 2BaysDJs, Traverse City (2baysdjs.com)
$5,000
Save: I'd recommend renting a nice small speaker system and hooking up an iPod.
Splurge: They could also consider an off–season wedding if having a DJ is really important to them, as the costs are much lower off–season.
$25,000
Save: You can easily get a DJ at this level. We can also do ceremony sound outdoors with microphones, even without power, as we bring in our own battery.
Splurge: For this budget, you could get one of our professional DJs and gear plus wireless mics for toasts, uplighting and plenty of music choices. You could also probably add a guest musician.
$100,000
Save: At the low end, you could get a DJ plus full uplighting that would coordinate the lights with the wedding color scheme, which is subtle and elegant but still really fun.
Splurge: You could bring in a silent disco system [in which guests wear wireless headphones] like the one we just bought; this lets your guests dance all night, as late as they want, without having to worry about sound ordinances. At $100,000, we could bring in three DJs all spinning at the same time on three different silent disco channels so you would get a huge variety of music.
Trending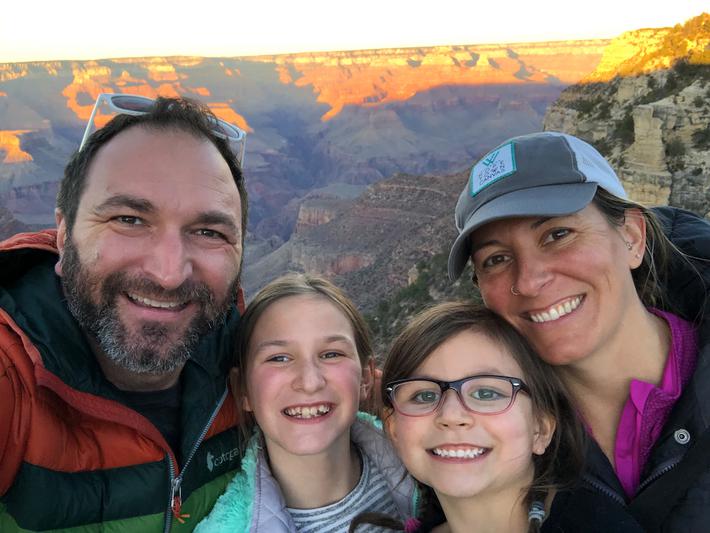 A Nine-month Family Vacation
Long before the pandemic, Joe and Christina Sanok had a plan. A dream, really: They wanted to take off with their kids and...
Read More >>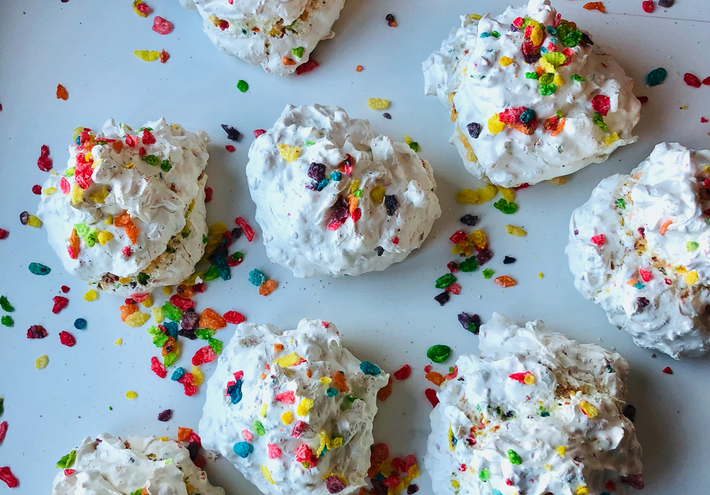 7 Batches Made in Heaven
Let's be honest: Picking the best cookies in northern Michigan is an impossible task. There are so many "right...
Read More >>
Respecting the River
Forever, the Grand Traverse Band of Ottawa and Chippewa Indians (GTB) has regarded the water — and the Boardman/Otta...
Read More >>
Not a Clue
Surely politicians wouldn't be so clueless that they'd lie about COVID-19 deaths or take a vacation during a statewide eme...
Read More >>
↑