Thrift-O-Rama!
The return of resale
Thrift stores, consignment boutiques, and resale shops, while always useful, seem to cycle around as far as popularity or trendiness is concerned. Generally, in tough times, they thrive: There are more buyers looking for cheaper goods and more sellers hoping to offload what they have for cash or discounts. But these days, the economy is strong, unemployment is down, and resale shops — well, it looks like they're as popular as ever. What's their particular brand of magic? We check in with some of the most popular shops in northern Michigan to learn more about how they operate, what you might find there, and what you'll get for giving 'em your gently used goods to sell.
Mrs. O's Crap Shack
Interlochen
So popular that Mrs. O's just moved to a bigger, 2,000-square-foot location, the wink-and-nod "crap shack" started in owner Robin O'Malley's basement about three years ago and is a favorite destination in Interlochen for local fashionistas.
"Initially, I started an online auction site called Crap You Gotta Have," explained O'Malley, "but that really caught on, and it wasn't long before my husband said, 'We are really being overrun by crap!'

O'Malley had been in banking and administration for over 20 years and was looking for a change, so the success of her online venture propelled her to take a leap of faith and expand into a brick-and-mortar version.
"I decided I didn't ever want to write a resume again as long I lived," O'Malley said. "I also wanted to challenge myself. As long as this place keeps going as good as it's been going, I'm sticking with it!"

The shop focuses on ladies' consignment, primarily geared toward women who ages range from late '20s to '60s. If you bring your used goods in to sell, you'll keep 50 percent of the sale price after the item is purchased. (Note: Bringing used items in for consignment consideration is only by appointment, so call first.)

"We try to stay trendy but still affordable," O'Malley said. "In addition to clothing, we also carry accessories, furnishings, and small household items."
Look For: Clothing and goods that arrive at the Crap Shack can be pretty random, but O'Malley suggests that shoppers always keep an eye out for unusual finds, because you simply never know when they're going to arrive. Just recently, a "mega-gorgeous" ivory wedding dress by designer Lazaro (Say Yes to the Dress) was waiting for the perfect bridal customer. "And we're also currently getting in a lot of estate jewelry made of sterling silver and turquoise for some reason — it's just beautiful," said O'Malley. "Things show up here in bursts, it seems."

Find It: 2480 M 137 in Interlochen. (231) 276-3195, facebook.com/mrsoscrapshack.

The Gold Mine
Petoskey
Tucked back on Emmet Street just a few blocks away from downtown Petoskey, the rustic but friendly Gold Mine has long been a stop of in-the-know Emmet County thrifters, who can spend hours digging through the two stories' worth of rooms full of clothing, shoes, artwork, sporting equipment, games, costume jewelry, electronics, CDs, and other items.

The original Emmet Street store opened in 1981; a second store is now located out on US-31 North. Both stores help support the Women's Resource Center of Northern Michigan.
Coats, sweaters, boots, hats, and other winter gear are usually in ample supply at this spot, thanks to both Boyne and Nub's Nob ski resorts being nearby. Dig deep enough, and you'll find interesting vinyl records, old board games, and quirky bric-a-brac sure to become conversation pieces in your household.
Keep your eyes peeled and check regularly, and you can even snag items rarely found at resale shops, like blow dryers and curling irons in great condition.
Look For: The back room (at the Emmet location) is where you can find outdoor activity gear like skis, sleds, and even golf clubs next to shelves of kitchen appliances and dishes. Also at the Emmet location, head upstairs to find curated racks of more upscale clothing and shoes, including sweaters and prom/fancy party dresses.
Find Them: 1002 Emmet St., Petoskey, (231) 347-3970, or 1878 US-31 N, Petoskey, (231) 348-7908. www.rcnm.org
Zany
Traverse City
First opened in 2004 in a 300-foot space, Zany upscaled in 2007, moving to an historic TC house that had been built by owner Kate Kohler's husband's great-great grandfather, bringing a whole new meaning to the word 'vintage.' In 2014, Zany's opened a second shop on East Bay in Williamsburg.

Zany doesn't work on donations but on consignment. Bring in your like-new clothing, and Zany's staff will select items that suit the store (women's clothing, shoes, home décor, and accessories) and will keep them for 60 days to see if they sell (if they don't, you simply pick them up again). When items sell, you'll get 40 percent of the price.

"I'd say we're a mix of current trends and a few eclectic vintage pieces," said Kohler. "I feel like we have something for everybody."

With clothing organized by color and size to offer customers more of a boutique feel, Zany focuses on more current designs made of high-quality, natural fabrics like cotton, linen, merino wool, and leathers. "I think customers here in northern Michigan really prefer those," she said.

While the inventory is constantly changing, you'll likely find everything from Woolrich plaid coats and Louis Vuitton handbags to clothing from labels like Eileen Fisher and Free People.

"We're really not about digging out those vintage finds. We're more about having stylish stuff available for people all the time, every day," said Kohler. "So if you're short on funds, you can come in here and maybe spend $30 on something that would cost $100 elsewhere."

Look For: Unique, high-quality items that you won't see around town on everyone else. "We have so many people come in and tell us that they love a piece they bought here, because nobody else really has it," Kohler said. "If you're not looking for something specific, and you keep an open mind, you can really find a lot of interesting, beautiful, stylish pieces here. We even have people from downstate who specifically seek us out when they're Up North, because they say there's nothing like us where they live."
Find Them: 318 Vine St., Traverse City, or 4630 US 31 North, Williamsburg. zanyconsignment.com. (231) 933-4199
New Beginnings
Conway
A ministry of the Holy Childhood Church in Harbor Springs, New Beginnings thrift store, which started its run in 2005, now occupies a 24,000-square-foot warehouse building that's often called "the biggest thrift store in northern Michigan" by its customers. All proceeds go to the church.
"We've got everything," said the store's Carol Grissom. "Clothing for women, men, and kids, shoes, prom dresses, jewelry, furniture, toys, electronics, dishware, even wedding dresses. And once we had an $800 diamond ring come through!"

A color-coded system keeps every piece that's been donated moving through the store. The staff logs how long something has been on the racks or shelves, and moves it to the sale room after three months on the floor.

In the sale room, items are marked to 50 percent off; in an item's final week, it's marked down to $1 before it gets shipped out of the warehouse store to make room for more donated goods.

"We send things that don't sell to two places: World Mission in Grand Rapids, and also to the local Alanson Nazarene Church, so they can give out clothing at their food pantry."
If you're in need, this particular thrift store can also be a supportive resource. "If people are truly needy, we just let them take a few things to help them out," said Grissom.

Look For: Vintage clothes from the '60s and '70s and high-end designer wear seems to often find their way to this particular thrift store. "We get boatloads of clothing, and since this is a wealthy area with a lot of summer tourists, we get a lot of designer brands, like Ralph Lauren and Giorgio Armani," Grissom said. "Some people will also redo their entire cottage, so we'll get an influx of antiques, furnishings, vintage linens and quilts, even estate jewelry and décor items."
Find Them: 650 West Conway Rd., about halfway between Harbor Springs and Petoskey. (231) 348-2980, or New Beginnings Thrift Resale on Facebook.
Trending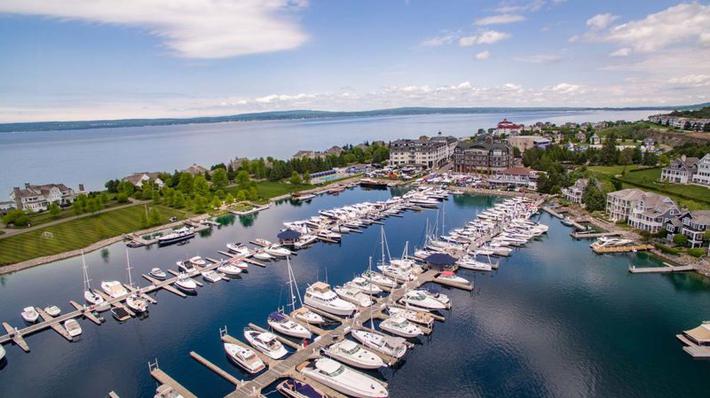 We Like Big Boats, and We Cannot Lie
Since buying your own yacht isn't likely this year due to supply and demand issues, what's the harm in dreamin...
Read More >>
Ending the Filibuster
The filibuster, much in the news lately, has an interesting if not usually glorious history. From the French word...
Read More >>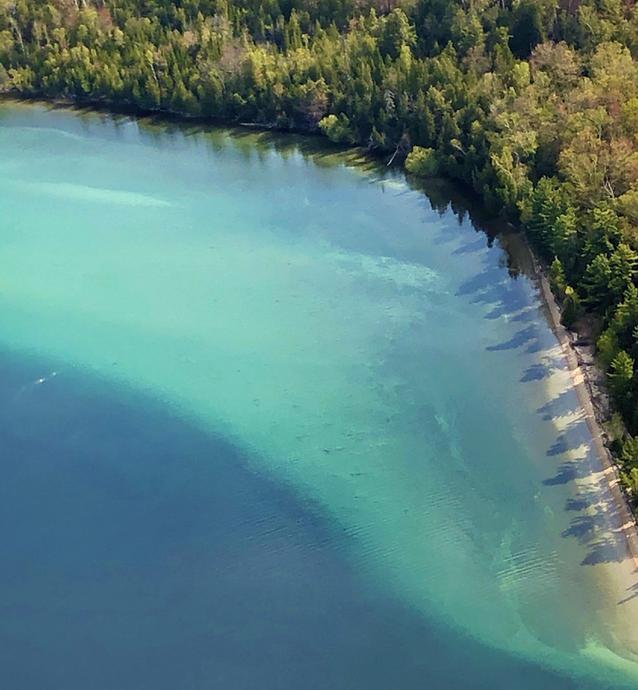 Torch Lake Takeover
You don't need to live on the shores of Torch Lake to know how breathtakingly gorgeous it is. A massive inland lake ...
Read More >>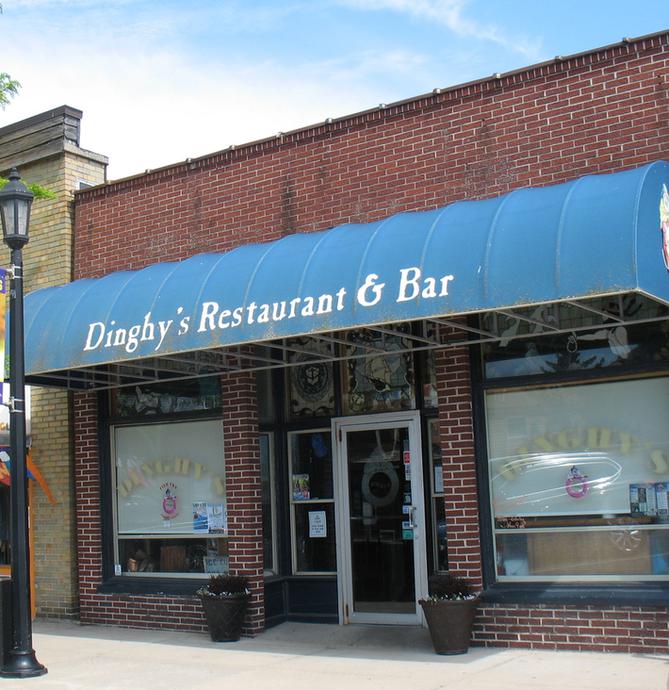 Dinghy's Restaurant & Bar
Kelly Sandman chuckles at a customer's joke, runs a cloth across a section of the 33-foot-bar, then greets a famishe...
Read More >>
↑