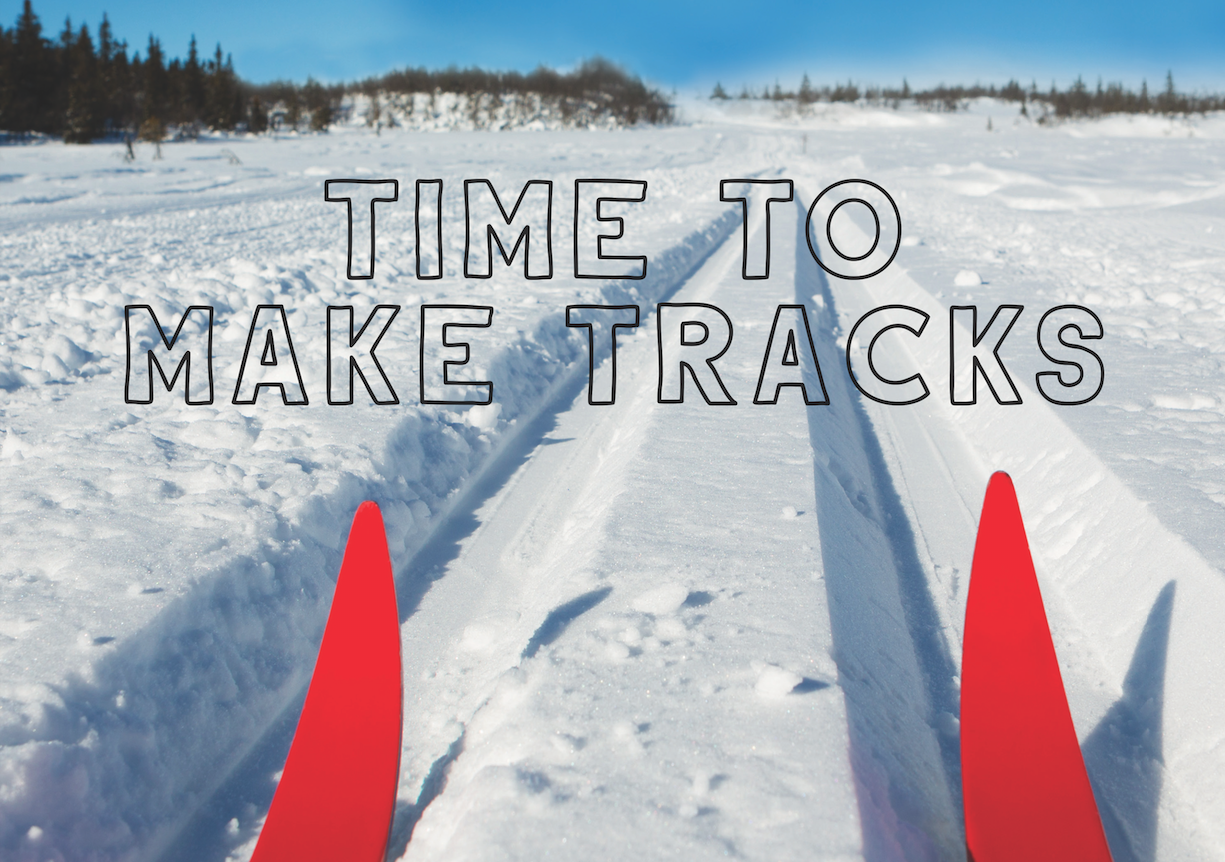 6 sublime XC trails, 7 amazing races, 1 Olympic medalist.
A silent sport-lovers' special
The air is cold, the flakes are flying, and the woods of northern Michigan are the least crowded you'll ever see them. Take advantage and hop on your classic or (where allowed) skate skis and glide onto one of these gorgeous winter trails.
Kettles Trail Loop
Empire
The 3-mile Kettles Trail loop is a new, easy-to-access Nordic ski venue. It opened in fall 2019, adding about 100 miles of hiking trails to Sleeping Bear Dunes National Lakeshore. This medium-difficulty, ungroomed trail begins with a 1,000-foot stretch of rolling meadow. From there, the path spills into wooded rolling hills, meets a 1-mile forested loop, and reconnects with the original 1-mile pathway to the parking lot. Along the route, skiers (and snowshoers and hikers) have the choice to take spur trails to a bog and a scenic lookout. The trail winds through the Bow Lakes area, which gives the trail its name; it's home to kettle lakes — depressions made by partially buried blocks of ice that were left behind when the glaciers retreated. Bonus: The trail is in a snowbelt, which means frequent fresh powder.
Find it: The trailhead sits near the intersection of West Baatz and South Fritze roads, west of County Road 669.
More info: Call the SBD Visitor Center at (231) 334-2000, or visit friendsofsleepingbear.org/programs/kettles/

Hickory Hills Ski Area
Traverse City
Hickory Hills' recent $4 million expansion and infrastructure improvements weren't just for downhill skiers, you know. This close-to-town ski destination also offers more than 5k of accessible Nordic ski trails — for both classic and skate skiers — and now boasts a 1k lit loop for convenient and safe night skiing. All the trails are beginner-friendly, running along gentle meadow ascents and descents just south of Hickory Hill's downhill runs. Between skis, stop into the new lodge to refuel; the menu is noticeably upgraded. Finally, if you're looking to inspire your cross-country skiing kids, or yourself, head to Hickory Feb. 28 and 29, when it hosts the Michigan High School Championships for Nordic skiing.
Find it: The 125-acre public ski resort is located on the west side of Traverse City. Access Randolph Street from Division Street and head west until it dead-ends at the resort.
More info: (231) 947-8566, www.traversecitymi.gov/hickory_hills.asp
231-947-8566

Forbush Corner Nordic
Frederic
Forbush Corner Nordic ski resort, near Grayling, has the largest fleet of Nordic grooming equipment in the Midwest. It offers miles of impeccably groomed trails for skate and classic skiers of any skill level. Visit Forbush for reliably smooth and snowy conditions and wooded rolling trails all winter long. Though the resort is naturally located in a snow-heavy microclimate, it recently added even more snow-making power: In December, Forbush launched its new state-of-the-art snowmaking system — the first of its kind in Michigan. Forbush offers various loops including a 1.3k and 1.5k easy trail for beginners, a 2k loop for intermediate skiers, and a 6k and 7k loop for seasoned skiers.
Find it: Forbush is ¼ mile east of I-75 exit #264.
More info: (989) 889-1644, www.forbushcorner.com

Wildwood Hills Pathway (pictured above; photo courtesy of Wildwood Skiers)
Indian River
Wildwood Hills Pathway is wildly popular among northern Michigan classic skiers, and for good reason: It's got options galore. This 11-mile, moderate-difficulty trail system offers multiple loop possibilities — 4.5-mile, 5.7 mile, 7.5 mile, 8.7-mile, and a full 11-mile loop option. (The loops are double-tracked for classic skiing but are not wide enough for skate skiing.) Wildwood laces through an upland forest along the border between Cheboygan and Emmet Counties. Visitors love the trail's serene setting, nestled a world apart from traffic noise. The heavily forested trail system runs along ridges and gentle ascents, with hills that make skiing interesting but not overwhelming for intermediate skiers. The trail is maintained by volunteers and fundraising now for a volunteer grooming program.
Find it: The ski area has two access points: the East Lot trailhead (southwest of I-75 exit 310 to Indian River) and West Lot trailhead (9.5 miles east of Petoskey on CR-58).
More info: www.trailscouncil/wildwood-hills-pathway/

Big M Cross Country Ski Trails
Manistee/Cadillac
Big M Cross Country Ski trails offer 35km of classic ski trails through the heart of the rolling hills of Manistee National Forest. Though the ski area is partially machine groomed, it's made up almost entirely of narrow, natural ski trails that jog through mature hardwoods and pines. The area is managed by volunteers who work in partnership with the Huron Manistee Forest Service. Big M has 12 dedicated ski loops ranging from beginner to expert difficulty level for classic skiers. Big M Cross Country skiers revel in the extensive selection of routes to choose from, ranging from 1.8 miles to 6.2 miles. Several trail loops link, enabling you to combine loops to extend mileage. After a long winter-afternoon jaunt in the snow, cozy up at Big M's woodstove-heated trail shelter.
Find it: Big M is located on Udell Hills Road, 3 ½ miles south of M-55 (about 29 miles west of Cadillac).
More info: (231) 723-2211, www.skibigm.org
Black Mountain Trail System
Onaway
Black Mountain is a stunning 30-mile trail system between Cheboygan and Onaway. Skillfully groomed for both skate and classic skiing by Black Mountain Nordic Ski Club volunteers, the area has rolling trails with breathtaking overlooks of Black Lake to the west and glimpses of Lake Huron to the east. Its stunning ridges make it one of northern Michigan's best Nordic ski destinations. The area has routes for any skill level, including easy sections suitable for beginners and challenging black diamond descents and climbs for expert skiers.
Find it: The ski area has four parking lot access points, including Twin Lakes and Doriva Beach roads in Cheboygan County and North County Line Road and County Road 489 in Presque Isle.
More info: (231) 627-2811, www.trailscouncil.org/black-mountain-recreation-area-trail/


On Your Mark!
If your preferred style of Nordic skiing is competitive, toss the trail map and take on some worth contenders in one of these races around the North this winter.
Feb. 1
White Pine Stampede
Mancelona
10, 20, and 50K senior freestyle and classic point-to-point race through picturesque Antrim County, ending at Shanty Creek Resort.
whitepinestampede.org/

Feb. 2
Mike Seaman Memorial 10k Classic
Frederic
10K race through Forbush Corner Nordic's wooded rolling hills.
www.forbushcorner.com/blog

Feb. 8-9
44th Annual North American VASA Festival of Races
Traverse City
25K, 50K freestyle and 6K junior freestyle races and16K, 34K and 6K junior classic races through the Vasa Pathway in Pere Marquette State Forest.
www.vasa.org/race-info/

February 15-16
Meijer State Games Hanson Hills Classic
Grayling
8K, 14K, and 17K men's and women's freestyle races through Hanson Hills.
hansonhills.org/cross-country
(989) 348-9266

February 22
Michigan Cup Freestyle Championships
Frederic
8K and 17K freestyle race at Forbush Corner Nordic ski resort.
www.nordicskiracer.com

Feb. 22
Boyne Vistas 10K Freestyle
Boyne Falls
10K freestyle race through Boyne Mountain resort.
www.nordicskiracer.com

March 7
Flying Squirrel Skiathlon
Thompsonville
2.5k Classic, 2.5k skate middle school and 5k classic and 5k skate junior race at Crystal Mountain.
www.ccskiclub.org
Olympian Skier's Inspired Visit to Traverse City
Olympic Gold Medalist Kikkan Randall recently visited Traverse City to speak at Hagerty Insurance. The skier and motivational speaker shared lessons from her tumultuous 10-year journey to win Olympic gold, beat breast cancer, and balance motherhood with her work and active life. Northern Express sat down with Randall to learn more about what fuels her fire — and how we can fuel our own — in life and skiing.

"There are themes that apply to whatever I do. It comes down to mindset. I encourage people to dream big and take on challenging things, whether you choose them or they're thrown at you." Kikkan said.

Kikkan's November visit was her first experience in Traverse City. Serendipitously, her stop here fell right after the early-season blizzard.

"I was really impressed with the people in Traverse City. People were really excited and working hard on the trails. I wish I could have gotten out." said Kikkan.

Though she didn't have time to visit local trails during her visit, she did dabble in front-yard skiing with her 3-year-old son, Breck. Kikkan says introducing children to skiing is all about exposure and managing expectations.

"When you go out, know that it may be 5 minutes, or 5 hours … we bring a sled to pull him around when he's done skiing." Kikkan said.

If you're inspired to ski (with or without kids) Kikkan says the key to comfort is layering. She suggests a moisture-wicking base layer, like merino wool or a synthetic fiber, to keep your core warm and dry. From there, you can change-out your upper layers.

Beyond smart layering, Kikkan has another secret weapon in her attire repertoire. Years ago, she put pink in her hair as a statement against the idea that cross country skiers are boring. Over her career, pink became her signature power color, signifying strength, energy, and positivity.

After her stage 2 breast cancer diagnosis in June 2018, it was pure coincidence that pink is also emblematic of breast cancer awareness. Kikkan began wearing rainbow-colored shoes during her cancer treatment as a reminder to stay positive and strong.

"It's amazing how a visual cue can be a reminder that there's always something you can focus on that you can do something about." said Kikkan.
Kikkan won her battle with cancer, still competes in recreational ski races, and last year completed the New York Marathon — under her goal time, 2 hours. On top of those incredible achievements, she focuses much of her remarkable energy on giving back. In fact, last year, she partnered with Darn Tough Vermont to design socks inspired by her rainbow kicks. They read: "It's going to be OK," a galvanizing message for anyone facing cancer or another life challenge. $2 from each pair sold goes to Aktiv Against Cancer.
Visit www.kikkan.com to learn more.
Trending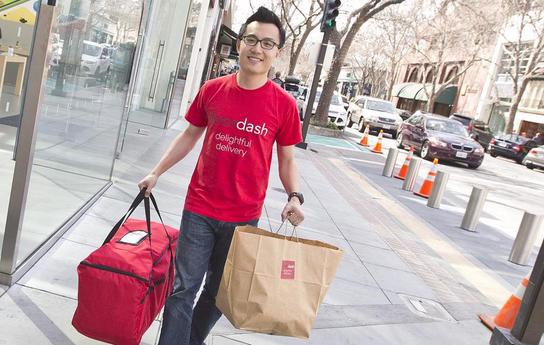 Could Delivery Save NoMi Eateries?
What was once the exclusive province of pizza and sandwich joints has become a means for some restaurants to thrive. But e...
Read More >>
What You Are Voting For?
After voting straight Republican for 36 years, from 1971 through 2007, I have been an Independent since 2008, studying and...
Read More >>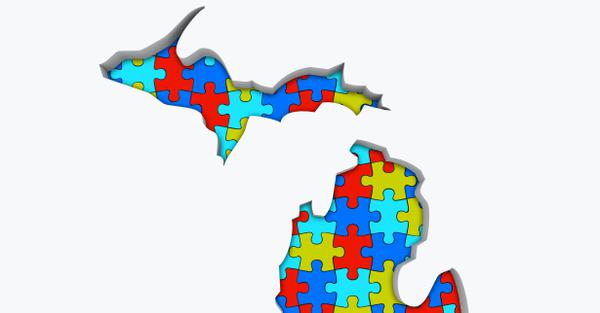 The Democracy Lottery
Mary Burget, a retired Northwest Michigan College math instructor, thought her math skills might be useful in redrawing Mi...
Read More >>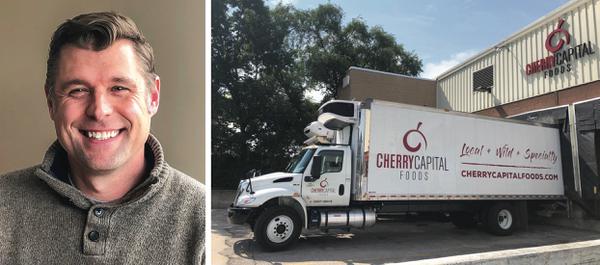 Forged In Fire
As the new managing director for Traverse City's Tamarack Holdings, Michael Lahti is helping to lead a company that ...
Read More >>
↑