Trattoria Stella
Old World Italian in one of Traverse City's coziest spaces.
Without a lot of vision and a big leap of faith, this well-loved and highly respected Traverse City eatery would never have come to be. Opening back in 2004, it was the first and only business in Building 50, part of the former State Hospital — also known as the Northern Michigan Asylum. Although the whole property was under redevelopment at the time, many windows on the floors above the restaurant were still broken, and caged porches loomed above its front door. The owners knew they had to create a total experience that would enable guests to suspend reality once they sat down and allow themselves to be transported to a cozy trattoria in Italy.

When Detroit native Amanda Danielson and her husband, Paul, moved to Traverse City in March of 2000 with a five-year plan to open an Italian restaurant, they immediately began exploring possible locations for it. They knew they wanted someplace historic — at least for the New World — and when they came upon the stately 19th-century yellow brick, Victorian-Italianate style Building 50 in what is now the Village at Grand Traverse Commons, they knew they had found it.

Although the property was in a dismal state of disrepair, as fate would have it, the Minervini Group had just started an extensive renovation. Finding that their first choice of venue within the structure was beyond what they could afford, they settled on the basement of the long-abandoned asylum, a former root cellar, which in its future incarnation would be known as the garden level. And in the end, that turned out to be the best choice.

"Not only the exterior but also the physical atmosphere of the interior — exposed brick, concrete floors, and arches — could be down a small street in an Italian town," said Danielson.

OUT OF THE RUBBLE
But the aspiring restaurateurs realized a daunting task lay ahead them before "what was" became "what would be," and before getting too far into it, they wanted to make sure they had the right team in place to create their dream. When it came to choosing an executive chef, Myles Anton, a talented and experienced culinary professional and old friend from Detroit, was at the top of a very short list, so they reached out and invited him to come and see the space – in its original condition.
"Walking across the lawn toward the back door before any real work had been done was like a scene in a post-apocalyptic film," said Amanda Danielson, co-owner and beverage director of Trattoria Stella. "The three of us went in and crossed the original terrazzo floor in what is now the kitchen and navigated the dining room over a series of wooden planks set over the trenches where the in-floor heating would eventually be laid under concrete. The arches were crumbling, and there were holes in the ceiling that allowed glimpses of the floor upstairs. We picked our way through the mess, with Paul and I describing our vision to Myles while no doubt being dusted with asbestos and lead-laden paint chips. On our way out, Myles paused, standing on the terrazzo, and said, 'So, this is my kitchen.' That was how he accepted the position, and he has since become our partner."

Other culinary industry colleagues from Detroit followed, contributing their expertise to getting the restaurant off the ground: "Alfiero Silveri came to help train staff and open the restaurant, returning a couple years later as our general manager," said Danielson. "And Maureen [Moe] Loftus has been a server since day one — she continues to be our doyenne of fine service." Many other employees have been with the restaurant for over a decade.

"I have always been a reader, writer, and teacher, no matter what the subject," said Danielson. "I learn everything with the intention of teaching, which necessitates much more than gaining a superficial knowledge."
In addition to writing the beverage list (she is an accomplished sommelier), Danielson manages a continual, intensive training program for Stella's servers and bartenders that includes every aspect of hospitality, with a particular focus on wine. And given the longevity of the core front of the house crew, many of the classes are now at master level. "Each menu — food and beverage — serves as a navigational tool," said Danielson. "The staff finds out from the guests where they'd like to go, and using the familiar 'maps' as references," guides them toward an exceptional experience that suits them, whether by the straightest route or exploring the back roads."

LOCAL AND GLOBAL TASTES
In the kitchen, Chef Anton follows the same training philosophy for his brigade and shares the same commitment as the Danielsons in showcasing foods grown and raised in northern Michigan. "As we've added local farmers [now numbering more than 40] as suppliers, they would bring in things that interested me and allowed me to formulate an ever-changing menu based on what is fresh and available," he said.
Anton also believes in incorporating foods and techniques from other regions, especially Europe. Several trips to Italy, Germany, and Austria have allowed him to work alongside and learn from renowned butchers in those countries, and multiple stages in Italian kitchens in Palermo, Rome, and Florence have been instrumental in the inspiration and refining of his cuisine.
"Ninety-five percent of the Stella menu is produced from scratch," he said. "We make our own bread, desserts, pasta, sausages, and mozzarella and burrata cheeses. Again, this gives us the chance to change things up often." Anton has also practiced a continuous whole-animal butchery program for the last nine years, and the menu features a special Chef's Taste of offal and a Chef's Cut of meat every day.

A sampling of items from a recent dinner menu bore testament to Anton's omnivorous and local/global approach to cooking in every category. Antipasti Caldi(hot appetizers): char-grilled Spanish octopus with house-made Calabrese sausage, smoked shallots, rice, beans and tomato; Antipasti Freddi(cold appetizers): house-made charcuterie platter with massafegati, cacciatore, Calabrian ham, duck liver pâte, rabbit galantina, giardiniera, hard-boiled egg, Italian parsley, date and onion puree, tart cherry mostarda and crostini; Zuppa e Insalate(soup and salad): oven-roasted and chilled beets with house-made fresh mozzarella, candied hazelnuts, red onions and strawberry vinaigrette; Paste(pasta): hand-rolled tortelli with butternut squash and amaretti cookie filling, spiced pumpkin seeds, pumpkin seed oil, sage butter and grated Parmigiano Reggiano; Pietanze(main dishes): seared organic breast of chicken saltimbocca with Prosciutto di Parma ham and Fontina Fontal cheese stuffing, golden potatoes, celery root, broccoli florets, thyme and lemon; Contorni(side dishes): oven-roasted carrots and acorn squash with rosemary, maple syrup and pomegranate. (Don't worry, Stella's servers are willing and able to demystify any unfamiliar ingredients!) Bruschetta and the white and red pizzas are especially popular in the bar area, but can be ordered anywhere in the restaurant.

SUPERIOR SIPS
And speaking of the bar, the aforementioned beverage menu written by Danielson is a fascinating 61-page tome that reads like a good book, offering interesting tidbits and insights into everything from water (yes, that's special, too) to coffee, tea, beer, cider, spirits, liqueurs and, of course, wines — which come from nearly every major wine-growing region in the world, with an emphasis on Italian varietals, and also including bottles from northern Michigan and elsewhere in the U.S. Three in-house sommeliers oversee the cellar. For their part, Stella's bartenders are proficient mixologists who can and do turn out just about any cocktail that you could imagine (and some that you can't).

"Trattoria Stella a singular expression of place for those who want to experience a unique part of Traverse City and the surrounding region," said Danielson. "It is also an expression of Italy and other Old World countries — authentic and honest — based on our profound appreciation for not just the food and wine, but the incomparable hospitality we have experienced at every winery, restaurant, farm and home of a friend, both here and abroad."

Adds Anton: "The level of care for the food that my kitchen staff and I prepare is the perfect paring with Amanda and the front of the house staff's passion for beverage knowledge and dining service. It's a wonderful partnership."

Trattoria Stella is located at 1200 West 11thStreet in the Village at Grand Traverse Commons in Traverse City. Open for lunch and dinner Monday—Saturday; dinner only on Sunday. (231) 929–8989, www.StellaTC.com.

A STARRING ROLE
Stella means 'star' in Italian, and a star is just what the restaurant has become — to the trade (five James Beard Award nominations for Chef Myles Anton; MLive: Best Italian Restaurant in Michigan 2018; OpenTable: 100 Most Romantic Restaurants in America 2019); to the media (Detroit Free Press, Detroit News, Chicago Tribune, New York Times, Traverse City Business News, and more); and to the public, which has embraced the restaurant's commitment to exciting and memorable dining.

COMING UP …
This spring, you can still get in on Trattoria Stella's monthly Italian Adventure Series. Enjoy a four-course tasting menu from one of Italy's famous wine regions ($35 plus tax and gratuity, with an optional wine flight from the featured regions for $11.50). The regular dinner menu is also available.
March 10-16: Puglia – Lecce and Gallipoli
April 21-27: Roma

On Thursday, April 11, Chef Guillaume Hazaël-Massieux of La Bécasse and Myles Anton of Stella face off in the kitchen again for the annual France vs. Italy dinner, featuring wines and food from both countries served side-by-side. Tickets are $150 per guest, inclusive of tax and gratuity, and must be purchased in advance by calling Trattoria Stella at (231) 929-8989. Whose cuisine will rule? Your votes will decide!

Trending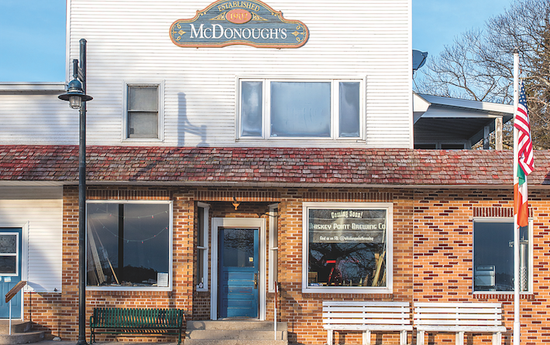 Welcome to Michigan's Most Remote Brewery
After years of planning and honing his beer-making skills, this spring, Patrick McGinnity plans to open Beaver Island&rsqu...
Read More >>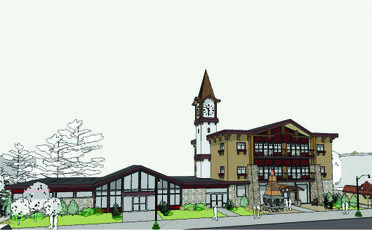 Gaylord: A boomtown Up North
Gaylord native Gary Scott had moved to Indiana, where he and some partners started a business to invest in distressed prop...
Read More >>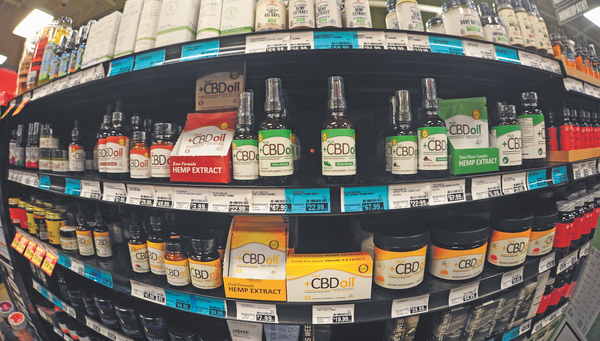 CBD Laws: Dazed and Confused
The sign outside of Family Video in Kalkaska lets drivers know the store has more than just movies. The sign reads: &...
Read More >>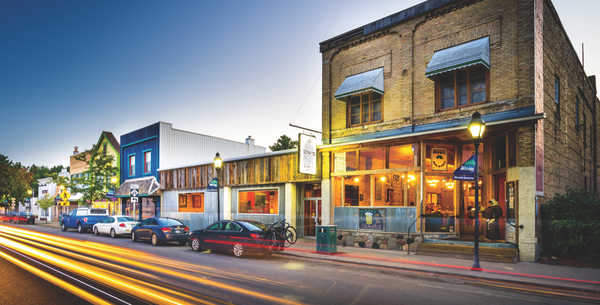 Small Up North Towns on the Rise
Spotlight on Bellaire (pictured)Seems Traverse City isn't the only place in the region making those "Best...
Read More >>
↑