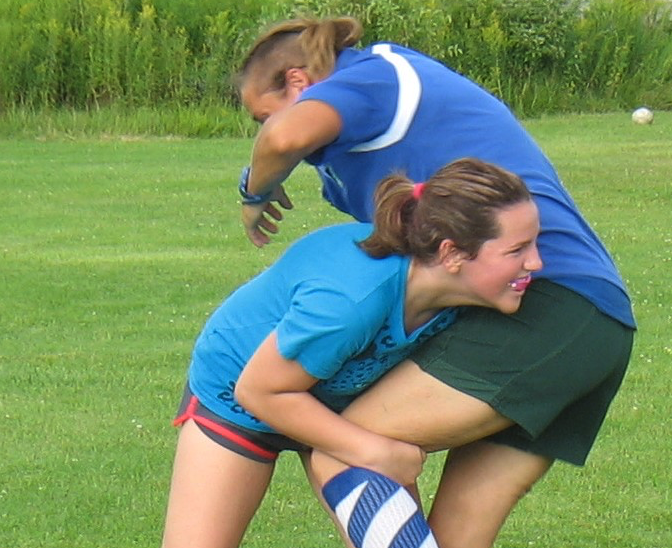 Traverse City Athletes Tackle One of Fall's Fiercest Sports
By Al Parker | Sept. 9, 2017
The Traverse City sky alternates between sunshine and a steady light rain as a dozen or so young women gather on a field along Franke Road.
The liquid sunshine does nothing to dampen the enthusiasm of the Traverse City Girls Rugby Team as the players work on an intricate 8-player passing drill. "I made it confusing because in a game it will be confusing," coach Therese Panian tells her players, who seem invigorated by both the light rain and their energetic coach.
The club team is mostly composed of high school players from TC West and TC Central, though students from other area schools are welcome to join the squad, which began playing this month. The team plays its home games on Sundays at the Civic Center.
Rugby may be the most complex, yet simple, game you'll ever watch. It's similar to American football, but played on a bigger field, or pitch, with an egg-shaped ball. There's tackling, but no blocking or forward passes.
At its core, Rugby is one team, with the ball, running into another team defending — until the offensive team scores or loses the ball. However, there are many rules that govern play, and this is what can be confusing. This is no place to go deep into the rule book, but here are a few basics to make rugby interesting and watchable for a first timer:
Scoring
Players can score in four ways. The most valuable is to score "a try," which means touching the ball down in the opponents in-goal area or on their goal line. Doing so is worth five points. A conversion kick is taken from a spot in line with where the ball was grounded and is worth an additional two points. Penalties for various infractions can be used to take a kick at the goal, which is worth three points. A dropped goal, which occurs when a player drops the ball on the ground, then kicks it as it bounces, is worth three points if it goes through the uprights.
Passing
The ball can't travel forward off a player's hands. That means no forward passes or dribbling. The two ways you can advance the ball is kicking the ball or carrying the ball forward. Passes have to be either lateral or backward. Result of breaking this rule is a scrum for the opposing team.
Maybe the most commonly asked question is: What is that thing with all the players mushed together in a big blob?
That's the scrum. On each team, eight of the 15 players, known as the forward pack, bind together — three in front, four in the middle, and one at the back. They push forward in the same formation, while the team that didn't commit the foul puts the ball into the scrum, hoping it comes out at the back of the scrum on their side. Around 90 percent of the time, the team that puts the ball in gets the ball back.
Tackling
When one player tackles another there are three rules for the tackler. 1) Don't tackle around the neck or above. 2) Don't pile drive an opponent's head into the ground like you're spiking a football. 3) Tackle with your hands and shoulders, not just your shoulders.
Wearing shorts, T-shirts, soccer cleats, and mandatory mouthpieces, the players circle around Panian and listen intently as the third-year coach explains the next drill, an exercise designed to instill good, effective tackling habits in the young women. The drill involves the tackler using her hands and lowering a shoulder into the ball carrier, then quickly back-pedaling at full speed before repeating the tackle again and again. It goes for a full-minute and several tackles before the players switch roles.
As the drill continues, the players hit with a ferocity that elicits both grimaces and grins. Paradoxically, there are plenty of laughs and hugs mixed in with the heavy hitting.
Rugby, it seems, is a surprisingly social game.
"Even when we're playing other teams, it's like one great family," said Kayla Tue, a TC Central junior who was urged to try out for rugby by an exchange student. She quickly fell in love with the sport and is in her second season. "Last year I tackled a girl, really blew her out, and she just got up and said, 'Such a good tackle.' Everyone is very caring."
Teammate Alexis Ritter, had a similar experience last season. "I was getting out of a scrum, and I was down on the ground," said the TC Central junior. "And a girl on the other team stopped and helped me up."
Pannian's devotion to the rough-and-tumble sport is evidenced by a tattoo — "RUGBY" — in 2-inch block letters on her right leg above the knee. She not only coaches the high schoolers but also plays on the Traverse Bay Blues Women's Rugby squad.
She's hoping that once classes begin that a few more high schoolers will be interested in playing on the squad. Anyone interested can contact her at (979) 456-9250 or tepanian@gmail.com.
Trending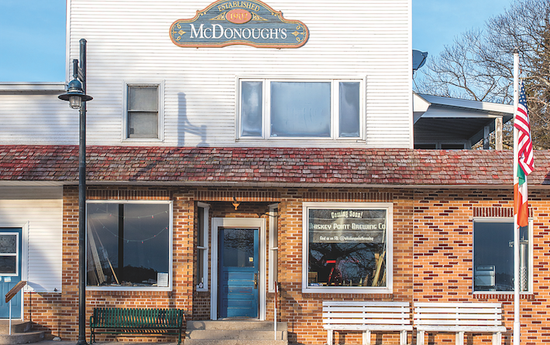 Welcome to Michigan's Most Remote Brewery
After years of planning and honing his beer-making skills, this spring, Patrick McGinnity plans to open Beaver Island's first microbrewery. Opening a craft brewery is challenging. Opening one on a remote island in Lake Michigan that's either a 15-minute plane ride or a two-and-a-half-hour ferry ride from ...
Read More >>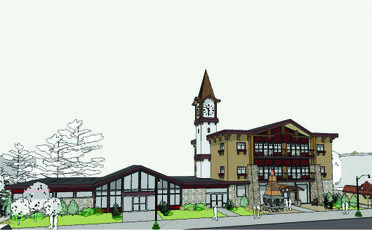 Gaylord: A boomtown Up North
Gaylord native Gary Scott had moved to Indiana, where he and some partners started a business to invest in distressed properties. He was talking to a banker in Detroit about real estate in Bloomington when he asked what kind of deals might be available in northern Michigan. ...
Read More >>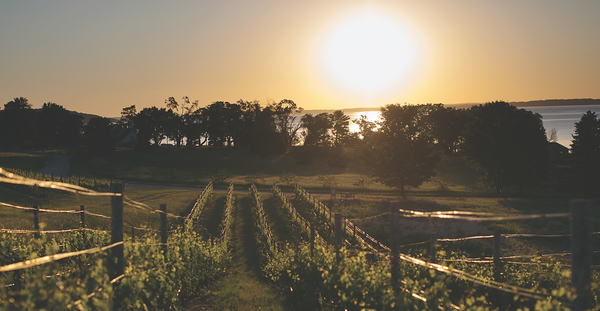 The Latest on the Region's Wine Scene
So many wines, so little time. Each year brings new vintages, new styles, new tasting rooms and events, even new grapes. With some four dozen wineries scattered around the region, how do you keep up with what's new and exciting? For starters, the Old Mission Peninsula Wineries ...
Read More >>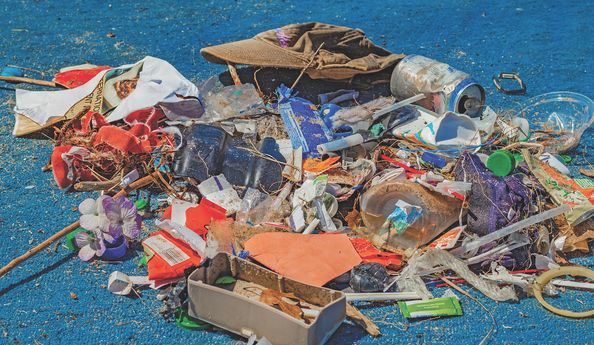 Does Grand Traverse Bay Have a Plastic Problem?
Some seasoned beachcombers noticed an alarming amount of plastic trash washed up along Grand Traverse Bay this spring, fueling worry that's been building over how so much plastic is getting into the Great Lakes and what the consequences might be. Photographer John Robert Williams has spent years ...
Read More >>
↑