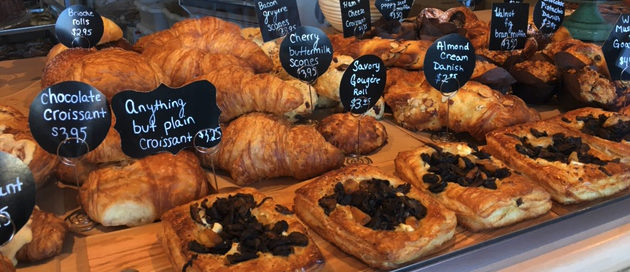 Traverse City's Common Good Bakery
The "new kid on the block" bakes and cooks his way to uncommon goals.
It's mid-afternoon on a Thursday in early November, and business is brisk at the Common Good Bakery in Traverse City. Customers arrive singly, in pairs, or with children in tow; by car, by bike, and on foot. Many are from the surrounding neighborhoods, delighted to have this new business in their midst.
Chances are, aside from natural curiosity about any new food venture, it wasn't the building's exterior — just one more storefront in a small strip mall south of the main shopping district — that drew in these people. And it probably wasn't the interior, either, as appealing and welcoming as it is, with its warm woods, retro light fixtures, vintage flour sacks as wall art, and a backdrop of gleaming stainless steel fixtures and appliances. No, it doesn't take much to figure out what initially lured and continues to lure customers here: the promise — and fulfillment — of a bountiful array of golden-crusted artisan breads and flaky sweet and savory pastries beckoning seductively from the glass-walled bakery case.
Common Good owner-chef Jason Gollan is in the open kitchen in back, where everyone who comes in can watch as he works. He hoists a large white plastic tub of freshly risen dough onto the main bench, and starts pulling off hefty pieces, rolling them around and pinching the edges together between his hands with practiced movements, shaping them deftly into football-like ovals. Then he places each one on a scale, adding or subtracting dough to make sure they are all uniform in size and weight. Baskets lined with well-floured swaths of linen baking cloth stand by to receive the loaves for the final stage of proofing. Being the professional that he is, Gollan is giving the dough his close attention at this crucial stage. Yet he is very much aware of everything else that is going on around him.
He knows that his friendly, knowledgeable counter staff has everything under control out front, but the natural host in him never passes up a chance to connect with his patrons. "Hey," he called out to a customer by name, "great to see you. How are you doing today?" Sometimes he quickly rubs the excess flour and dough off his hands and comes forward to greet people face to face (he even works the occasional counter shift).
"The best part of this venture is being part of an intentional community, getting to know your neighbors," he said. "We wanted to be in a neighborhood. In just the short time we've been here (since Aug. 4), we've already started making friends with people who live nearby. Bakeries are unique in retail food service in that they have the potential to become neighborhood hubs." In that spirit, Golan and his wife designed Common Good to go beyond a bakery and include unique breakfast and lunch menus (both of which are available all day) and a full-service coffee bar. "Our focus is on real food made with real ingredients by professionally trained cooks, bakers, and retail staff — and, of course, on genuine hospitality," Gollan emphasized. "That's kind of a dying art."
Morning buns (croissant dough made into a cinnamon roll and then tossed in cinnamon sugar while still warm) are quickly becoming the bakery's signature item, Gollan noted, although the generously sized, classic French-style croissants and the chocolate croissants are also perennial bestsellers, along with pastry "tiles" sporting various savory toppings. Recent incarnations were a sweet Gorgonzola and ham tile, and a garlic, artichoke, spinach, and cheese tile.
The food menus will change every few months, but always keep a few tried and true favorites, one of which is the breakfast sandwich. "We sell a ton of those every day," said Gollan. "It's very simple — an egg custard on focaccia bread and your choice of bacon or sausage, topped with aged cheddar cheese." Or try the yogurt-granola parfait or a savory muffin. "Our sous chef, Kate, actually developed that one," said Gollan. "She soft cooks eggs and then puts them into individual muffin cups with a special batter — the first one she made had sausage and a little bit of Thai chili paste in it. She's amazing and super talented."
In the lunch category, Gollan said an ongoing favorite is the roasted wild mushroom sandwich. "That one is interesting, because when you roast the mushrooms, they almost get a meaty texture. I've sold that to several meat eaters, and they were impressed." Other sandwiches with growing legions of fans are the chicken basil pesto and the "killer griller" (incorporating four different types of cheese).
Two different soups, at least one of them vegetarian or vegan, are offered every day at Common Good — by the bowl or by the quart. Recently the menu featured a curried cauliflower soup and a ham broth with shredded meat from the bone, collard greens and black-eyed peas. "That was more of a stew-like consistency," said Gollan. "And now that we're into the colder months, we'll doing more of those one-pot meals."
He emphasized that what he and his staff are always looking for are quality and flavor. "That's what we care about. We buy all of our proteins from local sources, and when we can find the vegetables we need at the farmers' market, we of course use them. We want the best flavor so that we can prepare those ingredients minimally and offer that to our customers. And that's really the trick of good food: Simple is better. Our bread, for example, has just four ingredients — flour, water, salt and yeast. It's the quality of ingredients and technique that matter most."
Gollan began his culinary career cooking and baking his way through his undergraduate degree at the University of Colorado to support himself. After several years' experience in the food industry, he enrolled at the San Francisco Baking Institute.
"It was the beginning of me taking a profession that I was falling in love with and actually learning the 'why' behind it all," he said. "And that really sets you free to be very creative and work within the technique."

Later, after having created and run Crescent Bakery in Frankfort for five years, Gollan earned a masters degree in food service management from Michigan State University.
"The driver behind what I'm doing now is to try to establish more of these businesses in neighborhoods, not in commercial corridors. There are conversations I'd like to see people have in Traverse City around our land use planning. Why couldn't we have neighborhood cafés and bakeries and bars and restaurants? They used to be there, but at some point we changed our mind about the composition of our neighborhoods. We talk a lot in Traverse City about walkability, and wanting to improve our infrastructure for pedestrians and cyclists, but you have to have somewhere to go. That's what gets me jumping out of bed every morning. Common Good is an expression of that, of showing what's possible."
Common Good is located at 537 West 14th St. in Traverse City. Open 6am–3pm Tuesday through Sunday. Closed Monday. Eat in, carry out, online ordering, delivery and catering available. For more information, call (231) 933-8002, visit commongoodbakery.com, or check them out on Facebook.
BREAD CLUB
GOOD LOAVES, GOOD TIMES
Common Good's bread club is kind of like a CSA, only instead of produce, it's a six-month or one-year subscription for a weekly loaf of bread, which saves customers almost 30 percent off the retail price. "Often times, that's where we're putting some of our more creative, or new ideas, and bread club members give us their feedback," said Gollan. "One of the fun things I'm working on is a second baguette formula, because I would to send people home with two baguettes made with two different processes and get their feedback on that. We're also planning some social activities for members throughout the year, like dinner and appetizer parties. We want to incorporate an active social experience as part of this — to have it be a real club."
HANDCRAFTED. ON PURPOSE.
LOFTY GOALS
"With our tagline, we're trying to encapsulate both our philosophy and our higher purpose. So 'handcrafted' is just a way of saying we make everything ourselves, and 'on purpose" means we have a plan, a higher purpose. We want to make the world a better place. Part of that is, we need to have tasty, amazing food. And part of it is, you have to genuinely care, not only when you're making the food, but also when you're serving the customer and you're interacting with your vendors or anybody else. It also includes giving back to the community, doing things like using compostable products and reducing our environmental footprint. It costs a little extra, but we think it's worth it to do right by everybody else, and it makes us feel good."
Trending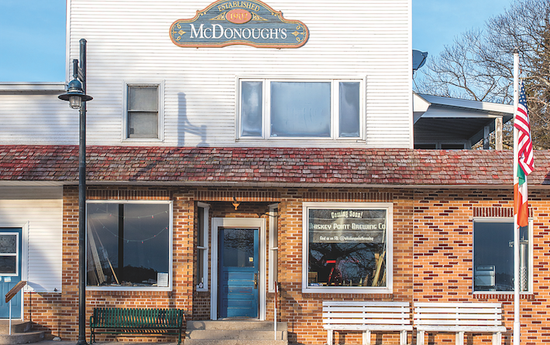 Welcome to Michigan's Most Remote Brewery
After years of planning and honing his beer-making skills, this spring, Patrick McGinnity plans to open Beaver Island&rsqu...
Read More >>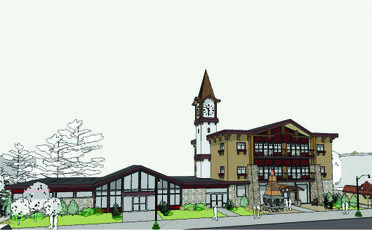 Gaylord: A boomtown Up North
Gaylord native Gary Scott had moved to Indiana, where he and some partners started a business to invest in distressed prop...
Read More >>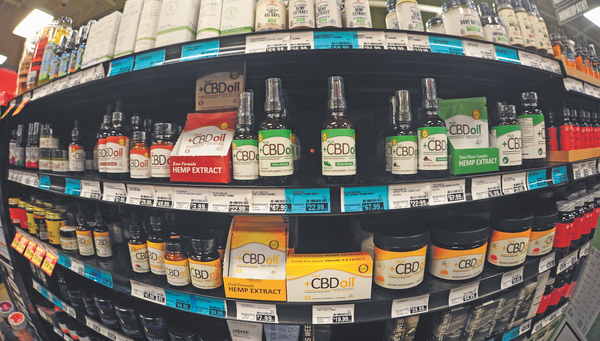 CBD Laws: Dazed and Confused
The sign outside of Family Video in Kalkaska lets drivers know the store has more than just movies. The sign reads: &...
Read More >>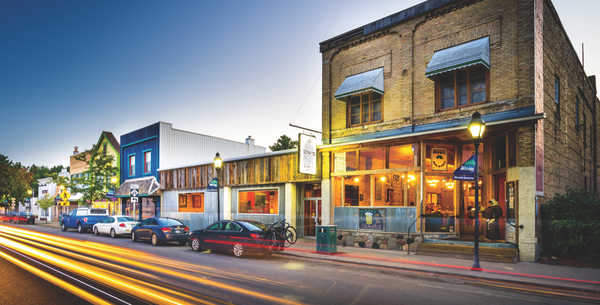 Small Up North Towns on the Rise
Spotlight on Bellaire (pictured)Seems Traverse City isn't the only place in the region making those "Best...
Read More >>
↑