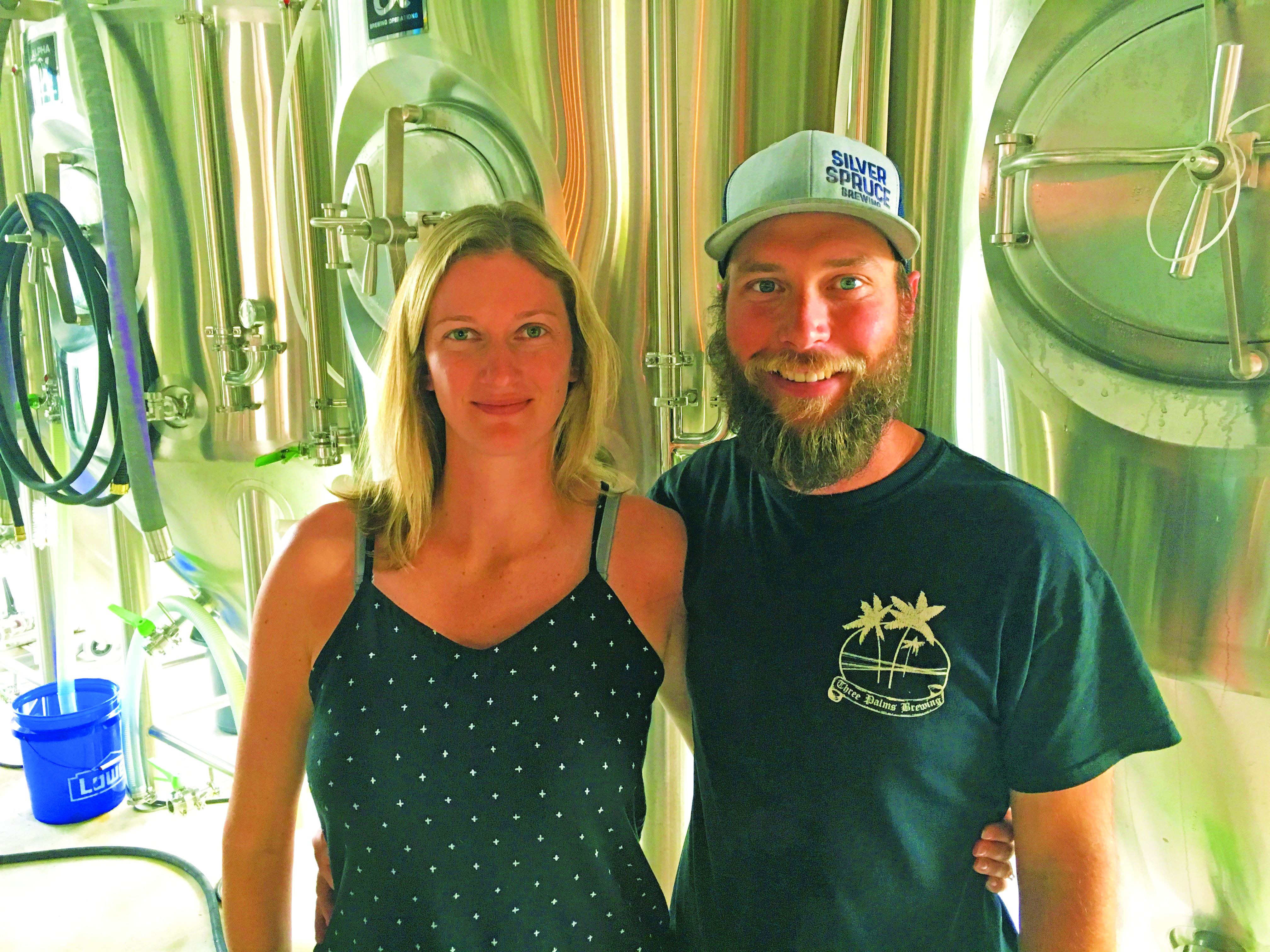 Traverse City's Silver Spruce Brewing
The story of two star-crossed craft beer lovers
Michigan might just be the craft beer capital of the world, if only evidenced by the types of buildings that have been turned into craft breweries over the past decade. Brewery Vivant, based in Grand Rapids, sits in a space that used to be a church, while Traverse City's own Filling Station has made the fact that it used to be a train station central to its entire aesthetic. By those standards, perhaps it shouldn't be surprising that someone eventually had the idea to turn an old video store into a brewery.

Such is the origin story of Silver Spruce Brewing, which operates out of one half of the Family Video building on Eighth Street in Traverse City. Up until last year, Family Video occupied the entire space —and had no plans to sell or lease. When brewers Leah Tyrell and Scott Stuhr came to town looking for a spot to start their own brewery, though, they approached the video store with a proposition: Lease us half the building and let us turn it into something great.

"We were looking at the development of Eighth Street, which we knew about, and this location, this building, with the concrete floors and the tall ceilings and the block walls and the big windows, it was kind of begging to be a brewery," Stuhr said.

Family Video ultimately agreed to the deal, and Tyrell and Stuhr moved to town to start renovation work on what would become the realization of a long-held mutual dream.

Tyrell and Stuhr, who are engaged and have a 15-month-old daughter, essentially owe their entire relationship to craft beer. They met in 2013 when they both started jobs on the very same day at Asheville Brewing Company in Asheville, North Carolina. They wouldn't start dating until a couple years later, but they were fast friends, bonding over conversations about what it would look like if they ever got the chance to run their own brewery.

Stuhr, whose background involved working quality control jobs at water treatment facilities, had a degree in brewing and fermentation science from the University of California, Davis. Tyrell was working on getting her brewing degree online. These credentials — along with a few more years working at breweries, from small neighborhood spots to large-production operations — helped hone their vision and gave Tyrell and Stuhr the chops they needed to pull the trigger.

Right away, Traverse City was the dream destination for the pair. In addition to having a thriving craft beer scene and an explosive summer tourist season that could help make any brewery viable, the area also had personal resonance for Tyrell. She grew up here until she was 11, and says she's been back just about every summer since. If she was going to move away from Asheville and go somewhere new to start a business, northern Michigan was where she wanted to be.

So it was that Tyrell and Stuhr ended up on Eighth Street, converting one half of a 6,000-square-foot video store into the dream brewery they'd spent so many years talking about. They put up a fire wall to separate their part of the building completely from Family Video, then set to work establishing Silver Spruce's unique and unhurried vibe.
The space has a warehouse feel, with the brewing tanks within full view of the tables and bar. But it also blends that atmosphere with something a little more rustic and welcoming, thanks in part to the wooden pergola that makes up the bar area. Outside, there's an outdoor patio area where guests can order food from Silver Spruce's onsite food truck, called Birdhouse Bites. The truck rotates its menu depending on the day, serving everything from tacos and nachos to BBQ chicken, all the way to authentic German-style food to go along with events like the brewery's autumn Oktoberfest celebration.

The main attraction, though, is the beer. Silver Spruce has 10 taps, 10 barrel fermenters, and the capacity to brew about 1,000 barrels of beer annually. Even less than a year in — Silver Spruce officially opened last November — the brewery has already established a solid stable of beers that it can rotate in and out of availability. And while some local breweries focus on experimental, out-there brews — Right Brain Brewery, for instance, is known for this — the focus at Silver Spruce is approachability.

"I think the philosophy, for both of us, is that we like to keep the beers a little simpler," Stuhr said. "We like clean, crisp, clear beer that's just easy drinking. We don't do as much of the experimental stuff. We keep most of our beers on the lighter side and on the easier side."

Tyrell added: "We want to make beer that people aren't intimidated to try, and to make sure that there's a beer for anyone to enjoy."

The result is a tap list that skews toward traditional styles, with a tip of the hat to European beer-making. The IPA, with a 7.2 percent ABV, is the highest-alcohol beer on the menu. The German Pilsner, the brewery's most popular brew, is a 5.4-percent easy drinker that tastes especially refreshing on a hot summer day. Even the darker beers on the menu — the Stout and the Maple Brown — offer smooth, refreshing finishes and don't go above 6 percent alcohol.

So far, the focus on beers that are easy to drink has served Silver Spruce well. The brewery has glowing reviews online and has built a small but loyal contingent of regular customers. It also regularly attracts patrons who are touring local breweries, thanks in part to its location at the mid-way point between The Filling Station and Rare Bird Brewpub. For these endurance drinkers, the low-alcohol beers at Silver Spruce are an inviting prospect.

If there's an obstacle to Silver Spruce's success at the moment, it's the small fact that it doesn't have a road. Since spring, Eighth Street has been torn up to make way for water line replacements and other improvements. October was the initial projected completion date for the project, though recent news has suggested work might be finished early, by mid-September. Either way, the result is that Silver Spruce has effectively missed out on all the foot and drive-by traffic that summertime in Traverse City is supposed to bring. The brewery remains accessible, via a back route through downtown neighborhood streets. According to Tyrell, though, "accessible" hasn't equated to "noticeable."

"The road closure has been tough for us," she said. "Getting new people in the door has been hard, because nobody's driving by. They have to go out of their way to find us, and a lot of people still don't know we exist. We've gone to all the hotels and talked to the people at the front desks, and most of them didn't know we were here."

Despite the slow summer, Stuhr remains optimistic for the future. Silver Spruce had an unexpectedly strong winter, he says, which has helped lessen the blow of the Eighth Street closure. He's looking forward to the day when the road opens up again and more people start finding their way to the brewery.

"It's been fine," he said. "We have a lot of loyal customers, and the other breweries send people our way. The community has been really good to us. So we're surviving; we're definitely going to see it through, and I think once this road is open, it's going to be a very different environment here. Our main goals in the meantime are to focus on making good beer and to continue being part of this community."

Pint Perfect
Northern Express tips a few back and talks with Tyrell and Stuhr about their favorite makes:
German Pilsner: When asked to share her favorite beer on the Silver Spruce menu, Tyrell poured us a pint of this crisp, lightly hopped pilsner. The brewery's menu describes it as being "reminiscent of the beer you used to sneak from your grandpa."

Maple Brown: Tyrell and Stuhr sourced maple syrup from a friend's farm in Onaway to make this smooth and satisfying brown ale. While the name promises a sweet, dark beer, most of the sugar from the syrup has been fermented out and the dark color is significantly deeper than the 5 percent ABV. The hint of maple mainly remains in the finish.

IPA: At 7.2 percent alcohol, the IPA is the booziest beer on the Silver Spruce menu. The beer strikes a balance between the hops (there are three varieties used in the recipe) and subtle hints of tropical fruit to create a beer that will appeal to IPA lovers and skeptics alike.

Stout: Stouts tend to sell a lot better in the winter than in the summertime – to the point where many breweries take their stouts off the menu in the warmer months. While Stuhr says the Silver Spruce Stout is most popular in the winter, though, he notes that it also gets a surprising amount of attention in the summer, too. That's not shocking if you try it. The beer has typical stout trademarks – such as flavors of chocolate and roasted marshmallows – but also has the smooth, refreshing finish of a lighter beer.

Altbier: Despite the deep amber hue, the Altbier is only 4.2 percent alcohol. It's a classic German-style beer with a ton of flavor. "A lot of people like that one who claim not to like beer," Tyrell said.
Trending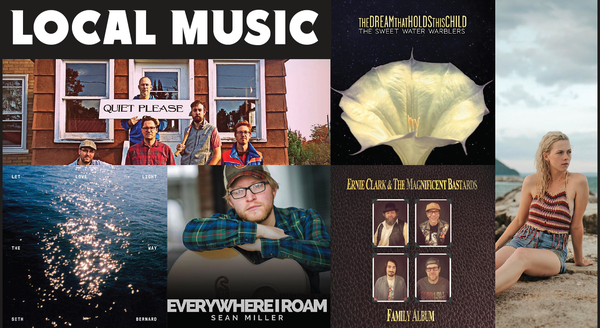 Listen Up: The Latest & Greatest Spins
So 2020 has not been a particularly great year for arts and entertainment. Film releases have been delayed. Concert tours ...
Read More >>

The Libertarians are Coming
Something in the ether, maybe, brought together a bunch of people who over the last year or so declared themselves Liberta...
Read More >>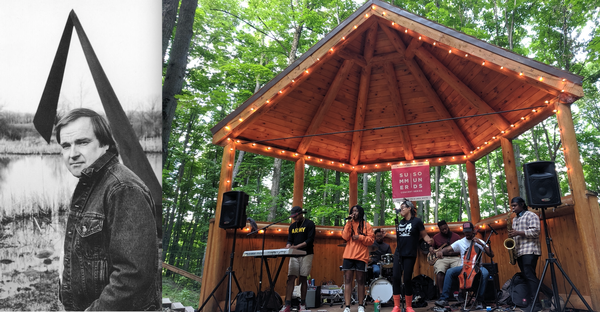 The Other Summer Sounds
As with virtually all venues, the enchanting forest-circled amphitheater inside Michigan Legacy Art Park — like its ...
Read More >>

Say You Were a Fan First
Who are the next big bright stars on the Michigan musical landscape? Who's the next band to become a local favorite ...
Read More >>
↑