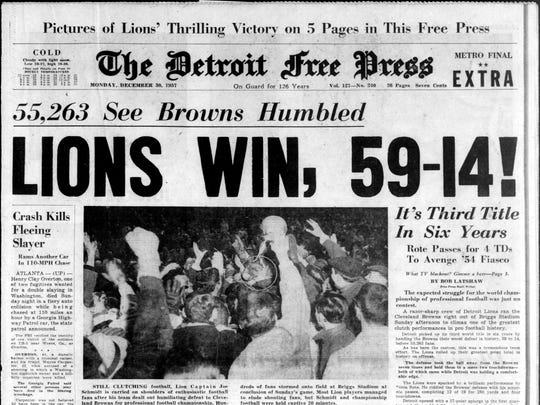 Traverse City's T.J. Phillips Witnessed the Lions' Last NFL Championship Win
Will he — and we — live to see it happen again?
By Al Parker | Aug. 31, 2019
"Christmas came twice that week."

That's how Traverse City resident Thomas "T.J." Phillips recalls the last time the Detroit Lions won the National Football League Championship, almost 62 years ago.

On that bright, chilly Sunday afternoon of Dec. 29, 1957, Phillips was an enthusiastic 11-year-old Lions fan sitting with his father in the stands of Briggs Stadium, also home to the Detroit Tigers.

Now a retired district court judge, Phillips was one of 55,263 spectators who crowded into the historic stadium to see the Lions dominate the Cleveland Browns, 59–14. He's one of the few Lions fans who not only witnessed that victory but is still around hoping to see the team win another title.

"We sat up high and could see everything," said Phillips, who was growing up in Royal Oak at the time. Phillips' father had access to season tickets to Lions games through his work, but the two Championship tickets they shared on that seminal day were actually earned by the youngster himself — an unexpected reward from the neighbor for whom he cut grass and shoveled snow, Mr. Brock.

"Mr. Brock called me up that morning and said 'Tommy, I have two tickets to today's game, if you'd like to go with your Dad.' I was so excited."
Anyone who became a Lions fan over the past half-century might find it hard to believe, but there once was a time when the team was competitive — even dominant — in the NFL. During the 1950s, the team was the class of the league, winning three NFL championships and another title game appearance between 1951 and 1957.

Phillips was an avid fan during those heady times. He and his father went to many games together, and the annual Thanksgiving Day game against the Green Bay Packers was a family ritual around which the holiday revolved.

'This Team is Un-coachable'
The 1957 Lions squad didn't start out so promising, however. It was a team in turmoil before even the first kickoff of the first pre-season game. Turbulent head coach Buddy Parker abruptly quit during the pre-season, announcing his resignation in front of a stunned gathering at the club's annual 'Meet the Lions' banquet in August.

Parker never elaborated on why he left, but he reportedly told sportswriters later that "this team is un-coachable, they're lifeless, and the worst I've ever coached."

Assistant coach George Wilson was named to replace Parker, but that didn't put an end to the turbulence.

Two weeks before the season opener, another fumble: Star quarterback Bobby Layne — a rambling, risk-taking signal caller who loved to party — was arrested for drunk driving.

Layne had charm and charisma as big as his home state and was young Phillips' favorite Lion.

"On offense, my favorites were Bobby Layne, Howard Cassady, and John Henry Johnson," he said. "On defense, I liked Joe Schmidt, Jack Chistensen, and Jim David."

But Layne was special, and Phillips tried to wear his hero's Number 22 whenever he played on sports teams.

Throughout the entire 1957 season, Layne's legal issue hung like a cloud over the team. The arresting officer testified that when he was pulled over, Layne was slurring his speech, but the clever QB had a defense. "I'm from Texas, I always slur my speech," he said.

It wasn't long before signs appeared at Lions games proclaiming, "I ain't drunk, y'all — I'm from Texas."

Eventually the star QB admitted in court to drinking five or six whiskey highballs on the evening in question, but he was acquitted by the jury of 11 women and one man.

"I'm just a born night owl," Layne once said. "Maybe I'm a better player because I start having fun at midnight, get to bed when everybody else is waking, and sleep all morning. Makes me fresh as a daisy for the game."

Layne Out, Rote In
The '57 Lions staggered through the regular season with a so-so 5–4 record. With three games remaining, they suddenly caught fire, knocking off the Green Bay Packers, Cleveland Browns, and Chicago Bears to finish 8-4.

But during the Browns game, tragedy struck: Layne went out with a broken ankle — one that would end his season. The team turned to another native Texan, backup quarterback Tobin Rote.

Green Bay had selected Rote in the second round of the 1950 draft, and during his seven seasons there, he led the team in rushing touchdowns five times. In 1956, on the 4–8 Packers, Rote led the league in passing yards and passing touchdowns (18 to Ted Marchibroda's 12). His 11 rushing TDs were second in the league. By comparison, the rest of entire Packers team accounted for only five touchdowns.

Despite that success, Rote was traded to Detroit in July 1957 and split playing time with Layne. The 1957 playoffs would be his chance to shine.

Playoff Drama
As the playoffs began, the Lions traveled to San Francisco to play the 49ers for the conference title and the right to face the Browns in the championship game.

The lifeless Lions trailed 24–7 at halftime and 27–7 midway through the third quarter when an unexpected hero stepped forward. Tom "The Bomb" Tracy was a little-used running back who had only rushed for 46 yards and not achieved a single touchdown in the 12 regular season games.

But in less than two minutes, "The Bomb" found the end zone twice, once from one yard out and then on a 58-yard scamper, closing the gap to 27–21. Lions linebacker Joe Schmidt picked off a pass that led to a TD by halfback Gene Gedman, then a late field goal lifted the team to a frantic 31-27 victory.

A season that had been launched in turmoil was on the edge of triumph when the Lions faced the Browns a week later for the title. Despite playing before the home crowd at Briggs Stadium, the Lions were 3-point underdogs to the powerful Browns.

The 2pm game was broadcast on national television, and the stadium was packed. "Briggs Stadium was such a great old place for a game," remembered Phillips. "The crowd was really into it and kept the noise on for the whole game. I left that game, and my ears were ringing."

Rote Leads the Rout
The home crowd had plenty to cheer for as the Lions put up 17 points in the first quarter on a Jim Martin field goal, a 1-yard TD by Rote, and a 1-yard TD run by Gedman.

Cleveland, led by rookie running back Jim Brown, got on the scoreboard in the second quarter on a 29-yard TD run by the future Hall of Famer. "I thought, 'uh-oh' on that run," said Phillips. "I was born in Syracuse and knew all about Jim Brown [who played college ball at Syracuse University].

But the Lions responded with a 26-yard TD pass from Rote to Steve Junker. Lions safety Terry Barr's picked off a pass and returned in 19-yards, giving the Detroiters a 31–7 halftime lead.

Cleveland started the scoring in the second half with a touchdown, but the Lions responded with a 78-yard pass from Rote to Jim Doran. "We had a prime seat for that long play," said Phillips. "I was so excited."

Touchdowns by Junker, Dave Middleton, and Howard "Hopalong" Cassady rounded out the scoring in the 59-14 drubbing.

The eight-year veteran Rote threw four touchdown passes in the title game, completing 12 of 19 passes for 280 yards, and he also ran for a TD. Browns quarterbacks Tommy O'Connell and Milt Plumhit on only 9 of 22 passes for 112 yards.

After that magical game 62 years ago, Phillips has been a loyal Lions fan and continues to root for his favorite players — no matter what the record

"I really liked Barry Sanders, and I like Matthew Stafford," he said. "I sort of feel sorry for him and would like to see him win."

With the 2019 season just beginning, how does Phillips assess the Lions chances?

"Well, they're undefeated and unscored on so far," he joked. "I only hope that continues."

Pre-Superbowl Bonanza
The gross receipts for the 1957 Championship game, including radio and television rights, were just under $594,000, the highest to date. Each player on the winning Lions team received $4,295, while Browns players made $2,750 each.

Whatever Happened to Bobby Layne?
Following the crushing end to his last Lions season, Layne was traded to the Pittsburgh Steelers in October 1958, where he was reunited with his former coach, Buddy Parker. Layne played five seasons with the Steelers but never made it back to the playoffs. He retired just before the 1963 season.

He went on to work as quarterback coach for the Pittsburgh Steelers until 1965, then scouted for the Dallas Cowboys until 1967. After trying but failing to nab the head coaching position at Texas Tech, Layne left football once and for all, spending the remainder of his career as a businessman, investing in farms, bowling alleys, real estate, oil, and the stock market. It was, football, however, that held his heart until his death, at age 60, in Texas, not long after attending a dinner in Detroit with his former Lions teammates, in 1986.

"I'll tell you what I really miss," Layne told journalist and author Mickey Herskowitz years after retiring from football. "What I miss is the guys. That's what I miss more than anything. I miss going to training camp. I miss the road trips and the card games. I miss the fellowship. The locker room, the places where it was a pleasure to be. The practice sessions. I miss the bar where we'd go for a beer after practice ... I miss the ball games. I mean, when you've got a whole team looking forward to everything, when you've got guys showing up for practice and staying late, well you've got something there. We had that perfect thing for a while."
After all these years, Layne is rarely mentioned among the all-time great quarterbacks, and his record of excellence is sometimes overlooked. But by the time he retired, Layne owned the NFL records for passing attempts, completions, touchdowns, yards, and interceptions. He was inducted into the Pro Football Hall of Fame in 1967.

The flamboyant Texan left the game as one of the last players to play without a facemask and was often credited with creating the two-minute drill. Said longtime teammate and boyhood friend Doak Walker, who was also a pallbearer at Layne's funeral, "Layne never lost a game ... time just ran out on him."
Trending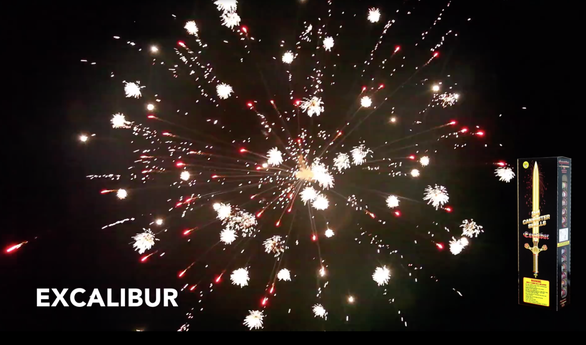 Big Boom Time for Home Fireworks
With social distancing sidelining most of the region's large fireworks shows, many enthusiasts are turning to their ...
Read More >>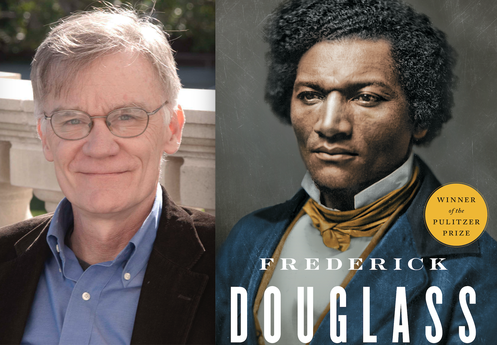 Required July 4 Reading: "Frederick Douglass: Prophet of Freedom"
Pulitzer Prize-winner David W. Blight will be the featured guest at the National Writers Series' online event 7pm Ju...
Read More >>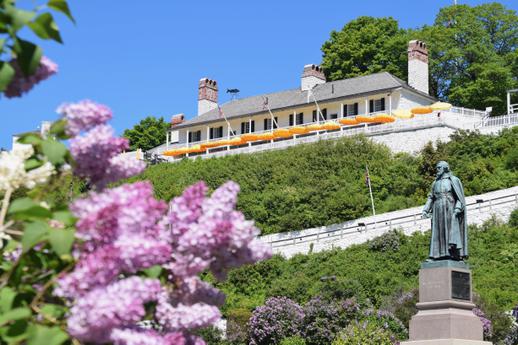 Mackinac Island, After the Shutdown
Mackinac Island — the four-square-mile spot Condé Nast readers named one of the best islands in the U.S. and ...
Read More >>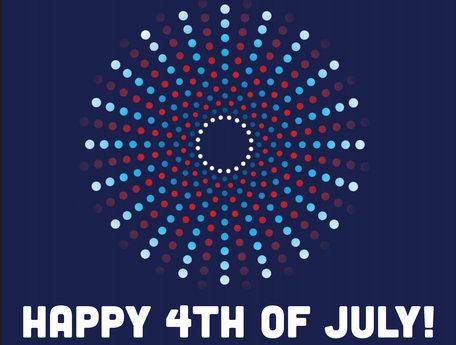 Events Around the North
As the COVID-19 pandemic forestalls festivals and large-scale gatherings, traditional Independence Day festivities have be...
Read More >>
↑