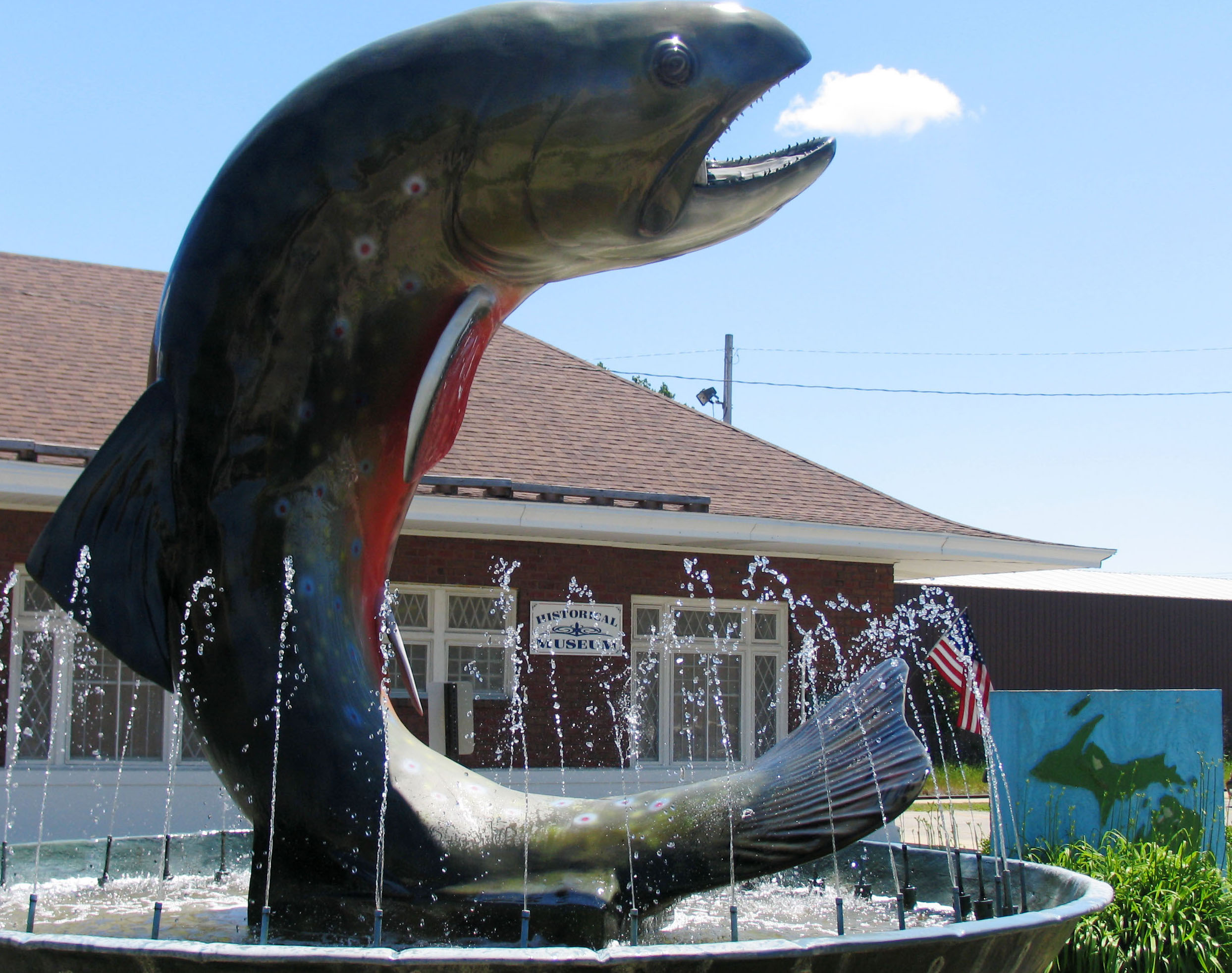 Trout Town USA: Kalkaska Gets Festive with Fish
"Fishing…in some Jungian sense returns us to the aesthetics of the ancient art of gathering and hunting our food. It is a time warp we may step in for a little peace." – Jim Harrison

Author Jim Harrison wrote about its beginnings way back in 1934 in a long–form piece for Sports Illustrated called "A Plaster Trout in Worm Heaven."

It pays homage not only to that very same plaster trout mentioned by Harrison but also to what's been deemed some of the best trout fishing streams in America as well as to other local fishermen haunts like the Manistee River and Lake Skegemog.

It's the National Trout Festival, an event that swells the little town of Kalkaska from 3,000 year–round residents to up to 12,000 people every spring, all seeking the Salvelinus namaycush, or lake trout.
If you're a fisherman, you're likely familiar with northern Michigan's reputation as a great place to fish for trout (among other gill–bearing aquatic animals). The annual National Trout Festival is celebrating its 81st year as a party for all things trout, and a great place to start is at what's formally called the National Trout Memorial, informally dubbed the "fisherman's shrine."

The trout, an impressive replica statue surrounded by a fountain, was sculpted in 1966 and is 18 feet tall, but it's not actually made of plaster. "The trout memorial's original design was by Clifford Kimball, and it was engineered by Ben Robinson and sculpted by Leo Nelson," explained festival chair Diana Needham. "The core is made of foam and the outside is fiberglass."
Once you've taken your obligatory photo next to the trout's pointy teeth and glistening fins, you're in for a full five days of fishy fun, starting with the opening ceremonies on Apr. 26, where Dan Johnson and Paige Clyburn will be crowned this year's trout king and queen alongside a performance by musician Mike Ridley.
Deb Mooneyhan, the president of the National Trout Festival, explained that the festival began when folks started making the trek Up North over 80 years ago for opening day of trout season. "Fishermen from downstate were coming up every year," she said, "and each year they'd bring more and more people, so the festival started as a small, informal thing at first and just kept getting bigger until it became what it is today."

What it is today is a nostalgic burst of activity that brings together everyone from small kids (some learn to fish at the festival's own trout pond) to families, from sentimental senior citizens to 20–somethings out to enjoy the retro feel of the proceedings. This year's schedule of events wouldn't have been out of place in the 1950s. As a matter of fact, it hasn't changed much since then.
"We've got a great flea market and craft fair full of things made by local people, like natural honey and handmade jewelry," Mooneyhan relayed. "There's a classic car show on Sunday and lots of souvenirs like plaques and t–shirts. Oh, and if the kids catch a tagged fish at the trout pond, they get a prize."

The "Trout House" – a miniature log cabin purchased by the festival that moves to the fairgrounds each year for the event – is where you'll find those t–shirts and other merchandise, tickets for some of the events and the popular trout festival pins, a souvenir that festival attendees hoard. "Those change every single year so they're very collectible," Needham explained. "Some people try to collect the whole set of them, even the old ones."
The biggest draws of the National Trout Festival, Needham added, are the Grand Royale Parade on Saturday – also the first day of trout fishing season, of course – and the Skerbeck Family Carnival, a showy extravaganza of brightly flashing rides and games. You'll also find the Whispering Pines petting zoo, bubble soccer (where the players crawl into giant padded balls), fireworks from Melrose Pyrotechnics out of Grand Rapids and artists from In His Image Photography who use both traditional face painting and digital overlays to craft exotic "face mask" images for guests. And if you're looking for music, swim on over to the Troutzilla Tent, where you'll find entertainment from 4pm–11pm Friday and Saturday.
This year, the Troutzilla Tent will feature bands Rookie of the Year, I Set My Friends on Fire, Sarcasm and Storybook. The Shady Belle, the entertainment stage at the Kalkaska Civic Center, will host additional performances from Evergreen, Straight Forward, Darrel Boger, local high school bands and the Dixieland–style Scottville Clown Band, one of Needham's favorites. "The clown band is hugely popular each year," she said. "It's very talented and very, very funny.

So whether your activity of choice is watching clowns play trombones, riding the Tilt–A–Whirl, shopping the flea market, enjoying festival food favorites such as corn dogs and Gibby's Fries (a favorite imported food vendor out of Traverse City) or actually heading out to try to catch one of the festival's namesake trout, there's something for everyone at this vintage–inspired event.
"It just started as this small thing, and now it's such a great way to celebrate trout fishing in northern Michigan," Needham said.
The 81st National Trout Festival will run Apr. 26–30 in Kalkaska. For a complete schedule of events and more information, visit nationaltroutfestival.com or call (231) 384-1509.
Trending
Moving Dirt And Stone
This year is taking a toll on me. I'm more sluggish. It's harder to get out of bed each morning. I have muscle pain that I...
Read More >>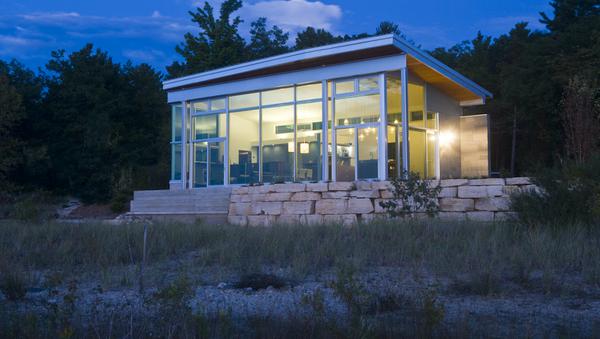 Northern Michigan Modern
From rustic log cabins to Victorian-style homes all the way to more traditional suburban-like developments, northern Michi...
Read More >>
Warts And All
Project 1619, a product of New York Times Magazine writers, is a potential public school curriculum that attempts to redef...
Read More >>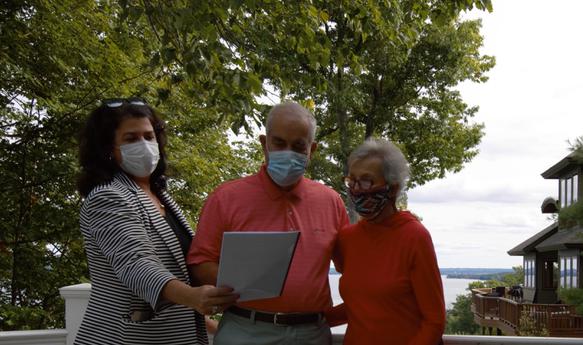 Pandemic Brings Even More Heat To A White-Hot Real Estate Market
There's a mad dash going on in real estate: companies bailing on their massive corporate office buildings, families ...
Read More >>
↑