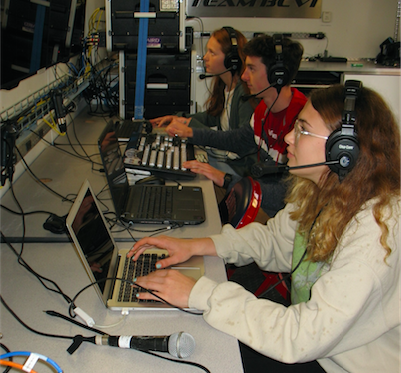 Tune in, Toyko
Boyne City High's Rambler Sports Network is getting play 'round the world
On the basketball court, football field, or volleyball court, teamwork is the key to success.
It's no different with Boyne City High School's student-produced sports broadcasts on the Rambler Sports Network, an award-winning program that airs select football, basketball, and volleyball and other events live to viewers across the nation and all over the world.
"We got an in-game tweet from a couple that said 'We're watching in Venice, Italy. It's 3 a.m. here. Keep it up, Ramblers,'" said teacher Randy Calcaterra , the RSN director. "We've also heard from viewers across the country and one who's stationed in Iraq. They're mostly family and alumni, but our circle is expanding."
The RSN team is made up of some two dozen students in the school's TV and Film Broadcast class, part of the Char-EM ISD tech program. It's part of Boyne City Video Imaging, or BCVI.
A live basketball broadcast involves a crew of 10 students working together smoothly to avoid glitches. Behind the scenes, they handle the wireless sideline camera, the parabolic ear to pick up game sounds, the replay system, graphics and more.
While the announcers are mostly Boyne City teachers, students who want to get in front of the camera act as sideline reporters. Tune in to a Rambler basketball game and you'll hear teachers Andy Bryant and Aaron Fritzsche describe the action. During football season, fourth-grade teacher Roger Coates teamed with Charlevoix County Sheriff Chuck Vondra, an avid BC football fan, in calling the games.
The heartbeat of a game broadcast is the 30-foot, heated production trailer, a snowmobile hauler that has been converted into a mobile studio that can take the RSN team anywhere in the state to cover the Ramblers. It's outfitted with monitors, laptops, cables and all the tech gear needed to do a quality broadcast, complete with graphics, replays and remote cameras.
"It's no different than an NBC production truck," noted Calcaterra.
There's seating for four students who handle all audio, graphics, technical direction and replay, plus a spot for Calcaterra who directs the production. Football takes about 14 crew members to do a game. The intensity of the live broadcast teaches the students about teamwork, thinking on the fly and grace under pressure.
"Putting on a production is nerve-wracking," admitted senior Cliff Maginity who is in his second year with RSN and serves as Technical Director (TD), sort of a quarterback of the production, on game day. A self-described 'technical person', Maginity sees the program as a stepping stone to a potential career in broadcasting.
"It's intense," added junior Brooklyn Fitzpatrick, who handles replays. "If I do it right, I love it."
In charge of the wireless camera is Olivia Knitter, a junior who got interested in RSN after her brother was involved. "It's a lot of fun," she noted. "And it's cool to know how much effort goes into it."
Like any other team, the RSN squad practices their broadcasts, but does it without a live game to cover.
"It's super, duper, duper hard to practice what we do with no game going on," explained Calcaterra. "They do practice, but it's tough. It's like practicing basketball without a ball."
The lanky Calcaterra knows a bit about basketball. He played at Wayne State University as an undergrad and, in addition to his duties with RSN, serves as the Ramblers junior varsity hoops coach.
"The biggest skills in demand now are adaptability, problem solving in unique situations and working with technology," he said. "We're giving students the opportunity to do all three of those things and we've seen the results with students who have left the program and gone on to college."
Graduates of RSN who have gone on to study digital broadcasting in college include:
Jared Frank, former TD, now at Ball State University where he recently TD'd a Cardinals hoop game for ESPN+.
Anna Harmeling, a two-year TD, now at Stanford.
Jill Solomon, a two-year TD, who ran the Jumbotron at Spartan Stadium and the Breslin Center at Michigan State University, is now the TD for University of Michigan woman's volleyball.
Andrew Deneau, now working on big budget films in California: "The Godfather of RSN … an amazing person, amazing talent," said Calcaterra.
Funding for the RSN comes from Char-EM ISD, plus the support of sponsors, including Great Lakes Energy and Wolverine Power, along with local businesses.
In 2016, RSN began partnering with Cadillac-based MINEWS 26 TV, which re-broadcasts the students' productions to cable TV viewers across northern Michigan. "This partnership is very exciting and is another vehicle in which RSN content is reaching viewers," said Calcaterra.
In its early days, RSN broadcasts consisted of a sports talk show, similar to ESPN's Sports Center. When it was decided to do game broadcasts, one of the concerns was that airing games for free would impact live ticket sales, an important source of revenue for school programs.
While Calcaterra acknowledged the concerns, he said the data shows there isn't much of an effect either way. The two biggest factors in attendance, he said, were weather and the success of the team and that any impact broadcasting has is minor, if any.
The growth and popularity of RSN has not gone unnoticed and several other schools have contacted Calcaterra about starting their own program. "Tons of schools have called," he said. "But the barriers to doing this are hellacious. You have to have an enormous amount of knowledge and money."
One of the challenges to operating RSN, or any similar program, involves the Michigan High School Athletic Association. As a body that oversees some 700 high school programs and sets policy that impacts them all, MHSAA is concerned with commercialization and exploitation of the athletes.
"What we're both after is representation of high school athletics in a positive way, as an exciting educational endeavor that is a powerful learning tool," said Calcaterra. "It's something that brings kids, parents, teachers and the community together."
That impact was evident in 2015 when the football team went 10-2 and last year when they were 9–1, losing only to Maple City Glen Lake 28–7 in the final game of the season. "We usually have 1,100 to 1,500 [viewers] watching football, but when we got into the playoffs [in 2015 and 2017] it ramps up like crazy," said Calcaterra.
RSN continues to grow slowly and steadily, adding new tech gear and upgrading items, such as a new heater for the production trailer making it more comfortable during wintry broadcasts. Calcaterra is quick to give credit to the school district, the ISD and the Boyne City community.
"Every time we've needed help, someone stepped up to give it to us," he said. "That means a lot to us."
And the program has an impact on Boyne City athletes too, according to Fitzpatrick, who plays basketball, volleyball and softball, when she's not helping with a RSN broadcast. They are totally aware when one of their games is being sent live around the globe.
"Being in sports, I knew how cool [RSN] was," said Fitzpatrick. "When your game is broadcast, it's special. It's a bit nerve-wracking, but it's cool."
To learn more, visit http://local.boyne.k12.mi.us/rsn/index.html.
Trending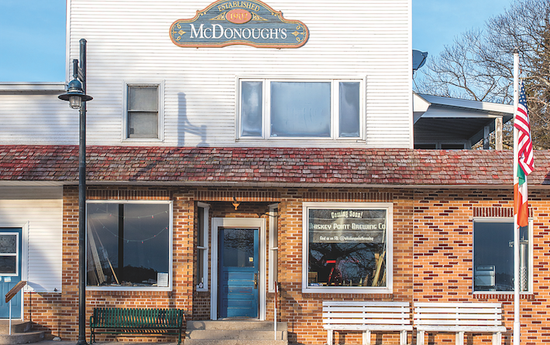 Welcome to Michigan's Most Remote Brewery
After years of planning and honing his beer-making skills, this spring, Patrick McGinnity plans to open Beaver Island&rsqu...
Read More >>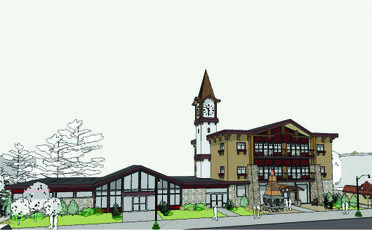 Gaylord: A boomtown Up North
Gaylord native Gary Scott had moved to Indiana, where he and some partners started a business to invest in distressed prop...
Read More >>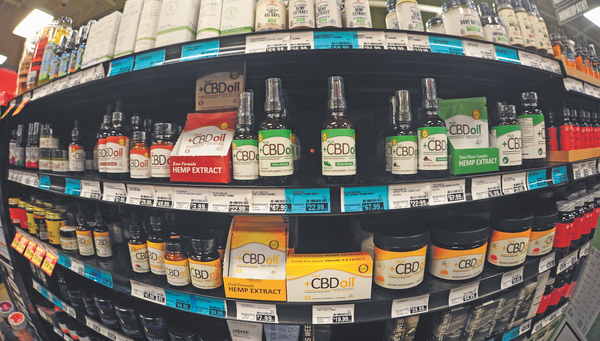 CBD Laws: Dazed and Confused
The sign outside of Family Video in Kalkaska lets drivers know the store has more than just movies. The sign reads: &...
Read More >>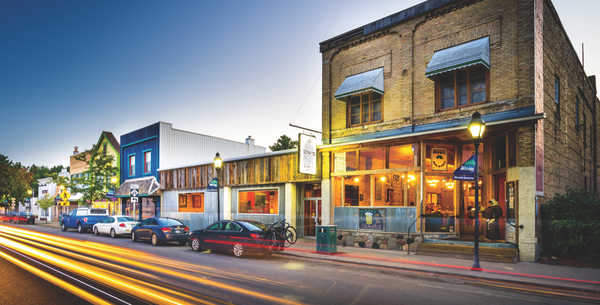 Small Up North Towns on the Rise
Spotlight on Bellaire (pictured)Seems Traverse City isn't the only place in the region making those "Best...
Read More >>
↑