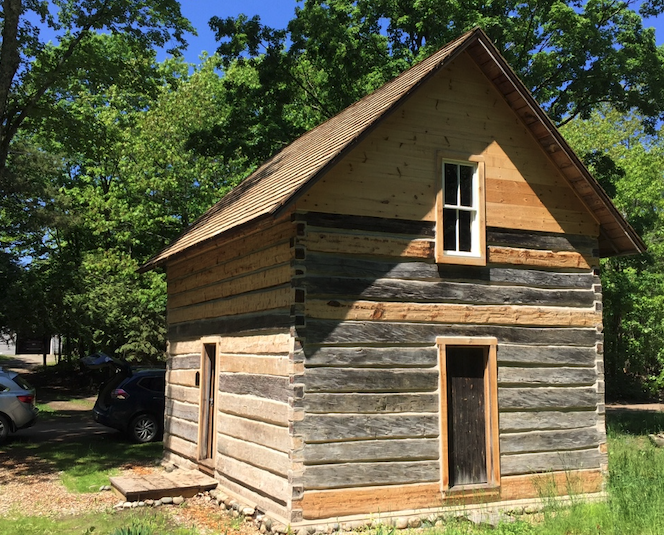 Uncovering — and Restoring — Middle Village History
What the 150-year-old Odawa-built King House has revealed to archeologists so far.
By Al Parker | Sept. 21, 2019
A dedicated team of professional archaeologists and volunteers are in the midst of restoring a unique 150-year-old home in Middle Village, a Native American community near Good Hart.

"This is a unique opportunity to excavate this site," said Dr. David Frurip, who is supervising the investigation along with North Central Michigan College Sociology Professor Kerri Finlayson. "The site is rare because it's a Native American building. We're expected to do the excavation right, and we are."

"It's unique in that it's one of only two Odawa-built cabins left in the area," added Finlayson, a University of Michigan grad who has been involved in archaeology projects in Belize and Nicaragua, where she studied the Mayan culture, and on Old Mission Peninsula in Grand Traverse County.

The project at the King House, believed to have been built around 1867, is two-pronged: the excavation of the site and the restoration of the building itself.

Since 2016, Frurip and Finlayson have been heading up the excavation work which includes two multi-day work sessions each year – one in spring and one in fall. The team of volunteers includes trained archaeologists, experienced researchers and several members of the Silvey family, direct descendants of the King family who built and owned the house for some 150 years.

"Rose Silvey, one of our most energetic diggers, is now in her eighties and has childhood memories of visiting family there in the house," said Frurip, who lives in Midland and spends his summers near Good Hart. "She summers now in Cross Village and comes [to the King house] with a couple of her relatives. She remembers visiting the cabin in the '40s and '50s."

The timeline for the excavation is open-ended, according to Finlayson.

The restoration plan for the King House was developed based on a detailed physical inspection of the building, advice from historic preservation experts, architects and builders, and a review of historical photographs of the house. The goal is to follow national preservation standards to restore the house's building features that were present when the house was occupied in the late 19th and early 20th centuries.

To achieve this goal, some of the features that were introduced in a 1980s reconstruction are being replaced with more appropriate materials.

Hundreds of artifacts have been found at the site, many in an area called a midden, basically a trash-filled area.

"We removed the soil with trowels in five levels of 10 cm depth," said Frurip. "All soil was screened, and hundreds of artifacts were found. Most were typical of items found in previous digs — bottle glass, window glass, square [pre-1900] nails, wire nails [post-1900], decorated ceramics, bones, prehistoric flaked chert from Native American stone tool making, glass beads, and buttons of brass, shell, and porcelain."

Some particularly unique items found were clock gears, a small crucifix, a slate pencil tip, and a ceramic dog-shaped dog whistle that still works.
"We found a brass buckle with a swastika on it," said Frurip. "Somebody thought it might have been brought back from [World War II] as a souvenir."

Another interesting artifact is a so-called Our Lady of Good Counsel medal. About one inch in diameter and stamped in brass, like a coin, it shows a direct connection to St. Ignatius Catholic Church in nearby Harbor Springs and complements a previously found Immaculate Mary medal, according to Frurip.

Also found was a gun flint, presumably from an 18thcentury British flintlock. "It may or may not be related to the cabin occupation, but by 1850, this type of gun was obsolete," explained Frurip. "So it might be related to the fur trade."

The restoration of the house has made considerable progress. Ten of the original birch wall timbers, which were distressed, have been replaced with hand-hewn logs; and the sawed pine timbers that had been installed in the 1980s have been hand-hewed to match the original birch timbers, creating a consistent physical appearance for the timber walls.

In addition, new chinking material has been inserted between the wall timbers on both the exterior and interior of the house. The second floor has been reinforced to meet current safety standards. Cedar shingles have replaced the existing asphalt roof, and historically accurate windows have replaced the windows installed in the 1980s.

Contractors on the project include R.G. Kenel Log Builders and Cross Village Roofing.

When completed, the restored house will share many of the features of the historical home and be a worthy candidate for inclusion on the National Registry of Historic Places.

Despite the fact that many sites have been excavated in northern Michigan, there is still much to discover across the region, according to Finlayson.

"Any site has been excavated only about 10 percent of its potential," she said. "The work is very slow, very methodical. There is still a treasure trove — all we need is the funding, the interest, the time, and the access, since some of the sites are on private property."

A Place in Time: Middle Village
• In 1822, Henry Schoolcraft, the first "indian agent" in what is now the Northern Michigan region, encouraged the Anishinabek to give up their wide hunting lands, create permanent settlements, and become farmers.

• Beginning in 1844, Middle Village leaders worked to buy back their land and build permanent houses in the area as part of a strategy to avoid removal to a western reservation.

• Gradually the population shifted one mile north, and present day Middle Village was formally platted as "Wa-Gau-Muck-A-See" in 1850 in the County of Mackinac (now Emmet County).

• In 1849-54, a Bureau of Indian Affairs map showed the church and 26 structures in Middle Village, with about the same number scattered north for 2.5 miles.

• The Odawa settlement just north of Middle Village was named Good Hart for the principal man Kaw-mino-dee, meaning "He is good-hearted." It was the site for a Presbyterian mission and school in 1855 and a Bureau of Indian Affairs school in 1860.

• The 1860 census recorded 164 Odawa, 34 households, and 6 farms in Middle Village/Good Hart area. The only white people in the area at that time were missionaries or teachers.

• In 1866, Peter Onaasanon (translated "King") bought Lot 8 of the Wa-Gau-Muck-A-See Plat from William and Julia Bwanishing. The King House was thought to be built the next year.

• A 1939 survey identified 22 Odawa families left in Middle Village/Good Hart area, 11 of whom live in Middle Village. Alec King, last of the Kings to live in the King House, died in 1940.

• Over the next three decades Middle Village was abandoned as Odawa families relocated to Harbor Springs, Petoskey, and beyond, and the old log and timber houses fell into disrepair. Rose King, the last Odawa resident of Middle Village and member of the King family, died in 1969.

• In 1979, Mathilda Ramage (King) Allison, a well-known California quill artist who had learned her craft from her grandmother in Middle Village, repurchased the family house, which was falling into ruin and financed a significant reconstruction.

• In 2015, the King House Association (KHA) was organized to "purchase, restore, and maintain" and purchased the King House from Mathilda's grandson as a historic site for telling the story of the area.

• The KHA launched a significant restoration of the House in 2018.
Trending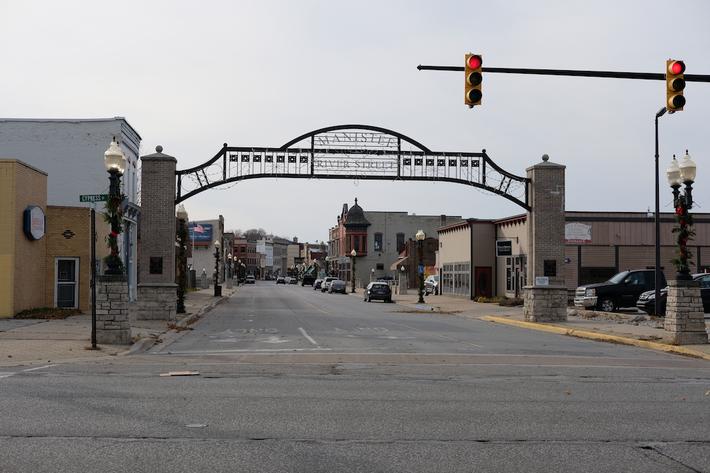 Transforming Manistee
The entrance to downtown Manistee, as it stands today, is drab. On each side of River Street for the first block, building...
Read More >>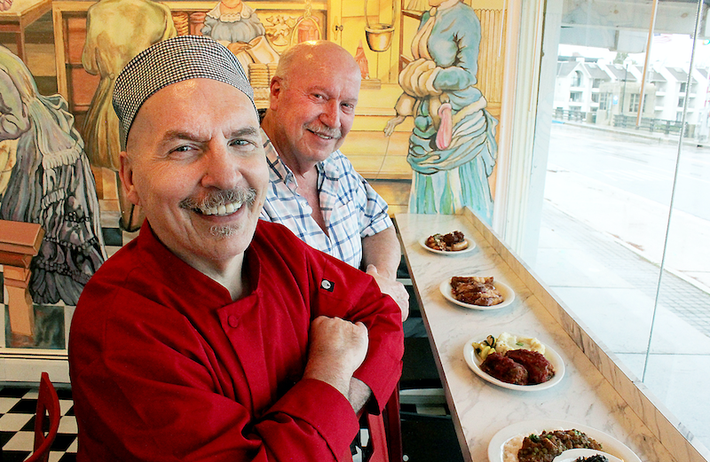 My Grandmother's Table
Gestures of love come in many forms. Gifting flowers, running errands for a sick loved one, wearing masks, or shoveling ou...
Read More >>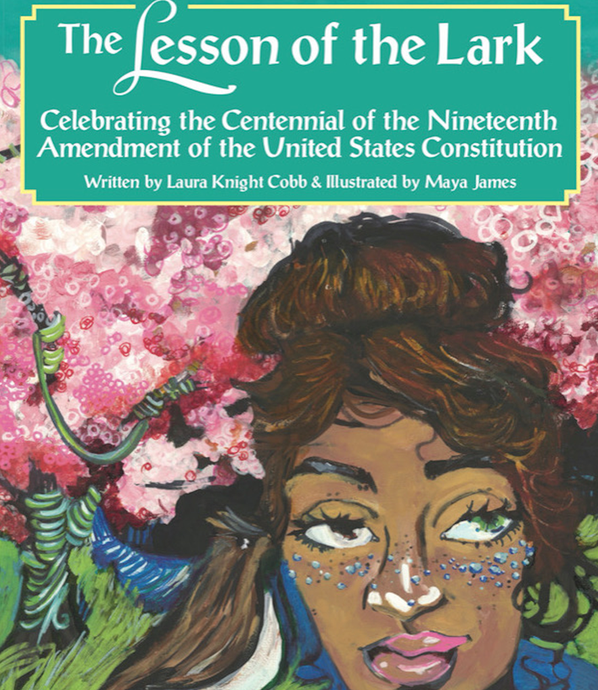 A Girl, a Bird, and a Gardener
An unlikely trio of characters from the pen of a local author has inspired a concert-length musical composition by the aut...
Read More >>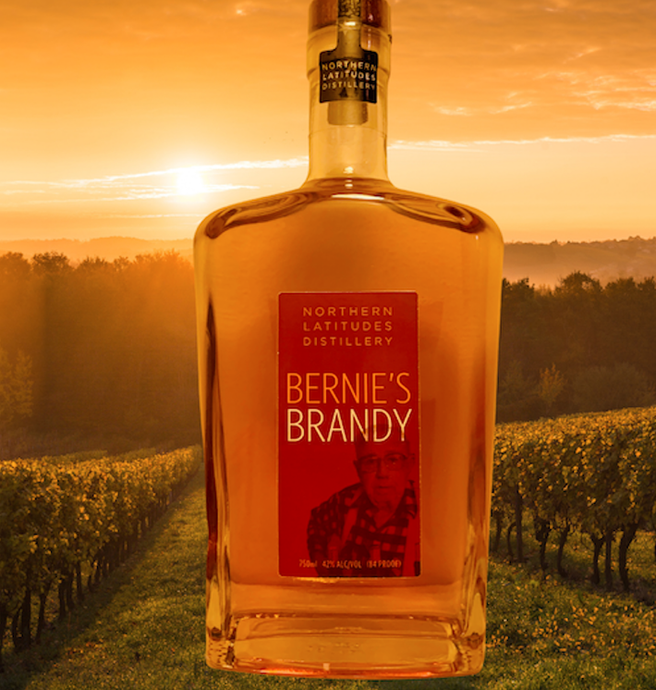 Northern Latitudes' Bernie's Brandy
The legendary spirit of Bernie Rink — aka The Godfather of Northern Michigan Wine — has been, you might say, b...
Read More >>
↑