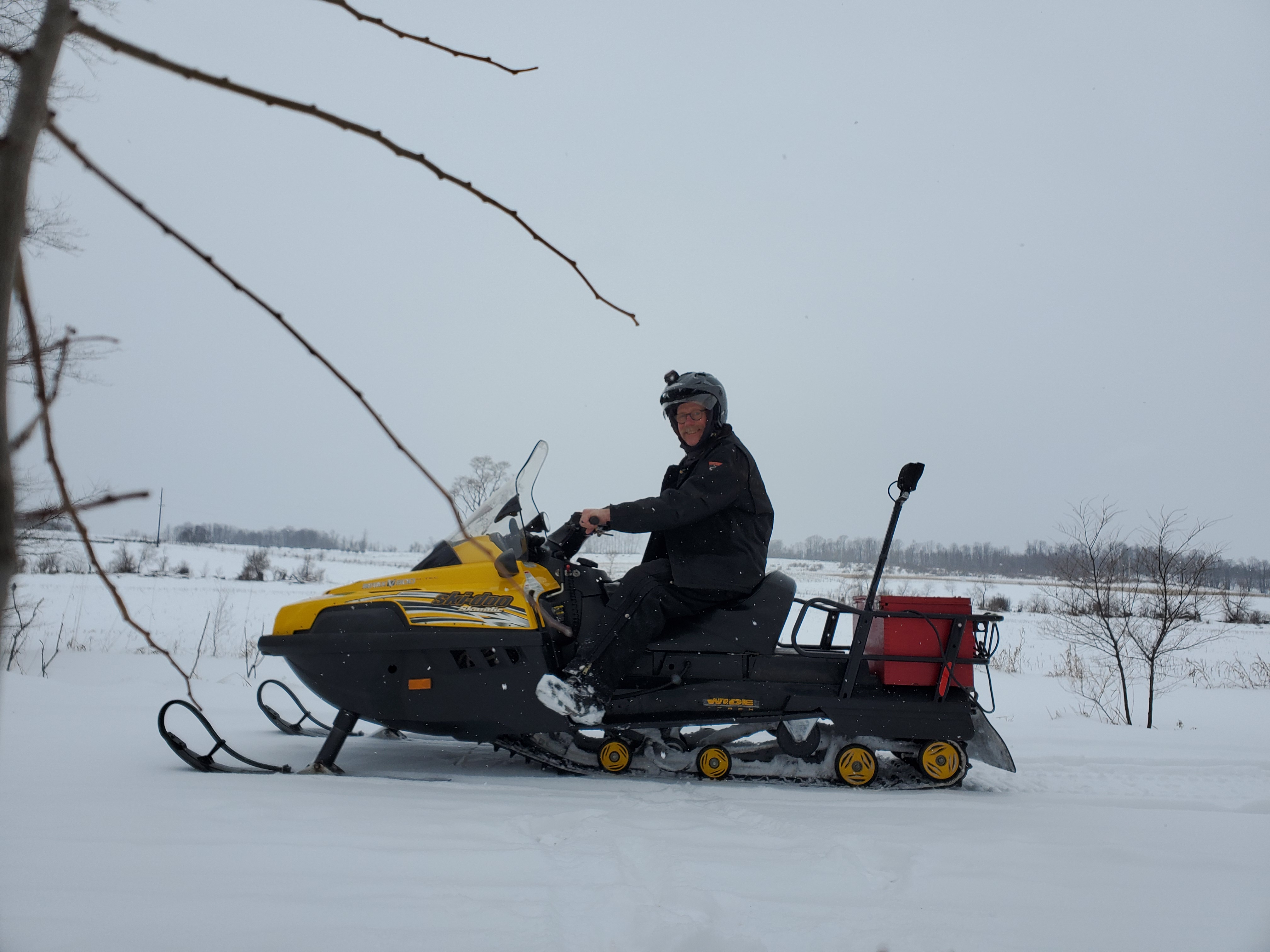 Ode to the Unsung Wards of Winter Fun
The generous, wool-wearing souls making your winter trails possible.
Northern Michigan's reputation as a haven for outdoor recreation is well-earned. But who maintains those miles and miles of trails for bikers, hikers, skiers, and snowmobilers? While the DNR has some responsibilities, in large part, winter maintenance is left up to volunteers.

Many are retired and are able to schedule the work fairly easily. Others take time out from their work or home life to make sure the trails are accessible, safe, and ready to use. What they have in common: an enjoyment of the outdoors, and a commitment to doing for others. Like Bill Heitman and Pete Ostrowski. They take responsibility for the Leelanau Trail — Heitman the southern portion and Ostrowski to the north.

"I was a skier. I was skiing one day and a car stopped and [the driver] asked me how I liked the trail. I said I liked it a lot, and I want to volunteer," said Heitman.

Easy as that. So now Heitman, a retired engineer, heads a group of four or five people who run a snowmobile up and down the trail while hauling a groomer. That allows them and others to enjoy their time outside, whether on skis, snowshoes or in other ways. "People hike the trail, walk the dog, ride fat bikes — it's always in use."

While the goal is to make sure the trail is in condition for them to get out and do what they love on skis, they also enjoy the work of getting it ready. "It's a lot of fun to do," said Heitman.

Unfortunately, unlike resorts and ski hills that have snow guns, when there's no snow, there's no skiing. "We've got to have snow. We can't make snow on the trails," Heitman said, then laughed. "We also don't charge $40 to go skiing."

Besides a lack of snow, Ostrowski said it's also a challenge when there's too much snow. "We like it nice and flat, with a corduroy surface," he said. When it's just snow, they use a groomer, but when there has been a combination of rain, snow, melting and refreezing and the like, they hook up a Ginzu to the snowmobile. Rather than simply dragging the surface to flatten it and break down the occasional drift, the Ginzu has rakes that break through and rough up the surface.

Ostrowski said it takes about four hours on a typical day to groom his portion of the trail, similar to what it takes on the southern portion.

Further north, John Baker and Margie Reh are part of a volunteer cross-country ski group that grooms the trails at Wildwood Hills Pathway southwest of Indian River.
Baker said in the summer, the work involves actually making trails. So he and the others use not only snowmobiles and groomers, but shovels, hammers, loppers, chainsaws – anything necessary to cut through brush as well as keep the trail open and accessible.

He said there are two groups of volunteers, one that meets Tuesdays and one on Thursdays, though there is no hard-and-fast rule of who works when. "Most of us who meet Tuesdays are retired," he said.

Perhaps surprisingly, he said winter work sometimes makes it easier to travers the trails and do the work. "It's easier to get around on snowshoes in winter than in the summer in the wetlands," Baker said.

Working alongside other volunteers has led to meeting others with similar interests. "I enjoy the camaraderie. I've made good friends," he said.

Reh's role is a little different. Though she works on the trails, she spends more time raising funds for their maintenance. "I always liked cross-country skiing. When I moved here ten years ago, I called the DNR and they said there was no budget for grooming."

So she began raising money to pay the DNR to groom the trails. But with its many other responsibilities, the DNR didn't make grooming the trails a priority. After gathering similarly motivated friends and lobbying the DNR, she was able to get permission for the volunteer group to groom – as long as the group had its own equipment.

That led to seeking donations and hosting events, such as the Indian River Biathlon. "And last year we had the Wildwoods Loppet and raised $3,000," Reh said. The group now has its own snowmobile and groomer.

Speaking of snowmobiles, Kurt Bard is president of the Grand Traverse Snowmobile Club. Like those who work on the Leelanau Trail, he and his group try to keep the snowmobile trails free of trees and brush while keeping the surface perfect for their snow machines. "It's a volunteer organization. We don't make or get money," he said.

What they do is keep the trail ready for themselves and others. "We have 40-plus members," he said. "Most of the volunteers are die-hard snowmobilers who are trying to give back to something they love.

"The trail system in Grand Traverse County is a 92-mile loop," Bard said. "We're in charge of grooming and maintaining it." While the skiers use a snowmobile to groom the trail, the snowmobilers use larger equipment. "We have a couple large John Deere tractors with 20-foot drags. We make sure the trails are smooth and safe," Bard said.

Though the snowmobilers use the trails only in the winter, their volunteer work begins earlier. "We start in August. In November the DNR inspects and makes sure the signs are up. The trail system opens Dec. 1 and closes April 1" – assuming there is snow, of course.

Bard said he and the other groomers typically do an eight- to 12-hour shift for each section of the trail. One section is from near Ranch Rudolf to near Kalkaska, another in the Fife Lake area to Walton's Junction, and a third south to the fairgrounds.

He said the volunteer base of the organization includes some retirees, but noted that the length of the shifts and the physical nature of the work can make grooming a challenge. "You bounce around in the tractor, sometimes cut trees or move limbs. It can be quite physical," he said.

What do they get out of it? "I want to promote outdoor recreation," said Ostrowski. "I like to ski. My wife and I skied for four miles today. The sun was out, the trail was groomed. We're all pretty humble. We just get the job done."

While the organizations use the trails in various ways, they band together to lobby for common goals. "The clubs work together on issues. Non-motorized versus motorized, it's always safety first," said Bard. "Everybody is trying to play nice in the same sandbox. We're a great example of working together."
Trending
Pronouns 101
My first assignment in an online graduate-level class was to provide information about my background, including my pronoun...
Read More >>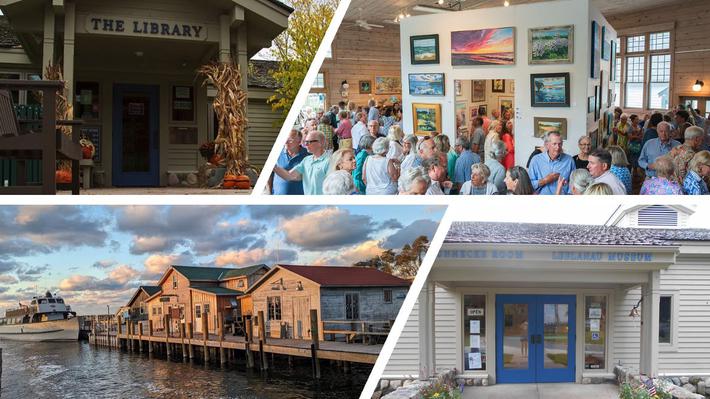 Collaboration Is the Name of the Game
How long does it take to create a cultural center? As few as three years, or as many as 170. Sometimes both. The organiza...
Read More >>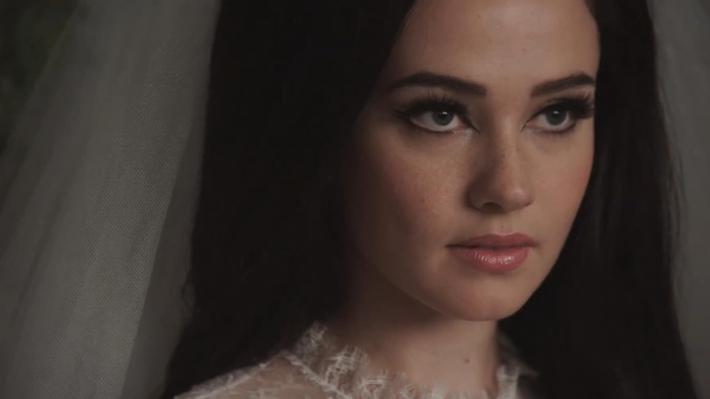 Film Review: Priscilla
While you will certainly be mesmerized by the haunting lead performance from newcomer Cailee Spaeny—and be impressed...
Read More >>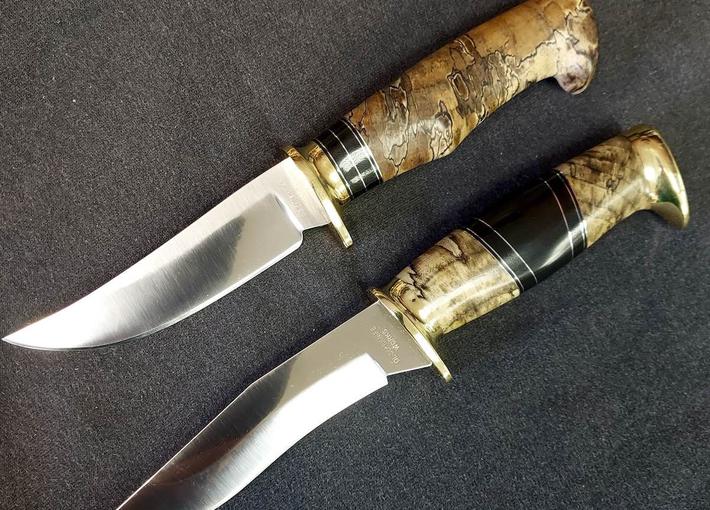 Bespoke Blades
What do you do with a battered ice skate, an old rubber puck, a cracked hockey stick, and a gob of tape? Pitch 'em, ...
Read More >>