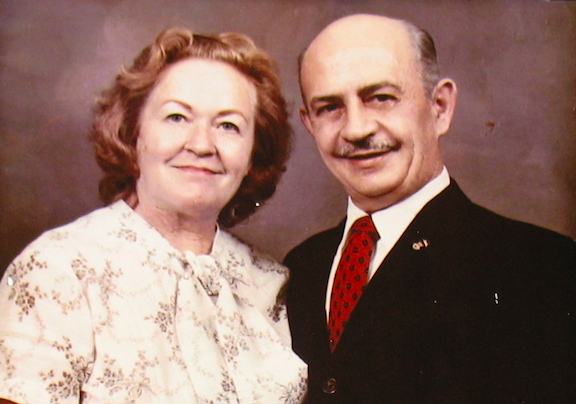 Vanished
A son's search for his parents, who vanished from the skies over Michigan in '77, continues.
The sun was high in an azure sky as John Block stubbed out his cigarette, hoisted luggage from the back of the family's Ford Ranchero, and packed it neatly inside the white and green Cessna 150 at the Macomb Airport, north of Detroit.
It was about 11am on a Monday, and John, along with his wife, Jean, were getting ready to fly north to visit family. The date was July 4, 1977.
The couple never arrived at their destination, the Lost Creek Sky Ranch in Luzerne, between Grayling and Mio, in Oscoda County.
It's been almost 42 years since the Blocks disappeared.
The fact that the Blocks simply vanished is mysterious in itself, but the fact that their aircraft, with its orange-tipped white wings and green and white fuselage, has never been found is even more amazing. Literally hundreds of Civil Air Patrol, Coast Guard and Air Force planes searched for weeks for the aircraft — registration number N50935 — before ending the hunt.
While some of the territory that they flew over is rugged, it seems almost beyond logic that in more than four decades no deer hunter, hiker, biker, or mushroom picker in Michigan has stumbled across the wreckage.
What happened to the Blocks and their Cessna is one of Michigan's most enduring mysteries and one which has been a very personal enigma for a Traverse City man.
"I think it's sitting in some trees somewhere," said John Block Jr., son of the John and Jean Block. "Before I croak, I hope some guy buys some property and during the inspection they find the plane. Or someone will be out clearing a forest trail, or hiking, and see the plane up in the trees."
It's been a few years since there was even a hint to the fate of the Blocks.
"Three or four years ago a fisherman on the Au Sable found what looked like an aircraft wing," said John Jr. "He contacted the sheriff's department, who recovered it and, sure enough, it looked like metal from an aircraft. They took photos and eventually identified it as a side panel to a Coleman pop-up camper."
It was just another dead end, one of many, in the enduring mystery.
"We were spending the holiday at Spider Lake having a cookout with friends," recalled John Jr., now 72, during a recent interview at a Traverse City restaurant. "It was a beautiful, relaxing day. That night I got a call from my brother Mike, asking if Mom and Dad had changed plans and come to Traverse City. I told him no, and we started checking around."
John Jr. was a 31-year-old Grand Traverse County deputy at the time. He's a professional investigator who spent more than 30 years in law enforcement, as a road deputy and detective, before enlisting in the Coast Guard reserve. For decades he and his older brother, Mike, have spent countless hours searching for their parents.
While the weather near Detroit was perfect when the Blocks took flight, it soon turned nasty across the Lower Peninsula. Severe thunderstorms and several funnel clouds were reported, mostly later in the day. State Police at the Manistee post reported that a twin-engine Piper Apache crashed near Free Soil, killing four people. Witnesses said the plane "broke apart" in the turbulence and fell to earth in pieces.
A missing person report was filed about the Blocks, and search parties, including local police, State Police, and the Civil Air Patrol began an exhaustive search, and a Federal Aviation Administration (FAA) investigation was held. Still no sign of the missing plane or the Blocks.
John Jr. and his wife, Judy, spent much of the next two decades physically scouring northern Michigan for the wreckage. They distributed thousands of posters and flyers — especially during deer hunting season — seeking information or witnesses who might help them find the downed aircraft. Using his investigative skills, John Jr. followed hundreds of tips that all led to dead ends.
John Jr. believes two things might have happened to cause his parents' plane to crash. First, they may have encountered bad weather that moved into the northern Lower Peninsula that afternoon.
But the weather would only be a factor if the couple got lost and their flight time was extended by a couple of hours. And if the senior Block had become confused, he could have made a distress call on his two-way radio.
A second theory is that John Block, who was 57 and suffered from diabetes and high blood pressure, might have had some type of medical emergency; Jean did not know how to pilot the plane.
John Jr. has dealt with his own health issues, including two heart attacks and two strokes that have impacted his mobility.
The desperate Block family even employed the talents of a Macomb County psychic, known only as MaryJo, who told them the plane went down in a swampy area in the Isabella Indian Reservation in Isabella County, near Mt. Pleasant. The area was searched, but nothing was found.
A second psychic suggested looking near Rose City, but eventually all trails turned cold, all leads led nowhere.
Family patriarch John Bernard Block was born in Detroit on New Year's Day of 1920. He spent his formative teen years growing up during The Great Depression of the 1930s. While thousands were losing their jobs, John's father was able to maintain a very respectable secure post as a fire chief during those lean years. That gave the Block family a financial base during the nation's hard times.
Like many Depression-era kids, John and Jean developed a frugal, practical sense. They were patriotic, humble, hardworking, common-sense folks, though John developed a love of tobacco, eventually building to a five-pack-a-day habit.
In April of 1942, five months after the Japanese attack on Pearl Harbor, 22-year-old John enlisted in the U.S. Army Air Corps, where he handled several different assignments. He drove heavy trucks; did inspections on jeeps, trucks, and tanks; and saw action as a vehicle dispatcher. Near the end of the war, he was trained as a firefighter, a skill that would serve him well after his military career was over.
John was discharged from the Army in October 1945, and two weeks later, on Nov. 3, 1945, he and Jean (Mills) were wed. Soon, John found work at the U.S. Army Tank Automotive Command in the Detroit suburb of Warren. Over the years he worked his way up to become the unit's fire chief.
Along the way, John and Jean became parents of two sons, Michael and John Jr.
Block, a longtime resident of East Detroit now called Eastpointe, had earned his pilot's license 30 years before the flight, in 1947, after serving in World War II. He didn't have an extraordinary amount of flight time, just under 500 hours, with 200 to 300 after 1970. But he was rated as a stunt pilot and would sometimes practice barrel rolls and other stunt maneuvers along with safety procedures.
"We loved flying with our dad," said John Jr. "It was like a special day when we got to fly. Ironically, my mother hated to fly."
John wasn't instrument rated and would use road maps and follow major highways to get his bearings.
"He would not have been comfortable flying over water," said John Jr. "I don't think it's in water anywhere."
The flight path, north of West Branch, is some of the most uninhabited and remote in the Lower Peninsula. There are thick woods and gloomy swamps in the Mio and Huron Shores areas of the Huron-Manistee National Forest. It's an area that gets minimal foot traffic, compared with other outdoor hiking, hunting, and fishing locales in central Lower Michigan.
With such thick woods, it's possible that the Cessna could have been ripped apart by sturdy tree branches and hit the ground in pieces, with virtually no disturbance of the lush green tree canopy.
John Jr., who has spent hundreds of hours searching the region, says there are immense areas of private lands dotted with scattered cabins and swamps that could certainly be the final resting place of the Cessna and the Blocks.
As a "road runner," John filed no flight plan for the trip north and routinely would have followed I-75 to reach Luzerne.
So it was stunning when a pilot later claimed to have talked with the Blocks at Fritz-Beach Airport in Charlotte, about halfway between Lansing and Grand Rapids. This would have been some 60 miles off the Blocks' intended flight path north. The pilot identified the couple from photographs. It's believed that John might have become confused and with visibility getting worse by the minute, could have followed a major highway west, possibly I-96, instead of north.
"I don't believe that report," said John Jr. "I still believe it's along the I-75 route somewhere. You know, no one has flown the entire route yet. I hope to fly that someday."
In April 1978, the Macomb County Probate Court issued death certificates for John and Jean Block. Three months later, just over a year after the Blocks vanished, the family held a memorial service.
Northern Michigan author Ross Richardson devoted an entire 46-page chapter to the Blocks and their unseen Cessna in his 2014 book, "Still Missing."
"Theories abound to what happened to the Blocks and their Cessna," he wrote. "Did they run into a fast-moving storm while heading north and get chased out onto Saginaw Bay and crash unnoticed into vast waters of Lake Huron? Did John Block Sr. get disoriented and head West instead of North, out onto Lake Michigan, another vast body of water? Did John Block St. suffer a medical emergency and crash into a dense section of remote forest or unexplored swamp? Did the Blocks meet with foul play, perhaps witnessing illegal activities, like drug running or victims of airplane theft? Or did John and Jean Block decide to end their lives like they lived their lives, together?
"While none of these scenarios offer any type of solace, the thought of the Blocks never being found sounds unfathomable. John and Jean Block are out there, somewhere, sitting in their little green and white Cessna, waiting to be found."
Trending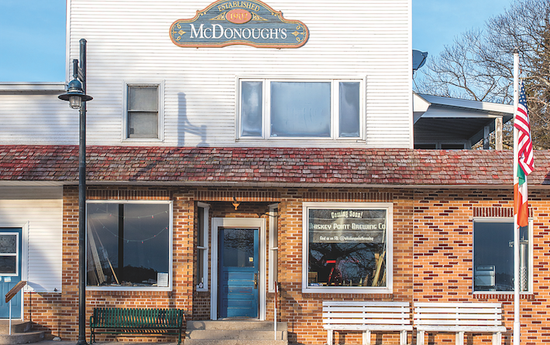 Welcome to Michigan's Most Remote Brewery
After years of planning and honing his beer-making skills, this spring, Patrick McGinnity plans to open Beaver Island&rsqu...
Read More >>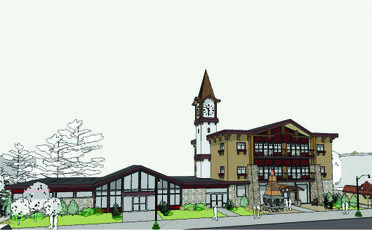 Gaylord: A boomtown Up North
Gaylord native Gary Scott had moved to Indiana, where he and some partners started a business to invest in distressed prop...
Read More >>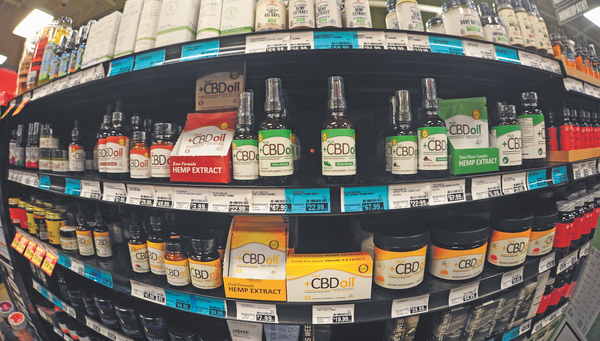 CBD Laws: Dazed and Confused
The sign outside of Family Video in Kalkaska lets drivers know the store has more than just movies. The sign reads: &...
Read More >>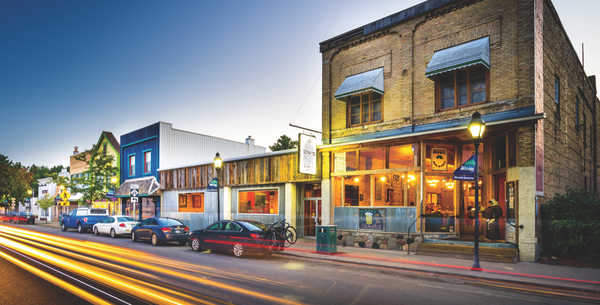 Small Up North Towns on the Rise
Spotlight on Bellaire (pictured)Seems Traverse City isn't the only place in the region making those "Best...
Read More >>
↑