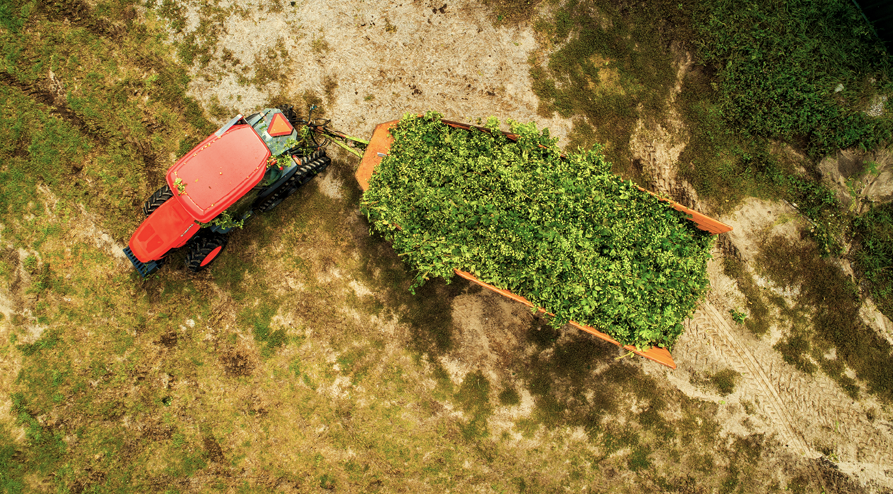 Vice v. Virus
Beer, wine, liquor, cannabis — they've all been deemed essential. How are they faring ?
Northern Express set out to talk to some of the people who work in the industries that produce these products to learn how the pandemic has impacted their jobs.

GROWING WEED IN KALKASKA
There might not yet be any pot stores open in Kalkaska, a village that went all in on its embrace of the legal drug, but behind the scenes, the pot businesses of Kalkaska are humming and doing their part to keep the state's marijuana industry alive.

Tom Beller owns Real Leaf Solutions, a growing facility that produces smokable flower and trim and shake that's sold to processors to be turned into edibles. Beller said that despite the pandemic, each part of the chain — growers, processors, testers, transporters and retailers — is still functioning.

"Cannabis is an important health product. People look to it to ease depression and people may be more likely to stock up now," he said. "What I have found is that people will stock up, and then sales will be slower in the following days, and then sales will pick back up because customers are running out."
Beller said that retail marijuana shops have not opened in Kalkaska yet because the store owners — at least the ones he knows — are growing their own inventory so that they will be well-stocked when they open.

"There was a shortage, and there still remains to be a shortage of products and flower, so most provisioning centers, in lieu of a hasty opening with a limited stock of supplies, they are waiting," he said. "You only get one chance to win somebody over when they come into your store."
Beller's facility remains in production, and only a handful of his 20 employees have opted to stop working amid the crisis.

"The plants don't stop growing and requiring attention just because of the pandemic, so we are still operating. … We've had people that have opted to quarantined at home," Beller said. "We support their decisions. Their jobs will be here when they return."

The biggest changes are that workers have to be kept apart now, and the already strict cleanliness standards have gotten even more rigorous. Beller said he uses surveillance at his facility to ensure that workers stay distant from one another.

"Even our trimmers — I'm looking at them right now — they are now approximately 12 feet from each other," Beller said.

They've implemented new protocols for cleanliness on top of the requirements that were already there for the heavily regulated industry, he said. They already wore masks and gloves and cleaned a lot. Now they clean more.

"People are constantly cleaning," he said. "Basically, we're constantly sterilizing."

CRAFT SPIRITS BECOME CRAFT SANITIZER
Until coronavirus, it never even occurred to Kent Rabish that he could use his distillery to make hand sanitizer.

"I never thought of that or considered it," said Rabish, owner of Grand Traverse Distillery. "It didn't come across until I literally got a call one day asking to make it."

That call from a hospital group — it came early, Rabish said, toward the end of February — was the first indication for Rabish that his life was about to change.

The opportunity to make hand sanitizer is not just a novel means of getting some attention amid the pandemic, either. It could be what keeps businesses like Grand Traverse Distillery afloat through this ordeal.

Rabish said the pandemic has not caused a run on high-end spirits. He suspects it's been good for discount liquor sales, but craft liquor sales have been flat.

"We have not seen a bump in sales over this," Rabish said. "We're probably about the same, but I don't have a $9 vodka or a $12 whiskey."

Grand Traverse Distillery products remain on sale at retailers throughout the state, but the new reality has forced Rabish to change the way he approaches his business. Rabish has been finishing up a batch of potato vodka, but he said once that's completed, he plans to produce only hand sanitizer for the time being.

It may not be as artful as creating a bourbon whiskey or a barrel-aged gin, but hand sanitizer production comes with its own high standards.

According to World Heath Organization, it's got to be over 160 proof. According to state and federal law, it's got to be denatured, or made so that it cannot be consumed for pleasure, in order to be sold as hand sanitizer. Otherwise some people might see it as a cheap buzz.

The first batches were donated to hospitals but Rabish said he will have to start to sell it in order to stay in business.

"That's probably going to be our mission for the next couple months," he said. "We've got to stay open and stay in business."

That said, Grand Traverse Distillery has plenty of potable stock, and he doesn't see running out of that any time soon.

The distillery's spirits are available by the bottle from 10am to 2pm Monday through Friday at the main distillery location on Three Mile Road in East Bay Township. That's also where customers can find the hand sanitizer for sale. Sanitizer costs $7.55 for a 12-ounce bottle, limit one per customer while supplies last.

"[The pandemic] makes you look at your business differently," Rabish said.

A HOPS GROWER'S VIEW OF THE BEER INDUSTRY
Brian Tennis has a finger on the pulse of the beer industry. His company, Michigan Hop Alliance, supplies nearly 4,000 craft brewers across the country and several hundred in Michigan. Business has significantly slowed down, he said.

"Our sales are down 80, 85 percent, but we're still shipping out hops," Tennis said.

Typically, small breweries likely only make and sell beer if they have kept open their restaurant operations. Larger breweries that have established brands that are available in stores — like Short's in Bellaire and Stormcloud in Frankfort — are maintaining their brewing, bottling and canning operations in order to supply stores.

While the crisis has hurt their overall business, Tennis said some of the breweries are seeing better retail sales as people look for craft beer while they are holed up at home.

"Their sales obviously have taken a hit, but some of their package sales have never been better in the last month," he said.

Michigan Hop Alliance grows 30 acres of hops and processes 40 or 50 acres of hops from other growers. He said hops growers are bracing themselves for a downturn because of all of the breweries that aren't brewing right now.

They're cutting back on what they plant this spring because they anticipate that by August, when the hops are harvested, there will be such large hops reserves that there won't be a market for more.
"We have a skeleton crew right now; we're just now getting going," Tennis said.

That small crew is preparing the hops fields, a labor-intensive process that involves laying down fertilizer and then shoring up and stringing the trellises so that the hops can grow up into them.

"There's a lot of hops farmers that are cutting back on acreage," he said. "There's not a lot of brewers around the country that are brewing right now. It's just like they flipped a switch, and everybody stopped brewing overnight."

Does that mean that Michigan's or the region's stockpile of craft beer is in danger of running low? Tennis doesn't think so, because once stay-at-home orders are lifted, breweries can get online and start producing quickly.

Right now, Tennis predicts, many of the craft breweries that are in operation are most likely working on batches of lager rather than ale because it's a much longer process and no one is in a hurry right now.
If Tennis is correct, that means there should be lots of light, refreshing beer available if brewpubs reopen this summer.

"A lot of the smart ones are probably sitting on some lager tanks right now," Tennis said. "There's always a silver lining somewhere."

OVER ON OLD MISSION PENINSULA …
Things are quiet at Mari Vineyards on the Old Mission Peninsula these days.

That's in part because of concerns about the pandemic, but it also happens that this is a slow time of the year for the wine industry, said Sean O'Keefe, head winemaker.

"We're kind of in a holding pattern, doing a little bottling, but only with two people," O'Keefe said. "The manager for the tasting room is still shipping out orders for people at home."

Fortunately, given the circumstances, wine from last year's harvest has already fermented — the fermenting period is a labor-intensive one — and that wine is aging in casks, a stage that requires far less attention.

Mari's business has really slowed, though, due to the crisis. While the area's larger, more established wineries like Black Star Farms or Chateau Grand Traverse (founded by O'Keefe's father) produce and bottle wine that is distributed to grocery stores across the state, Mari sells primarily through its (now shuttered) tasting room and at high-end restaurants, many of them in Chicago or Metro Detroit.

O'Keefe is worried about the impact the crisis will have on those restaurants.

"We're in there with the restaurants and all that," he said. "That's where our sales are at. We're trying to extend terms and share the pain with everybody."

Nonetheless, many restaurants are expected to fail, and O'Keefe predicts that by fall, benefits for people who work in the restaurant industry will be common.

O'Keefe is optimistic that the winery will survive. So far, they've been able to keep all of their employees on.

"I'm optimistic, in a sense, where if we could return to some kind of semi-normal, let's say that people could stop by the tasting room by the end of June, then I think we'd be all right," he said.
In the meantime, Mari Vineyard's wine is available for mail order through their website, www.marivineyards.com.

LIFE OF A POT DELIVERY PERSON
Cannabis delivery in the time of the pandemic is a kind of work in progress – the single company that delivers to parts of northwest Lower Michigan has scrambled to provide a safe way to get product into people's hands while still offering something akin to the experience of going into a dispensary and being able to ask questions and get information about the products for sale.

That's especially important in this time because cannabis can be used to quell anxiety, something today that recreational marijuana users are looking for perhaps just as much as card-carrying medical marijuana users, said Brock Grady, logistics manager for Lume, which runs a store in Honor that offers curbside pickup and delivery as far away as Traverse City.

What does the day of a pot delivery person look like? Grady said it starts with the orders, which are taken with delivery windows agreed upon, and then the most efficient delivery route is determined.

Grady said that the company strives to maintain the same health standards for delivery as they do at the company's stores.

Grady said the customers who order delivery make up the spectrum of society, from the young (you've got to be at least 21 to purchase marijuana in Michigan) to the elderly.

Many of the customers, Grady said, are new to marijuana, which makes the education component important, so that people get something that works for them and they know how to properly consume it.
"I tell you what, our Lume delivery has been extremely popular, especially during these difficult times," he said.
Trending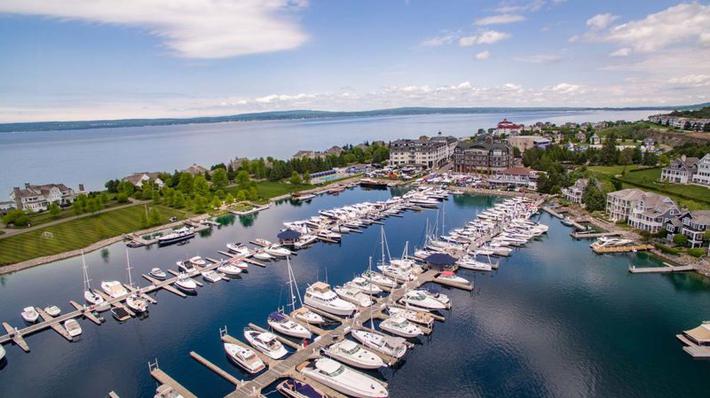 We Like Big Boats, and We Cannot Lie
Since buying your own yacht isn't likely this year due to supply and demand issues, what's the harm in dreamin...
Read More >>
Ending the Filibuster
The filibuster, much in the news lately, has an interesting if not usually glorious history. From the French word...
Read More >>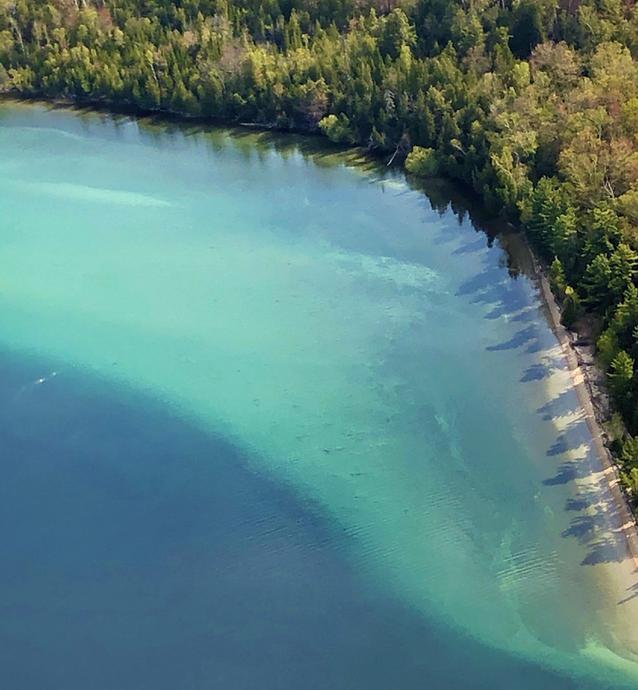 Torch Lake Takeover
You don't need to live on the shores of Torch Lake to know how breathtakingly gorgeous it is. A massive inland lake ...
Read More >>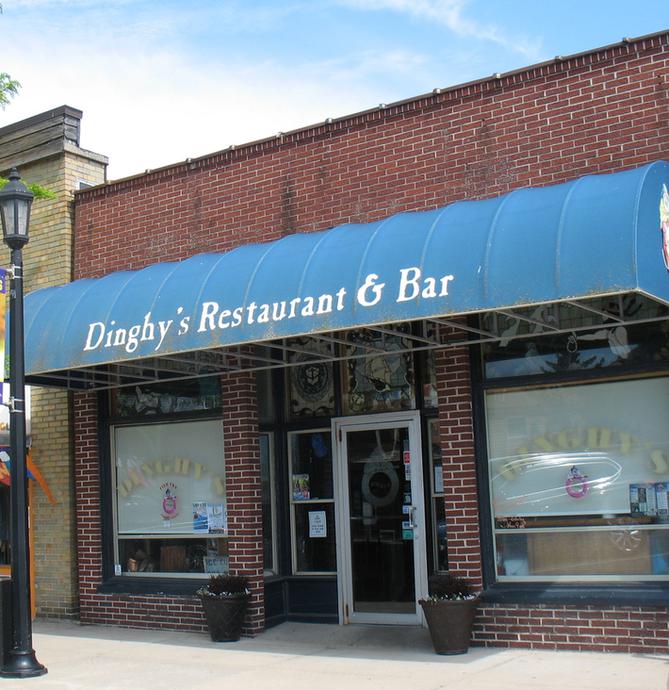 Dinghy's Restaurant & Bar
Kelly Sandman chuckles at a customer's joke, runs a cloth across a section of the 33-foot-bar, then greets a famishe...
Read More >>
↑