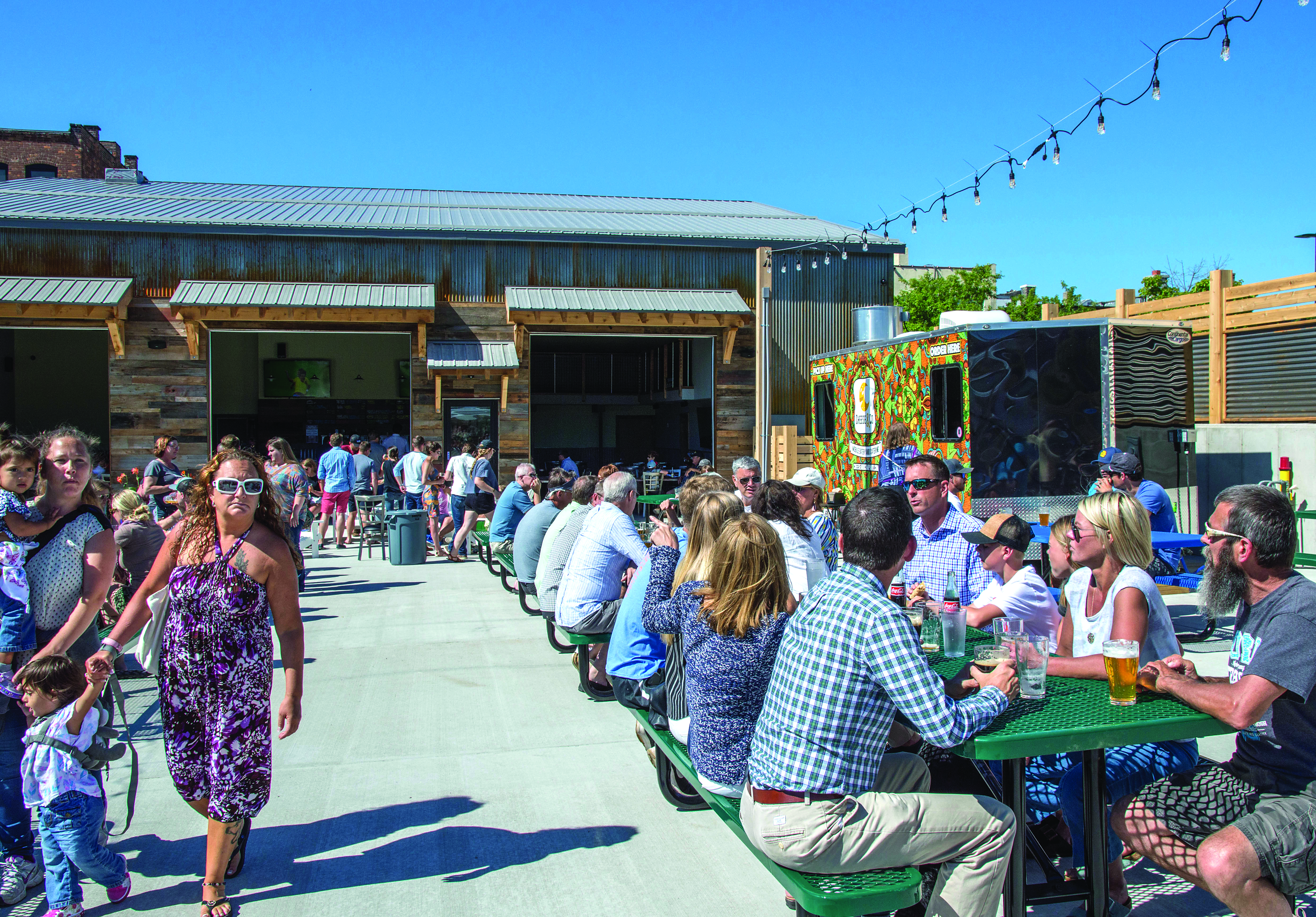 Welcome to The Back Lot
Petoskey's new food truck paradise
David Meikle is a busy guy. Partners in the Petoskey bar/restaurants Tap 30 and Pour along with Steve Steffes, you wouldn't think he'd have time to come up with yet another business endeavor.

But in the empty alleyway space behind those two bars, Meikle saw possibility. That possibility became The Back Lot, a beer garden and food truck space right downtown.
CALLS AND COMMITMENTS
"I own the property, and I wanted to do something with it that made sense," Meikle said. "Every big city has a food-trucks-with-outdoor-seating concept, and I knew even Traverse City already has one (The Little Fleet), so I though it would be great for Petoskey."

The first hurdle was time. Even though Meikle said he thought of the idea a couple of years ago, it took some careful pitching and planning to get the plan actually rolling, and to acquire the proper permits.
"The biggest challenge was getting approval from the city," he said. "We had to go to the zoning board, then the planning commission, then back to the zoning board."

The second challenge was actually finding food truck owners who wanted to participate in Meikle's plan, which basically involves each truck separately renting a space (for a fee) at The Back Lot. Since Petoskey didn't allow food trucks downtown prior to The Back Lot gaining permission, most food trucks had already taken their operations elsewhere.

"I don't think people wanted to commit their truck to a space here until it was a done deal, which is why we've started this summer with four trucks," said Meikle. "But I'm already getting calls for next year, and we have space for six; so we'll probably have five ongoing trucks, and one space that rotates so we can get even more variety in."
ENVIRONMENTAL EATS
Meikle provides electricity and gas hookups so the trucks don't have to run off of generators; he also requires the trucks to purchase compostable paper products (plates, cups, etc.) and straws, so all the trucks can participate along with The Back Lot in the Thriving Petoskey Initiative, which aims to minimize businesses' impact on the environment.

A three-well sink was installed at The Back Lot for the use of the food trucks, so they don't have to clean up their dishes and kitchen utensils in their own trucks; and a 1,500 gallon cistern was also installed to collect rain water, which will be used to water the plants on the property as well as the small vertical herb garden, which is being used right now to grow basil for The Back Lot bar's watermelon-basil beverages.

"The goal of The Back Lot is to try and be 100 percent waste-free as well," Meikle said. "We're working to either compost or recycle everything."

The Back Lot, in addition to the truck space, also features an indoor bar with seating for 99 people, and outdoor seating for another 200, effectively living up to its secondary name as a beer garden.

"The scenario is basically that people buy their choice of food from the trucks, buy beverages, either alcoholic or non-alcoholic, from us, and then they can sit inside or out as they're like," Meikle said.
DOWNTOWN BENEFITS
The main bar is crafted of rustic barn wood with a marble countertop, with flat-screen TVs so you can enjoy some shade on the hotter days. A 12-foot garage door will allow one of the food trucks indoors in the winter months so the party can continue. This winter season is set to feature Happy's Taco Shop. (A second truck might continue on outside as well; stay tuned.)

Another benefit of The Back Lot is that it's fenced in, making it a great place for families.

"We're also kid and dog-friendly," added Meikle. "Kids can run and play, dogs are welcome, so that checks all the boxes. Summers are precious up here, so everyone wants to be outside."

Meikle said that at first, his colleagues at neighboring downtown restaurants were reportedly a little nervous about The Backlot happening.

"The success of this so far has been well above what I thought it would be — we're a destination point now," he said. "People will come downtown for this, which means it will ultimately bring more people downtown overall, which ends up being good for everyone."

The Back Lot is located in the alley behind 425 Michigan Street in downtown Petoskey. It's open 11:30am–10pm Sunday through Wednesday, 11:30am–11pm Thursday through Saturday. www.thebacklotpetoskey.com, (231) 881-9933.

The Eats
What kind of delicious wares will you find during this first season of Petoskey's brand new Back Lot? Here's what they're dishing up now.
Happy's Taco Shop
On the Menu:With its boisterous south-of-the-border aesthetic and crafty combinations of ingredients, Happy's serves up casual Mexican eats, focusing on street-style tacos, from the basic type (meat garnished with cilantro and cotija cheese) to more unusual mix-ins like fried avocado or kimchi.
More info: happystacoshop.com
Cheese and Company
On the Menu:This "all-things-cheese" truck's specialty are artisan-style grilled cheese sandwiches, but the cheese doesn't stop there. Grilled cheese on parmesan-crusted Michigan baked sourdough bread? Yes, please! They also offer gourmet macaroni and cheese, fresh salads, and of course cheesecake for dessert.
More info: cheeseandcompany.com
Burnt Offerings
On the Menu: This Petoskey-based truck specializes in (who would've guessed?) all things barbecue, backyard-BBQ style, from rich brisket to pulled pork sandwiches and impressively authentic St. Louis-style ribs. Start small with sliders, or go big with a full rack of those ribs.
More info: burntofferings.us
Pizza Doughsio
Newest to The Backlot, Pizza Doughsio is cranking out pizzas the old fashioned way: gently toasted over a wood fire. For now, their old school-style transcends the truck; with no internet or social media presence available (yet), you'll have to visit IRL to see what's on the menu each day.



Trending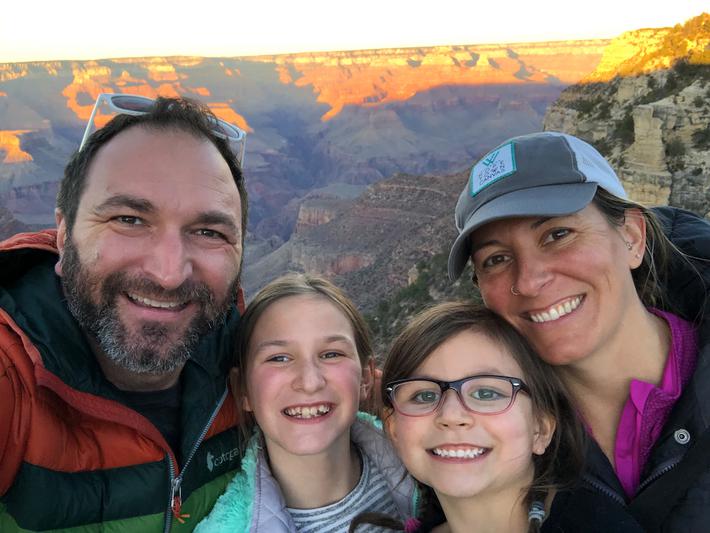 A Nine-month Family Vacation
Long before the pandemic, Joe and Christina Sanok had a plan. A dream, really: They wanted to take off with their kids and...
Read More >>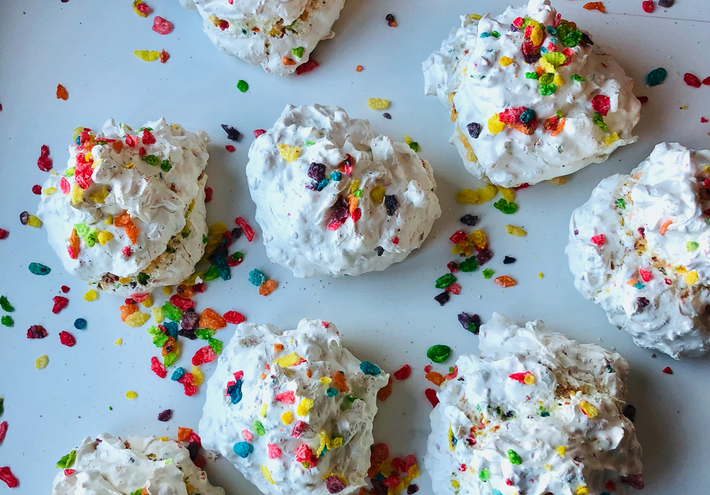 7 Batches Made in Heaven
Let's be honest: Picking the best cookies in northern Michigan is an impossible task. There are so many "right...
Read More >>
Respecting the River
Forever, the Grand Traverse Band of Ottawa and Chippewa Indians (GTB) has regarded the water — and the Boardman/Otta...
Read More >>
Not a Clue
Surely politicians wouldn't be so clueless that they'd lie about COVID-19 deaths or take a vacation during a statewide eme...
Read More >>
↑