Where Did All the Ubers Go?
Northern Express hails some rides and learns why toting takeout is better than porting people
Is there a better airport experience to be had at Cherry Capital Airport in Traverse City?
I don't think so.
The postage-sized airport is pleasant. It's clean and quiet, and its small size makes for a simple, streamlined experience. Never have I dreaded navigating a long TSA line or long-distance run to another terminal at Cherry Capital. What I found myself dreading the last time I returned from a trip was finding a way home.
A few Sundays ago, I was sitting outside of the airport refreshing an open Uber app roughly every 10 minutes. Each time a message popped up on the screen telling me that there were no cars available. After grappling with the thought of hoofing it several miles to my home at nearly 11pm, it occurred to me to try calling a local cab company. Within 20 minutes, About Time Transportation arrived to give me a ride, and I was surprised and relieved.
The experience got me wondering: How have local cab companies fared over the last two years with the onslaught of ride-hailing services like Uber and Lyft? How have all of those companies fared through the pandemic? (Hint: Not great.) So where are all the drivers going? I dialed up some local drivers to find out.
SHIFT INTO REVERSE
Uber and Lyft have been operating in Grand Traverse and Leelanau counties since 2017. Independent drivers signed up to give rides in their own cars whenever they made themselves available, and they got paid for doing so. For many, it was an easy way to make extra cash. For others, it was a full-time job.

Suttons Bay resident Marti Johnson started driving for Uber soon after they launched in the area. She said it was a great way to meet new people, make money, and test out material for her comedy routine. Through meeting some of those new people, she learned that she could operate as an independent ride service and make more money. She gained more control over pricing, set her own rates and schedules, and also started offering wine tours.
"Uber was the first time I worked as a driver," Johnson says. "I wanted to be able to help people out and make extra money. But I was busy enough with private drives that I just didn't drive [for Uber] anymore when the pandemic struck. I didn't need to."
Although Northern Express wasn't able to access any data on the number of Uber or Lyft drivers working locally before and after the onset of the pandemic, it's likely demand for rides sharply decreased when restaurants, bars, and many other social venues closed.
As local businesses reopened, however, it appears few drivers returned to the companies. On a recent Friday night, one Northern Express staffer waited more than an hour before the single Uber driver on the road in Traverse City that night was available for a two-mile ride home from an Elmwood Township eatery on West Bay.
When asked about the extensive wait, the driver told our rider that he is often the only driver available. Most Uber drivers, he said, quit altogether or switched to drive for meal-delivery services, which were in high demand during the height of the pandemic and continue to be now. The working conditions when delivering food instead of passengers, he added, are better; no drunk or unruly passengers and less risk of exposure to COVID-19.
Johnson has found that Uber and Lyft's loss has proved to be her gain.
"I just had these four gals who were staying at Island View Cottages call me. They were stuck at Chateau Chantal because they had thought they could just Uber back. Thankfully, someone gave them my card, so I was able to give them a ride."
SO WHAT ABOUT LOCAL CABS?
If anyone knows the cab business, it's Ashley Montgomery. The Traverse City local has worked with cabs since she was 15 years old. She previously owned Cool Cab (pictured above) and helped start About Time Transportation.
"My grandpa was a trucker, and my grandma drove school buses, so driving is in my blood," she says. "When I was a stay-at-home mom, I did not want to drive a bus. I'm with kids all the time at home! When I'm at work, I don't want to deal with them."
But because she has young kids, she wanted a flexible job. Working as a driver for local cab companies gave her that flexibility and eventually inspired her to launch her own service, Cool Cab, in August 2018. The competition from Uber and Lyft wasn't easy, but Cool Cab withstood it, even adding a new SUV to her fleet of minivans. Montgomery managed to hang on for several months after the pandemic started — even offering free deliveries of groceries and other necessities to help the community that spring. But by the second shutdown in November, it had become too much. Business slowed again to a crawl and keeping drivers on staff became a burden. She closed Cool Cab before November 2020 was out.

Montgomery tried to drive for Uber after closing her business but was denied based on the year of her car. (Drivers must own a vehicle that is 15 years old or newer.) The neatly kept fleet of cabs Montgomery used for Cool Cab were older model cars. In her experience, cleanliness matters more than modernity.
When she couldn't get hired with Uber, she started working for the food delivery services DoorDash. It's a solution for now.
"There are nights when it's good, but then there are nights where people just don't tip, and it's not worth it to sit in line for someone at Taco Bell for $3."
OVERDRIVE
DoorDash isn't struggling the same way that Uber is. For one, there is no age requirement for vehicles. For some, there's also the added appeal of less contact.
"I would rather drive food around than people," says local Michael Babcock. "No one's going to puke in your car or give you a hard time."
He's been DoorDashing in the Traverse City area for the past two years. He works full-time at another job but uses DoorDash as a way to make a few extra dollars. He tells Northern Express he's made at least $500 some weeks and enjoys the flexibility and incentives DoorDash provides, such as Peak Pay, bonus pay added to each order accepted during busy times like lunch hour and dinnertime. Achieving fun company challenges can result in additional bonuses.
A DoorDash I ordered last Sunday took less than 45 minutes, though it should be noted that I always provide a decent tip whenever I order. Those who don't might find themselves waiting longer; the app enables drivers to see how much they'll earn for delivering an order before they choose to accept or not. Basically, the better the tip, the faster you'll receive your food. A pitfall of Uber: Drivers don't know if they're getting tipped or not until after the ride. Tip transparency or not, Montgomery misses her cab-driving days.
"If people aren't tipping [for DoorDash], then it just isn't worth it. DoorDash essentially pays for your gas while you're driving to pick up these orders, so if people aren't tipping, you're just not making money," she says.
What Montgomery misses about cab driving is the consistency, the pay, and even the people.
"I have my days. Since COVID, people have been Karens and have been just disrespectful. So, in that aspect, I like dealing with the food just because I don't have to deal with grumpy people. But I miss talking with people. A year and a half ago, things were just different."
Hayley Prim, a representative from Uber, told me that Uber's need for drivers is a trend in other parts of the country as well. "Riders have returned to the platform at much higher rates than drivers. It's not unique to Traverse City.
To combat the imbalance, Uber offers a sign-on bonus that pays new drivers anywhere from $500 to $1000 after completing a certain amount of rides. "We do still see some supply issues, and we understand that there are longer ETAs, and people are having a harder time finding a ride, but we are still definitely operating in Traverse City," said Prim.
In short, if you've got a hankering for a meal from your favorite local restaurant and want it delivered to your door, you're likely going to get it quickly (provided you offer a fair tip). But if you need a ride to get somewhere at a certain time, such as the airport or your home after the bars close, you might not want to count on a last-minute Uber or Lyft ride in Traverse City; booking with a local cab company in advance is the closest thing to a guarantee you're going to get. And if demand for cab rides continues to increase, Montgomery says she might even open up Cool Cab again.
"When it's all said and done, the local [cab services] end up costing the same as Uber. And I just like being a cab driver. Once I started, I didn't want to stop," Montgomery says. "I like driving around and listening to music and making a difference in someone's day."
Trending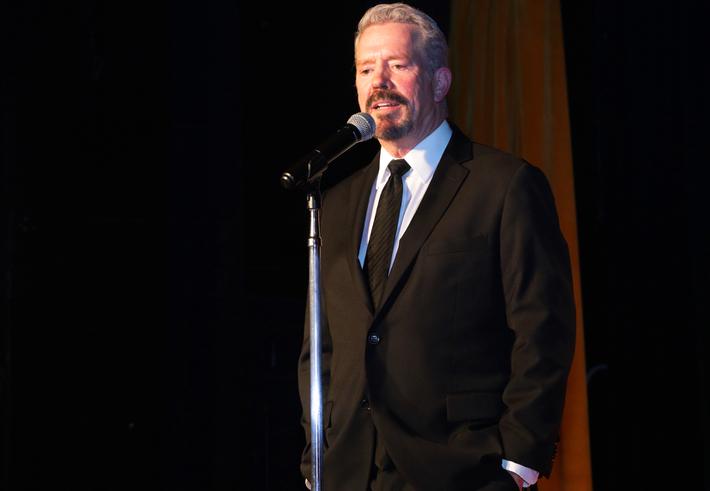 Bob Phillips Brings It to TC
When you're one in a crew of eight Catholic kids, it's imperative that you find your spot. For seasoned stand...
Read More >>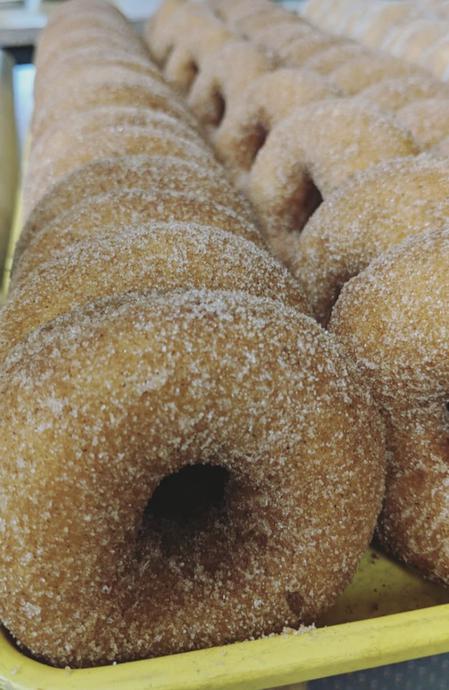 Gallagher's Farm Market Donuts
We're not much for pumpkin spice lattes, but we do have our own seasonal cravings, and these little round wonders ca...
Read More >>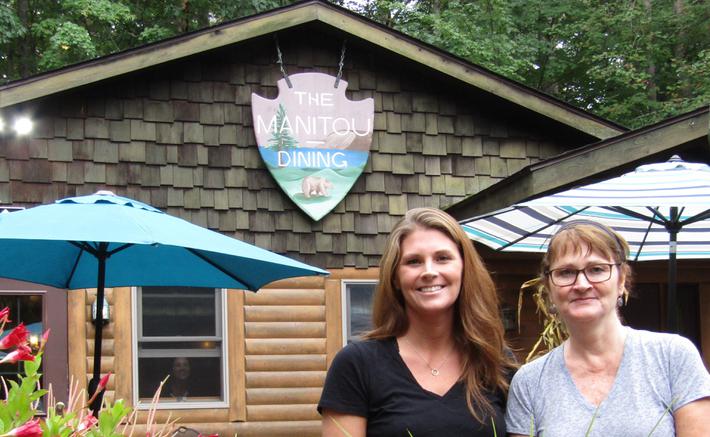 All In The Family
It started life as a common northern Michigan resort cabin, but over the years it's been transformed into one of Benzie Co...
Read More >>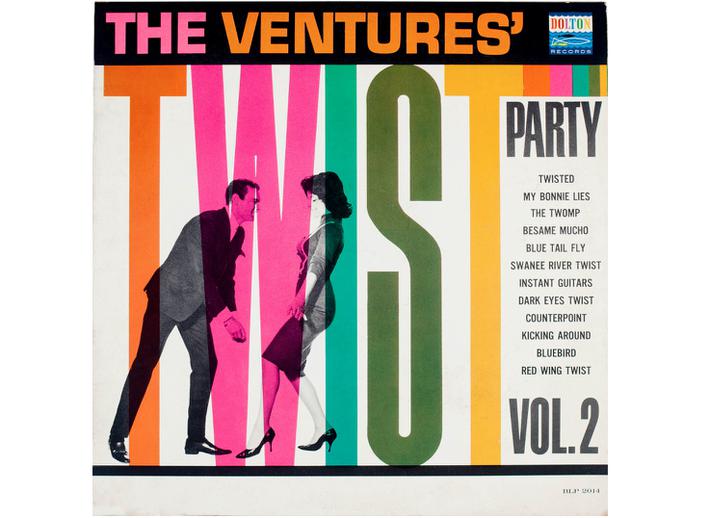 One For The "Record" Books
Let's dance. That's the invitation that authors Janet Borgerson and Jonathan Schroeder are extending to...
Read More >>
↑