Where to Dine Waterside
Nosh by the Water in Northern Michigan
No matter what dish or drink you order from the menu, come summertime, it all pairs well with a scenic waterfront view. Fortunately, northern Michigan offers no shortage of such spots. Allow Northern Express to be your guide to some of the best waterside dining experiences in the region. We handpicked seven restaurants that are must-visits for this brief season, each offering a different kind of food or atmosphere but all united by one feature: world-class views of the water. From riverside sandwich shops to upscale establishments that perch right over the big blue, there's something on this list for everyone.
Knot Just a Bar
Omena
On a sunny afternoon, there aren't many better places in northern Michigan to be than out on the deck of Knot Just a Bar in Omena. Situated on Leelanau Peninsula, right on the shores of Omena Bay, Knot Just a Bar feels like a resort vacation destination — just closer to home. Watch boats head out toward Grand Traverse Bay, or see kayakers and stand-up paddle boarders venture around Omena Bay. The views and satisfying summer breezes go perfectly with Knot Just a Bar's menu, which balances pub-grub standards like burgers and sandwiches with locally caught fish and seasonal produce. This summer, the go-to dish at Knot Just a Bar is a seasonal special: the baby back ribs ($17 for a half rack with fries and coleslaw), which are fall-off-the-bone tender and perfect for a summer day. Wash the food down with Knot Just a Bar's signature Bloody Mary, or with a selection from the extensive beer list. (231) 386-7393.
Gates Au Sable Lodge
Grayling
Perched right on the banks of the Au Sable River, Gates Au Sable Lodge is known best as a fishing lodge. Anglers can book a room at the lodge for a weekend fishing trip, or get set up with a guide for a day trip hitting fishing spots along the Au Sable or Manistee Rivers. The lodge even features a full-service fly shop. However, Gates Au Sable Lodge is also home to a quaint, home-y restaurant with an extensive sandwich menu and beautiful views of the river visible right out the window. It's an off-the-beaten-path spot — perfect if you're looking for an escape from the bustling tourist traffic. The signature dish is "The Michigan Reuben" ($9.95), a classic Reuben sandwich piled high with shaved Detroit corned beef, melted swiss, and local sauerkraut. The X-factor is Gates' "secret sauce," served on the side for dipping. (989) 348-8462
Riverwalk Grill
Elk Rapids
It's not hard to see why the Riverwalk Grill & Taproom in Elk Rapids is a popular spot for live music, wedding receptions, rehearsal dinners, birthday parties, and other events. The restaurant has a prime location, right on the banks of Elk River, and a deck that ranks among the finest outdoor seating spots of any restaurant in northern Michigan. The welcoming atmosphere matches a sizable menu, with options available in a variety of price ranges and to suit most dietary restrictions. Stop in for a salad and a small plate, or bring your full appetite and try the "Surf and Turf and Surf" ($46) — a combo of herb-crusted medium rare filet, snow crab topped with hollandaise, and smoked shrimp, with mashed potatoes and veggies on the side. (231) 264-0377.
The Boathouse
Traverse City
The most iconic restaurant waterfront view in northern Michigan might just be this one, from The Boathouse on Old Mission Peninsula. With vast views of Bowers Harbor and West Grand Traverse Bay, The Boathouse is the perfect spot for an anniversary dinner or a celebratory end-of-vacation capstone. The big windows mean that the views remain splendid all year-round — even into the cold doldrums of winter. But The Boathouse is best in the summer, when the deck opens for business, and the views include the bustle of the docks and boats. The menu, while on the more expensive side, never disappoints, offering remarkable seafood to suit its nautical setting and some of the most flavorful steaks anywhere. Our recommendation? Try the one-pound Maine lobster tail ($69), butter-poached to perfection and served with parmesan herb risotto and asparagus. (231) 223-4030.
Legs Inn
Harbor Springs
Take a trip back in time by stepping through the doors of Legs Inn in Harbor Springs. Built in 1921, this stone-and-wood marvel looks and feels like a hunting lodge from the distant past. It's also a one-of-a-kind dining experience, with a specialty for authentic Polish cuisine. The signature dish is Bigos ($7.99 as an appetizer; $18.99 as an entrée), a traditional Polish hunter's stew. Sauerkraut, beef, bacon, yellow onion, carrots, mushrooms, prunes, Polish kielbasa, and either pork shoulder or venison form the basis for this hearty stew. It's a Legs Inn favorite all year-round, but is especially satisfying when enjoyed on a summer evening out in the Legs Inn Garden. While the inn doesn't sit directly on the Lake Michigan shore, the vantage point of the garden affords some of the most spectacular sunset views in the state. Unsurprisingly, when Legs Inn was named the second most iconic restaurant in Michigan this past March by MLive and MI-BEST, the sunset lake view got a mention. (231) 526-2281.
The Links Grille at Bay Harbor Golf Club
Petoskey
One of northern Michigan's most gorgeous golf experiences doubles as one of its most beautiful dining experiences. Not only does Bay Harbor Golf Club boast 27 holes right on the shores of Little Traverse Bay, but it is also home to The Links Grille, which offers postcard-worthy views as far as the eye can see. At sunset, the view becomes such a kaleidoscope of color that you won't be able to help pulling out your phone to snap a photo. No picture quite does the view justice, though, so make a plan this summer to stop by The Links Grille. The restaurant is open to the public throughout the summer months — you don't need to golf at the club to stop in — and boasts a menu featuring everything from asiago truffle fries ($14) to filet mignon ($39). Perhaps the most popular dish on the menu is the perch basket ($28), which features lightly-breaded Great Lakes perch and is served with house-cut French fries and tartar sauce. (231) 439-4052.
West End Tavern
Traverse City
With a dynamic, constantly-shifting menu and a spacious patio with unbelievable views of West Grand Traverse Bay and Harbor West Marina, West End Tavern is one of those spots that locals and out-of-towners alike need to visit at least once a summer. Sip on a hand-crafted cocktail on the deck for a lazy weekend lunch while splitting small plates like calamari ($13) or maple-glazed bacon Brussels' spouts ($9) with friends. Alternatively, stop in for an entire meal and enjoy favorites like West End Tavern's take on the BLT sandwich ($12), complete with an out-of-this-world house-made bacon aioli. The casual atmosphere and menu blends perfectly with the unhurried feel of a northern Michigan summer. (231) 943-2922.
Trending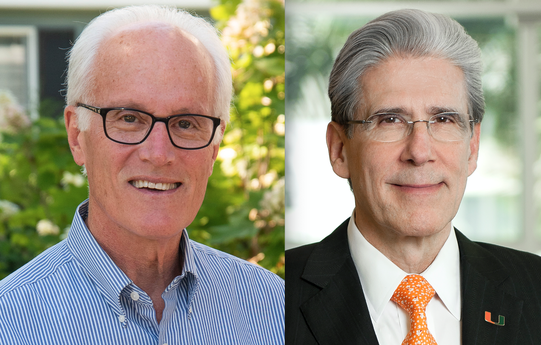 Listen In: Two Global Health Experts — one in TC — to Talk Pandemic
This week, the Traverse City International Affairs Forum at Northwestern Michigan College opens its 27th season ...
Read More >>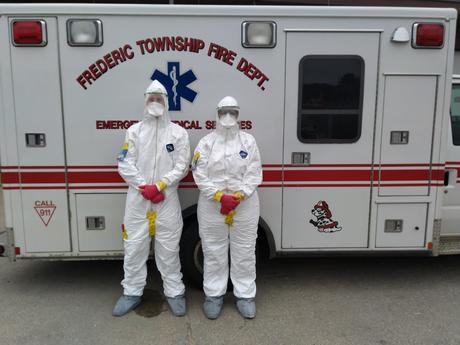 What First Robotics Teams Did on Their Summer Break
When the coronavirus pandemic first hit, masks, face shields, and other personal protection equipment, aka PPE, were hard ...
Read More >>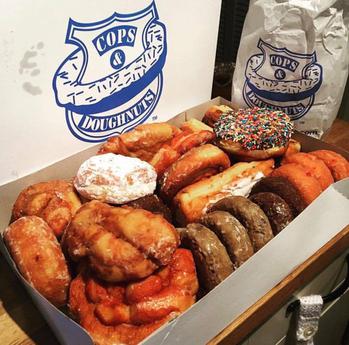 Gaylord's Cops & Doughnuts
There's a cop shop in Gaylord where the phrase "D.W.I." has nothing to do with adult beverages or erratic driv...
Read More >>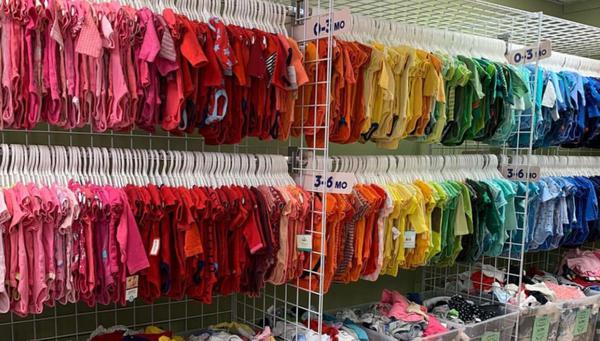 Resale is the New Black
It's a common tradition at this time of year: parents flocking to clothing stores in the last weeks of summer to get...
Read More >>
↑