Where to Eat Now
Northern Express' Winter 2020 Restaurant Guide
Please be seated for these abbreviated versions of the restaurant profiles we've featured since our last Restaurant Issue. Before you do, one warning: We'd like nothing better than for our readers to support local restaurants like these featured here, but before popping in anywhere, we recommend calling ahead to stay abreast of the latest regarding each eatery's indoor and outdoor seating availability, reservation requirements, open hours, and menu changes.
Fuel My Life
Traverse City
Shaina LaFond, personal chef, certified fitness nutrition specialist, and owner/founder of Fuel My Life, was inspired to create her unique business concept — a nutrition-focused, "food as fuel" meal service in 2018 — through struggles she herself had experienced in trying to strike a balance between her business and private life. A career in the food and beverage industry had led to an unhealthy lifestyle and the added responsibility of raising a family while feeling exhausted and lacking energy ultimately resulted in frustration and stress for her. But ironically, although food had been part of the problem, in the end, it turned out to be the solution.

As LaFond put it, "Changing my relationship with food changed everything. With Fuel My Life, we not only want to help people find more time in their day but also provide a way for them to make educated decisions about the food they are consuming and how it affects their well-being."
On the Menu: The menu choices offered by Fuel My Life are not only healthy but diverse, delicious, and — something that is often neglected in to-go food — attractively presented. Whether you're an omnivore or prefer vegetarian, vegan, keto, gluten-free, lactose-free, low carb, or low-fat fare, you're sure to find something here.

Choose from refreshers like the almond-cinnamon smoothie (with unsweetened almond milk, local gala apple, fresh banana, vanilla whey protein, almond butter, gluten-free oats, chia seeds, and hemp hearts).
Or tuck into dishes like succulent flank steak (with fresh lettuce wedge, crispy bacon, tomato, and house-made Greek yogurt blue cheese dressing), zesty blackened shrimp tacos (with wild-caught shrimp, blackened seasoning, avocado oil, corn tortillas, feta cheese, tomatoes, cabbage-carrot slaw, and cilantro-lime crema), a crunchy baked falafel bowl (with chickpeas, organic baby spinach, tomatoes, onions, feta, hummus, tzatziki, cucumber, parsley, and garlic), or wild-caught sockeye salmon (with lemon-caper butter sauce, cauliflower puree, and asparagus), hearty vegetarian white lasagna (with pasta, zucchini, shredded mozzarella, cottage cheese, carrots, spinach, unsweetened almond milk, parmesan cheese).
Craving an indulgent treat? The indulgent Double Chocolate Protein Donuts (gluten-free flour, egg, whey protein, olive oil, vanilla, and Neufchâtel cheese) are a must. No matter what you select, each item on the ordering pages lists all ingredients (and allergy alerts where relevant) as well as nutritional information on calories, protein, fat, and carbs.

For more information, or to order items from Fuel My Life, go online to fuelmylifetc.com or call (269) 599-7542. Pick-up is offered at 2259 Traversefield Drive in Traverse City. In-town delivery is also available on weekdays.
Little Traverse Inn & Gastro Pub
Maple City
Graeme Leask, an accomplished chef and engaging raconteur, is originally from Scotland. He and his business and life partner, Michelle Schulte, are the proprietors and gracious hosts of the Little Traverse Inn and Gastro Pub in the heart of Leelanau County, housed in a charming structure dating back to 1890.
When Leask and Schulte heard the forecast that COVID-19 would see a new surge by late fall and winter, they decided to be proactive in preparing for that inevitability. They were already doing takeout, but to accommodate onsite dining, they set about building five "ice shanties," (though that description hardly does them justice) in the restaurant's summer beer garden.
The shanties outfitted with tables for six — one family, household, or social bubble — are thoroughly sanitized by staff and an Ozonator between seatings. To allow time for that 30-minute cleaning process, reservations for the shanties are limited to 1½ hours, and a deposit is required (100 percent of which applies to guests' dinner costs). As Leask explained, "We only do the deposit because the last thing you need when you've only got five tables is somebody not showing up."
On the Menu: Popular classics from the U.K. include Scotch Eggs (house-made bulk "banger" sausage wrapped around a hard-boiled, farm-fresh egg, panko-crusted, flash-fried and served on a bed of greens with house-made whisky-mustard sauce on the side), Shepherd's Pie (tender lamb and hearty vegetables topped with roasted garlic and leek mashed potatoes), and Beef Wellington (prime-cut tenderloin coated with mushroom duxelles, wrapped in filo pastry, roasted to perfection and served with complementary sides).
A few of Leask's Indian specialties include Onion Bhaji (spicy, crispy onion fritters], Lamb Vindaloo (tender lamb cooked in a zesty potato stew made with eighteen different spices, served with naan bread and pickled vegetables), and Byriani (a savory Kashmiri stew of spinach, onion, and tomatoes, a fusion of aromatic spices and dried Kashmiri chile, with the option of adding chicken or shrimp). "It's just so much fun cooking Indian food," said Leask. And guests obviously enjoy eating it, too — the best-selling dish on the whole menu is Chicken Tikka Masala (a creamy, smoky, onion, garlic, ginger, and tomato-based dish with coconut milk).
Beyond British and Indian fare, the Gastro Pub also does takes on American fare, such as Fried Chicken (served with mashed potatoes and scalloped corn), Mac & Cheese (house-made cheese sauce, ham, pickled jalapeños, and panko bread crumbs, served with minted peas), and prize-winning burgers, the customer favorite of which is the Chutney Burger (stuffed with jalapeños, cheddar and bacon, topped with Canadian bacon, Swiss cheese, and jalapeño mayo, and served with and Leask's legendary apple and tomato chutney).
Find Little Traverse Inn and Gastro Pub at 149 East Harbor Hwy. in Maple City. (231) 228-2560, littletraverseinn.com.
Moose Jaw Junction
Larks Lake
In the heart of northern Michigan's sprawling, woolly wilderness, near the corner of Van and Larks Lake roads — at the southern tip of Larks Lake itself — sits Moose Jaw Junction, a little restaurant with a rather large following.
Tourists often query area residents about good eating places up here. Moose Jaw Junction — much like Cross Village's Legs Inn and Harbor Springs' Crow's Nest — is often mentioned as a "must" for visitors. And, though seemingly perched in the middle of nowhere, this place is definitely worth the drive.
The restaurant is once again open, but diners can still sit outdoors, behind the restaurant if they prefer. A small wood fire offers warmth, and a few picnic tables are available. This set-up is a natural for snowmobilers, who regularly descend on this clean little establishment for food, warmth, and liquid refreshment.
On the Menu: A range of high-quality bar-style food is available — gourmet pizza; a range of quesadillas, fajitas, burritos, and tacos; a collection of burgers and other sandwiches; a bunch of appetizers; and a small wine list — but of particular interest to us was the Moose Jaw Club, a sandwich billed as a BLT/hamburger collision that features a tasty beef patty, which, along with other items, is culled from nearby Jurek's Meat Market. This sandwich, served with a mound of large, crispy French fries, is one of the best riffs on the traditional club sandwich we've ever tried. Green lettuce, tasty tomato, and savory bacon top the burger, all of which is bookended by two pleasingly grilled buttery bread slices. Binding it all together is a delicious and slightly spicy deli sauce, tickled with cayenne pepper and good mayo.
Those seeking a hearty, comforting appetizer for three or four people might choose the Moose Jaw Poutine — a great value since it's a hefty portion. A large bed of skin-on fries is smothered in melted cheddar jack cheese, beef gravy, and tender pulled pork.
Moose Jaw Junction is also known for its communal Friday night fish fries, which feature battered cod — the same fish featured in the restaurant's most popular dish, Larks Lake Lobster ($18.99). It's not really lobster, of course, but expertly prepared cod, which owner Chris Tibbits said tastes something like lobster when dipped in melted butter. The meat also appears similar to lobster, so flaky and tasty as to be labeled … if not lobster, then decadent nonetheless. A well-seasoned, golden brown, and satisfyingly crispy batter coats the chunky, boneless white meat planks, which are served on a pile of fries, and include a clever tartar sauce, accompanied by a small tub of creamy coleslaw.
Find Moose Jaw Junction in downtown Larks Lake, 966 W. Van Rd., near Pellston. (231) 539-8528, www.moosejawjunction.com.
THE STONE OVEN
Lake Ann
Brian Adams saw an opportunity in the village of Lake Ann when the LA Café closed in 2012. Though the village itself boasts only a couple hundred people, it's just up the road to the dense shoreside populous surrounding nearby Long Lake and nearby Traverse City. Adams was confident there was a large enough population to support a restaurant.
Turns out he was right. And it helped that three years after opening The Stone Oven, he gained a new neighbor. Brewer Matt Therrien opened Lake Ann Brewing next door, and better yet, he had no interest in making food for his patrons.
"We knew each other. He didn't want to have anything to do with food. I didn't want to have anything to do with alcohol. It works good for both of us," said Adams.
Patrons at Lake Ann Brewing are welcome (even encouraged) to purchase food from Stone Oven to enjoy with their beer. Of course, that wouldn't be the case if The Stone Oven wasn't up to snuff. Adams, who is today sole owner of the eatery — he and his ex-wife opened it together — takes pride in the fact that many of the dishes are made from scratch.
On the Menu: Adams said the most popular items on The Stone Oven menu include the Thai Reuben and white chicken pizza. The former starts out Reuben-ey enough — the requisite corned beef and Swiss cheese on rye bread. But it's dressed up with a spicy slaw and Thai chili aioli. The white chicken pizza includes bacon mushrooms, spinach, and red onion, all set off by a white cheddar béchamel.
More mundane, but no less delicious, the mac and cheese (with chicken or without) is a perennial favorite, as is the Friday walleye fish fry. So, too, is the Greek salad, with artichokes, beets, feta, red onions, banana peppers, and kalamata olives.

"I've loved salads since I was a kid, and I'm usually disappointed in the salads I get when I go out to eat, so I place a lot of emphasis on making sure the veggies are fresh and they look good," said Adams.
Adams' appreciation for fresh and tasty vegetable shows. In addition to burgers, a diverse selection of sandwiches and wraps, and nine different specialty pizzas (plus 18 toppings customers can choose from to design their own), The Stone Oven offers eight different salads, each an inspired combination of meats, cheeses, toppings, and vegetables that go well beyond the standard cucumber, tomato, and red onion mix.
Find The Stone Oven at 6551 First St., in Lake Ann. (231) 275-8520, www.stoneovenla.com.
Lost Village Pierogi
Petoskey & Beyond
The seeds for Lost Village Pierogi were planted several years ago at Christmastime, as Mike and Holly Kotz — a screen printer making T-shirts and high school English teacher respectively — tried to find authentic pierogies, like the kind Mike Kotz's grandmother and aunts used to make.
"First, we tried to find a source [of pierogi] locally, because there are a bunch of Polish halls and whatnot [in Grand Rapids]," Mike Kotz recalled. "The harder we tried, the more disappointing experiences we had. So finally, it boiled down to 'OK, let's make them ourselves.' We got my grandmother's dough recipe, and we started there."
Before long, they'd moved from making pierogi for friends and family to selling them out of the home kitchen. Fast-forward to the present day, and Lost Village Pierogi has moved from Grand Rapids to Petoskey and cranking out 500 dozen — yes, 500 dozen — pierogis on its busiest days. If you'd rather not do the math, that's about 6,000 authentic dumplings a day, each doughy delight handmade, filled, pressed, boiled, frozen, and packed into bags.
"Our pierogi goes right from frozen to sauté. It's pretty much just five minutes on each side in the pan, in your oil of choice," said Mike Kotz." We say 'From freezer to dinner plate in under 10 minutes.'"
On the Menu: Lost Village has a regular rotation of more than 20 different pierogi varieties, ranging from what Mike Kotz calls "the traditional stuff," fillings like potato and cheddar, or kielbasa and sauerkraut, to more experimental approaches, like an "overwhelmingly popular" Lobster Rangoon recipe, or a pierogi called "Hog Slop" that's filled with pulled pork, mashed potatoes, and corn) The Kotzes are even willing to do custom orders; Holly says one customer in Grand Rapids asked them to make a batch of pierogi stuffed with cream cheese, raisins, and chives — a customer's family tradition from youth.
Lost Village Pierogi are $15 per dozen but they are packaged by the half-dozen, so you can mix-n-match, which, with more than a dozen savory combos (from Kielbasa Kraut to Philly cheesesteak to Cuban Pork Tamale) and four dessert varieties (think: Cinnamon Apple French Toast, Pineapple Upside Down Cake), trust us, you'll want to mix and match. Luckily, they offer a three-dozen special for $40; save $5 and mix 'n match up to six varieties.
Lost Village Pierogi is located at 307 Petoskey St for curbside service and local delivery. It occasionally hosts mobile events across the North (see Lost Village Pierogi's Facebook page for announcements). Check out the current menu and the online order form at www.lostvillagepierogi.com.
My Grandmother's Table
Charlevoix
Jozef "Joe" Zebediah's late grandmother, Martha DeMarino, may not have even known who famous chef James Beard was during her life in Pittsburgh. But, according to Zebediah, she embodied his love of food and its ability to not only bridge enormous cultural gaps but also to nourish, heal, and harken.
As co-owner of one of Charlevoix's newest eateries, My Grandmother's Table, Zebediah and his partner, Nick Easton, want to mimic DeMarino's approach — nourishing their community with high-quality poly-ethnic cuisine. And though there are many tables in their restaurant, it's all modeled after one: hers.
"My grandmother lived in a very culturally diverse neighborhood, and she loved inviting neighbors over for dinner," said Zebediah. "If they were from Japan or Africa or Poland — or even if they were from America, she'd ask them, 'What is a food you miss from home?' Then she'd gather the ingredients for these dishes and do her best to recreate them."

On the Menu: While My Grandmother's Table touts a tantalizing selection of baked goods, (including some vegan offerings) and a fully-appointed coffee bar capable of all the best coffee and tea concoctions, but it's the food menu, with its ethnically diversified offerings, that is so interesting.

On any given day in the last year, a patron at My Grandmother's Table might have enjoyed Jamaican Jerked Chicken, Russian Kotleti, Thai Orange Chicken, Italian Gnocchi with Meatballs or Sausage, Polish Pierogi and Kielbasa (possibly the best Polish sausage we've ever tasted, elevated further by a creamy cucumber salad bathed in a subtle, creamy sauce crowned with a sprig of dill), Amish Meatloaf, St. Louis Pulled Pork, and Three Sisters Stew, a hearty combo that takes its name from the traditional Native American trio planting of corn, beans, and squash.
Not enough for ya? Easton and Zebediah made use of the recent break from in-person dining to ready their upcoming winter menu, which includes, among other things, Ukrainian City Chicken, Japanese Sushi, Israeli French Toast, Cuban Black Bean Soup, New York City Eggs Benedict, and African Jollof Rice with Chicken.
Find My Grandmother's Table at 115 Bridge St., in Charlevoix. (231) 437-3132 or search "My Grandmother's Table" on Facebook.
Farm Club
Leelanau County
To paraphrase the famous line from the 1989 film Field of Dreams, "If you build it, they will come." That's certainly what happened with the dream that Little Fleet's Gary and Allison Jonas and Loma Farm's Nic and Sara Theisen realized upon launching Farm Club in mid-July 2020 on the Leelanau Peninsula.
The venture is unique in northern Michigan — and even far beyond it. "We're not a farm-to-table restaurant," said Nic Theisen. "We're a restaurant on a farm." It's a fine distinction, but a significant one.
Farm Club is situated on 35 scenic acres just off the Traverse Area Recreation Trail (TART), near Mile 7. Its hilltop centerpiece, housing a restaurant, brewery, bakery, and marketplace, is an architecturally striking structure clad in rough-hewn cedar and topped with a metal roof and solar panels that blend seamlessly into the rural character of the landscape. (The owners worked with Traverse City's DesignSmith on the concept.) Energy-efficient floor-to-ceiling windows run the entire length of the south-facing side of the building, framing the spectacular pastoral views and leading out to a long, covered patio and a sprawling seating area with well-distanced picnic tables. A number of fire pits and a large tent also a stand ready to add warmth outside.
On the Menu: As one would expect from a farm-led kitchen — helmed by executive chef Abra Berens, whose "Ruffage: A Practical Guide to Vegetables," was named one of the best cookbooks of 2019 by The New Yorker magazine — Farm Club's menu is printed daily. Intriguing yet approachable, its categories include snacks, boards, small plates, large plates, and desserts. A recent selection featured such diverse choices as IPA popcorn (made with Michigan popcorn and East Kent Golding hops), a plowman's platter (with locally cured meat, fish, and cheese), fried eggplant (with cauliflower, arugula, tahini, and lentils), beans and broth (calypso beans, olive oil, garlic and thyme, with homemade bread and green salad) and a sausage plate (with spaetzle, apple mustard, and green salad). Dessert was a choice of panna cotta or rice pudding.
Besides the incredible food, beer is a big deal at Farm Club. Brewer Corey Valdez, a former professor, with a PhD in organic chemistry, brews at least a half-dozen proprietary ales and lagers onsite, all with fairly low ABVs yet high in flavor. His table beer and farmhouse ale are both made with wild yeast harvested on the property, and he and Nic are experimenting with other on-site botanicals, herbs, flowers or fruits that might be incorporated into the brewing process at some future date.
How does a restaurant with such a strong focus on seasonality continue to be seasonal when winter comes to the farm, and the fields are dormant? "Nic is working hard to cellar a lot of vegetables so that we can feature local produce year-round," said Allison Jonas. "And he is also preserving. He made an amazing kimchi recently that we're selling in the market, and we'll have all sorts of pickled and fermented foods. Another thing we're doing is taking the spent grains from the brewery and giving them to a farmer who will use them for animal feed and start raising pigs and chickens for us."
Farm Club is located at 10051 S. Lake Leelanau Dr., (Country Road 641), just north of downtown Traverse City. For more information, call (231) 252-3079, visit farmclubtc.com, or check them out on Facebook or Instagram.
Turkey's Cafe & Pizzeria
Harbor Springs
According to owner Jeff Graham, Turkey's Cafe & Pizzeria in Harbor Springs — a picturesque indoor-outdoor eatery styled in perky and preppy pink, white, and black — is located in one of Harbor Springs' oldest structures, a former newspaper office and, as fate would have it, site of the first pizza ever made in that town.
Patio seating behind a white picket fence and under a large shade tree supplements Turkey's small dining room, one side of which is lined with compact wooden booths. A short cocktail bar on the opposite wall connects two larger booths. A vintage bottle collection and other nostalgic knick-knacks hearken to the days when Graham, currently in his 45th year as owner, was growing up in the tiny hamlet on the shores of Little Traverse Bay.
On the Menu: Aside from the hearty, excellent pizzas that feature handmade dough and meats from the 1913-founded Plath's Smoked Meats, the restaurant offers a variety of large sandwiches in a range of styles, including six specialty burgers, five filling sandwiches, plus three wraps and three sandwiches all featuring … what else? Turkey!
These namesake birds are roasted right in the restaurant, their tender white meat hand-pulled and stuffed between layers of homemade bread. Turkey specialties include the sizable Turkey Sandwich, Turk's Turkey Day Sandwich, and popular Turkey Club, which comes piled with deep red tomatoes, crisp green lettuce, and mayo slathered on thick, grilled whole wheat bread.
On the lighter side, Turkey's offers eight robust salads, the most popular being the Cherry Chicken Salad — a bed of greens layered with grilled chicken breast, dried cherries, feta cheese, walnuts, onions, and a tasty raspberry vinaigrette. For those who prefer low-frills, Turkey's offers the basics: a grilled cheese, the All-American Hot Dog, and chicken strips.
But for those who want frills, and plenty of them, pizza is what puts Turkey's on the map. Handmade and hand-tossed dough gives each pie a golden brown, slightly crunchy crust that makes a perfect palette for the pizzeria's rainbow of fresh toppings. Plath's meats account for the protein options, while vegetable topping choices include fresh basil, chopped garlic, artichoke hearts, jalapenos, and a dozen more.
Find Turkey's Cafe & Pizzaria at 250 E. Main St., in Harbor Springs. www.turkeyspizzaria.com, (231) 526-6041.
Flying Noodle
Traverse City
The Flying Noodle — the baby sister of beloved taco shop Mama Lu's, which operates just across the street — landed in downtown Traverse City in July 2020, inside the space formerly occupied by eateries like Gaijin and, before that, Harvest. The aptly titled "Italian Pasta House" offers a delightful array of carb-y dishes and vegetarian staples at equally delightful prices.
"As with Mama Lu's, our team [Heather and Dallas Dziedzic and Mama Lu's owners John Larson and Adrienne Brunette] really wanted to bring Traverse City another casual and approachable concept," said Heather Dziedzic. "Somewhere where you can bring your family for dinner, or go on date night, or just pop in during lunch and grab a quick bite."
On the Menu: In three words, affordable Italian goodness. The entire pasta portion —ranging from a classic marinara to a campanelle with peas, ricotta, and lemon — clocks in at just $10 a dish, making it all too easy to sample several. Dziedzic said a favorite is the bucatini, which features pancetta, garlic, a simple white wine sauce, and truffle oil.
Pizzas are the next biggest draw. "Our 'roman style' pizzas are crave-worthy," Dziedzic said. "A thicker focaccia-style dough is cooked to melty perfection with this delightful, crispy crust. The Italian is the most popular, with a smoky tomato sauce and prosciutto."
Though the pastas and pizzas are the headliners, there's even more to explore: a Caesar salad with bright lemon notes; white beans with herbs, olive oil, and a side of scrumptious garlic bread; and heirloom tomatoes topped with fresh mozzarella, aged balsamic, cucumbers, and pancetta. Don't forget the strawberry-filled Italian donuts, complete with Nutella, wine selections sourced from Italy and northern Michigan, or the Italian margarita made with amaretto and fresh-squeezed orange juice.
Find The Flying Noodle at 136 E. Front St. (231) 943-1178, flyingnoodletc.com.
Cops & Doughnuts Bakery
Gaylord
There's a cop shop in Gaylord where the phrase "D.W.I." has nothing to do with adult beverages or erratic driving. At the Cops & Doughnuts Bakery, "D.W.I." means "Donuts Were Involved," a bit of sly humor that adorns coffee mugs, T-shirts, hats, and police-related gear available for visitors.
Don't like that one? Try "Don't Glaze Me, Bro." or "Cereal Killer" or "You Have the Right to Remain Glazed."

Lots of thin-blue-line silliness here. But folks don't stop in for the cop shop corny swag, they come for the goods — the baked goods.
"We offer a full line of great pastries," said Alan White, one of the nine active and retired Clare police officers who own the bakery.

On the Menu: Some of the bakery's most popular creations include the sweet-and-salty Bacon Squealer, an elongated maple-glazed doughnut with two bacon strips. Other popular choices include the Fleeing Felon Fritter (an apple creation that is big, cinnamon-y, and moist) and the custard-filled, chocolate-frosted Bismarck.
In 2013, Saveur magazine even named Cops & Doughnuts — then only one location, in Clare — one of the finest doughnut shops in the nation and their "NightStick" (a triple-chocolate Long John) as one of the best doughnuts in the world. The following year, Doughnut Showdown, a popular television show on the Food Channel, picked Cops & Doughnuts' "Driftwood Doughnut" (a Long John filled with coconut cream and topped with chocolate ganache and toasted coconut) as a contest winner, netting the bakers a $10,000 top prize.
Cookie lovers will want to try the jumbo oatmeal raisin date-filled cookies, the jumbo chocolate chip, or the jumbo peanut butter. (Jumbo is a common theme here.) Wash that sweet treat down with their signature coffee — available in medium roast (Day Shift) dark roast (Night Shift) or decaf (Off-Duty).
An assortment of breads is baked fresh daily, including Italian, cinnamon-raisin, pumpernickel rye, cheddar cheese, and more. "We have a fifth-generation breadmaker overseeing things," said White.
Find the Cops & Doughnuts Gaylord location — aka, the "Jay's Precinct" shop — at 1151 South Otsego Ave., which is connected to the Jay's Sporting Goods store. www.copsdoughnuts.com, (989) 968-4488.
Trending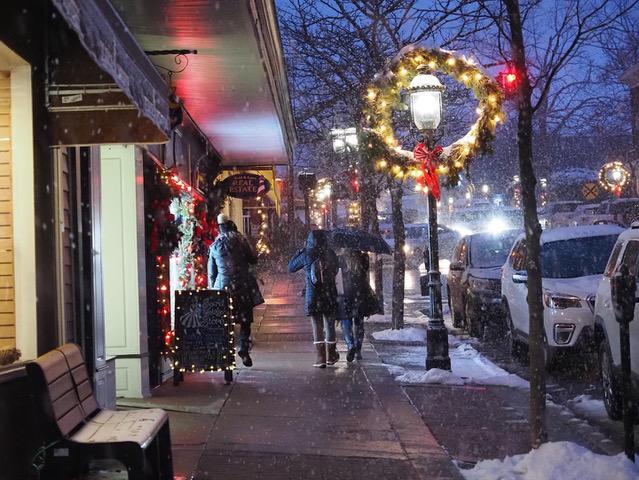 Jump Start Holiday Shopping
Downtown Petoskey hosts their Holiday Open House on Friday, Dec. 2, from 6-9pm as Santa flies into town to light the giant...
Read More >>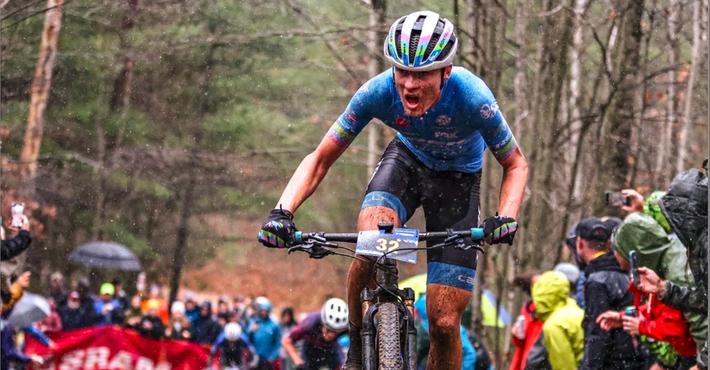 A New Gear
If last week's snow made you think the two-wheeling season is over, think again. Tuesday, Nov. 29, is the official l...
Read More >>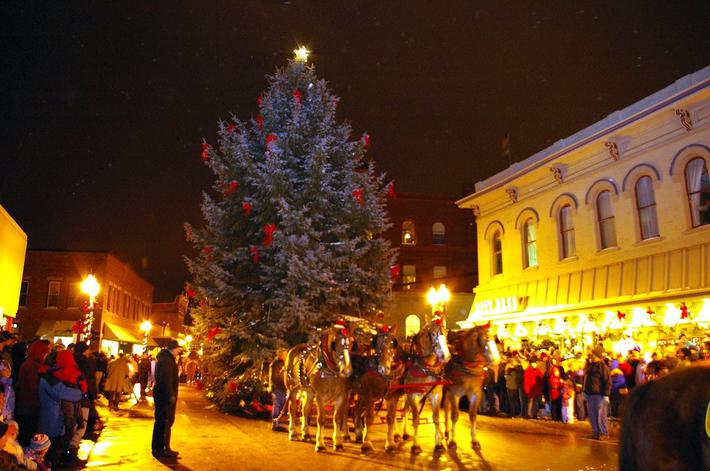 Jingle All the Way to Manistee
The town of Manistee is going into full holiday mode—and going back in time—this weekend. Friday, Dec. 2, the ...
Read More >>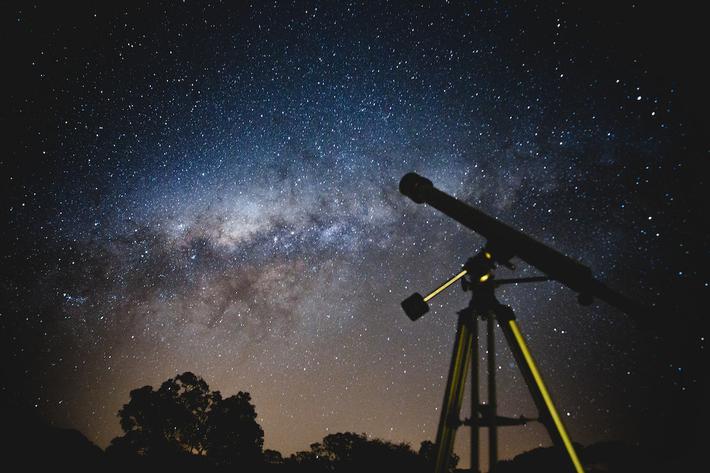 Aim for the Stars
Aliens may walk among us, but this weekend it's our turn to wander through the galaxy. On Saturday, Dec. 3, the Denn...
Read More >>