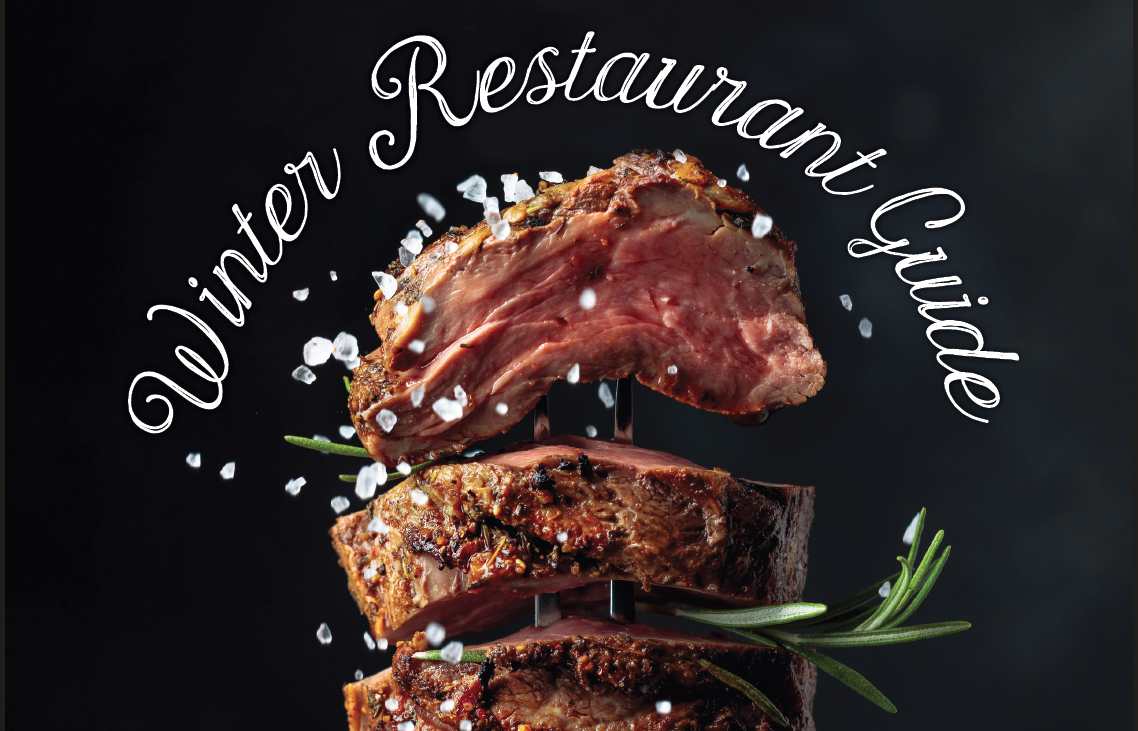 Where to Eat Now
Winter 22 restaurant roundup
Sweet's Bar & Grill
Honor
Meet Bill Sweet, an outgoing guy who — along with his wife and partner in entrepreneurial optimism, Toni — opened Sweet's Bar & Grill in Honor last summer. The spot? Inside the former Sleepy Bear Lounge, formerly Lumberjack Tavern, on Main Street.
"We opened July 12," he says. "That was after months of refurbishing and changes to make the place lighter, fresher, and more welcoming. We did it ourselves, and it was a lot of hard work — a lot of 8am to midnight. Our goal was to make this place as welcoming as we can," he says.
Consider the Sweets' mission and vision accomplished.
"Folks who visited here before were surprised," he says. "They said 'Oh, it's so bright, and it smells so good.'"
ON THE MENU: Expect what Sweet calls "upscale bar fare": sandwiches, wraps, burgers, pizzas, nachos, burritos, and quesadillas.
But drill down a little, and you'll find one of the tastiest Reuben Sandwiches ($10) in the region. It features a hefty pile of tender corned beef on swirled rye. Next comes a crown of mild but flavorful sauerkraut, Swiss cheese, and an ample topping of Thousand Island dressing. One of the most popular handhelds is the French Dip ($12): stacked beef topped with grilled mushrooms, onions, and Swiss cheese on a hoagie bun, with a flavorful side of au jus for dipping.
The best seller on the menu, according to manager Jen Plamondon, is the new and improved Wet Burrito ($12). It's built with seasoned ground beef or chicken, refried beans, red enchilada sauce, romaine lettuce, tomato, red onion, and black olives. It comes with a side of rice and nacho chips. Other Mexican fare includes Nachos Supreme, a Quesadilla, and a Veggie Quesadilla, each priced at $12.
In the familial fashion that has come to define the Sweets' way of doing business with customers and employees alike, each of Sweet's eight different burgers is named after one of the grill's friendly staffers, such as "Jen's Olive Delight" or "John's Hot As We Can Make It." Despite their differences in toppings, every burger starts with a 1/3 pound of hand-patted beef that's cooked medium-well unless (otherwise requested) and delivered with lettuce tomato, onion, and a pickle on a brioche bun.
Lighter appetites might be tempted by one of five salads, including a Michigan Summer Delight, featuring spring mix lettuce, cucumber, carrot, red onion, sliced apples, dried strawberries, dried cherries, pecans, and feta cheese ($15).
Find Sweet's Bar & Grill at 10919 Main St. in Honor. (231) 227-1148.
Bahia
Traverse City
Offering up delicious tapas and enchanting cocktails, this Spanish fusion eatery makes it easy to pretend you've been transported to a bar on Las Ramblas, in the heart of Barcelona. (And Grand Traverse Bay, just a short walk north, provides a solid stand-in for the azure blue coastline of the Mediterranean — and clearly, a little inspiration for the restaurant's name; Bahia means bay in Spanish.)
Walking into the space — with its exposed brick, soft lighting, and a chill indoor-outdoor flow — sets you instantly at ease. It is time to slow down, relax, and take in the laid-back vibes. Owner Tim Kiel and Managing Partner and Chef Bryan Welburn have created a space focused on bringing people together through the enjoyment of food, and there is a lot to enjoy.
On the Menu: Heating things up in the kitchen is Head Chef Allante Garrett-Jackson, a well-known veteran of long-time Traverse City hotspot Apache Trout Grille. He has teamed up with fellow Chef Welburn, who designed the menu, to bring the tapas creations to life. Garrett-Jackson's advice for any first-time guest: "Order everything." The portion sizes are perfect to share, and heaps of small plates will satisfy big appetites.
Right now, Bahia is offering a host of tapas plates. A standout: the blue corn tostada — a crispy tostada with refried pinto beans, crunchy habanero coleslaw, and succulent leg of lamb paired with two house-made sauces, the mojo Roja, the spiciest sauce on the menu, and a mellow lime crème. The pair work together to bring this dish just the right heat.
Then there is the Potato Bravas, diced potatoes perfectly pan-fried to be crunchy on the outside yet still smooth and fluffy on the inside. Topped with a smoky and spicy bright red sauce and silky truffle aioli, this dish is essential to any traditional Spanish tapas menu, and Garrett-Jackson pays a great homage to it with what he serves up. You will never want to go back to regular pub fries again.
Dessert at Bahia is not to be overlooked. Once you try the Benelos, or "Spanish doughnuts," you will not know how you have gone through life thus far without them. They have a taste reminiscent of oversized elephant ears from the fairgrounds but made and presented with a lot more finesse. Fluffy, fried deliciousness topped with salted caramel sauce, they are a decadent and lip-smacking way to end your meal or start it.
Find Bahia at 127 South Union St. www.bahiatc.com

Randy's Diner
Traverse City
Randy and Norma Vyverberg, hospitality pros who met while working at the Grand Traverse Resort in the '80s, have experience working every role in the house. However, with each passing job, Norma and Randy grew closer to achieving their shared dream of owning their own restaurant and working for themselves. Initially, their plan was to start something from scratch. But when an opportunity to purchase a restaurant named The Diner appeared in spring of 1997, they saw it as destiny and bought it.
In years past, the little blue and yellow building on Carver Street had not only been home to The Diner, but before that, it had also been Marty's Diner, Magee's Fish Shed, King's Burger, Mr. Doolies, and The Pigs Tie. In May 1997, however, it became Randy's Diner, and for almost 25 years now, it's been a locally loved favorite.
On the Menu: You'll find two pages of breakfast classics — French toast, short and tall stacks of pancakes, Biscuits with gravy and eggs — alongside nearly a dozen three-egg omelets (the Jalapeno Popper with Bacon Omelette, featuring Jalapeno bacon cream cheese, "more bacon," and pepper-jack cheese is a must-try), pork chops and eggs with potatoes, and a Stuffed Hash Brown dish that might just keep you full for a week.

But be warned: You must leave room for their grilled cinnamon roll. It's a wallflower on their menu, hiding out on the sides list, but it deserves a category of its own — to be exalted, set apart, canonized even. Sliced in half, grilled, and served drenched in warm, melty icing, it's a lovely add-on to a salty breakfast if you can manage it, and enough to eat alone with black coffee. The cinnamon caramelizes on the near-blackened top while salty butter bits create a lacy crunch around the bun's edges.
Randy's favorite item on the menu is the cod dinner. He's proud of the quality of fish the diner uses. Both he and Norma have always prioritized the customer experience when crafting their dishes. Norma, who eats a gluten-free diet herself, makes sure Randy's offers several gluten-free menu items for customers.
Find Randy's Diner at 1120 Carver St. (231) 946-0789, www.randysdiner.com
Forrest – A Food Studio
Traverse City
Everyone knows what an artist's studio is, but what about a food studio? For Forrest and Nicole Moline, it's a creative hub for the culinary arts. Swap out paintbrushes, canvas, and a gallery showroom for chef's knives, a stove, and a dining room, and you have the same concept — only with different mediums and materials.
Offering a wide variety of carryout, ready-to-heat meals, a wine shop, and catering services, Forrest – A Food Studio, isn't your typical restaurant. "From the start, we knew we wanted the Food Studio to feel like home, both for us and our guests," says Nicole. "A place that would allow Forrest to have a safe and healthy environment to dream, practice, and create masterpieces, and a place for our guests to feel welcome and comfortable."
The kitchen — like any commercial kitchen only insofar as it meets all health code and safety requirements — boasts a large storage island with a marbled quartz prep countertop, white subway tile walls, colorful Spanish-tiled floors, and a show-stopping Blue Star gas range with bright red oven doors.

The same homelike aesthetic extends to the dining room, with its warm wood-grained floors, white beadboard and shiplap accents, mismatched upholstered dining chairs, and custom live-edge tables made by Steel Appeal in Empire (who also made the unique sinks in the guest bathrooms).
On the Menu: Forrest describes his style of cooking as seasonal with an innovative Californian influence and says he especially enjoys creating sauces, cooking fresh fish, and making pasta from scratch.
A sampling of Thursday small plates offers a glimpse into the kind of food that one can expect to come out of Forrest's kitchen. Each month's menu always includes a meat dish, a fish or seafood dish, a pasta dish, and a vegetable dish. November featured beef short rib with ricotta gnocchi, truffle jus and chives; crab and avocado toast with garlic focaccia, artichoke, spinach, lemon, and basil; buttercup squash agnolotti with burnt cream, lemon and pine nut crumble; and a medley of Second Spring Farm cauliflower, roasted, pickled and pureed, with zhug sauce, seeded crackers, and microgreens.

For December, the menu featured dishes like grass-fed beef cutlet from Up North Heritage Farm, with green peppercorn sauce and pickled chili; black cod with parsnip, roasted mushroom, and Blis Sherry; ricotta agnolotti with veggie Bolognese sauce; and rutabaga with poached pear, gingered yogurt, and fresh herbs.

Interested in upcoming menus, weekend dinner reservations, booking a private in-home dinner or other off-site events, or ordering wine or pasta for pickup? See forrestafoodstudio.com.
Find Forrest – A Food Studio at 408 S. Union St. in Traverse City.
Smoke & Porter
Traverse City
When Smoke & Porter first opened in July 2015, the last thing chef-owner Henry Bisson wanted was for people to assume it was a barbecue place. But that's just what happened, due to the word "smoke" in its name. "It wasn't smoke as in barbecue, though, it was smoke as in cooking with wood," Bisson explains. "Actually, I was cooking chicken legs over a makeshift wood-fired grill in my backyard one night when the inspiration for this place came to me. It was the smoke that triggered the concept, and it came down to the simplicity of the thing. That simple chicken was delicious. It's that campfire flavor. And I'm thinking, 'Well, this is it. I want to bring that flavor to an elevated dining out experience.' Doing barbecue wasn't our intent. In the beginning, we didn't have a 'From the Pit' section on the menu. We didn't do brisket and pulled pork every day. But the people spoke, so we had to adapt and shift part of our concept. And I actually kind of grew to appreciate it more over time."
With the "smoke" component of the name in place, Bisson says the "porter" component was a natural. "As it happens, darker beers, like stouts and porters, pair very well with smoked meats, or any smoked foods."
On the Menu: Although the menu does now include some barbecue, the wide array of food choices it offers couldn't be more diverse.

"My food isn't quite fusion cooking," says Bisson, "but I have no shame in pulling in any flavors from other types of cuisines. If they work together, fit together, and can make a good dish, by all means, why not American barbecue with Indian curry, for example? Or Korean flavors, as in our pork lettuce wraps [hoisin BBQ pulled pork, gem lettuce, and apple kimchi]. I mean, people are cooking with fire all over the world. So why should I limit myself? Our smoked chicken has a chermoula rub on it that is common in Moroccan and Tunisian cooking. That's not your typical barbecue rub. And our fish and chips — a nod to our 'public house' identity, with a twist — is Cajun seasoned, beer-battered whitefish (with waffle fries, malt vinegar and watercress slaw, and remoulade)."
More menu variety comes in the form of roasted beets (with shaved Brussels sprouts, red quinoa, dried apricots, goat cheese, Marcona almonds, and black garlic lemon vinaigrette) or a recent special feature of Swiss raclette (served with Texas smoked sausage, confit fingerling potatoes, cornichons, baguette, and whole grain mustard).
Smoke & Porter's house-made desserts are always fun and creative, and like the main menus, they change regularly and seasonally. A recent list included chocolate cake (with coconut-pecan icing and raspberry coulis), eggnog crème brûlée (with molasses gingersnap cookie), and the always-available "float flight" for kids (Northwoods Soda root beer, ginger ale, and orange cream soda with vanilla ice cream).
Find Smoke & Porter is located at 1752 U.S. 31 North in Traverse City. (231) 642–5020, smokeandporter.com
Honey Baked Ham
Traverse City
With a flaming propane torch in his left hand and a scoop full of white sugar in his right, Mike Muzljakovich spends hours every week adding the delicious sweet glaze for which Honey Baked Ham is known to the hundreds of hams he sells weekly at his shop.
After the sugar is caramelized, the ham is glazed once again in the company's secret blend of enticing spices.
It's hot work, but it's vital to the hams whose cult-like popularity never seems to wane.
"We'll probably sell 2,000 to 2,400 hams between Thanksgiving and Christmas," says Muzljakovich, who owns the Garfield Avenue franchise with his wife, Missy. "It's our busiest time of the year, along with Easter. Christmas is bigger because there's a lot of corporate gifting, folks giving our hams to their clients. At Easter, it's very predictable. On the Saturday before Easter Sunday, it's nuts till about 2 in the afternoon. Then it's like you turned the spigot off."
On the Menu: In addition to the take-out hams and turkeys, the shop offers counter service with a lunch menu that is relatively slim in number but features hefty slices of ham and turkey. The Garfield location's top lunchtime seller is the Classic, featuring a solid inch or so of ham, topped with Swiss cheese, lettuce tomato, Duke's mayo, and honey mustard atop a flaky croissant.
A close second in popularity is the Tavern Club, which begins with multi-grain bread. Then both ham and turkey are piled high and topped with bacon, cheddar cheese, lettuce, tomato, Duke's mayo, and honey mustard.
Not in the mood for a sammie? There are options. Ham and bean soup, along with a roasted turkey noodle soup are ready every day to ward off a winter chill. If a salad seems more sensible, there's a Cobb salad loaded with ham, bacon, cheddar cheese, roasted tomatoes, pickled red onions, hard-boiled eggs, and cornbread croutons on a bed of greens. If you still have room for dessert, you might want to try the fresh macadamia or oatmeal raisin cookies.
Find Honey Baked Ham at 815 S. Garfield in Traverse City. (231) 935-4267.
That French Place
Charlevoix
When Northern Express first reached out to Brian and Emily Freund, owners of That French Place in Charlevoix, the couple was in Paris. They were there hosting a small culinary travel group and taking baking classes at La Cuisine Paris, an English-speaking French cooking school overlooking the Seine River and Notre-Dame Cathedral.
Switch out the Seine for a northern Michigan harbor town, and That French Place, a premier creperie and café, has provenance as authentic as anything one might find in the City of Light. Inside, the atmosphere is easygoing and familiar. Owners and staff alike are generous in both spirit and knowledge. The yeasty, sugary warmth mixes with the aroma of fresh coffee beans and tassels of drying herbs.
The café itself exudes casual French café ambiance with Yankee grab-it-and-go practicality. (Rotating carry-out meal options will resume in a matter of weeks.) Griddles are sizzling, ready to create crepes on demand. Tidy trays of pastries and sweets — from the traditional croissants and colorful macarons to snickerdoodles — fill the glass-fronted cases.
On the Menu: Croissants, crepes and quiche. The croissants — especially almond — sell out fast, so go early and often. The pastries feature thin golden swirls that are two parts dough to one part butter (in this case an American version of the French cultured product, with around 82 percent milk fat.) If a pastry can be sublime, this is it. Choose from plain, almond, or chocolate.
Buckwheat crepes are a specialty, based on the traditional 500-year-old recipe from France's Brittany region.
"White flour wasn't around until early in the 20th century," Brian says. "The sweet crepes that many people associate with France came a long time after the buckwheat."
Both versions are tender/crisp, with a large selection of sweet or savory toppings. A paper sleeve makes them user-friendly. In the summer, lines stretch down the street, so schedule accordingly.
Quiche is served in a generous wedge, big enough to share if one is so inclined. Under the uniformly golden top, a custard of fresh eggs and heavy cream encase a variety of ingredients, all anchored by an authentic buttery French crust that is thin but substantial.
A specialty is Quiche Charlevoix, Emily's creation of ham, Swiss cheese, and herbs de Provence, good enough to rival the popular quiche Lorraine in the hearts of Francophiles everywhere. (Brian calls it her "master plan for world domination, one quiche at a time.") A side of homemade applesauce complements every quiche order.
And, like its French counterparts, the coffee is a rich brew — in this case, a medium-dark proprietary blend called Funky Frenchman. It was created by Traverse City's Higher Grounds.
Short's Brewing Co. Pub
Bellaire
Short's Brewing is iconic in the area. Whether it's Soft Parade, Bellaire Brown or Huma Lupa Licious, or slightly more exotic varieties such as Melt My Brain or Double Psychedelic Cat Grass, the company's beers have received awards, accolades, and affirmation across the state and beyond. They've helped put Bellaire on the map.
While you can pick them up at stores across the region, there's nothing like stopping in at the brewpub in downtown Bellaire. But is there more there than beer?
Yes, absolutely. Sandwiches, pizza, a homey setting, and occasional live music bring life to downtown Bellaire, whatever the season.
On the Menu: Of course, none of that would matter if the food wasn't up to snuff. No worries there. It's simple but from scratch — from the pizza dough and pizza sauce to the mayo on the sandwiches.
Pizzas rule this place, and three of the most popular are specialties, like Big Jim, with braised beef, roasted peppers and onions, white cheddar, and white sauce. Fall Out, with pulled pork and bacon, with jalapeno, pineapple, BBQ sauce and a maple sriracha drizzle. Or Johnny on The Spot, with bacon, blue cheese, a white sauce, and Granny Smith apple slices.
Guests can also consider a raft of sandwiches, plus almost-sandwiches like quesadilla and pork tacos. Several salads with ingredients like farro, chickpeas, black bean corn salsa, and salami. Shareable small plates, with tempting treats like soft pretzels, spinach-pesto-artichoke dip, and that day's flavor of mac and cheese. Kuethe touts the White Pepper Sandwich as the top-selling item. This signature sandwich melds turkey, avocado, roasted red pepper, red onion, and provolone, all of it complemented by that house-made garlic chipotle mayo.
There are also other specials, such as potato & bacon tacos, a breakfast blend of bacon, scrambled eggs, seasoned potatoes, scallions, nacho cheese blend & sriracha sour cream. Or a sweet treat like caramel apple pizza, featuring house-made cider-infused apple-pie filling, crumb topping, and a salted caramel drizzle.
And yes, there's beer. Some 20-plus are available on tap, plus options for cider, seltzer, or canned wine. Come summer, the fun expands into the great outdoors, with picnic tables and a pavilion available.
Find Short's Brewing Company's Bellaire Pub at 121 N Bridge St. (231) 498-2300, shortsbrewing.com
Trending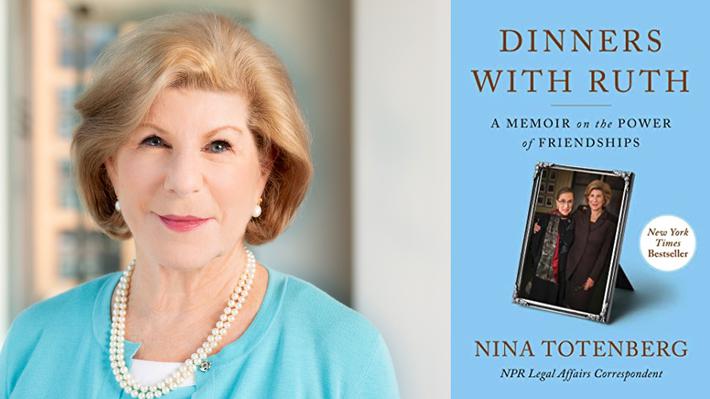 Dinners with Ruth
In the theme of Galentine's Day and female friendships is NPR legal affairs correspondent Nina Totenberg's boo...
Read More >>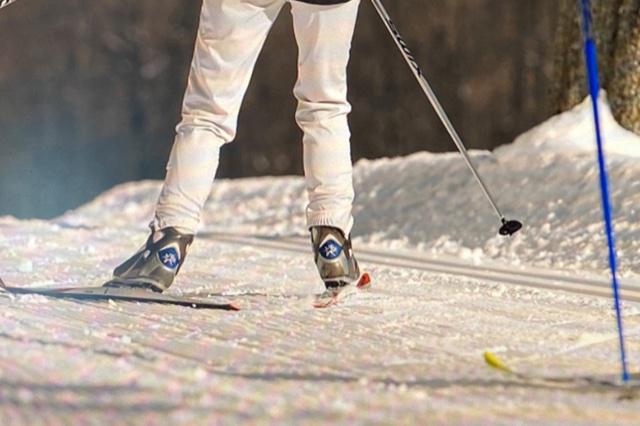 Shooting Ski-t
Take aim when you pair cross-country skiing with airsoft during Crystal Mountain's Airsoft Biathlon on Sunday, Feb. ...
Read More >>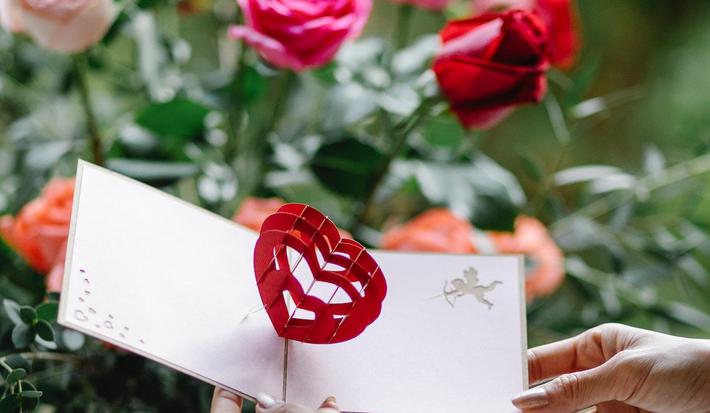 The Lost Art of Valentines: Three spots to find (or make) the perfect card
Remember the days of giving valentines in elementary school? Of perfecting each card and sentiment and placing each sparkl...
Read More >>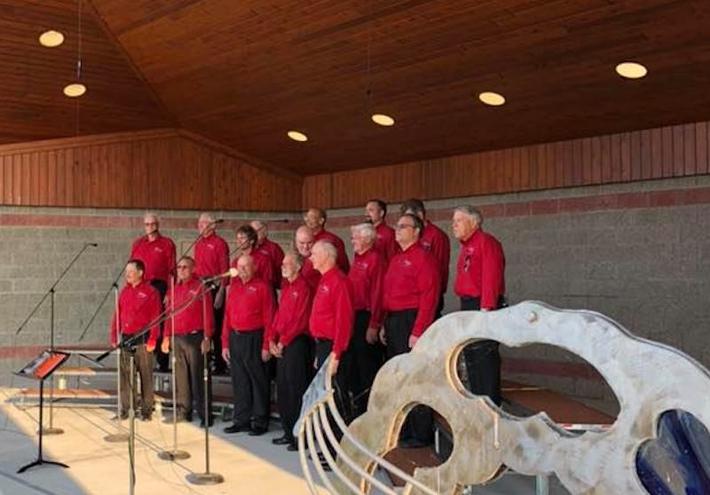 Singing Valentines
If you need a fresh way to show your love and gratitude this season, then perhaps a singing valentine is up your alley. Th...
Read More >>