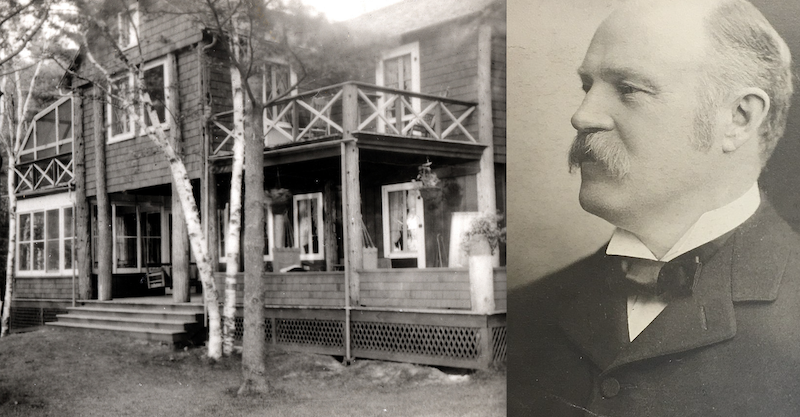 Whither the Maize and (Azure) Blue?
Charlevoix's unexpected connection to two of the most iconic colors in college football.
They came before "The Victors." Before The Big House. Before the winged helmets. Indeed, before Michigan had even played its first football game. The University of Michigan's maize and blue school colors go back all the way to 1867.
And they were chosen in part by a longtime Charlevoix summer resident.
On Feb. 12, 1867, a committee of UM students charged with determining the university's official colors attended a meeting of the literary department at the university chapel. The trio of Milton Jackson, J. Eugene Jackson, and Albert H. Pattengill — who would later spend his summers in his home overlooking Lake Michigan, presented a resolution: "Your committee … unanimously agree in presenting as their choice, AZURE BLUE AND MAIZE, and recommend that the following resolution be adopted: Resolved, That Azure Blue and Maize be adopted as the emblematic colors of the University of Michigan."
That resolution was indeed quickly adopted. This was well before the university's iconic fight song was written by UM student Louis Elbel (1898), the opening of Michigan Stadium, a.k.a. The Big House (1927), or the debut of the winged helmets (designed by Fritz Crisler in 1938 upon his arrival from Princeton, where he'd designed a similar helmet for the Tigers). As for the football team, it played its first game — against that national power, Racine College — in 1879, defeating the Purple Stockings 1–0 (a touchdown didn't count for points, only the point after).
By that time, Pattengill had graduated from the university but had quickly returned as a professor of another sport-loving culture, Greek. He remained involved with the athletic programs, though it'd be fair to say football wasn't his first passion; he had been, after all, a member of the baseball team as an undergrad. And when he wasn't teaching or pitching in with the various sporting programs who called Ann Arbor home, he made himself a second one, Up North, in Charlevoix.
"He had a summer home," said David Miles. Miles is the former director of the Charlevoix Historical Society, who still works there as a volunteer. He's collected information on Pattengill and written about him. (Full disclosure to any Spartans reading: Miles is not simply a history buff; he readily admits to being "a rabidly faithful, totally obnoxious, and chauvinistic-around-others alumnus myself," a description of himself he wrote "while wearing a U of M T-shirt.")
Miles chanced upon the story of Pattengill as part of a historic series he writes for the Charlevoix Courier. "His connection to Charlevoix was not [well] known. I didn't know it till I did a [story] on his home. On a whim, I Googled him, and all these references came up."
Pattengill's cottage, now gone, was located at the intersection of Michigan Avenue and Division Street. It sat on a sand dune bluff just to the north of the public access passage to the beach. According to Miles, the spacious home boasted several unique elements, including tree pillars and posts covered with bark, long before today's "live edge" trend. The posts were both structural and decorative. Miles isn't sure if the pillars and posts were whole, with the other side being utilized on the inside, or split in half and applied like pilasters, however, he said, "I'd wager the latter."
Pattengill's irreverent cottage was later acquired by the Lowenstein family, who in turn sold it to Virginia Young Olsen, the daughter of Earl Young, the designer and builder of Charlevoix's famous "mushroom homes." A visionary like her father, Olsen designed three homes in Charlevoix, the second of which was built on the site of Pattengill's home after she'd had it torn down in 1982. Miles said razing the Pattengill cottage was a practical necessity; it had rapidly aged, and the years of lakeside weather had taken a toll on it. "It had a lot of wear as a summer-only [cottage]."
Fortunately, there were some photos made prior to its destruction — a common practice, according to Miles. "People liked to document their summer homes," he said.
Pattengill's life in Ann Arbor is more well-known. In addition to teaching at UM, from 1894 until his death in 1906, he served on the university's newly formed Board in Control of Athletics, becoming its chairman in 1898. In 1896, he was one of the leaders in the formation of what became the Big Ten Conference. He was responsible in part for hiring football coach Fielding Yost, who won six national championships and 10 Big Ten Championships in his 25-year tenure as coach. And his home there still stands: the Dutch Colonial Revival, which he had built in 1896, still stands at 1405 Hill St., today part of the Washtenaw Hill Historic District.
While Pattengill's role may have become a footnote in history, the colors he helped select remain identified with Michigan. Interestingly, today's are not necessarily the same he and his cohorts recommended, as not everyone had the same idea of what "azure blue and maize" meant. The committee gave no examples and set no standards for the exact shade and hue, so there was a lot of variation in their use over the early years. While the university's athletic teams opted for a dark navy, other users employed a range of blues — the far less threatening soft sky and baby blue hues among them.
The official colors weren't codified until 1912, when university regents formed a new committee to reconcile the disparate colors in time for UM's 75th anniversary. The committee agreed with the athletic clubs that a darker blue was more appropriate than the baby blue that had become the norm elsewhere.
Today they are identified as PMS 7406 (yellow) and PMS 282 (blue). For those of you coloring at home, that's CMYK 0, 18, 100, 0 and 100, 60, 0, 60, respectively. To ensure there would be no further variations, the 1912 committee physically selected and showcased a set of maize and blue ribbons as exemplars for all official University of Michigan colors from then on; those ribbons now reside in the Bentley Historical Library's archive.
Trending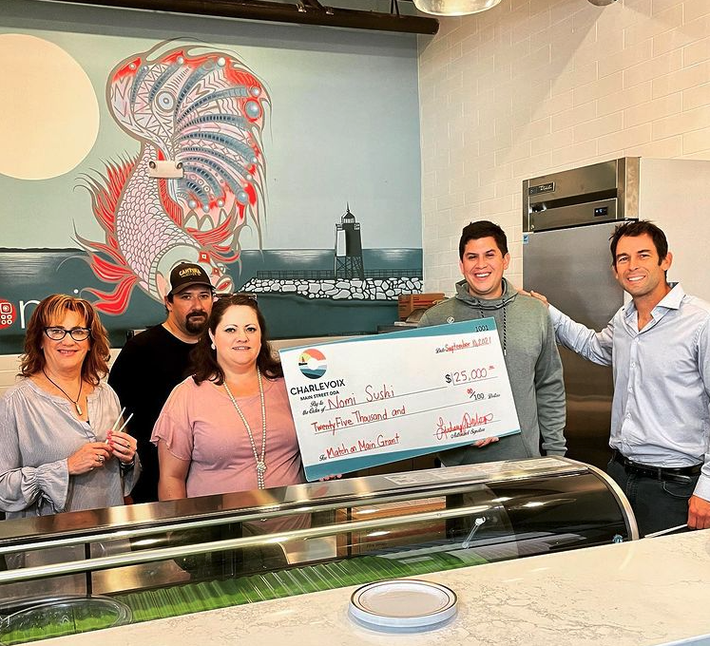 Big Boost for NoMi Sushi
Typically, restaurants don't begin earning money until after they've opened. NoMiSushi, which opened up earlie...
Read More >>
The Unfriendly Skies
A woman on a Southwest Airlines flight refuses to fasten her seat belt or put on her mask. The video, taken by another pas...
Read More >>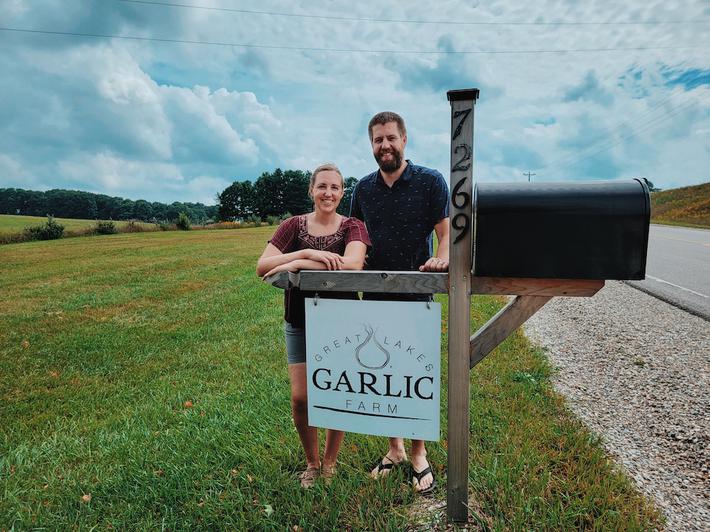 A Matter of Life & Breath
When it comes to cooking, you'll be hard-pressed to find anyone opposed to throwing in a few extra cloves of garlic. Human...
Read More >>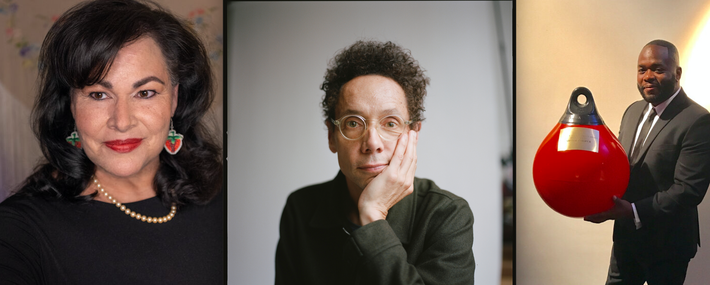 Read 'Em and Meet
Bibliophiles rejoice: The Harbor Springs Festival of the Book is returning Sept. 23–25, with a slate of authors, in-...
Read More >>
↑