Wine Town Ramp Up
The region's wineries and vineyards are ready — and rarin' — for summer 2017
New tasting rooms, new websites, new chefs, new vintages — there's a host of changes and enhancements afoot at the wineries and vineyards throughout northern Michigan.
Most recently: The move of Michigan Wine Month from May to April. Traverse City Uncorked, a marketing effort supported by Traverse City Tourism and Pure Michigan, took advantage of the late-spring shift and, said Lorri Hathaway, the executive director at the Leelanau Peninsula Wine Trail, it was a resounding success: "[Traverse City Uncorked) has been huge."
Next up? The renamed Traverse City Wine & Cider Festival, happening at the Village at Grand Traverse Commons on June 24. Hathaway said the former Wine & Art Festival is refocusing on the libation side of the equation, evolving it from what in recent years had become a day-long concert with some wine. It will still feature music and art, but the emphasis is now squarely on wine, cider, and its makers, with 16 wineries and three cideries participating.
It's not all good news, as Longview Winery, outside Cedar, has closed. But that closure is offset by new openings in Traverse City, Elk Rapids, and Glen Arbor. The first is the new Barrel Room at Left Foot Charley in the Village at Grand Traverse Commons. The 2,000-square-foot cellar and event space, located behind Left Foot's tasting room, offers private tours and tastings and rental space for private events.
Further north, Waterfire Vineyards has opened a new tasting room at 12180 Sutter Rd., just past Elk Rapids. Owners Chantal Lefebvre and Mike Newman, who have bottled and released vintages since 2013, opened the tasting room last month.
Leelanau Peninsula
The third winery opening in the Grand Traverse area this summer is Glen Arbor Wines, located at 5873 S. Lake St. Opening in mid- to late June, it will feature 10 wines made from local grapes, plus two hard ciders made from local apples. The tasting room will include picnic and deli items; the property will have a bocce court and other lawn games. Each label tips a hat to the beauty of its backyard, showcasing a unique image of the Sleeping Bear Dunes and Lake Michigan shoreline.
Elsewhere on the Leelanau Wine Trail, Bel Lago is now offering outdoor seating, the better to enjoy its crisp whites and deep reds. Also new this year, Verterra Winery is hosting weddings and events at its Swede Vineyard. Its upper ridge offers views of Grand Traverse Bay, Northport Bay, Gull Island, North/South Fox Islands, and even the mouth of Little Traverse Bay.
Black Star Farms outside Suttons Bay is now hosting tours of its 160-acre estate. Those looking to participate more fully can enjoy an hour of gentle yoga on the bay-view crest of its vineyard, paired with a special six-flight wine tasting. At the winery's Hearth & Vine Café, patrons can enjoy a new patio, with offerings from Chef Cole Thornton (celebrating his one-year anniversary with Black Star Farms). Pair them with a limited release pear cider, available only at the café or the farm's 2016 Arcturos sauvignon blanc. Black Star also has created its own line of private label artisan foods, featuring two types of crackers and two granolas.
Old Mission Peninsula
Heading up Old Mission Peninsula? At Chateau Chantal, new chef Nick Battista, a Traverse City native who has worked for the likes of Charlie Trotter and the Greenbriar Hotel, is offering three-course lunch pairings that replace the winery's Tapas/Sensory Tours. Also new to the staff is tasting room manager Ralph Kridner.
Those looking for the ultimate experience can take part in a new winery tour, followed by a semi-private seated tasting featuring fine stemware, personal guide, charcuterie board, and Power Island views. The facility also has completed three more room renovations in its bed and breakfast.
This summer, Chateau Chantal will release its 30th vineyard anniversary Reserve Chardonnay and Reserve Riesling. From the 2016 vintage, these limited production wines will sport a retro label similar to the original 1990 vintage.
Mari Vineyards (pictured above) is known for its hoop house structures, which extend the growing season by a month or more. The "nella serra" technique is being used for six acres, while the vineyard has now grown to a total of 60 acres of planted grapes. Villa Mari is getting ready to release some new white wines to complement its reds: sauvignon blanc, pinot grigio, and malvasia bianca. (Its riesling will come out in June/July.)Tours of its caves used for wine barrel aging are available as well.
Big trucks and asphalt aren't generally thought of as inducements to visit a winery, but Brys Estate Vineyard & Winery begs to differ. The drive to its Secret Garden was paved earlier this year, allowing guests and tour drivers to enjoy a smooth, dust-free drive to its agricultural oasis. The farmhouse-inspired gift shop is full of handmade lavender products and gifts, and is serving four custom flavors of Moomer's homemade ice cream made from lavender, strawberries, and blueberries grown at the estate's Secret Garden.
The winery is also celebrating the return of its pinot noir/riesling after a two-year hiatus. It offers notes of strawberry, cherry and — wait for it — cotton candy. You can find out more about the wines and facility at the winery's updated website, BrysEstate.com, including a virtual tour of its tasting room.
Bower's Harbor Vineyards is offering new vineyard tours, plus its popular interpretive nature trail. The mile-long hike provides participants with information about vineyards, history, ecology and the landscape of the area. It no doubt helps work up a thirst, which can be quenched by a couple new wines. The first is a 2016 Gewurztraminer, Wind Whistle, which hails from its Wind Whistle Vineyard, situated less than a mile from Lake Michigan and boasting sandy soil and all day sun exposure.
Its other new wine, Henry, is a story in itself. Since opening in 1992, dogs have played a significant role at Bower's Harbor Vineyards. Otis, Cooper, and Brix each have a signature wine with a label featuring their picture and paw prints. Now Henry joins the team. A native of Michigan, the pup has spent most of his life in Vail, Colorado, as part of the Colorado Rapid Avalanche Deployment Team (C.R.A.D.). Spencer Stegenga, co-proprietor of Bowers Harbor Vineyards, has close ties to Vail. Henry is a full-bodied Bordeaux blend, aged in French Oak barrels; thus far, Henry's sales have generated $1,500 donated to the C.R.A.D. program.
Bay View Wine Trail
They once said wine grapes couldn't be grown in northern Michigan. When they were proven wrong, they said wine grapes couldn't be grown further north than the Traverse City area. Whoever "they" were, Ralph and Laurie Stabile proved them wrong by successfully growing loads of them in the Upper Peninsula. When Ralph found himself running out of room in the U.P., he moved the facility to Petoskey, opening Mackinaw Trail Winery in 2012.
"In the U.P. there were no others," Stabile said, but he didn't need that community; winemaking was in his blood. "I have the press my grandfather and I used when I was six," he said. He and Laurie have passed the tradition on to son Dustin, who now runs the production side of the business.
Today, the family's big news is about a new business: Resort Pike Cidery and Winery. Ralph says they've planted two acres of apples and will planting 30 more acres of grapes on the property, located on the corner of Williams and Resort Pike roads, south of Petoskey and west of US-131. When the cidery/winery opens July 1, it will offer 10 ciders and five sparkling wines, as well as three or four still wines.
He's pleased that the winemakers continue to find the area attractive and open new vineyards and wineries. "When we built in 2012, we saw the need [for a wine trail]," Stabile said. Today? "There are nine, with two new ones opening this year and two more next year."
The other newcomer to the northern region is Chateau Lake Charlevoix. It is located at 00551 Snyder Road, Boyne City. Owner John Vondrin said it will open for weekends only initially, but aims to open five or six days per week over the summer.
"I worked for Philip Morris, which had a lot of wineries on the West Coast. I had all this land, and I thought, 'I could do that,'" he said. The winery offers three varieties — a Pinot grigio, a Pino noir, and a Riesling — with three more to come this summer.
Petoskey Farms Vineyard & Winery is unveiling a second tasting room this month, this one at 207 Howard St., in downtown Petoskey's Gaslight District. The new location will offer longer hours, from noon to 8pm. Not to be outdone, the tasting room on Atkins Road will add a second weekly food and wine event, with Tuesdays joining Thursdays. Local food trucks will rotate each week, and visitors can grab a snack or dinner to complement their wine.
Producing those wines will be new head winemaker Josh Morgan, who spent the last nine years at Black Star Farms. His fiancée, Sarah, will join the staff at the tasting room.
At Royal Farms on US-31, outside Ellsworth, not only are wines and ciders on tap, so are food, yoga and magic. The Vino & Vinyasa events, June 24 and Aug. 12, combine yoga and a wine tasting; on July 15, the winery adds food to the mix with a complete luncheon. On summer Thursdays beginning June 29, patrons can opt for cider to complement tasty barbecue. And on July 29, Ben Whiting will offer tricks of the trade, with mindreading and feats of legerdemain.

Trending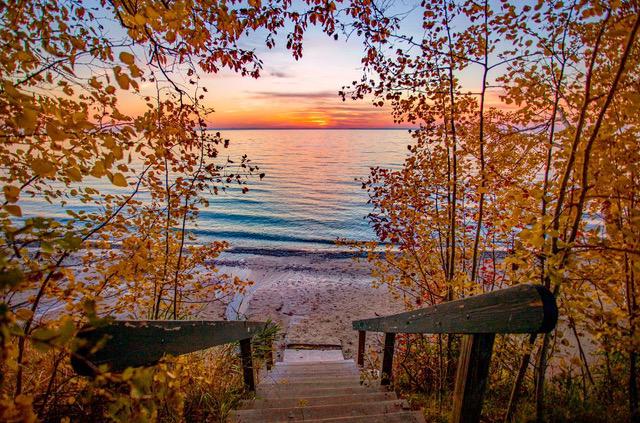 Cruisin' the Breezeway
Fall into East Jordan during the 15th Annual Autumn on the Breezeway! Choose from three different dates: Sept. 30, Oct. 7,...
Read More >>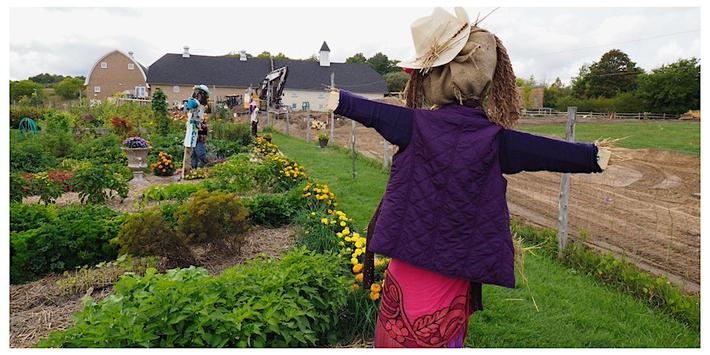 Scarecrow Szn
It may not be "spooky szn" (as the kids call it) just yet, but it does seem like it might be scarecrow szn. Th...
Read More >>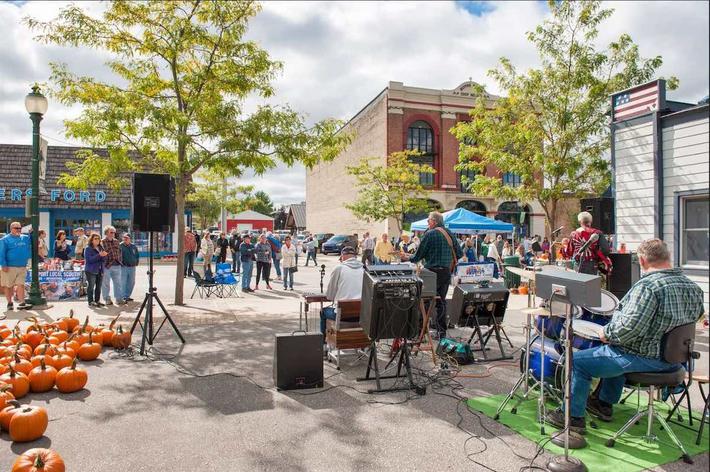 Celebrate the Harvest in Boyne City
Welcome to the season of harvest festivals! The days are getting shorter, the nights (and days) cooler, and it's tim...
Read More >>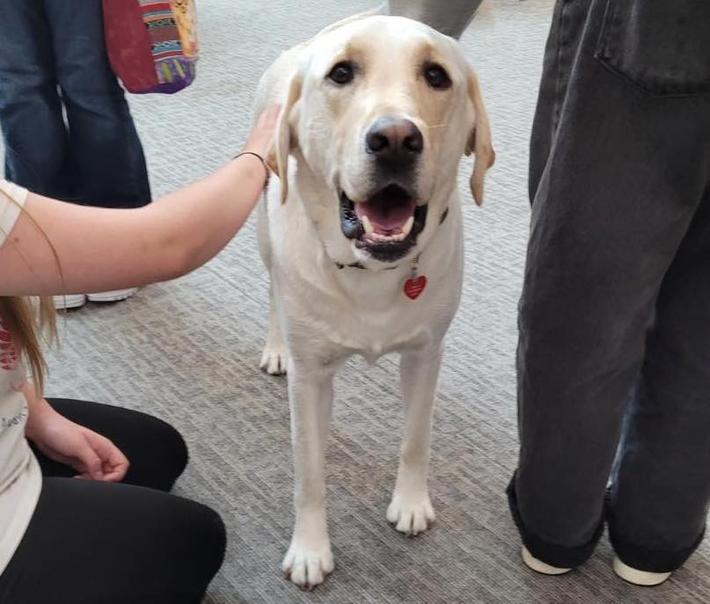 Pups on Campus
Traverse City West Senior High has brought on a very good boy as their newest staff member for the 2023-24 school year. Me...
Read More >>