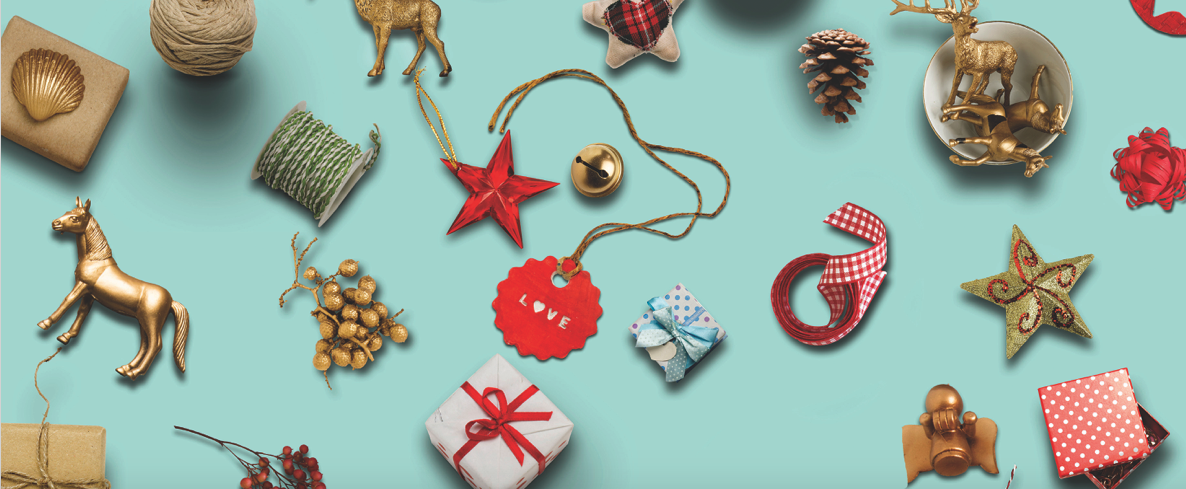 Ready, Set, Shop!
Up North goodies for all the good boys and girls on your list
Looking to put some local gifts under your tree this year? Look no further: We've scoured the shops of northern Michigan to find a mix Up North classics and out-of-the-box surprises — at all price points — that'll excite everyone on your list. Behold: Our 2018 picks for 25 great gifts that give you good reason to stroll our snowy small-town streets and stores:

STOCKING STUFFERS
Tea-riffic
Got a traveler and tea fan among your giftees? Tuck one of these tea tins ($6) into their stocking. Made of unpolished silver tin and embossed with the logo of northern Michigan's dedicated tea farm, Light of Day Organics, you can either preload this perfectly-sized 3-inch tin by adding in some fresh tea from Light of Day (extra cost), or allow your giftee to fill it up with their own tea choice. Either way, it's easy to drop into a backpack or bag so they can have tea wherever they go.
Available at: Light of Day Organic Farm and Tea Shop, 3502 East Traverse Hwy., Traverse City. (231) 228-7235, www.lightofdayorganics.com
Let's Jam
American Spoon Foods is a great go-to destination for holiday treats, but you might not know that the Spoon releases limited edition goodies each year for the holidays as well. This one for 2018 — Holiday Jam ($13.95) — is a festive and delicious stocking stuffer for fruit fans, a chunky mix of cherries, sharp cranberries, spices, and sweet figs, perfect when paired with cheese, on sandwiches, or just for eating directly out of the jar with a spoon. (Yes, we did.)
Available at: American Spoon Foods has stores in Petoskey, Harbor Springs, Traverse City, Charlevoix, and Saugatuck. (888) 735‑6700, www.spoon.com
Kick It
Socks Kick, the local socks emporium founded by a Turkish exchange student turned East Jordan resident, has a plethora of colorful, warm socks great for anyone and everyone on your list. There's a massive selection to choose from, but among these well-crafted Istanbul-made socks, you'll find this Up North essential: Thick Heaters ($12.50), double-brushed acrylic/cotton socks designed to help trap your own body temperature inside the sock to keep your feet warm even on the coldest days.
Available at: Socks Kick, 618 Bridge St., East Jordan. (231) 222-2402, www.sockskick.com
Cocktail Clean
Gift your favorite guy with his favorite drink in a whole new way. The Outdoorbeerdsman infuses 4-oz. small batch bar soaps ($7.50 per bar) with scents reminiscent of their regular bar order, whether that's whiskey (oak, cedarwood, spice, and caramel), bourbon (smoke, spice, vanilla), gin (juniper, vanilla, clary sage), or a mint mojito (mint, rum, and lime). Bonus: No matter how much he scrubs, no headache the next morning.
Available at: Outdoor Beerdsman, 118 Water St., Boyne City, (231) 497-6488, www.outdoorbeerdsman.com
Dancing Sticks
If you've ever been to any northern Michigan music or art festivals, chances are you've seen a few folks juggling tasseled sticks madeand sold by local juggler and juggling purveyor, the Jolly Lama.Now, he's offering a mini version of his popular toy called Knuck Chuxx ($14.95), so devotees can juggle using only their fingers/knuckles. Choose custom colors for the stick and tassels, improve your hand-eye coordination, and have fun too.
Available at: The Jolly Lama, 138 Highway US-31 North, Pellston. (888) 676-LAMA (5262), www.jollylama.com
$25 OR LESS
Lavender Chill
In the spring and summer months, Lavender Hill Farm in Boyne City is a constant wash of lavender scent rolling over the hills, as the farm's owners, Rita Robbins and Bill and Erin Mansfield, carry on a lavender-growing tradition started back in 2003. Gift that calming scent this holiday season with the farm's soy candles, made in Charlevoix, Michigan, with lavender from the farm. This set of four 2 oz. mini-candles ($24) can be given as a single gift, or broken up to grace four friends with a little holiday tranquility.
Available at: Lavender Hill Farm, 7354 Horton Bay Rd. North, Boyne City. Hours vary during winter; call ahead: (231) 582-3784. www.lavenderhillfarm.com
Woven Wonders
A dish towel is a dish towel is a dish towel — except when it's graced by beautiful artwork featuring northern Michigan landscapes and natural wonders from one of the region's favorite illustrators. Local artist Glenn Wolff, known for his distinctive mixed-media works, contributed the art to these 100 percent woven cotton kitchen towels ($20 each) available at Crystal Crate and Cargo in Beulah. Choose your favorite of three earthy color combinations: Wood (natural tones), Michigan Orange, or Lake Michigan Blue.
Available at: Crystal Crate and Cargo, 262 South Benzie Blvd., Beulah. (231) 882-5294, www.crystalcrate.com
Natural Ornamentation
It's a rock, it's a fossil (a fossilized coral called Hexagonaria percarinata, to be exact) — and now it's an ornament, too! Petoskey stones are ubiquitous across northern Michigan, and adding one to your giftee's tree is a perfect way to bring a natural element into their holiday season. Sturgeon River Pottery offers four different hand-cut Christmas tree ornaments crafted from 100 percent Petoskey stone. Choose from the classic pine tree, Michigan mitten, Michigan Upper Peninsula, or holiday star (all $13.95 except for the Michigan mitten, $12.95).
Available at: Sturgeon River Pottery, 3031 Charlevoix Ave., Petoskey. (231) 347-0590, www.sturgeonriver.com

Cookie Celebration
Revered across northern Michigan for their characteristic soft cookie texture, flavorful recipes, and rich ingredients, Tom's Mom's cookies are easily giftable; you can both pick up bags of cookies at their tiny shop in Harbor Springs, or order and ship online. Ardent fans will tell you that the original Chocolate Chunk Cookie (pictured; $18 per dozen, 2 dozen minimum order to ship) is the best, with the chunks handcut from 10-pound chocolate bars. But you can also choose from variations like caramel cookies with pretzels, chocolate with peppermint chunks, white chocolate macadamia nut, or peanut butter.
Available at: Tom's Mom's Cookies, 267 S. Spring St., Harbor Springs. (231) 526-6606, www.tomsmomscookies.com
Magic Mermaids
Half fashion statement, half meditation tool, Magic Mermaid bracelets ($18.00) are the next fidget spinner. Each features inspirational messages and reversible sequins that serve as a gentle and glamorous reminder to stay in a happy head space. Wearers can read the "Positivity Patch" word of your choice (choose from words like Hope, Confidence, Dream, and Achieve) on the bracelets as they flip the sequins from one color to the next. Velvet lining around the wrist ensures a comfortable fit, the sequins add a glam touch, and the adjustable closure makes these one size fits most.
Available at: Inspired Living, 119 Water St., Boyne City. (231) 582-2663, www.balilivingimports.com
$50 OR LESS
Storm Defense
It's a northern Michigan original — the distinctively rustic four-panel winter hat is made by hand, with a pull-down flap for ear coverage that's critical to endure those spikes of winter wind. Lined in cotton flannel, the Original Stormy Kromer Cap ($44.99) is one style that never goes out of style, at least not Up North. Choose from a wide range of colors to match your giftee's fashion sensibilities: black, navy, olive, blaze pink, red pine plaid (pictured) or "Ottawa," a subtle camouflage.
Available at: Stormy Kromer, 1238 Wall St., Ironwood. (888) 455-2253, www.stormykromer.com
Flavor Starters
Named after the stainless steel containers, or drums (aka "fustinis" in Italian), used to store olive oils and balsamic vinegars, Fustini's offers a vast range of bold, flavorful oils and vinegars the cook in your life can use to dress up entrees, desserts, and even drinks. All of Fustini's offerings are imported from small-batch growers and hand-selected artisans, and there's plenty to choose from. Can't decide? Get your giftee Fustini's six-bottle starter pack ($45), which includes lemon, cherry, and balsamic vinegars, plus garlic, Tuscan, and basil olive oils.
Available at: Fustini's Petoskey, 206 Howard St.; (231) 758-3575; Fustini's Traverse City, 141 East Front St., (231) 944-1145. www.fustinis.com
Great Guide
Help your favorite adventurer hit the road with M-22 Microadventures ($34.99), a laser-focused soft-cover guide to a shortlist of standout adventures along one of the North's most scenic drives. Inside its 84 pages are well-known and lesser-known treks that both locals and tourists will enjoy, plus a section to jot down notes and a full map of M-22.
Available at: M22 Traverse City, 125 E. Front St., (231) 360-9090; M22 Glen Arbor, 6298 W. Western Ave. (aka M-22). (231) 334-4425, www.m22.com
Mackinac Mittens
Three Mackinac Island teachers and long, cold island winters equals Mackinac Mittens ($49.99 per pair, plus shipping), unique sets of toasty-warm mittens handmade right on the island from vintage sweaters. Simply peruse what's currently available via their website, and then order the pair of your choice online from the industrious trio of Liz, Karen, and Laura — but move fast; each pair is one-of-a-kind, and they disappear quickly.
Available at: Online order at mackinacmittens.com or The Mole Hole Gifts and Collectibles. www.themoleholeonline.com
Tasty Trio
Benjamin Twiggs has been making cherry products in northern Michigan since 1966 and have expanded their catalog past the usual suspects to bring you some more unusual cherry treats, like this gift box for fans of spicier, south-of-the-border fare. Their Salsa Trifecta ($36.50) features three of Twiggs' salsa products — black bean and corn salsa, cherry salsa, and cherry garden salsa — plus a packet of tortilla chips all ready for the dipping, and a dash of extra zing via their Cherry Heat sauce.
Available at: Benjamin Twiggs, 1213 E. Front St., Traverse City, (877) 236-8944 or (231) 947-0208. www.benjamintwiggs.com
$100 OR LESS
Winter Pearls
You want to get your lady some ice? Diamonds might be a traditional gal's best friend, but the BFF of the thoroughly modern and chic chick is more likely a pearl snowball. This $95 necklace from Elizabeth Blair Fine Pearls is a case in point. Freshwater cultured pearls from China are gathered into a snowball form and suspended from a 36-inch leather cord (brown or black) to make an unusual pendant necklace that'll quickly make a pearl girl of your lady.
Available at: Elizabeth Blair Fine Pearls, 115 West Main St., Harbor Springs. (231) 526-7500, www.elizabethblair.com
Luxurious Lemons
A scent few can argue with is lemon — always fresh, and fabulous for revitalization — so when Symons General Store put together its gift collections, it only made sense to compile one entirely of luxurious lemon products. The When Life Gives You Lemons gift box ($87) includes all things citrus and citrus-infused, plus a few sweets to balance the sour: L'Ami Provencal Orange and Lemon Candies, Stonewall Kitchen Lemon Parsley hand soap and hand lotion, Savannah Bee Tupelo Honey Royal Jelly Body Butter, Vosges Coconut and Banana Chocolate Bar, and a Stonewall Kitchen Umbrella Towel.
Available at: Symons General Store, 401 East Lake St., Petoskey. (231) 347-2438, www.symonsgeneralstore.com
Waffle Heaven
With extra deep one-inch waffle pockets (how can you not buy something that has waffle pockets?), a nonstick grid, 1400 watts of power, and a browning control button, the Cuisinart Flip Double Belgian Waffle Maker ($99.95) is the kind of mega-machine you find at tony hotels and restaurants — and the creator of the kind of waffle perfection that your kids (and sweet-toothed spouse) covet. Treat 'em all by treating them to one of their own.
Available at: Cutler's, 216 Howard St., Petoskey. (231) 347-0341, www.cutlersonline.com
Sling It
Winter sports abound in northern Michigan, but it can be tough to figure out a way to carry all those necessities while skiing, snowshoeing, or winter hiking. The unique Atom Sling bag from Patagonia ($59) offers your overloaded, on-the-move recipient the balance of a backpack with the convenience and low profile of a shoulder bag, with a teardrop shape that keeps it out of her way, yet holds plenty of stuff. A large main pocket with a padded tablet sleeve takes care of extra socks and electronics; smaller pockets hold a wallet and sunglasses, and there's a special pocket on the strap itself to hold that ever-present phone. External straps can even add on a rolled-up jacket or umbrella, and the nylon, water-repellent exterior is durable enough for all outdoor activities.
Available at: Bahnhof Sport, 106 East Sheridan St., Petoskey. (866) 451-9425, www.bahnhof.com
Happy Campers
It might be too cold right now, but in just a few months campers will head back out onto the road for more vacation treks. To help your favorite free spirit count down the hours until he can go wandering again, gift him this colorful clock from Two Fish Gallery in Leland. Made of resin (which keeps it lightweight), the Happy Campers Clock ($59.95) was designed by artist Michelle Allen and runs on one AA battery. Got more folks on your gift list? Two Fish has a whole roster of clocks by Allen, including the Shelley Mermaid, a wide-eyed fish, a vintage camera, and a kitchen mixer clock, and even one of a dachshund named Oscar.
Available at: Two Fish Gallery, 104 West River St., Leland. (231) 256-9350, www.twofishleland.com
HEY, BIG SPENDER
Candy Crush
What do you get for the person who has everything? A $1,130 candy dish seems sensible. Credit the high price tag of this exquisite Laffy Taffy holder to its origins: It was designed by famed Austrian postwar designer Oswald Haerdti for the J. & L. Lobmeyr glassware company, also in Austria, and originally manufactured to showcase at the Exposition des Arts Decoratifs in Paris in 1925. Crafted of lead-free crystal, the 15-inch high dish will delight any giftee that lives in a home without children or large pets.
Available at: Huzza, 136 East Main St., Harbor Springs. (231) 526-2128, www.huzza.net
Get Garmin'd
The Garmin Edge 1030 ($599.99) is the ultimate GPS bike computer. Comprehensive navigation and cycling performance/awareness features team up with millions of miles of Garmin Connect ride data so your cyclist can find the very best routes (both on- and off-road). Preloaded maps provide detailed directions and alerts; Strava Live Segments offer cycling challenges; and rider-to-rider messaging lets everyone stay easily in touch during an outing.
Available at: McLain Cycle and Fitness, 2786 Garfield Rd. North, Traverse City, (231) 941-8855. In Cadillac, 311 N. Mitchell St. (231) 775-6161, www.mclaincycle.com

Up and Away
The sky is quite literally the limit with this gift — give adventure and an unforgettable experience via a gift card to Traverse City Balloon Tours this holiday season. (Gift cards, starting at $249, are on sale for the holidays if you use promo code holiday2018 through December 25.) The company offers both private and shared hot air balloon excursions that will take you 2,000 feet above the Grand Traverse region for stunning views of landscapes, vineyards, cherry orchards, and Grand Traverse Bay.
Available at: Traverse City Balloon Tours. (231) 928-5822, www.tcballoontours.com
Diamond Time
OK, so if your diamond gal is forever, mark her holiday season infinitely beautiful with this diamond and white gold bangle bracelet ($2,308 as pictured). Fifteen diamonds grace the top of the lemniscate (i.e., infinity symbol) that's the focus of this piece, while polished rope-patterned white gold echoes the yacht lines of northern Michigan. (A sleek box clasp keeps the bracelet firmly fastened.) Also available in yellow gold, rose gold, rose and white gold, or yellow and white gold.
Available at: James C. Smith Fine Jewelry, 101 W. Front St., Traverse City (231) 941-3300, www.jamescsmith.net
Fancy Ford
The television might suggest that a Lexus is the car to give at Christmas, but if you've got to gift a Michigan motorhead, go for an American made classic like this 1965 Ford Mustang ($16,900). This particular model, in bright cherry red, has been beautifully maintained, features a smooth running engine, a new floor, radiator, rims, and tires. Tie a big green ribbon across the trunk, hop on in with your giftee, and pretend you're heading Back to the Future just a few years too late. Ford not your jam? Classic Car Deals in Cadillac has a whole warehouse of vintage cars to choose from.
Available at: Classic Car Deals, 6576 East 34 Rd., Cadillac. (231) 468-2809, www.classiccardeals.com
Trending
Pronouns 101
My first assignment in an online graduate-level class was to provide information about my background, including my pronoun...
Read More >>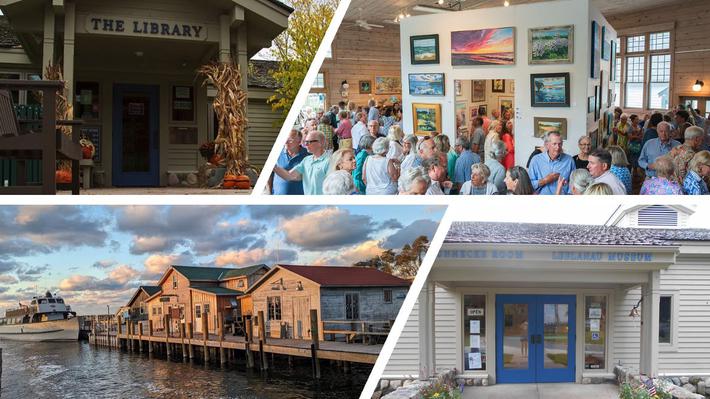 Collaboration Is the Name of the Game
How long does it take to create a cultural center? As few as three years, or as many as 170. Sometimes both. The organiza...
Read More >>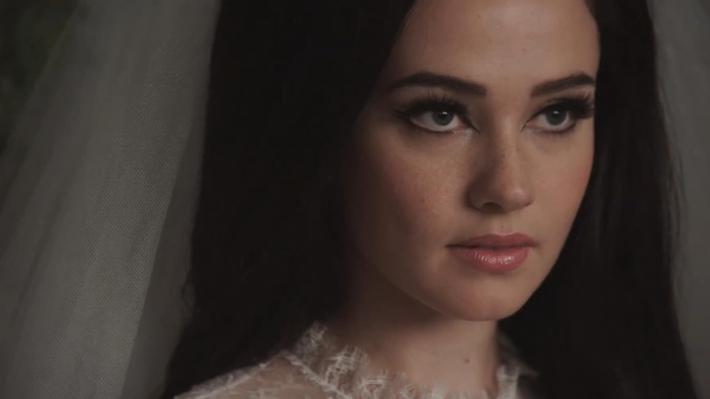 Film Review: Priscilla
While you will certainly be mesmerized by the haunting lead performance from newcomer Cailee Spaeny—and be impressed...
Read More >>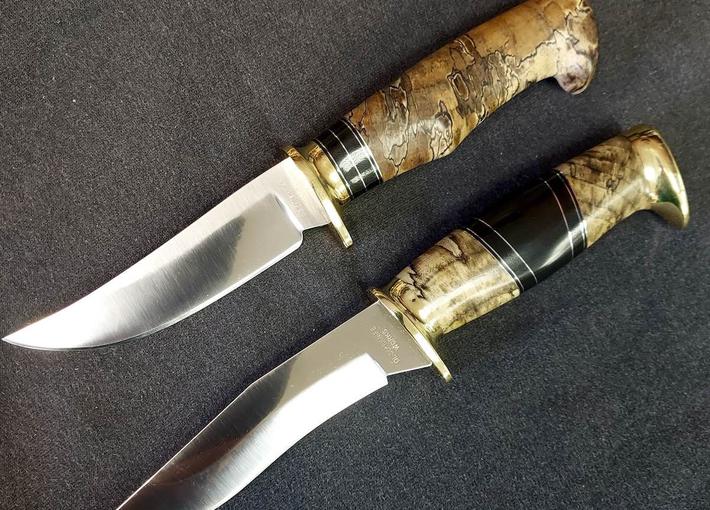 Bespoke Blades
What do you do with a battered ice skate, an old rubber puck, a cracked hockey stick, and a gob of tape? Pitch 'em, ...
Read More >>