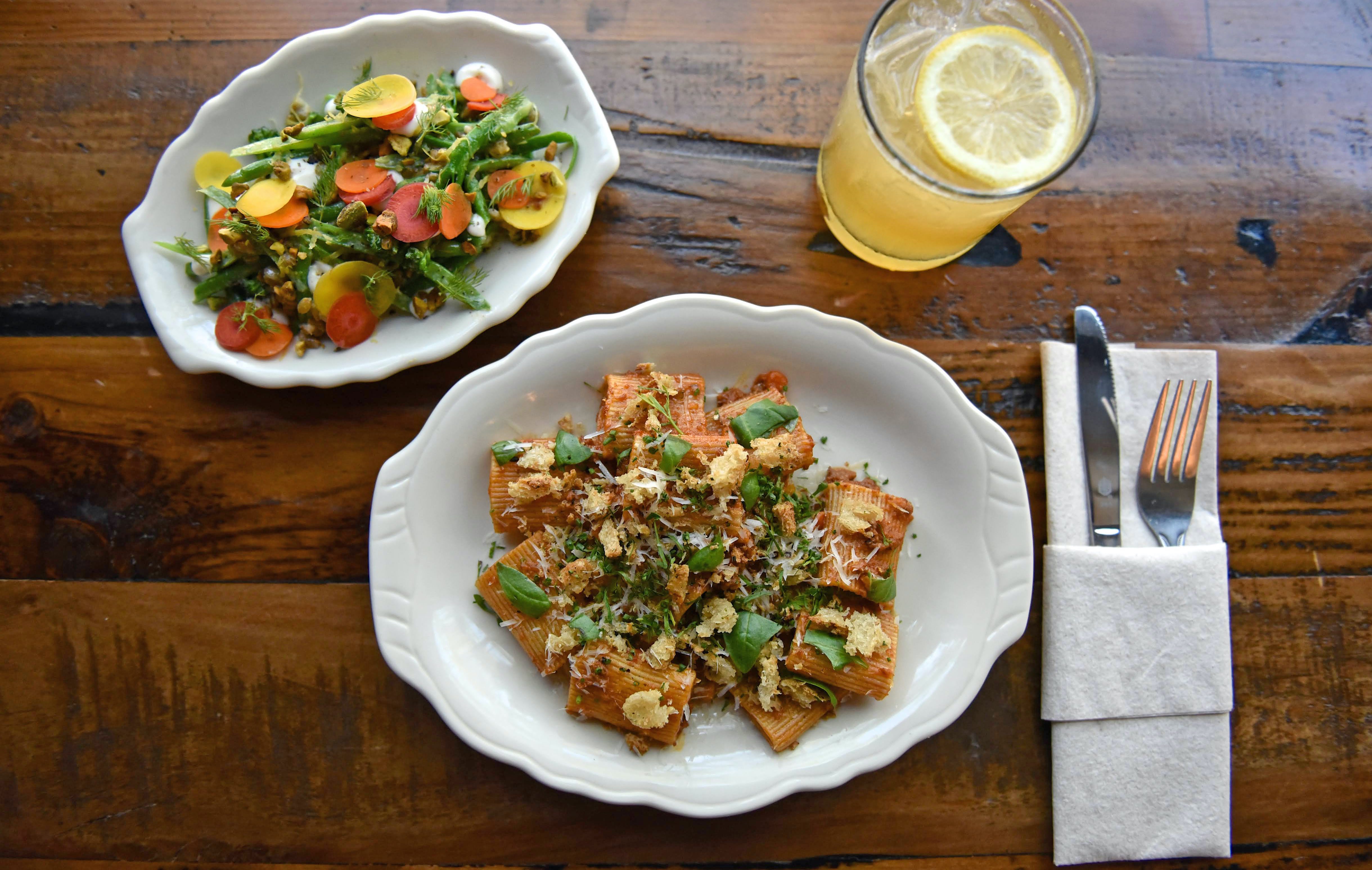 A Showcase Of Restaurants, Fall Edition
Sept. 19, 2020
Please be seated for these abbreviated versions of the restaurant profiles we've featured since our last RestauranTour issue. Bon Appetit!
Hopscotch Brick Oven & Taproom
Brothers Matt and Mark Davies, longtime northwest Michigan restaurateurs with four other establishments in the region, opened Hopscotch in 2017 on the east side of Traverse City, in the former location of Mr. Bill's Shirt Co., next to the now-defunct Pebble Brook miniature golf park.
When Matt and Mark bought it, it was all linoleum floors and pegboard walls — just an open retail space. But it had something specific they wanted: enough room out back that would allow them to put in a beer garden.
Today, that garden is a major draw for Hopscotch guests. Pea gravel and flagstone walkways define the well laid out seating area, which is surrounded by a tall wooden fence that provides privacy and wind protection. Expansive sails overhead give shelter from the sun and the occasional brief shower. And two fire pits provide warmth and coziness on cooler summer and early fall evenings.
This winter, the brothers plan to put in three greenhouse-like polycarbonate structures — a little more structural than the popular igloos they've used previously, plus easier to heat and transparent, so guests will be able to see the snow falling and feel like they're outside.
On the Menu: Brick oven pizzas are hands-down the most popular items on the Hopscotch menu, and several specialty versions are offered, including the East Bay (red sauce, pepperoni, and sliced sausage, with cremini, shiitake and oyster mushrooms) and the Gyro (shaved beef and lamb, red onion, garlic oil, tomato, and tzatziki sauce), as well as build-your-own options from a long list of possible ingredients.
Among meat lovers, the smoked brisket entrées rule. Purists love the slow-roasted version (smothered in bourbon BBQ sauce), and those who find it hard to choose just one type of meat opt for the Smoke House Plate (brisket, baby back ribs and pulled pork, with traditional or Carolina sauce). In the small plates category, the Summer Shrimp (chilled jumbo shrimp with lemon, garlic and red pepper flakes), Pulled Pork Nachos (with cilantro sour cream and poblano coulis), and Baked Raclette (Leelanau Cheese raclette with potatoes, gherkins and toast points) take top billing, while with the piadinas — Italian flatbreads served like quesadillas — it's the Cubano (Chihuahua cheese, bacon, smoked pulled pork, dill pickle, and yellow mustard).
Tops picks in sandwiches — all served on toasted ciabatta — include the Lobster Roll (lobster meat, chives, and light mayo, with melted cheese and drawn butter), and the Smoked Turkey Breast (with bacon relish, avocado, tomato and mayo).
The bar features 12 rotating taps, the two mainstays of which are the iconic Motorboater, made exclusively for the Davies restaurant group by Right Brain Brewery in Traverse City, and Hopscotch Ale, from Short's Brewing Company in Bellaire but it also stocks an impressive selection of fine scotch whiskeys, and its bartenders are often rolling out new cocktails.
Find Hopscotch Brick Oven and Taproom at 2032 U.S. 31 North in Traverse City; it also has direct access from the TART (Traverse City Recreational Trail). (231) 252-4718, www.hopscotchbrickovenmi.com
Crow's Nest
The Crow's Nest Restaurant & Catering in Harbor Springs is a 60-year-old Northern Michigan mainstay that eschews the tourist-driven approach and embraces the wants and needs of its regulars, most of whom are area residents.
The result is an eclectic menu of high-quality food that belies its rather humble surroundings. Though its food is more akin to haute cuisine, the restaurant itself has a traditional Northern Michigan lodge feel.
Lacquered knotty pine warms the Crow's Nest's interior, which is illuminated by large windows that provide views of the verdant grounds. Outside, a small, adjoining patio dining space overlooks a large vegetable and herb garden where owners Bob and Ann Vala cull some of their fare.
The Valas took over in 1997 as the restaurant's fourth owners. "I put my own spin on things when we started," the 58-year-old Vala said. "We had been doing about 1,200 meals a day at Stafford's Pier, so the pace here was very different. But, I brought some ideas that I had there and we took [The Crow's Nest] menu to the next level."
On the Menu: The Mediterranean-style Pasta Putanesca ($22) offers great value with a colorful, hearty portion that is alive with fresh flavors. Tart artichoke hearts, tomatoes, capers, garlic, and Nicoise olives embrace tender linguine and succulent shrimp in a delightful quagmire.
Another hefty plate bears the Northern Fried Chicken ($17), half a chicken's parts expertly deep-fried, juicy and packed with flavor. Loaded mashed potatoes and corn pudding — both tops in their field — offer sweet and savory bookends to the tastily-breaded yard bird.
The Yellow Lake Perch entree ($32) is this eatery's signature dish. However, the menu contains some other classic entrees like Liver & Onions ($16), Steak Ann ($35), and Great Lakes Whitefish ($23) — and some not so traditional, like Bangkok Stir Fry ($23) and Walleye Morel ($28).
Because Crow's Nest sources food locally as much as possible, Michigan's prized and hunted fungi also appear on the eatery's most sought-after appetizer, its Morel Bruschetta ($14). Other appetizers include Truffle Fries ($7.95), Calamari ($11), Fried Pickle Chips ($8), Escargot ($14), and BBQ Ribs ($14). The Crow's Nest also sells a few sandwiches, as well as a variety of pizzas featuring homemade dough. The restaurant has an ample bar with regular beer, wine, and liquor offerings.
The Crow's Nest Restaurant & Catering is a family dining establishment. Find it at 4601 N. State Rd. (231) 526-6011, www.crowsnest-harborsprings.com
Lylah's
Cynthia Henderson might not have a knack for timing, but she more than makes up for it with her food. Conisder: She opened the first Lylah's in Lake Leelanau in January 2019. Last winter, she moved the popular sandwich shop to Suttons Bay. The new Lylah's was open for only two weeks — two very successful weeks at that — and then … ? The pandemic hit.
"We were so thrilled that we had made a change for the good because there was more foot traffic, more parking, and we were sure that this was going to be something big. Little did we know, however, what was about to happen next."
Henderson closed down right away and stayed closed for a month. "When we reopened, for takeout only, there was definitely an initial drop in sales," she said, "but since then we have been getting a lot of support from the locals, and visitors are discovering us, too."
On the Menu: Fresh and homemade are key words for Lylah's. Tomatoes, cucumbers and lettuce are sourced from TLC and other local farms, and most of what can't be sourced nearby comes from other Michigan growers and producers. Vegetables and salads are prepped fresh daily, and all sauces, spreads and dressings are made in house, Henderson noted, calling herself the "condiment queen."
And she demands the same quality in the meats she serves. "We make our own pulled pork, slow-roasting it for about 12 hours," she said. "We also bake our own chicken breasts and roast our own turkey and top round beef. The only meat that we don't cook here is ham."
Henderson has always been intrigued by the "endless possibilities" that sandwiches offer, and her made-to-order creations, piled high with toppings and sauce, are definitely the main attraction at Lylah's. Top sellers include the Gouda-nuff Turkey sandwich (house-roasted and chopped turkey breast tossed with garlic-herb mayo and topped with smoked Gouda cheese, cucumber slices, lettuce and tomato on toasted sourdough bread), the Jalapeño Mouth (ham, bacon, cheddar, house-candied jalapeños, Dijon mustard and tomato on a toasted onion bun), Horsin' Around (hand-sliced roast beef, house-pickled onions, horseradish cheese, lettuce, tomato and herb mayo on sourdough bread), and Oh What A Year Oh! (rotisserie lamb or chicken, lettuce, tomato, red onion, feta cheese and house-made tzatziki on warm pita bread).
Three different soups are featured daily, with the Turkey Noodle making repeat appearances and selling out quickly every time. A newcomer among the three salads on the menu — all made fresh to order and served with dressing on the side — is the Clubbin' (turkey, ham, bacon, provolone, pepperoncini, red onion, cucumber and tomato over mixed greens, with herb vinaigrette). And for your sweet tooth, Lylah's offers an ever-changing selection of homemade cheesecakes, pies, brownies, cookies, and more.
Lylah's is located at 99 W. 4th St bin Suttons Bay (in the same plaza as Hansen Foods.) (231) 866-4081, Lylahs.square.site
Small Batch At The Cupola
With a little nudge from a good friend, newly retired Lauretta Reiss — whose degree in design from Michigan State University led to a high-powered, international career as a footwear designer — opened a bakery, Small Batch Local, in downtown Harbor Springs in 2014.
Less than a year later, the owner of The Cupola, a well-known Harbor Springs dining destination for 30 years, approached Reiss about taking over that space to open a breakfast and lunch restaurant, and Small Batch at the Cupola was born.
The interior of Small Batch showcases Reiss's extensive collection of art, cookbooks, and vintage furniture, making patrons feel as if they are dining in a private home. Soft, '40s-style music plays in the background.
"I wanted to create a compelling, exciting, interesting dining experience," she said. "You're dining not only with art surrounding you but also with art on your plate. There's an artistry in what we do.
On the Menu: Put it this way, said Reiss: "I won't put anything on my menu unless I've done it 100 times — I perfect it and change it until it's right. And we still tweak things all the time if we feel they can be better yet."
That includes her version of eggs Benedict, Benedict's Garden, which uses Florentine sauce rather than Hollandaise sauce, and poached eggs served over grilled rosemary ham and mixed roasted vegetables. The Rise and Shine breakfast sandwich has caramelized onions, aged cheddar, tarragon-herbed eggs and sriracha aioli on grilled brioche."
Other popular breakfast features include the Heavenly (lemon ricotta pancakes with fresh blueberries and lemon zest glaze), Cali Dreaming (avocado mash, pickled red onions, tomatoes, cheddar, and two sunny-side-up eggs on grilled ciabatta), and Gravy Train (a grilled golden biscuit topped with crispy fried chicken, sausage gravy and two fried eggs), as well as daily specials, often some version of a quiche. The dinner menu is nothing if not diverse, with bold flavors and choices ranging from the Holy Smoke (St. Louis ribs slathered in house BBQ sauce) to the Winner Winner Chicken Dinner (crispy chicken, mashed potatoes and gravy, corn, slaw, and a biscuit), and the Don Chipotle (a pork-belly BLT with fried green tomato and chipotle aioli. From time to time, Reiss also offers Filipino classics like pancit (a noodle dish) or Mexican fare that she came to love while living in Los Angeles, as well as things like a recent seafood boil (with crawfish, mussels, crab, shrimp, andouille sausage corn and potatoes).
The Small Batch at the Cupola restaurant, also home to Small Batch Local bakery and catering, is located at 340 State St. in Harbor Springs. (231) 242-4686, www.smallbatchhs.com
Opa! Grill & Taproom
Owner Paul Barbas and his family moved to Traverse City from the Detroit area in the early 2000s, only to discover Mediterranean fare wasn't on the menu Up North. For the 100-percent Greek Barbas, the culinary hole was a surprise … and an opportunity.
In 2007, Opa! was born, focusing on classic Greek recipes — with a few Polish dishes in homage to Barbas' wife, whose family hails from Poland.
Now, 13 years later — and in a new standalone location at Grand Traverse Crossing, across from the Grand Traverse Mall — Opa! and the family's Greek and Polish traditions are still going strong indoors and out. (Under a large tent in the parking lot, Opa! offers high-top tables, all properly distanced, giving guests the option of outdoor dining or eating in the restaurant. Guests also can preorder online or via phone and get meals delivered to their assigned table in the tent.)
On the Menu: Whether you're choosing take-out or an in-person dining experience, Opa's menu won't disappoint. With flavorful Mediterranean dishes alongside comfort foods, Coney dogs, and hearty salads, there's something for nearly all palates. And with "Taproom" now part of the name, more than 50 beer selections stand ready to complement your meal.
"If you come in for the first time, get the gyro [a mix of lamb and beef, or marinated chicken breast] and the Greek side salad," says Barbas. "If you're craving a great gyro right off the rotisserie, you'll find it at our place."
For those looking to explore a bit more, Barbas recommends the Greek Moussaka (eggplant, potato, ground sirloin, tomato, red wine, and béchamel) and the Greek Kisses. Love Polish food? Barbas reports a lot of customers come in specifically seeking Opa! pierogi.
"I judge a restaurant by their appetizers," he says of the latter, which are on the starter side of the menu. "We take a wonton and fill it with three different cheeses, flash fry it, and finish it off with a balsamic drizzle." Also a must: Opa! Saganaki, melted Greek cheese flamed tableside; The Duo, falafel; and tzatziki served with grilled pita triangles; and — surprise! — Chilean mussels, steamed in white wine, garlic, fennel, and butter.
Opa! Grill & Taproom is open 8am–9pm daily. Find it at 2658 Crossing Circle in Traverse City. (231) 947-6721, www.opagrill.com
Benzonia's Hill Top Soda Shoppe
I scream, you scream — most of it directed at the road construction on US-31 in Benzonia — but despite the difficulties posed by the orange barrels and plumes of dust outside, Hill Top Soda Shoppe is drawing lines of customers.
It turns out husband-wife owners Victoria and Chris Mekas had some foresight, both in terms of business choices and, in particular renovation project they took on at Hill Top, which Victoria opened in 2005. The couple remodeled two years ago, expanding from 140 square feet to 600 — "We needed more room to make ice cream," said Chris — and fortuitiously, ] also installed a drive-thru.
When the pandemic hit, they leaned hard on that particular addition in to serve their popular ice cream, coffee, and fresh donuts to their loyal customers who couldn't or chose not to come inside.
On the Menu: When the couple initially decided to open an ice cream shop, they decided to do it right; they started by enrolling in ice cream school in North Carolina.
They quickly learned that to make the best ice cream, to stand out among countless other ice cream shops in a summer tourism region, they needed to start with the best ingredients.
"Since day one we've used Country Dairy in New Era [Michigan]. It's a high-end dairy," Victoria said, noting that it's not only rBST-free but also exceptionally creamy, thanks to a content of 16 percent butterfat.
Add to that cow-not-chemically-engineered goodness: all of Hill Top's ice cream is sweetened with real sugar, not corn syrup. Most flavors are gluten-free, and they use local ingredients whenever they can.
"There's something about local strawberries. We use Grossnickle strawberries only," she said, referring to Grossnickle Farms in nearby Kaleva. "We have a freezer full of strawberries. We usually run out in spring," just shy of the summer harvest. Also au natural: "Our sorbets are from fresh fruit, sugar, and lemon and lime juice, too."
Among Hill Top's unique ice cream flavors are Benzie Berry Blast (with those in-demand strawberries); Pear and Port Wine Sorbet; and special school flavors like Husky Puff Supreme, chock full of cherries and cheesecake; Buckley Bear, a coffee ice cream with sugar cookies and a chocolate swirl; and the Mekas' twist on Neopolitan, in which mint chocolate chip replaces strawberry.
The reaction from customers is what keeps them — and, you might say, Victoria, coming back. "When people say … it's the best ever," she said, "that gives you a lot of pride."
Find Hill Top Soda Shoppe, open 11am to 9pm daily at 7117 South St., in Benzonia. (231) 882-9697, www.HillTopsodeshoppe.com
Trending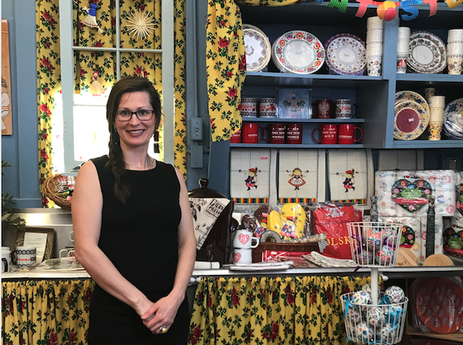 Straight Outta Hamtramck
There it stands, in downtown Cedar: The Polish Art Center. Some paintings of the Old Country probably, maybe some Polish p...
Read More >>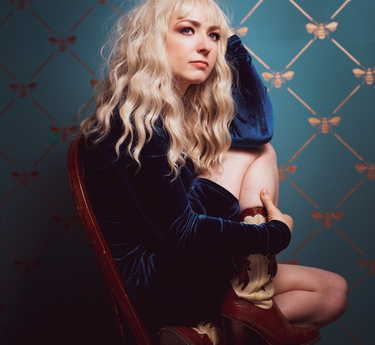 The Queen of Underground Country Returns
The last time Rachel Brooke released a full-length solo album, things looked very different — both in the northern M...
Read More >>
Patience Required
It's going to be a very long election night. Voter fraud will have nothing to do with it. Every state has some form of ea...
Read More >>
The Long Goodbye
Last week, President Trump sowed confusion within his government — and amongst our allies — by tweeting t...
Read More >>
↑