Pellston's Gourmet Oasis
When it comes to sourcing ingredients, Nancy Kelly is not afraid to go out of her way … way out of her way.
July 6, 2014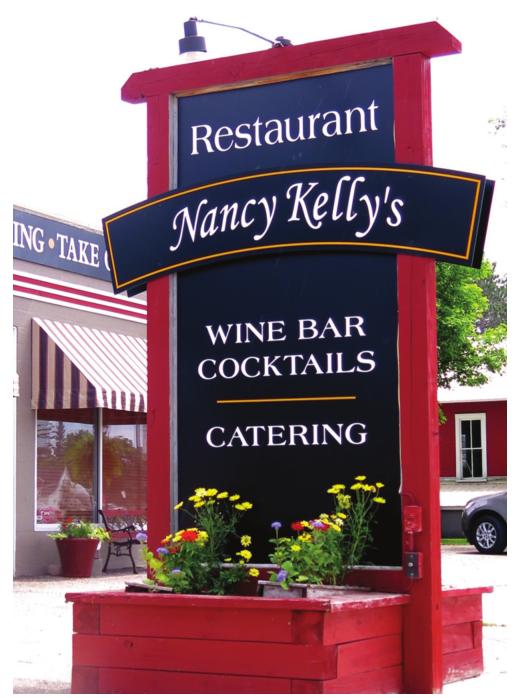 In her epicurean travels, she's gotten tiny clams at a Sardinian bay, wheel barrowed down a dirt road at midnight for fresh fish, and picked wild berries in Ireland for a special dessert recipe.
Now with her new eponymous restaurant in Pellston, she may be tethered a bit geographically, but that hasn't stunted her wide-ranging creativity in the kitchen.
RESTAURANT ROOTS

The foundation for her career as a chef was set while Nancy Kelly was still just a kid.
Growing up in a family of 11 in a two flat on the West Side of Chicago, was "like growing up in a small restaurant," said Kelly, whose extended family lived upstairs.
In spite of a busy lifestyle, everyone still gathered at the dining room table every night, which was set with Franciscan china and sterling silver.
"Even the milk was poured from a silver pitcher," she said. "Somehow, all of that forms part of who you are."
After moving to Northern Michigan as an adult, she created elaborate menus and beautiful table settings for her own friends, which led to catering, which led to Tapawingo.
"I tried to think of the best restaurant in the area in which to learn more," said Kelly about Pete Peterson's legendary Ellsworth restaurant. "I would drive 50 miles one way just to prep in his kitchen and absorb the energy there."
FRENCH LESSONS

In January of 1989, Kelly moved to Paris to apprentice with Master French Chef John Desmond.
That "revelatory experience," as Kelly called it, led to six more seasons working in Parisian restaurants, while still returning to Harbor Springs each summer to cater.
In 2004, Kelly opened the popular specialty food destination Pellston Market, and continued catering.
Pellston Market became known for its gourmet cheeses, chocolates, and lunches in the market's small cafe, but the location and the economy made things a little more difficult than Kelly had expected.
So after eight years struggling with the seasonality of the venture, she has discontinued the market and morphed Pellston Market into the new Nancy Kelly's Restaurant. "This was something that I had dreamed about for years and years," she said.
EUROPEAN INFLUENCE
After working in France for so long, daily food shopping "got into her blood," she said.
"Buying food fresh every day, buying produce in season, talking with purveyors, understanding where the food is from has affected every aspect of my life, whether the restaurant, catering, or just cooking at home," she said.
Her world travels have influenced her cafe, which is infused with an eclectic European environment and a fresh foods focus.
An antique velvet sofa graces the lounge, and candles, fresh flowers and silverplate rest on the linen tablecloths. Original artwork lines the walls indoors, and outdoors, a pretty garden area awaits guests.
CURATED CUISINE

The menu at Nancy Kelly's is small but carefully curated.
Seasonal starters share space with interesting salads, expertly cooked meats, and house made desserts. Special gourmet dinners and wine tasting dinners are offered regularly. And vegan, vegetarian, and gluten-free options are also available with advance notice.
A recent menu included wild leek and roasted potato bisque with locally harvested ramps and Kelly's own fresh vegetable stock; spring asparagus risotto with Italian Carnaroli Naturale rice; roasted beet salad; pan sauteed walleye filet with sauce vierge; and for dessert, a rich delice de chocolat.
The restaurant only hosts about 50 people at a time, but that just adds to the personal ambiance, and allows the food to take center stage.
"We are an oasis of calm, the minute you walk through the door," Kelly said. "And I look forward to sharing our environment with new friends this summer."
Nancy Kelly's is located at 230 US 31N in Pellston, Mich., about 20 minutes north of Petoskey/Harbor Springs. Phone (231) 539- 7100 or visit nancykellys.com. Open Tuesday- Saturday at 5pm. Reservations suggested.
Trending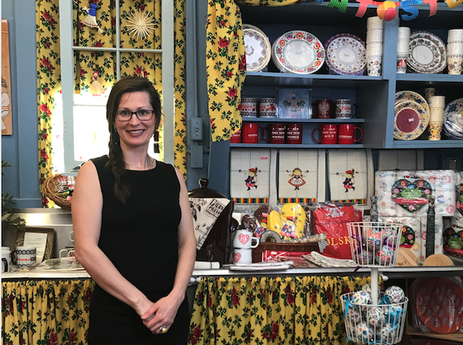 Straight Outta Hamtramck
There it stands, in downtown Cedar: The Polish Art Center. Some paintings of the Old Country probably, maybe some Polish p...
Read More >>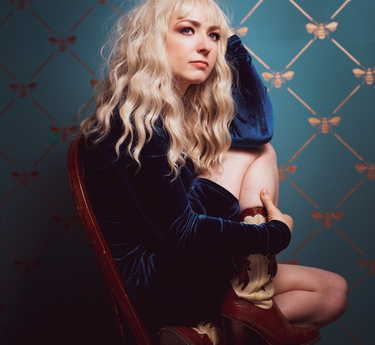 The Queen of Underground Country Returns
The last time Rachel Brooke released a full-length solo album, things looked very different — both in the northern M...
Read More >>
Patience Required
It's going to be a very long election night. Voter fraud will have nothing to do with it. Every state has some form of ea...
Read More >>
The Long Goodbye
Last week, President Trump sowed confusion within his government — and amongst our allies — by tweeting t...
Read More >>
↑