Blue Caribou Set for Second Summer
April 19, 2015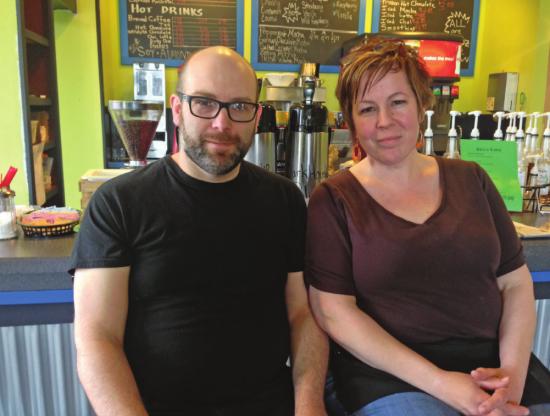 When Kelly and Eric Chorley bought a café in Beulah, they made some changes to the menu, the food prep and the building itself.
One of the most impactful changes was repainting the interior a bright, cheery green.
"I spent most of [last] May repainting," says Kelly Chorley.
What was once dark and oppressive is now just the opposite, thanks to a coat of Sublime Lime with accents in Lobster Blue. The new sunny interior seems an extension of the Chorleys themselves.
THE SCENE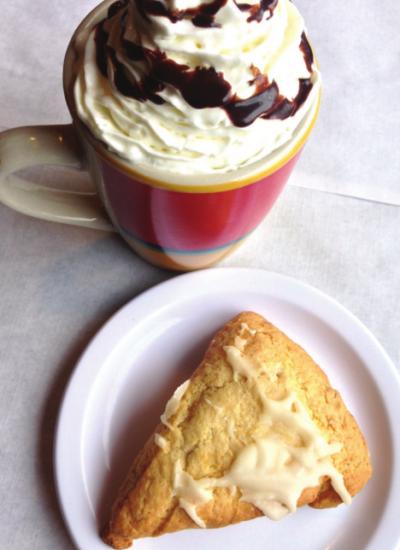 Eric Chorley previously managed the food service program at Frankfort-Elberta School District and he spent summers working at the landmark Frankfort A&W for nearly a quarter century.
"I was two weeks shy of 25 years," he says with a laugh.
Kelly Chorley worked for the WIC program at Benzie-Leelanau District Health Department, as well as waiting tables at area restaurants.
The duo had a desire to work together in their own operation, but they put those plans on hold while their children were young.
"We wanted to do this for 10 or 12 years, but decided to wait until the kids were older. We looked for two years," she says.
The Chorleys contemplated building their own restaurant facility, but they loved the downtown location and were delighted when the space became available.
THE MENU

The Chorleys note that, when people are vacationing, they often wake up later, but they still want breakfast. So, no matter the time of day, customers can choose from the entire menu. "Happy Beginnings" features a selection of omelets, including a country omelet with sausage, onions, cheese and hash browns, topped with country gravy, and an Irish omelet with corned beef hash and Swiss cheese.
More egg dishes, pancakes and French toast are complemented by sides such as hash browns, American fries and a host of baked goods.
Paninis and wraps include grilled cheese or ham and cheese, a turkey club, and a chef 's salad wrap with all the trimmings. If you prefer your salad in a bowl, you can opt for spinach walnut, classic chicken salad, or cherry chicken mandarin with peppers, dried cherries, cheddar jack cheese and mandarin oranges, the latter two featuring freshly grilled marinated chicken.
A half-dozen burger choices and eight other sandwiches (such as BBQ chicken, BLT, pulled beef BBQ and a veggie) are served on your choice of bread, some of which are baked in house.
There's a full coffee bar and Blue Caribou also offers Moomer's Ice Cream, which has been even more popular than anticipated.
"We'd go through 90 gallons a week in the summer," says Eric Chorley. There's even a signature Blue Caribou flavor made exclusively for the restaurant (it's blue raspberry).
When summer comes, they'll offer more wraps, vegetarian-based soups, and dinner specials.
THE BEST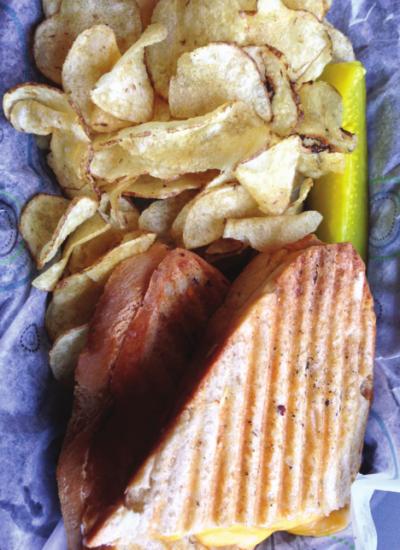 The Chorleys agree that the most popular item is the Hypocrite Omelet.
"One guy came in and said, "˜I'm going to be a hypocrite. I want a vegetarian omelet with ham in it,'" says Eric Chorley. Hence, the name was born.
Also popular are the soups. The curry squash is regularly requested and the top seller is the "dill pickle," a hearty dilled potato soup.
Number one on their personal favorites list is the cherry chicken walnut wrap.
"The chicken is grilled fresh and made to order," says Eric Chorley. In the summer, when it gets busy, the chicken is grilled first thing in the morning so it's still fresh the rest of the day.
The baked goods have been especially well received. While Kelly Chorley didn't consider herself a baker, she tried her hand at some scones last summer to great acclaim.
"She made three trays of scones for the week. They didn't last the afternoon," her husband recalls.
Scones are now tops in baked goods sales, along with the cookies, especially the giant Ghirardelli chocolate chip cookie topped with bacon.
THE REST OF THE STORY

The café name was inspired by a school art project. The Chorley's 8-year-old daughter brought home a painting of a blue caribou.
"We thought that was a quirky, fun name," says Kelly Chorley.
As the weather warms, tables and chairs dot the front patio. The Chorleys plan to upgrade the outdoor area behind the café, as well, to attract those using the nearby Betsey Valley Trail.
"We want to paint some picnic tables blue and have umbrellas so people can sit out there," says Eric Chorley.
THE SKINNY

Omelets start at $7.99, other breakfasts at $3.99. Soups start at $3.29, sandwiches at $5.99, salads at $7.49.
Blue Caribou is open 8am to 5pm Sunday through Friday and 8am to 7pm Saturday. Hours expand to cover 6am to 10pm in the summer season.
Blue Caribou is located at 245 S. Benzie Boulevard in Beulah. For more information, call (231) 383-4250 or visit the Blue Caribou Cafe Facebook page.
Trending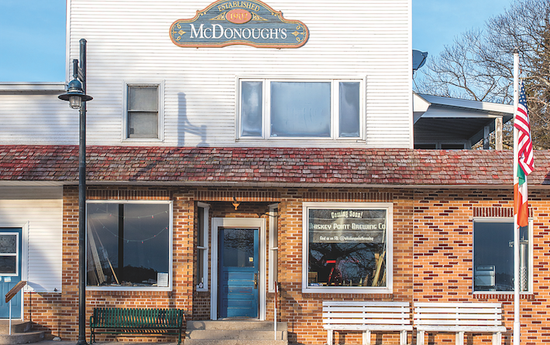 Welcome to Michigan's Most Remote Brewery
After years of planning and honing his beer-making skills, this spring, Patrick McGinnity plans to open Beaver Island's first microbrewery. Opening a craft brewery is challenging. Opening one on a remote island in Lake Michigan that's either a 15-minute plane ride or a two-and-a-half-hour ferry ride from ...
Read More >>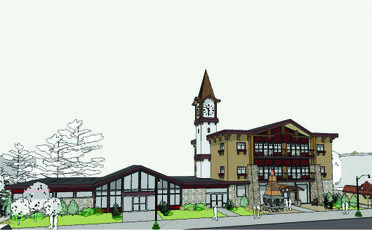 Gaylord: A boomtown Up North
Gaylord native Gary Scott had moved to Indiana, where he and some partners started a business to invest in distressed properties. He was talking to a banker in Detroit about real estate in Bloomington when he asked what kind of deals might be available in northern Michigan. ...
Read More >>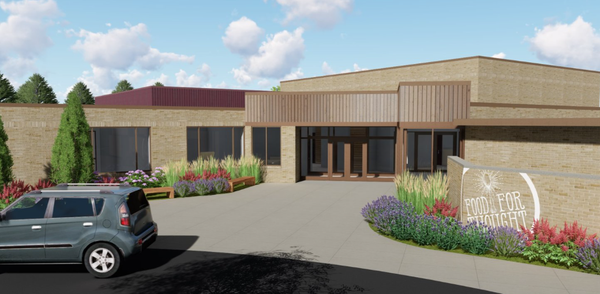 Long Lake Culinary Campus Breaks New Foodie Ground
The last student walked out of Traverse City's Long Lake Elementary for the final time in 2012. But the school deemed too old, outdated, and expensive to keep open for area school kids wasn't done fulfilling its mission — at least, not as Timothy Fitzgerald Young saw ...
Read More >>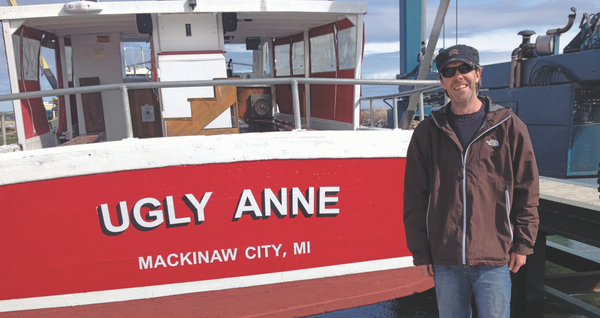 A Wicked Cool Ride Around the Straits
You expect to see boats around Mackinac Island in summer. Sailboats, power boats, cruisers, and the ubiquitous ferries that run residents and guests back and forth across the Straits of Mackinac, sure. But there's a more unusual vessel visible these days — an all-wooden Down East lobster ...
Read More >>
↑