Your Guide to Northern Michigan Orchards
July 2, 2015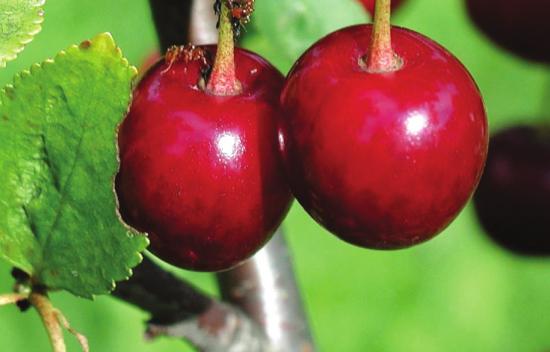 BLUEBERRY FOREST FARM
3436 Tobias Road, Elmira 231-584-3443
pickitfarmfresh.com/blueberry-forest-farm/michigan/elmira
Violet Beauregarde would love this place, which has been in operation since 2001. It's nothing but blueberries, blueberries and more blueberries, with U-Pick available from 10am to 6pm.
FRUITS AVAILABLE: blueberries
- - - - - - - - - - - - - - - - - - - - - - - - - - - - - - -
BUCHAN'S BLUEBERRY HILL
1472 Nelson Road, Traverse City 231-223-4846
facebook.com/buchansblueberryhill
This 100-year-old family farm is now run by its fifth generation and, in addition to their fruits, you can also stop by for their famed blueberry ice cream and the new maple bacon ice cream being added this summer.
FRUITS AVAILABLE: blueberries, peaches, apples
- - - - - - - - - - - - - - - - - - - - - - - - - - - - - - -
EDMONDSON ORCHARDS AND CHERRY CONNECTION
2514 Nelson Road, Traverse City 231-223-7130
Find us on Facebook
In addition to their cherries, other stone fruits and fall apples, Edmondson offers 32-ounce jars of their own Balaton Cherry Juice for just $5 – the juice that was tasted and proclaimed "delicious!" by chef Mario Batali.
FRUITS AVAILABLE: cherries, peaches, apricots, nectarines, plums, apples
- - - - - - - - - - - - - - - - - - - - - - - - - - - - - - -
FARMER WHITE'S
11373 US Highway 31 South, Williamsburg
231-631-1500
farmerwhites.com
Fresh produce isn't all that Farmer White's offers; they also have dried cherries, cherry concentrate and so many varieties of jams and jellies (made from secret family recipes) you won't know what to choose.
FRUITS AVAILABLE: cherries, blueberries, raspberries, peaches, pears, plums, apples
- - - - - - - - - - - - - - - - - - - - - - - - - - - - - - -
GUNTZVILLER'S BERRY FARM
11122 US 31 South, Elk Rapids 231-264-9575
Find us on Facebook
If you want berries, this is the place to find them. You can also pick up extra treats of fresh-baked fruit pies and Guntzviller's popular, ready-to-go fruit-infused water bottles filled with strawberries and mint.
FRUITS AVAILABLE: strawberries, raspberries, blackberries
- - - - - - - - - - - - - - - - - - - - - - - - - - - - - - -
HOXSIE'S FARM MARKET
6620 M-72 East, Williamsburg 231-267-9087
hoxsiesfarmmarket.com
Both tart and dark sweet cherries are available at Hoxsie's, plus over a half-dozen varieties of apples in the fall, some of the most popular being MacIntosh, Golden Delicious, Ida Red and Northern Spy.
FRUITS AVAILABLE: cherries, apples
- - - - - - - - - - - - - - - - - - - - - - - - - - - - - - -
JACOB'S
7100 E. Traverse Highway/M-72 West, Traverse City 231-632-6293
jacobscornmaze.com
Jacob's is one of just a few local places offering the saskatoon berry, a prairie fruit similar to the blueberry with an almondlike flavor that's actually related to the apple. Don't miss their legendary corn maze every fall.
FRUITS AVAILABLE: raspberries, saskatoons, peaches, pears, apples
- - - - - - - - - - - - - - - - - - - - - - - - - - - - - - -
KING ORCHARDS
4620 North M-88, Central Lake 231-544-6479
kingorchards.com
The perfectly tart Montmorency cherries used for pie making are found in abundance at King Orchards, as are sweet cherries of several varieties, including Cavaliers, Raniers and the light, sweet Emperor Francis.
FRUITS AVAILABLE: cherries, peaches,
apricots, pears, plums, apples
- - - - - - - - - - - - - - - - - - - - - - - - - - - - - - -
KITELEY'S FARM MARKET
3805 Brock Road, Charlevoix 231-547-2318
kiteleyfarms.com
Gaze upon the mile-away view of Lake Charlevoix while you do your picking and snag some flowers too at this market set in the farmland of Charlevoix County and run by the second generation of the Kiteley family.
FRUITS AVAILABLE: strawberries, raspberries
- - - - - - - - - - - - - - - - - - - - - - - - - - - - - - -
NORTH STAR ORGANICS
1139 Forrester Road, Frankfort 231-352-4865
northstarorganics.com
Certified organic for all crops, both sweet and tart cherries are available to pick here, as are both ready-to-go fresh and dried varieties. This cherry farm has been owned and operated by the Kobernik family for 29 years.
FRUITS AVAILABLE: cherries
- - - - - - - - - - - - - - - - - - - - - - - - - - - - - - -
MCMANUS SOUTHVIEW ORCHARDS
313 Garfield Road North, Traverse City 231-946-5867
www.facebook.com/McManusSouthviewOrchards
Whether you pick "˜em yourself (the U-Pick portion of the farm was recently reopened after 10 years off the market) or pick up a pile already picked, McManus has several varieties of fresh cherries available.
FRUITS AVAILABLE: cherries
- - - - - - - - - - - - - - - - - - - - - - - - - - - - - - -
POTTER ROAD
282 E. Potter Road, Traverse City 231-947-6457
http://potterroadraspberries.com
While Potter Road is best known for its U-Pick raspberries, they're also one of just a few orchards offering jostaberries, that quirky mix of currant and gooseberry that tastes like a mix of grapes and kiwi fruit.
FRUITS AVAILABLE: raspberries, jostaberries, cherries, peaches, nectarines, plums
- - - - - - - - - - - - - - - - - - - - - - - - - - - - - - -
RENNIE ORCHARDS
11221 Munro Road, Williamsburg 231-264-8387
rennieorchards.com
Sixteen varieties of cherries are offered here, where U-Picking starts in July. They're offering some brand new sweet cherry varieties this year and, in the fall, don't miss their apples and the corn maze.
FRUITS AVAILABLE: cherries, peaches, pears, apricots, apples
- - - - - - - - - - - - - - - - - - - - - - - - - - - - - - -
ROSENTHAL ORCHARDS
03724 Barnard Road, Charlevoix 231-547-4350
rosenthalorchards.com
Ladders and buckets are provided as you pick through more than a dozen varieties of tart pie cherries, dark sweet cherries and yellow sweet cherries. You can also buy honey from the hives kept right on the orchard grounds.
FRUITS AVAILABLE: cherries, apricots
- - - - - - - - - - - - - - - - - - - - - - - - - - - - - - -
ROYAL FARMS
10445 North US 31, Ellsworth 231-599-3222
royalfarmsinc.com
Cherries are king at Royal Farms, although they do offer a few other fruits too, including the very popular Honeycrisp apple in the fall. In the meantime, focus on the cherries and their spectacular patio geraniums.
FRUITS AVAILABLE: strawberries, cherries, peaches, nectarines, apples
- - - - - - - - - - - - - - - - - - - - - - - - - - - - - - -
SANTUCCI FARM
11789 Center Road, Traverse City 517-974-7233
Find us on Facebook
This Old Mission Peninsula farm is full of country charm, as you are welcomed by a white barn festooned with a painted folk art cherry. Balaton and Montmorency cherries are available, as is the farm's cherry-pitting machine.
FRUITS AVAILABLE: cherries
Harvest Time
Looking forward to a particular fruit? Here are the best times to find it fresh.
STRAWBERRIES late May to July
CHERRIES June to late July
CURRANTS July to early August
PEACHES July to August
BLACKBERRIES July to August
NECTARINES July to late August
BLUEBERRIES late July to August
RASPBERRIES July to September
PLUMS July to September
APRICOTS late July to mid-August
PEARS August to October
APPLES August to late October
Trending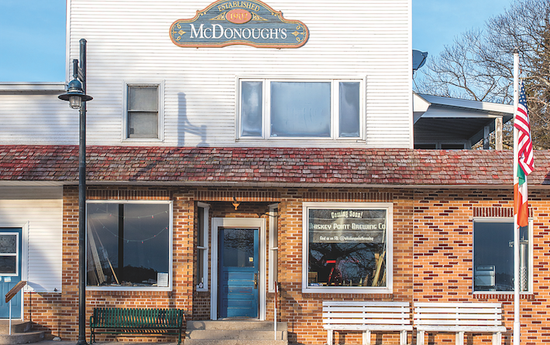 Welcome to Michigan's Most Remote Brewery
After years of planning and honing his beer-making skills, this spring, Patrick McGinnity plans to open Beaver Island's first microbrewery. Opening a craft brewery is challenging. Opening one on a remote island in Lake Michigan that's either a 15-minute plane ride or a two-and-a-half-hour ferry ride from ...
Read More >>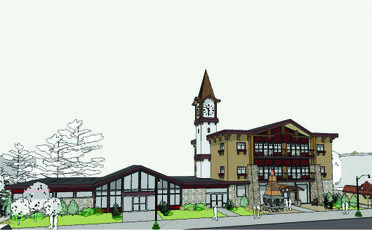 Gaylord: A boomtown Up North
Gaylord native Gary Scott had moved to Indiana, where he and some partners started a business to invest in distressed properties. He was talking to a banker in Detroit about real estate in Bloomington when he asked what kind of deals might be available in northern Michigan. ...
Read More >>
Lost in the Lake
Losing a loved one to drowning is one kind of terrible tragedy. Not knowing where their body is, except that it's out there in a certain section of water, is another kind altogether.That's something Kelly Dalton said she learned after her son, 21-year-old Tyler Lee Spink, drowned ...
Read More >>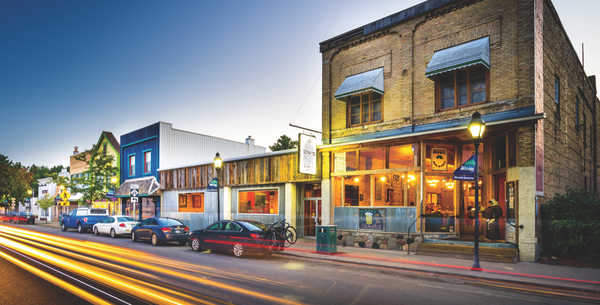 Small Up North Towns on the Rise
Spotlight on Bellaire (pictured)Seems Traverse City isn't the only place in the region making those "Best of" lists. The Antrim County hamlet of Bellaire was recently named to the list of Best Lakeside Towns in the U.S. by Country Living Magazine, alongside the likes of Vergennes, Vermont, Greenville, ...
Read More >>
↑