North Country Grille And Pub
June 3, 2016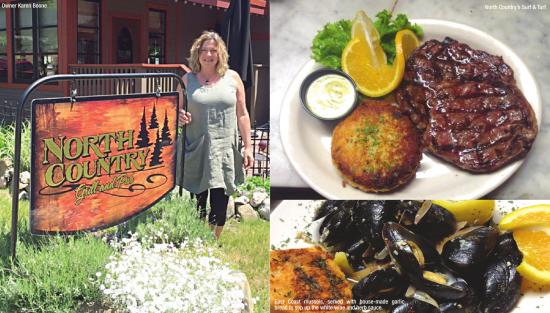 PRIME RIB AND LOBSTER AND WHITEFISH, OH MY!
"Good Food, Good Friends, Good Times." The sign on the fence out on the back patio of North Country Grill and Pub in Suttons Bay pretty much sums up what owner Karen Boone and her staff always strive to provide for their dinner guests.
BUILDING ON A LEGACY

"I love the restaurant business. I've been in it for 30 years, starting as a server at Boone's Prime Time Pub in 1986, and I can't imagine doing anything else," said Boone, wife of the late restaurateur Barry Boone, a man who built his reputation on serving top-quality beef and seafood in restaurants with casual, lodge-like interiors. "I like being around people and meeting people. I couldn't imagine myself in an office job. People tell me: 'You always have a smile on your face when you're feeding people,' and it's true, I do! I like to see them enjoying themselves and having a good time — and that goes for when I entertain at home, too."
Karen and Barry launched North Country back in 2008 in what had been, for many years, Café Bliss. Barry had sold the last of his other holdings a year or two before that but was itching to get back into the food arena. "Barry always had big ideas for his res-taurants," says Boone, "so I was surprised when he said, 'We're just going to do a quick little remodel here.' I was more surprised, though, when I walked through that door one day and saw the floor and ceiling gone — and a bulldozer digging up the side yard, readying it for an outdoor dining space. In the end, it was a full-scale, hands-on renovation."
The couple even built all of the tables and chairs, and both bars, out of wood that had been reclaimed from a 120-year-old barn on Barry's uncle's farm near Ann Arbor. It also lines the walls. "We did the cutting, assembly, sanding, sealing — everything — ourselves," said Boone. The result is a cozy, convivial, lodge-like atmosphere, complete with a natural fireplace that is stoked up when the weather turns chilly.
THE SAVORY, THE SWEET AND THE SPIRITED

The same warm wood interior finishes on the inside extend to the outside, with an invit-ing covered bar that services the large brick patio. Little lantern lights line the roofline above it, adding to the idyllic setting. A lush, well-tended landscaping frames the wrought-iron tablescape dotted with cheerful reddish-orange shade umbrellas, the perfect place to enjoy a Michigan craft brew, a glass of local wine, a cocktail, or a meal on a sunny afternoon — or a starry night — in summertime.
The patio is also where you can watch Rick Helfrich, North Country's head chef, in action, grilling steaks and burgers in the special alcove built for just that purpose. He even grills there in the wintertime, although the eating area is, of course, enclosed then. Helfrich has been working in the Boone family's restaurants since 1984. Karen Boone points out that he is also the head baker and pastry chef. "Rick makes the garlic bread that we serve with our mussels appetizer and our seafood pasta entrée, as well as our chocolate ganache Black Forest cake. He also makes special desserts when we get local strawberries [from Suttons Bay's Bardenhagen Farms], cherries and other seasonal fruits."
But as delicious as the bread and desserts might be, it's not what initially draws most people to North Country from all over the region and beyond. True to the Boone tradition, the star of the show is beef. "We're known for our prime rib," said Boone. "Rick starts it at 10am every day, and slow-roasts it for about six hours in our special oven. And the meat we use is from the same supplier we've been using for years — it's very high quality." Steaks, including filet mignon, New York strip and London broil, are all handcut, and burgers are freshly ground daily from the same top-grade meat.
That said, seafood and fish play a major role on the North Country menu as well. Lob-ster, Alaskan king crab, shrimp and salmon share equal billing with Lake Michigan whitefish, the latter served either broiled or lightly deep-fried. "But we only do whitefish in season," said Boone. "It has to be fresh. We don't do frozen. It comes from Big Stone Bay Fishery in Mackinaw City, and they deliver it a few times a week."
AN IDEAL MIX

Of her back- and front-of-the-house crews — many of whom, like Helfrich, have been with the organization for a long time — Boone says, "I appreciate them so much for being so loyal and sticking with me. I couldn't do this without them. Everyone here is a professional. Our kitchen staff does a great job. Rarely do we have customer complaints about the food. And I'm really lucky to have several servers who keep returning every year. They go away in the winter, but they come back in the summer. They're experienced, and they know the restaurant, which translates into excellent service." [Factum: Carly Campbell, a longtime server with North Country, was honored in the "Best Res-taurant Server" category in Traverse, Northern Michigan's Magazine's latest "Red Hot Best" issue.]

Boone is gearing up for the always busy summer season ahead, when the restaurant and patio will be packed, and patrons will be standing two deep at the bar. "It's a challenging time but always fun and gratifying," said Boone. "The only thing is that you don't get much opportunity to connect personally with people. When locals come here in the wintertime, I actually have time to sit down and talk to them. Somebody will tell me about the new house they built, or what their families are up to — it's nice to be able to just relax a bit and get to know your customers. Our summer guests are like friends, but our winter guests become like family."
North Country Grill and Pub, 420 St. Joseph Street in Suttons Bay, serves dinner seven days a week from 4pm to 10pm, with an early-bird menu and happy hour specials avail-able from 4pm to 6pm. Call 231-271-5000 or visit boonesnorthcountrygrillandpub.com. $$
Trending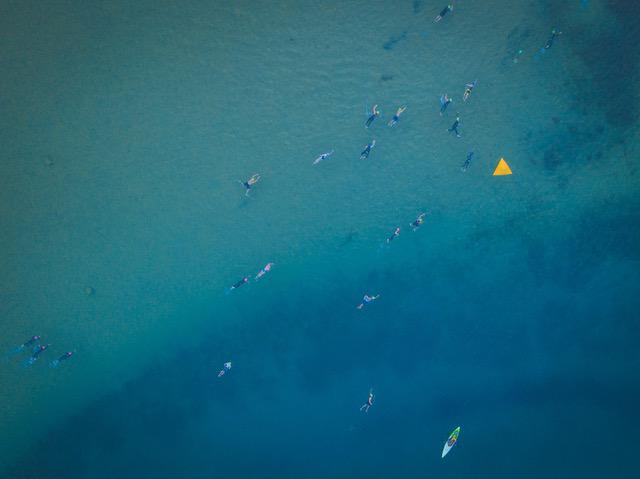 Swim, Bike, and Run in TC
The Traverse City Triathlon is back on Sunday, Aug. 21, with Olympic and sprint-distance races beginning in Bowers Harbor ...
Read More >>
Forty+ Years of Fabulous Art
Frankfort may be a sleepy town come winter, but in the summer, the little spot on the water is hopping. And for 46 years, ...
Read More >>
The Past in Motion
Where can you find 1,000 tractors? What about 600 antique engines? Dozens more old and cool cars and trucks? This weekend,...
Read More >>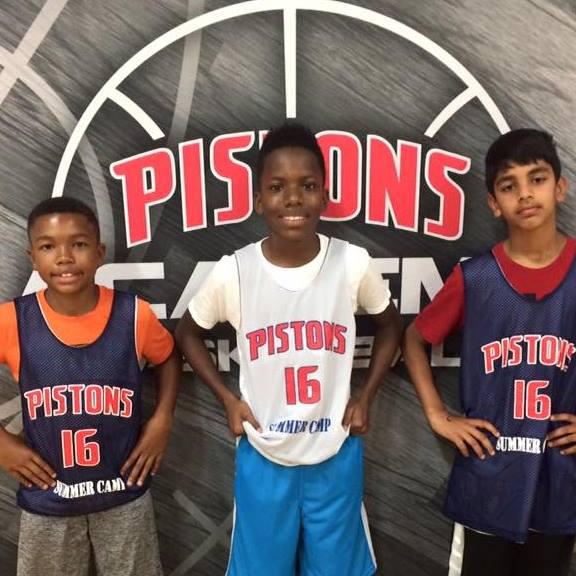 De-troit Basketball!
Is the next point guard for the Detroit Pistons living under your roof? Or do you just want to get your kiddo out of the d...
Read More >>