Benedict
Breakfast worth rising (and shining) for in Traverse City
No matter the weather, Traverse City's newest breakfast and lunch restaurant, Benedict, radiates a welcome as warm as the sun with its light-filled, bright yellow-flecked interior and the smiles (recognizable even behind masks) of its owner, Leslie Elsen, and her friendly staff.
Actually, the cheerful decorative touches of yellow at Benedict (yes, the name has everything to do with Eggs Benedict) are not emulating the sun, but rather the yolk of an egg. The idea for Benedict — Elsen's dream, really — started to take shape just over five years ago. "It stemmed from my love for the pace and energy of the breakfast scene, combined with a passion for baking and several years' experience in the coffee industry," she said. I wanted to upscale the classics and offer seasonal specials that were both comforting and interesting – something simple yet memorable."
CHANGING COURSE
Like many young people, Elsen (pictured top right) left home after high school for college — in this case, the University of Michigan, where she earned a degree in communications and international studies. Positions in PR, accounting, and project management followed over the next several years, but her heart lay elsewhere. Eventually, she ended up going in a totally different direction.
"I began taking cooking classes and weekend and evening jobs in the food industry, including bakeries and small restaurants, as well as hosting pop-ups and catering desserts for weddings," she said. "I immersed myself in everything I could related to the culinary field. You could find me in my free time reading cookbooks front to back or testing recipes to find the best possible version of what I was trying to achieve." She even started writing a food blog, which, however, in her words, turned out to be "a very unsuccessful exercise."
In early 2019, Elsen and her husband welcomed their first child, a daughter, but rather than putting her dream on hold, she forged ahead with it. "I knew that I wanted to set the example for both her and myself that if there is something you are passionate about, you can make it your career," she said. "What better time than now? And though we were living in Grand Rapids at the time, having grown up here in Traverse City, I knew that I wanted Benedict to call this town home, so I began searching for properties and continuing to fine-tune my business plan and aesthetic vision."
Less than a year later, with her nine-month-old in tow, she began to build Benedict into what it is today. "I had always envisioned a space that felt small, cozy and neighborhood friendly," Elsen explained. She thought she had found it at Benedict's first location on Union Street, which made its debut in December 2019. "But just three months later, in March 2020, COVID caused us to pause and reflect on the way we would adapt our operations going forward into high season," she recalled.
Doing so turned out to have been a wise move, since Benedict's appeal soon proved to be well beyond Elsen's predictions. "We saw an incredible demand in summer, from locals and regulars alike, and quickly realized that our space, while adorable, was not scalable," she said. "I knew that the only way to grow and increase our impact was to find a new location that allowed for that."
Then, unexpectedly, just a few months into fall, a new, larger home for Benedict became available on Lake Avenue, when its former tenant, Patisserie Amie, moved to the vacant Franklin building on Front Street. But it couldn't have come at a busier time in Elsen's life. "It was my intention to stay on Union Street for another year, but when the opportunity came up, in spite of the fact that I was five months pregnant, I could not turn it down," she said. "I certainly didn't plan for all of these huge life changes to happen at the same time!"
PREPARING FOR (RE-)LAUNCH
Making the decision to relocate was challenging in and of itself, but Elsen soon realized that a lot of modifications and improvements to the interior also had to take place before Benedict could move in. "We repainted the walls and ceiling, refinished the floors, and collaborated with our landlord to re-envision the bar area. Overall, we wanted the ambiance to be bright, cheery, and include a clean, modern vibe, with those pops of 'egg yolk yellow.' We also created a separate yet cohesive space near our pastry case, away from the main dining area, for those who just want to grab a drink and a pastry and do some computer work or read, or those who want a more private meeting space. We completely gutted the kitchen as well and started fresh."
While all of these renovations were going on, Elsen was working on further developing the Benedict menu (which she continues to do). "We don't have a formal 'chef' role here," she said. "It's a collaborative effort between me and our incredible crew. We all work towards the same goal and contribute to making our food delicious and our kitchen more streamlined." Scratch cooking is a matter of course at Benedict, including many items that are made in-house, e.g. bacon and Canadian bacon, biscuits, pastries, herb mayonnaise, sauces, dressings, and other condiments. "The house-made biscuits are some of my favorite things on the menu, along with our scones," said Elsen. "Both are made fresh, and highlight the lamination process of 'butter, flour, butter, flour' to get that nice rise and layers."
Other ingredients for Benedict's menu are sourced locally and seasonally as much as possible. "You won't find asparagus on our menu in December or ramps in October," said Elsen. "About 80 percent of the items we buy come from a local farm or vendor, because we want support our local community just as they continue to support us." A continually updating list of Benedict's vendor partners can be found on the restaurant's website.
EGGS-CENTRIC
Not surprisingly, most of Benedict's menu items incorporate eggs in some form. The Biscuit Sandwich (soft scrambled egg, white cheddar, microgreens and house herb mayo, served with home fries) and the Northerner Benedict (biscuit, thick-cut bacon, tomato-cherry jam, poached eggs, and hollandaise) are two especially popular specialties, along with the Bread Pudding of the Day (a classic custard base highlighting whatever current ingredient inspires the kitchen – a recent version featured lemon custard with lemon curd and meringue). The Seasonal Hash (currently with carrots, parsnips, potatoes, goat cheese, microgreens, and two eggs any way, served with choice of toast) and the Quiche of the Day (also incorporating ingredients that rotate with the seasons, served with a side salad) are also customer favorites.
Meal-size salads include Farro and Greens (farro, microgreens, goat cheese, fresh herbs and dried cherries, with cider vinaigrette) and Roasted Carrot Arugula (roasted carrots, arugula, candied pepita seeds, feta cheese and microgreens, tossed in a creamy tahini-poppyseed dressing – a poached egg can be added for a minimal charge).
Being a mother herself, Elsen made sure to offer kid-sized breakfast choices on Benedict's menu: the Mini Standard (one scrambled egg with bacon or sausage, toast and a side of fruit) or the Short Stack (two pancakes with a side of fruit). Children can also order from the regular or a la carte menu of course.
To accompany breakfast or lunch, the menu lists a host of beverages, from batch coffee and tea to juice, soda, chai, or hot chocolate, as well as a selection of the most popular espresso drinks (think espresso, cappuccino, latte, cortado, macchiato, mocha). Elsen is in the process of obtaining a liquor license, too, and plans to have a small, curated drink menu, with many of the spirits coming from Iron Fish Distillery. "Among other things, we will have Bloody Marys with a house-smoked celery salt rim and house bacon, as well as mimosas," she noted. "For the latter, we will be introducing a Benedict Bubble Board, including four types of juice and a bottle of bubbly to share and build your own mimosa."
WORK-LIFE BALANCE
Though one might wonder how Elsen could possibly fit anything else into her busy days, she is hatching (pun definitely intended!) even more future plans for Benedict. "Our goals include expanding our pastry program and becoming more and more involved with the local community," she said. "This past year was just odd, with COVID, but we'd like to use this new space as a fresh beginning with those initiatives. We would also like to start with small goals, such as a community herb garden and little library near our entrance, perhaps with some additional waiting space, especially for families with crazy kiddos like mine."
Elsen acknowledges that the past couple of years have been a whirlwind for her, but looking back, she said she wouldn't change anything about the decisions she made and where she is today. "My kids keep me grounded and remind me of my purpose," she said. "It's so easy to get caught up in every little detail or spend hours at the restaurant moving things around, but there is a time to say, 'I've done enough. I've tried my best. Time to go home.' I love the work that I do and what I have built with Benedict, and my hope is that my kids will see that you can chase your dreams, work hard, and still be home to tuck them in. Trust me, there is lots of dirty laundry and many meals eaten over the sink at my household, so that is life now, but I'm cool with it."
Judging from the unsolicited comments made by Elsen's brigade at Benedict, it's obvious that they appreciate her very personal and down-to-earth management style and admire her talents and strengths. As for her, it's a simple case of valuing her employees and looking out for them: "As a mom, and an extremely empathetic person, I want all of them to feel like Benedict is a safe space, and I understand the need for work-life balance, both for them and for me. We all have lives and things we are dealing with outside work, especially this crazy past year.
"My goal for Benedict has always been to have it be a business that strives to support local farmers, that is active in the local community, and that provides a workplace where everyone can feel comfortable, supported and seen. And now that we are starting again with room to spread our wings, hopefully we can make an even greater impact on my wonderful hometown."
Benedict is located at 237 Lake Avenue in Traverse City. Dine-in or take-out (online ordering) available. Curbside pickup upon request. Open Wednesday-Sunday from 8am to 2pm (closed Mondays and Tuesdays). Outdoor patio, weather permitting. For more information, call (231) 421-1000, visit benedicttc.com, or check them out on Facebook or Instagram.
Trending
Yucatan Guacamole
Whichever food scientists deemed the mighty monounsaturated-fat-filled avocado good for the human heart failed to take int...
Read More >>
Pipeline Profit Risks Our Future
The 1950s were a heyday for civil engineering. To fuel our growth, we built what was then the world's longest suspension b...
Read More >>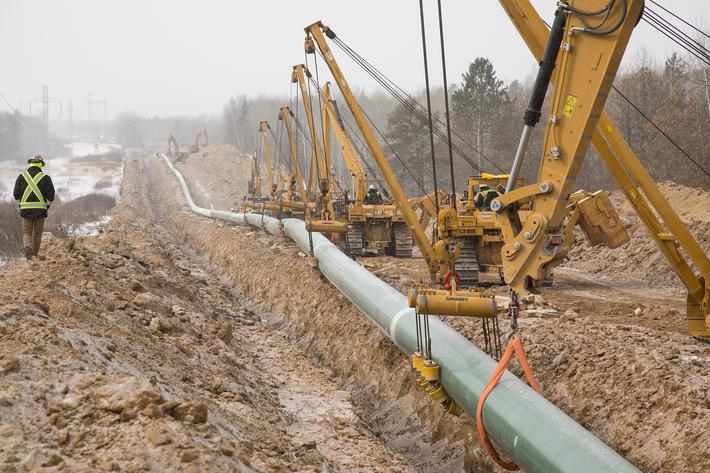 Evicting Enbridge
"Shut Down Line 5 Pipeline." "Keep Oil Out of the Great Lakes." "No Tunnel."If you&rsq...
Read More >>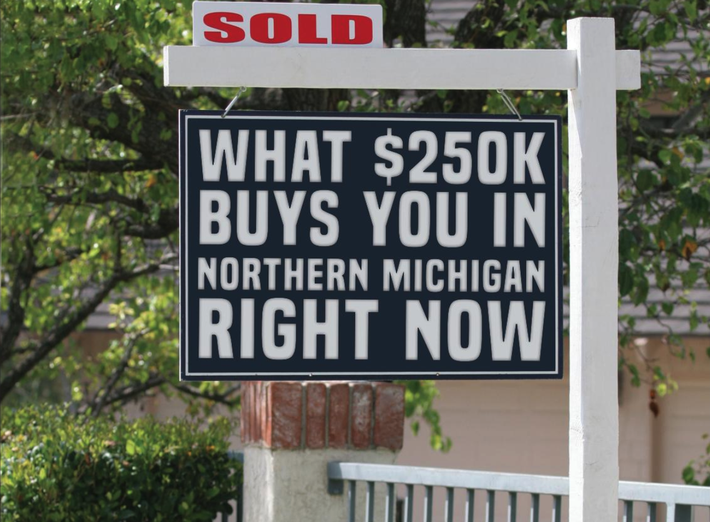 (Does it buy anything anymore?)
Anyone who has paid the slightest bit of attention to real estate in the past year knows that since the opening of busines...
Read More >>
↑