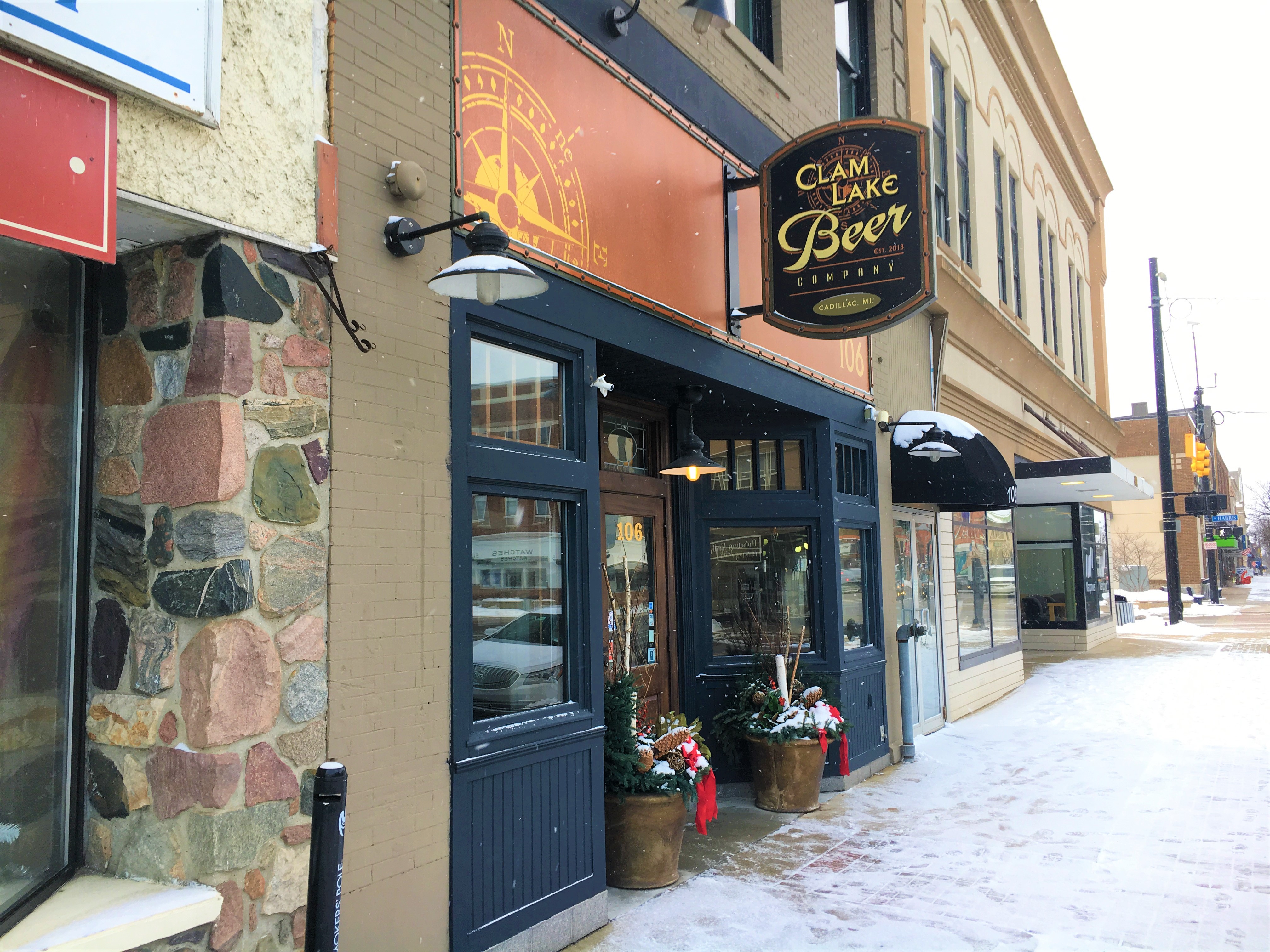 Cadillac's Clam Lake Beer Co.
Primo craft beer and hearty fare for hard-working locals and day-trippers alike.
It's 3:00 on a Thursday afternoon, but Clam Lake Beer Co. is already bustling with regulars. The taphouse and brewery, which is located right on the main drag of S. Mitchell Street in downtown Cadillac, is a popular local hangout spot no matter the time or day. In the winter, it's a go-to stop for skiers and snowmobilers. In the summer, vacationers flock in to sample brews from the establishment's 40-tap beer list. As long as there's sun or snow, Clam Lake Beer Co. is hopping.
According to Dawn Casey, who came to manage the restaurant for former owner (and significant other) Dan Minor, Clam Lake's persistent popularity as a local haunt matches the vision that drove the brewery's inception back in 2013.
Coming into the restaurant, Minor had no prior experience in either beer, food service, or hospitality industries. His background, in fact, is manufacturing. He's the CEO of Cadillac Casting, Inc., a local company that manufactures ductile iron (a type of cast iron made with graphite) for clients in the automotive, commercial vehicle, and railroad industries, among others. When Minor decided to open Clam Lake Beer Co., Casey says he did it because he wanted there to be "a cool place where people wanted to go and hang out" in downtown Cadillac.

Minor had two aces up his sleeve, in the form of Casey and his son-in-law, Adam Harden. Casey, an interior designer by trade, helped sketch out the "industrial chic" aesthetic of the restaurant space, which pays tribute to Cadillac's history as a blue-collar industrial town. Harden, meanwhile, was a seasoned home brewer with a bevy of beer recipes up his sleeve. Together, with the help of a cadre of chefs who were encouraged to put their own twists on familiar American bar fare, the team set to work building Clam Lake Beer Co.

TRANSFORMATION TIME
The first step was turning the building, a former coffee shop, into a true-blue local watering hole. That process required a near-full gutting of the space, building a new kitchen, and installing a new bar. Cadillac Casting helped by fabricating both the bar and back bar, in-house. Casey's idea for design, meanwhile, came thanks to a prompt from Minor.

"Dan is a long-time Cadillac resident," Casey said. "He grew up here. He went to school here. He loves the industry here. Cadillac is a blue-collar town, and the industry history here is incredible. Chris-Craft Boats were built here, Acme Trucks we built here. So he said 'I don't care what you do [with the design], but I want you to focus on the industry of Cadillac.'"

Casey ended up digging through historic photos at the local museum and pulling out shots that told the story of industry in the town. Several photos even highlighted The Foundry, the hub of Cadillac Casting, and the spot in town where the company manufactures its ductile iron products. Casey had each photo blown up and printed on metal, making for a brick-and-metal aesthetic that sets the tone for the whole restaurant.

And while Casey started out in a design role, she became so attached to Clam Lake Beer Co., she ultimately left interior design behind to manage the restaurant full-time.

THE BEER
As the name of the establishment suggests, beer is the core calling card of Clam Lake Beer Co. Where the Traverse City area is loaded with breweries and beer bars, there weren't many craft beer spots in Cadillac when Clam Lake set up shop. Harden took the challenge of crafting the town's first craft brewing brand, striking a purposeful balance between traditional-style recipes and highly artistic, adventurous brews.

On the traditional end of the spectrum is Clam Lake's signature beer: The 106, so named because the brewery's address is at 106 S. Mitchell Street. A 4.2 percent ABV blonde ale, The 106 is the beer on the menu that Casey says most appeals to light beer drinkers, including fans of domestic standbys like Bud Light or Miller Light.

Elsewhere, though, Harden's brewing recipes skew unique and flavorful. One example is Cinnamon Toast Crunch, a brown ale brewed using the General Mills cereal of the same name. Another is the Somoa Stout, a boozy 10-percent imperial stout loaded with the chocolate, caramel, and coconut flavors of its namesake Girl Scout cookie.

In total, Casey says Harden probably has a portfolio of over 200 recipes, dating back to his college days when he "wasn't old enough to buy beer so started brewing beer instead." And while a few recipes stay on tap more or less consistently — The 106 and the Iron City IPA are the two most regular staples — Harden frequently cycles beers in and out of rotation. If there's a limitation to what he can do, it's the small size of the brewing setup in Clam Lake's basement.
"We've had people who want Adam to brew more and then distribute, but it's not really something that's possible right now," Casey said of the configuration.
The limited size of the brewing operation also means that only about a quarter of Clam Lake's 40 taps are taken up by in-house beers. The rest of the beers on tap are sourced mostly from Michigan craft breweries, ranging from giants like Bell's (Kalamazoo) and Founders (Grand Rapids) to Up North favorites like Right Brain.

THE BITES
Just as Harden has been given carte-blanche to get creative in the brewery, Casey says Minor has always encouraged the chefs at Clam Lake Beer Co. to follow their inspiration in crafting dishes. Those flights of creative fancy have led to some of the restaurant's top-sellers, including the house favorite soup, New England Clam Chowder, and a few avant-garde pizzas from the brick-fired pizza oven.

The pizzas, in particular, are famous among Cadillac locals for being a bit "out there." Case in point: the bestselling Chicken Dill Pizza. It not only includes grilled chicken, tomato, garlic aioli, and a multi-cheese blend but also adds one a hefty doze of dill pickles. The first time customers try the pizza, Casey says it's usually out of sheer curiosity — but most cases love it so much that they proceed to order it on every subsequent visit.

Nearly as popular is the Sausage Goat Cheese Pizza, a staple that has been on the menu since day one. Starting with a sauce base of wild mushroom pesto, the pizza comes piled with sausage, portabella mushrooms, roasted garlic, provolone, mozzarella, and goat cheese. "If we took it off the menu, people would boycott us," Casey said of the pie.

THE FUTURE
In October 2018, Minor, emboldened by the success of Clam Lake Beer Co., bought the beloved Alden Bar and Grille in Torch Lake, rebranding it as Torch Lake Beer Co. The idea was to follow a similar rubric to that of Clam Lake, one focused on developing strong relationships with local customers. Ultimately, though, the distance between Cadillac and Torch Lake — approximately 60 miles, and more than an hour of driving — made managing both properties difficult. Minor soon sought a buyer for the newly rebranded Torch Lake Beer Co. When he found one, however, there was a catch: They wanted Clam Lake Beer Co., too.

After some thought, Minor decided to sell both restaurants, closing on the deal in late June of last year. Now, both Clam Lake Beer Co. and Torch Lake Beer Co. are owned by Magnum Hospitality, the investment group that also owns northern Michigan restaurants like Pearl's New Orleans Kitchen, in Elk Rapids; Cafe Santé, in Boyne City; and two locations of Red Mesa Grill, in Traverse City and Boyne City.

Despite the shift in ownership, Casey says there hasn't been much upheaval at Clam Lake. She's still managing the day-to-day operations, Harden is still free to brew whatever he wants, and the staff has mostly stayed the same.

"They've been amazing," Casey said of Magnum. "They support us and say: 'Keep doing your thing.' And now it's cool because we have a bigger group to pull from for ideas and resources. Their background is restaurants, so it's a nice fit to have that expertise."

Some of those resources might be put toward a renovation of the Clam Lake location later this year. The front half of the upstairs space saw renovations a few years ago and has been a popular spot for private events ever since, from rehearsal dinners to retirement parties. But another second-story space that Casey says is only partially used at the moment will be renovated in one of two ways: either to expand overall dining capacity or to establish a private "members only" space for regulars.
The thinking behind the latter option? Casey explains that locals tend to come into the restaurant and bar less frequently in the summertime, simply because there are so many tourists in the area; wait times for tables balloon to an hour or more. A "members only" space would allow Clam Lake to cater to its year-round clientele while still welcoming out-of-town visitors downstairs.

Casey is proud of all the summertime traffic, and not just because it means more business for the brewery. Downtown Cadillac, she says, is clearly growing as a place where people want to spend time. Several boutique stores have popped up in the years since Clam Lake opened its doors, and a year and a half ago, the ultimate compliment: A second brewery, Raven Brewing & BBQ, moved into the downtown stretch, just across the street from Clam Lake Beer Co.

Word is, there's another brewery under construction a ways down the road, said Casey. And while more taps in town means more competition for Clam Lake, she believes the growth will ultimately be good for everyone.

"It's just really nice to see new businesses popping up that cater to tourism," she said. "Traverse City is amazing in what they've done with tourism, and Cadillac is going there I think."
Trending
Moving Dirt And Stone
This year is taking a toll on me. I'm more sluggish. It's harder to get out of bed each morning. I have muscle pain that I...
Read More >>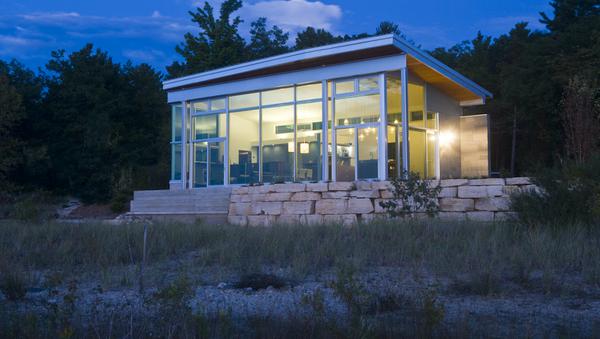 Northern Michigan Modern
From rustic log cabins to Victorian-style homes all the way to more traditional suburban-like developments, northern Michi...
Read More >>
Warts And All
Project 1619, a product of New York Times Magazine writers, is a potential public school curriculum that attempts to redef...
Read More >>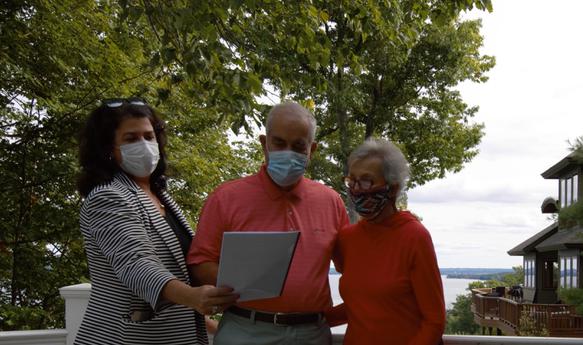 Pandemic Brings Even More Heat To A White-Hot Real Estate Market
There's a mad dash going on in real estate: companies bailing on their massive corporate office buildings, families ...
Read More >>
↑