Certified Fresh Tomatoes
Inside the Ingredients
Fruit or vegetable, tomayto or tomahto, we can all agree: Michigan's tomatoes are the priceless rubies of the September growing season. Before we dive into this month's recipes, here are a few of my favorite northern Michigan farms for amazing produce:
Hot Spot No. 1: If you can't get to the boot (and by boot, I mean Italy), seek out Sonny's Farm located in the pinky for yellow tomatoes, onions, garlic, and basil—aka everything you need for an Italian feast. (3868 Manitou Trail E., Cedar)
Hot Spot No. 2: Rennie Orchards has some of the sweetest orange cherry tomatoes you can get this season, so be sure to pick up a quart or two. (11221 Munro Rd., Williamsburg)
Hot Spot No. 3: The Ugly Tomato is nothing but beautiful. Pick up more tomatoes (from Roma to cherry), cucumbers, green beans, and a handmade pie. You won't want to miss flavors like Old Glen Haven Peach and Port Oneida Pie Plant. (3000 E. Bodus Rd., Cedar)
Hidden Gem! Seeking heirloom tomatoes larger than the box? Take N. Long Lake Road to Farm Ridge Court, then stop at the "open" flag. Make sure to get some Mrs. Maxwells and Early Girl tomatoes while you are there—they make for amazing sandwiches.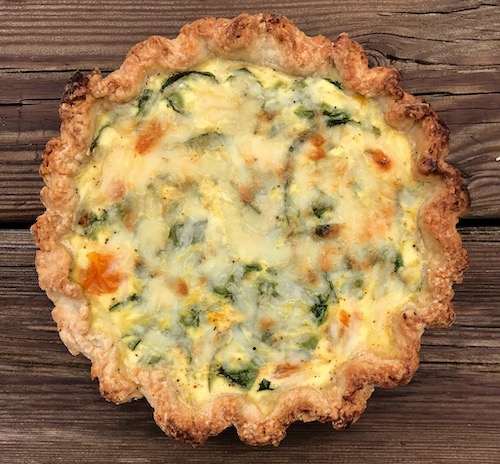 Cherry Tomato and Creamy Corn Quiche
Makes 2 quiches
Summer's bounty wrapped in a flaky crust. Good served anytime of day.
Ingredients
Crust Ingredients
2 1/3 cups flour
3 tablespoons sugar
1/2 teaspoon baking powder
3/4 teaspoon sea salt
1 cup cold butter, cut into 1/2 inch cubes
2/3 cup cold water
Filling Ingredients
2 ears of corn, shucked
1 generous cup cherry tomatoes
Two handfuls of spinach
4 tablespoons olive oil
3/4 teaspoon sea salt
3/8 teaspoon dried thyme
1/8 teaspoon red pepper flakes (or to taste)
Custard Ingredients
6 eggs
1/2 cup sour cream
1/2 cup whole milk
1/2 teaspoon black pepper
Two handfuls of Swiss cheese, grated
Instructions
To make the crust: In a large bowl, mix together the flour, sugar, baking powder, and salt. Add the butter, toss to coat, then break it into smaller pieces with your fingers (or a pastry cutter). Once the butter is pea sized, add 1/3 cup cold water. Toss like a salad to incorporate. Add remaining 1/3 cup cold water. Toss again until a dough comes together. Begin to fold the mixture over itself in a gentle kneading fashion, stop once all the flour is incorporated. Cut in half. Shape each into a 1 inch thick disc. Wrap in plastic. Refrigerate for one hour until firm. Roll out to a large circle. Place in a greased pie pan. Press into pan, crimp edges. Poke sides and bottoms with a fork. Place in the freezer for 30 minutes while you preheat the oven to 425 degrees. Press a piece of foil into the crust—making sure you press it along the sides too. The crimped edge can be exposed. Fill with pie weights or beans. Bake for 20 minutes, then carefully remove the foil with weights. Bake for another 10 minutes, or until lightly golden.
To make the vegetables: In a medium sauté pan over medium high heat, warm 2 tablespoons of oil. Add the shucked corn, 1/4 teaspoon salt, and 1/8 teaspoon thyme. Cook until corn is heated through. Divide between the pie shells. Spread in an even layer. In the same pan, warm another 2 tablespoons of oil. Add the whole cherry tomatoes, 1/2 teaspoon salt, 1/4 teaspoon thyme, and 1/8 teaspoon red pepper. Give the pan a good shake to coat the tomatoes in oil. Cover the pan and cook for 4 minutes. Take off the heat and carefully uncover. The tomatoes should have a nice char. Divide evenly between pie shells. Tear up a handful of spinach into small pieces over each pie shell. Set aside.
To make the custard: Whisk together everything, except the cheese, in a large bowl until smooth. Gently pour half into each shell. Sprinkle a handful of cheese over each.
Bake at 425 degrees on a lower rack in your oven for 30 minutes, or until custard is lightly browned and no longer jiggles.
Cherry on Top Naan
Serves 4
Sweet, salty, creamy, fluffy goodness all on one plate.
Ingredients
Pickles Ingredients
1 cucumber, thinly sliced
1/4 red onion, thinly sliced
2 tablespoons sugar
1/2 teaspoon sea salt
3/4 cup apple cider vinegar
3/4 cup water
Tomatoes Ingredients
1 pint cherry tomatoes
2 tablespoons olive oil
1/2 teaspoon sea salt
1/2 teaspoon pepper
Naan Ingredients
1 cup Greek yogurt or sour cream
1/4 cup water
2 cups flour
2 teaspoons baking powder
1/2 teaspoon sea salt
Hummus Ingredients
2 15-oz. cans of chickpeas
Generous 1/3 cup tahini
1/3 cup lemon juice
3 garlic cloves, minced
1 1/2 teaspoons sea salt
3 tablespoons olive oil
Instructions
Pickles: Combine all ingredients in a shallow bowl in the order listed. Chill at least 30 minutes.
Tomatoes: Toss all ingredients together. Place on a foil-lined baking sheet. Bake at 400 degrees for one hour. (Very juicy tomatoes will get less char but will still have sweet, concentrated flavor.)
Naan: In a large bowl, mix yogurt and water. Add flour, baking powder, and salt. Mix until a dough forms. Knead until the sides of the bowl are clean. Cover and let rest 15 minutes. Heat a skillet over medium-low heat. Divide dough into four balls. Working one at a time, press into an 8-inch circle. Place in a hot skillet and cook for 2 to 3 minutes, until there are brown spots on the first side. Flip and cook the other side. Repeat with remaining balls. Keep wrapped in a towel until ready to serve.
Hummus: Measure out 3/4 cup of the chickpea water, drain the rest. Add to a blender, along with the drained chickpeas, tahini, lemon juice, and garlic. Blend until smooth. Add salt and oil. Blend again until smooth.
To assemble, divide naan on four plates. Spread a thick layer of hummus on each piece (there will be extra). Arrange on top cucumbers, onions, then tomatoes. If desired, crumble on some feta cheese.
Nora Rae Pearl is 99 percent foodie and 1 percent chef. When she is not writing about food, she can be found waiting in line at the farmers market hoping to get a croissant before they run out. Photo credit Cody Werme.
Trending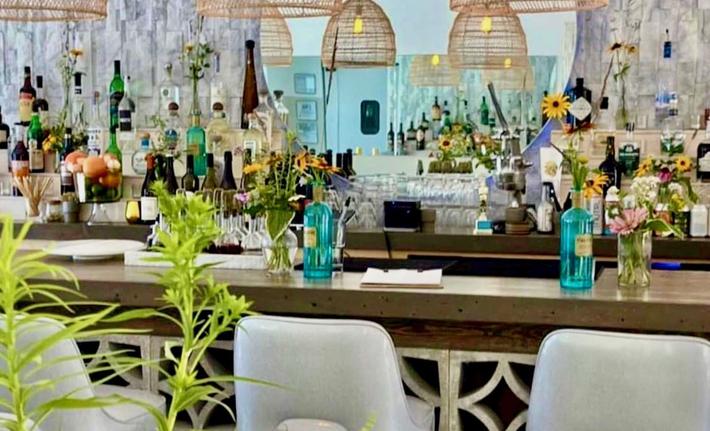 Your Fall Restaurant Guide: Six Spots to Stop for a Bite in Northern Michigan
The weather may be cooling down, but the culinary scene in northern Michigan is heating up. This summer, we explored six n...
Read More >>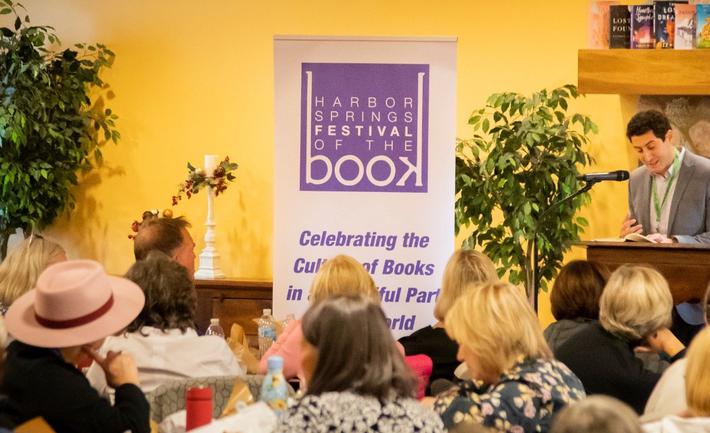 A Weekend of Books
It's a bookish weekend in Petoskey, Bay Harbor, and Harbor Springs! (Be still, our literary hearts!) First up is the...
Read More >>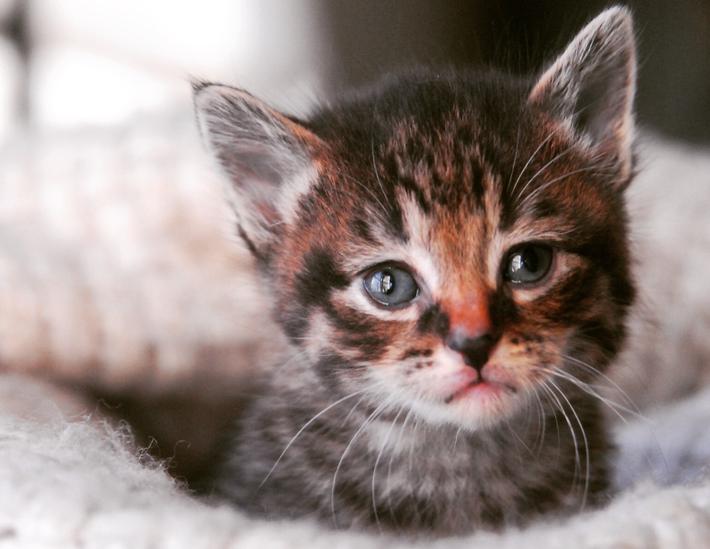 Make Your Pet Famous!
Every fall, Northern Express puts together our Pets Issue, which features stories about our beloved furry friends. As part...
Read More >>

Transformation on the Trail
It's no secret that the Boardman Lake Loop Trail in Traverse City is a popular spot for a stroll. And after a summer...
Read More >>