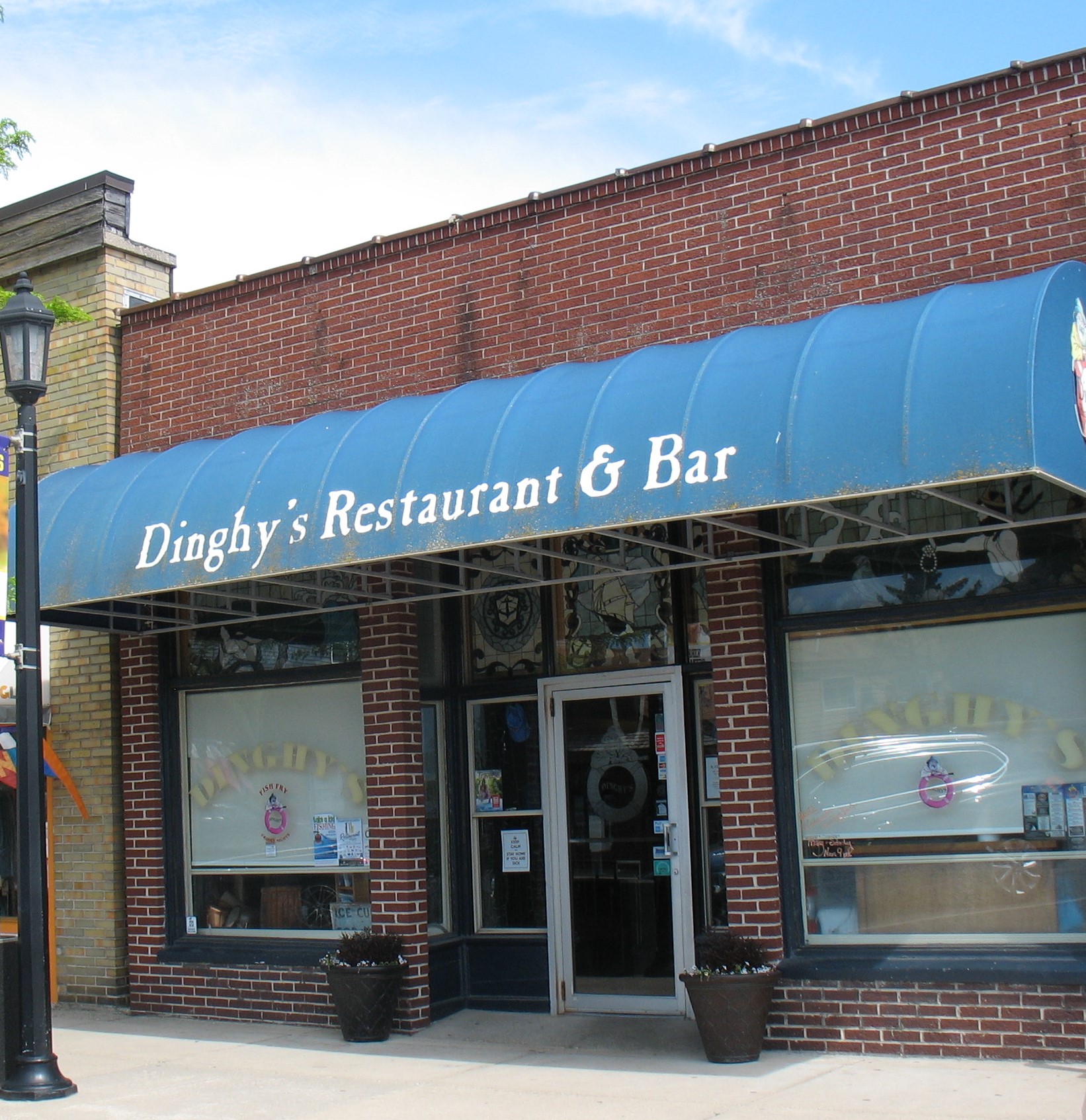 Dinghy's Restaurant & Bar
Beach-town BBQ and from-scratch cooking
By Al Parker | June 12, 2021
Kelly Sandman chuckles at a customer's joke, runs a cloth across a section of the 33-foot-bar, then greets a famished family seeking BBQ at one of northern Michigan's most venerable eateries, Dinghy's Restaurant & Bar.
Sitting on Frankfort's main drag, right across from City Hall, Dinghy's is a mecca for those who seek saucy BBQ of all sorts.
"This building is over 100 years old," General Manager Sandman says with pride. "Back in the '20s it was the Cocktail Grille, then from '54 to '94 it was Baker's Bar. Sally Donaldson bought in '94 and re-named it Dinghy's. Current owner Steve Christian bought it in 1999."
Christian, a retired banker, showed his devotion for all things BBQ by building a dedicated smoke room for the eatery's two commercial "Smoke Chef" Miller smokers. That's where several members of the Dinghy's team smoke ribs, chicken, pork, and chicken wings.
Only hardwoods fuel the smokers — usually cherry, apple, or maple.
With its long, narrow profile, the interior of Dinghy's welcomes guests with a relaxing nautical vibe. Stained glass windows, designed by Donaldson decades ago, are a nice touch. Wooden booths (including four that are originals) line the left wall while the bar commands the right side of the restaurant. It's a comfortable interior, the kind of place whose dark woods, diffused light, and mellow vibe make it the perfect respite after hours spent in the sun and waves at Frankfort's Lake Michigan shore.
Just a short flip-flop walk up the street, Dinghy's is a common destination for hungry beachgoers. Its menu offers enough choices to satisfy almost any diner but caters to those who love BBQ.
"Our pulled pork sandwiches are our most popular BBQ item," says Sandman. "During our busy months of July and August, we'll sell about 1,000 a month."
The pulled pork is piled high on a toasted roll and served with fries ($12.99)
Not too far behind in popularity are Dinghy's award-winning St. Louis cut pork ribs ($19.99 for a half-rack, $26.99 for a full rack). The thick meaty slabs are from the Chicago Meat Authority and shipped to Dinghy's on a regular basis.
Prep Cook Carla Worden makes up the rubs for all the meats that hit the smoker. The rib rub is a special blend of salt, sugar, Spanish paprika, cayenne, and cinnamon. Once rubbed, the ribs are in the smoker for 2 hours and 15 minutes at 280 degrees. Then they're finished on the char-grill. They serve them wet, with a specially blended sauce, or dry.
"We'll probably do a couple of dozen racks today," says Worden, who's been at Dinghy's for 13 years.
Also coming out of the smoker is the tri-tip sirloin which is shaved and grilled for the French Dip ($12.99). It comes topped with sauteed mushrooms and onions, with melted provolone cheese and a side of au jus.
"The tri-tip is done low and slow," explains Worden. "It's in the smoker for 4 hours and 15 minutes at 170 degrees."
Also popular with BBQ lovers is Dinghy's smoked Chicken Wings — served plain, dry-rubbed, or sauced with honey chipotle, in-house BBQ sauce, or spicy hot. A half-pound order is $7.99 and a full pound is $13.99.
If you need more chicken, a smoked half-bird slathered with sauce and served with slaw and fries is $17.99 and enough for multiple meals.
Dinghy's sauce deserves special attention of its own. Made in-house, it's a complex blend that includes the BBQ basics of tomato paste, sugars, vinegar, and molasses but adds some twists like pineapple juice, garlic, tamarind, and mustard flour. The result is a savory taste treat that enhances every meat it drenches.
Want a big sample of their BBQ? Try the Platter, a half rack of ribs, half of a chicken, and a healthy portion of pulled pork ($31.99) It's all sauced or dry-rubbed and comes with coleslaw and fries.
Need even more BBQ choices? How about a Quesadilla stuffed with pulled pork and cheddar jack cheese ($12.99) or some BBQ Nachos ($11.99) featuring tortilla chips topped with pulled pork, sliced jalapeno, green onions, and Siracha sour cream.
Even if you're not in the mood for BBQ, Dinghy's keeps to its nautical theme with its famous Friday Fish Fry. Perch or Cod are served with fries. A 5-piece cod meal is $15.99 while a 5-piece perch meal is $2 more. Want to try both? That's only $16.99.
A popular local favorite is the Twice Baked Potato Soup (cup $3.99, bowl $4.99) even during the hottest days of summer.
"In July and August, we go through 24 gallons of Twice Baked a week," says Sandman.
Five salads are available, including a Cobb, Michigan Cherry, Chicken Fajita, Veggie Bowl, and a classic Caesar.
If you stop in for lunch, you'll find a Build-Your-Own Burger that starts with a half-pound of Angus beef, plus other handhelds like a chicken sandwich, Michigan Cherry Wrap, Sandwich of Your Dreams, Cod Fish Sandwich and Adult Grilled Cheese.
Prices range from $10.99 to $12.99.
"A lot of our menu is based on Sally's recipes," says Sandman, who started at Dinghy's as a server in 2001 and worked her way up to general manager. "Everything is made in-house, even the mozzarella sticks and Bombas (a Jalapeno stuffed with Monterrey Jack and Cheddar Cheese, tucked into a wonton, and deep-fried) are made from scratch. We buy ingredients — nothing out of a box. We offer really great meals that our guests have come to enjoy over the years."
Dinghy's Restaurant & Bar is at 415 Main St., in Frankfort. It's open for dine-in or takeout noon to 8 pm Tuesday–Thursday, noon to 9 pm Friday and Saturday. For more information or takeout orders, call (231) 352-4702 or go to www.DinghysRestaurant.com.
Trending
Apologizing in Advance, Just in Case
Even in casual conversations, I find myself, and I bet you do too, presenting a cautiously crafted preamble meant to apolo...
Read More >>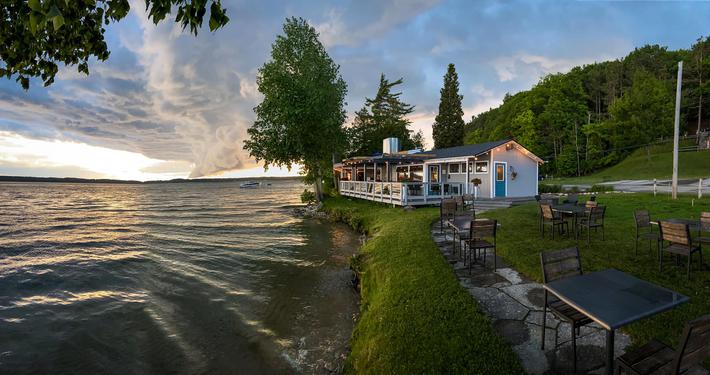 6 al Fresco Favorites
We don't know about you, but we think that everything tastes better when you can enjoy it outside in the summertime....
Read More >>

Whiskey's Treasure Island
Whiskey aficionados take note: You may soon be able to taste what whiskey tasted like in the midst of the Prohibition era ...
Read More >>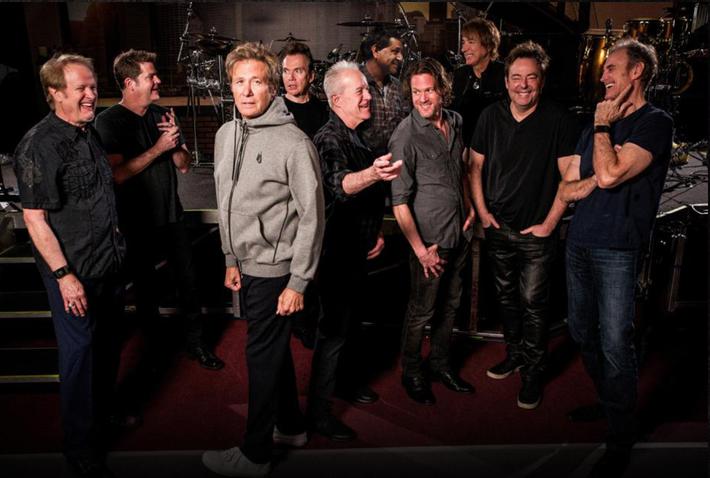 Rock and Roll Hall of Famers on Way to Interlochen
People attending the Chicago show at Interlochen Aug. 3 may feel like they're traveling back through time. The band ...
Read More >>
↑