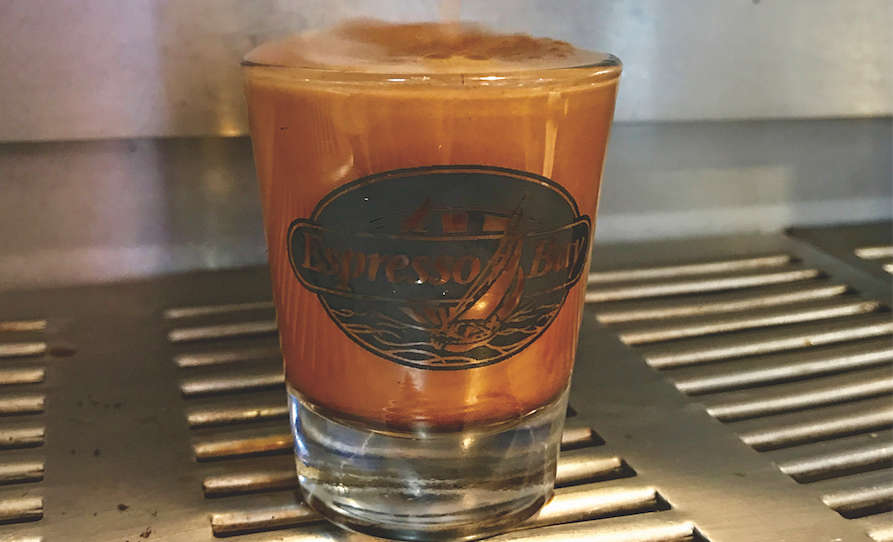 Espresso Bay's Golden Espresso
Bottom's Up
Dan Guy has a small problem. So much so, that he was actually roasting beans during this interview.

"I have a coffee obsession," the Espresso Bay owner said with a chuckle.

Guy and his wife, Kara, bought the Traverse City coffee shop in 2013, and have kept downtown in espresso drinks ever since. One of Espresso Bay's most popular — and unusual — offerings is its legendary golden espresso; we wanted to find out why.
"For the golden espresso, we use a special blend of seven different coffee beans from all around the world," Guy said. "Each growing region gives its beans different flavor notes, so our combination that makes the golden espresso is very robust, yet smooth."

When a golden espresso shot is pulled from Espresso Bay's machine, it actually comes out a rich golden color (hence the name), rather than the dark black espresso you'll find in most coffee shops.

"This makes it taste less bitter than a lot of other espresso you'll find," Guy said. "Also, having the roaster right on site is a huge advantage, because it allows us to serve the most freshly-roasted beans possible."

Guy personally roasts every bean by hand in the shop's Diedrich roaster, which produces one 15-pound batch at a time; each batch takes about 18 minutes to roast to completion. Espresso Bay now sells between 4,000–5,000 pounds of golden espresso beans each year.

"The roaster gets up to almost 500 degrees, which is why you'll see me wearing shorts almost year-round!" Guy said. "The roasting process is fascinating, too. I love showing customers how it all works."
And the customers love Guy's golden espresso — especially in drinks like the Bay chai royale, which is a traditional chai tea latte with golden espresso added; or the lavender latte, a combination of golden espresso, lavender flavoring, and steamed milk.

"My wife drinks one of those every day," Guy said.

Try the golden espresso on its own or in your favorite coffee drink at Espresso Bay, 202 E. Front St., in downtown Traverse City, espressobay.com or (231) 715-1856.
Trending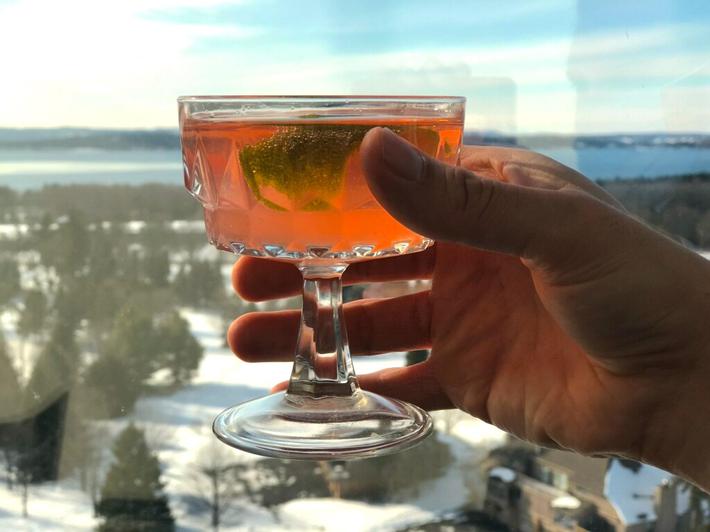 Tiny Pink Bubbles
Hey, ladies, do we have the pink drink for you: Aerie's Tiny Pink Bubbles. With a taste and body as delicious as its...
Read More >>
The Power of Our Example
Every new president faces a daunting array of problems, but 2021 will go down in the history books: Our country is under s...
Read More >>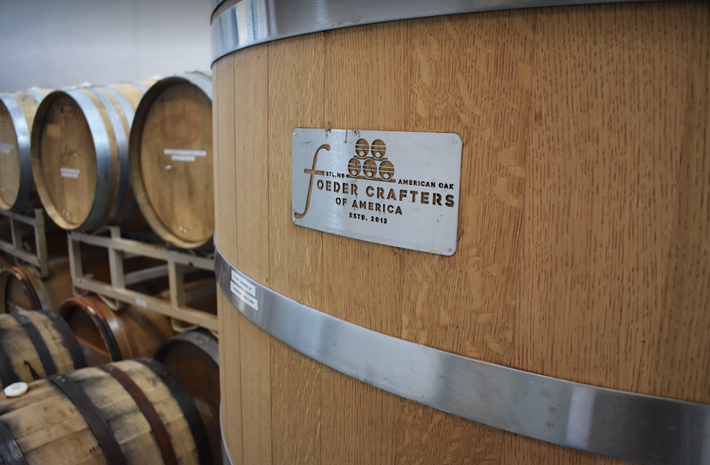 Getting Wild with the Foeder
Drinkers with a discerning eye may have noticed a couple interesting-looking wooden containers in the back of Traverse Cit...
Read More >>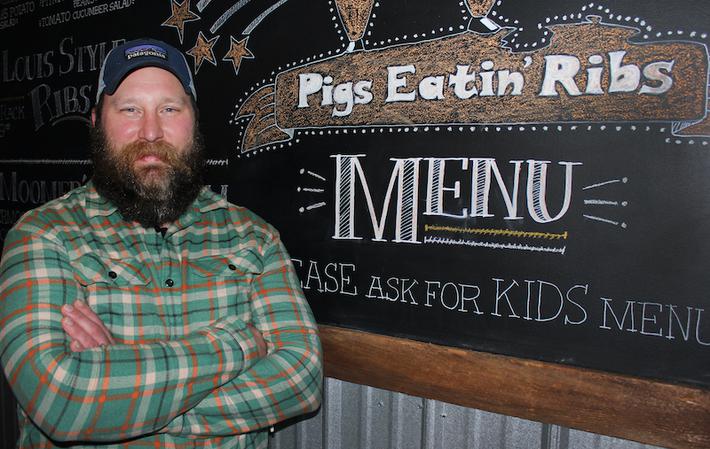 Charlevoix's Pigs Eatin' Ribs
By 2008, Charlevoix Chef Adam Kline had seen and tasted enough. The Northern Michigan food scene had stagnated, he said, i...
Read More >>
↑