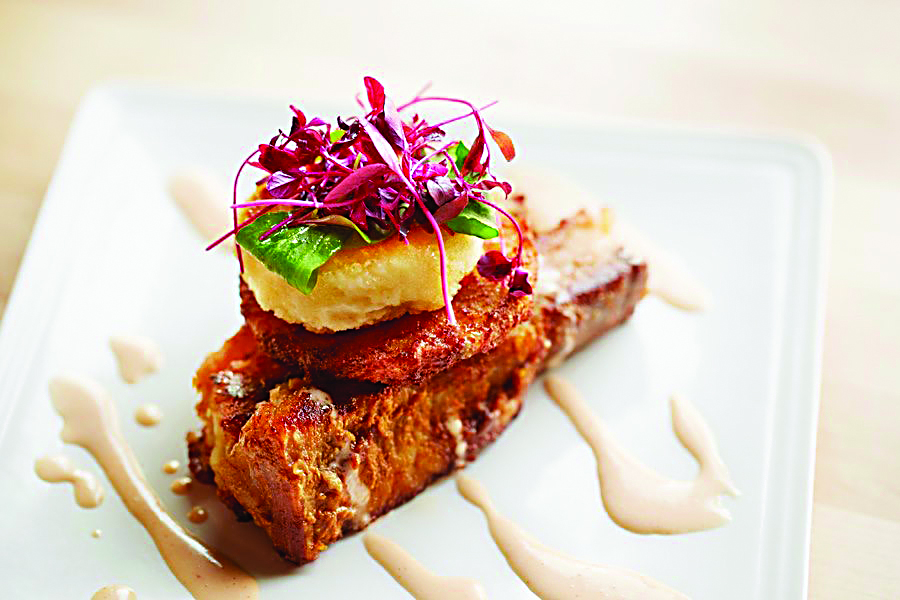 Fall Restaurant Roundup
12 northern Michigan restaurants to visit before winter blows in
Please be seated for these abbreviated versions of the restaurant reviews we've featured since our last RestauranTour issue. Bon Appetit!

THE TRIBUNE ICE CREAM AND EATERY – Northport
Just a stone's throw away from the shores of Northport Bay, this little restaurant is so named because it occupies a building once used to print editions of the Northport Tribunenewspaper. Today, the building bears few signs of its ink-and-paper past — though there are old photos of Northport papering the walls, a way to evoke the area's rich history. The building, which is over 100 years old, needed a significant remodel before it could pass as anything resembling a restaurant, but through a genuine old-fashioned family effort, it slowly transformed from a dated newspaper building into the bright, relaxing café it is today.

On the Menu: The Tribune Ice Cream and Eatery, true to its name, features an ice cream window through which passersby can order a cone and get it in a matter of minutes, right out on the sidewalk. The breakfast/lunch idea came even easier: from the owner asking the locals what they wanted to see.Starting with breakfasteggs made-to-order, The Tribune's menu rotates and transform considerably throughout the year, with a focus on fresh, premium, locally sourced ingredients that are typically found at fancier dinner establishments. In early July, for instance, The Tribune put a strawberry pancake special on the menu; it featured fresh, perfectly ripe, and explosively flavorful local strawberries. But the special lasted only as long as the local strawberry season — a factor that gives regulars good reason to stop in often.

While the Tribune is content to move with the whims of the seasons and the harvest calendar, there are a few signatures that are always on the menu. The hearty Biscuits and Gravy dish combines a steaming hot, freshly-baked biscuit with sausage gravy, mixed greens, and a fried egg. The Huevos pair two fried eggs with fried corn tortillas, queso fresco, salsa verde, and cilantro-lime sour cream for a blast of Mexican zest. And the Chicken Sandwich features smoked and fried chicken topped with arugula, a tangy house-made mustard, and a coleslaw made from charred cabbage and apple.

Find It: The Tribune Ice Cream and Eatery is located at 110 E Nagonaba St. in downtown Northport. (231) 386-1055, www.northporttribune.com.


BROOMSTACK KITCHEN AND TAPHOUSE – Maple City
Burgers, brews, bacon and brooms — curling brooms, that is — turned out to be the stuff of restaurant dreams come true for Joey Reutter, who co-owns Broomstack with his wife, Jen, and their friends — and now business partners — David and Theresa Gersenson. Located in the village's historic schoolhouse, this "eatery with a twist" opened to a welcoming audience last February.The nearly century-old former village schoolhouse had housed several incarnations of restaurants and bars since it was closed in the early 1960s. The team restructured it into a family friendly, community-centered place with both a restaurant and a curling facility.

On the Menu: A variety of different beers, including a significant number of Michigan craft brews, complement grass-fed burgers and pizza. The latter two remain the most popular things on Broomstack's menu. Among the former, made with one-third pound of grass-fed beef from Hampel Farms in Buckley, standouts include the Spartan burger (roasted and marinated poblano peppers topped with Leelanau Cheese's fromage blanc) and the Cowboy burger (bacon, house BBQ sauce, and cheddar, topped with an onion ring). All burgers are stacked — and we do mean stacked— with lettuce, a thick slice each of tomato and sweet onion, pickles, ketchup, mustard, and mayo on a house-made brioche bun.

The pizza here is Sicilian-style — made with a high-hydration dough that is aged for three days and stretched by hand before being pressed into a square pan for proofing. It's then baked off in one of the kitchen's special deck ovens, forming a thick crust, which is topped with brick cheese, house-made red sauce and other ingredients, then baked a second time. The menu's only dessert is the Bacon Blondie, a peanut butter-caramel-bacon bar, served warm and topped with vanilla ice cream and chocolate sauce.

Find Them: Broomstack Kitchen and Taphouse is located at 172 West Burdickville Rd. in Maple City. (231) 228-8869, www.eatdrinkcurl.com.


BELLA VITA RESTAURANT AND BAR – Boyne City
Boyne City's low-key Italian dining destination Bella Vita relies on word of mouth for their advertising. The thinking of owners Kelly and Matt Woodard: "If you love us, you will be back, and most likely tell a friend or two along the way." The restaurant itself occupies a tidy, plain structure that spent many, many decades as a roadhouse, under different names and different ownership, but its current iteration is by far the best: Bella Vita combines carefully prepared fine foods with the conviviality of a friendly tavern in a setting that is comfortable, accommodating, and without pretention or gimmick. Bright white linens play off a neutral grey and black palette with bronze accents, and the walls are alive with vivid local artworks. Bella Vita's focus is primarily on northern Italian cuisine, with some dishes reflecting a northern Michigan influence; they also source ingredients from local farm markets and vendors whenever possible.

On The Menu: A favorite appetizer is the Pizzetta con Aglio Cambozola, a warm platter bearing fresh slices of rosemary pizza bread, heads of caramelized roasted garlic, and a wedge of Cambozola, a ripened cheese with the creaminess of a Camembert and the sharp flavor of Gorgonzola.

Carpaccio, the northern Italian version of steak tartare, is another popular dish. Paper-thin slices of raw tenderloin are served with lemon, olive oil, mustard, basil, capers, and Parmesan-Reggiano. Great carpaccio, some say, is the sign of a truly excellent Italian restaurant. For dinner, you'll find the Italian standards: classic Minestrone, Caesar salad, fettuccine Alfredo, and four-meat and cheese lasagna. Beef, chicken, and seafood dishes are well-represented, too: There's filet with gorgonzola and ribeye with morels and red wine sauce; and the house dish, veal sautéed with butter, garlic, parsley, and a mushroom blend.

Diners can also choose between lemony chicken piccata or chicken Toscano, a parmesan-encrusted chicken breast with pink peppercorn béchamel sauce. Fresh fish, jumbo sea scallops, and shrimp scampi round out the entrées. Bella Vita excels in producing all the nuanced flavors of Italian cuisine, but especially the northern regions.
Find It: Bella Vita is located at 02911 Boyne City Rd. in Boyne City. Reservations recommended. (231) 582-3341, www.bellavitaboyne.com.

THE CHERRY HUT – Beulah
Tradition can mean many things. For vacationers and residents around Crystal Lake and nearby, it often means a mandatory visit to the Cherry Hut. In an industry where 90 percent of independent restaurants close during their first year and 70 percent of those that make it past the first year close their doors in the next five, the Cherry Hut is an anomaly: The restaurant is entering its 97th year.

The history of the restaurant dates back to 1922, when James and Dorothy Kraker opened the original Cherry Hut — literally, a small wooden hut — on the north shore of Crystal Lake to market and sell their orchard products. That year also marks the debut of Cherry Jerry, the smiling face cut into the upper crust of their pies.

On the Menu: The Cherry Hut's secret is consistently good food and good service, whether it's cherry pie, cherry-ade, cherry BBQ pork, a cherry burger (from meat supplied by Pleva's Meats in Cedar), a cherry hot fudge brownie, or cherry chicken salad. Besides all things cherry, the restaurant is perhaps most famous for its turkey dinner, complete with mashed potatoes, vegetables, soup, and dessert.

Find It: The Cherry Hut is located at 211 N. Michigan Ave. in Beulah. (231) 882-4431, www.cherryhut.com.


MISSION TABLE – Old Mission Peninsula
Mission Table restaurant is located about halfway to the tip of Old Mission Peninsula and overlooks scenic Bowers Harbor. Mission Table and sister restaurant, Jolly Pumpkin, share the same building but are totally different restaurants with separate entrances and separate kitchens. One of their key links, however, is managing partner Paul Olson, who developed the menus for both establishments and who started as the chef of the Bowers Harbor Inn and the Bowery (the former names of what are now Mission Table and Jolly Pumpkin) in April 2008.

On the Menu: Mission Table's menu changes with the seasons. The spring menu offered such delicacies as house-made fettucine with morel cream sauce; salt-roasted beet salad with greens, maple yogurt, walnuts and red wine vinaigrette; and an 8-ounce American Wagyu beef burger with raclette cheese, bacon jam, greens, turmeric aioli, sliced tomato, and truffle fries. Many of the proteins remain the same, while sides change as new produce comes into season. Guests are welcome to bring in wine to enjoy with their meal for a $15 corkage fee.

Adjacent to the main dining area at Mission Table, an attractive tasting room (open weekends only in off-season) offers samples and sales of beers and spirits from the on-site microbrewery and Civilized Spirits distillery that are part of Jolly Pumpkin's operation. Weather permitting, guests can enjoy lunch from Jolly Pumpkin or dinner from Mission Table on the latter's spacious deck.

Find Them: Mission Table is located at 13512 Peninsula Dr. in Traverse City. (231) 223-4222, www.missiontable.net


THE CABBAGE SHED – Elberta
Just about everyone who lives in Benzie County has a "Shed" story — whether from working, playing music, attending a wedding, or meeting up with family and friends there. The Cabbage Shed has been a mainstay in the village of Elberta since Jim Clapp opened it as a restaurant and neighborhood pub in 1985.Sitting on the shore of Betsie Bay and built in 1867, it's been a general store, post office, and a warehouse that was eventually stacked floor to ceiling with cabbages — and so it became The Cabbage Shed, a name Clapp never saw fit to change once he made the place into a restaurant.

Overall, it has kept its genuine character. The renovation included a lot of cleaning, painting, replacing windows, and redoing bathrooms. The bar was extended, and the lower deck and kitchen have been refreshed. The waterfront has been cleared and space added for canoes, kayaks, and dinghies. Local artist Chris Bigelow's paintings adorn the walls, and they've kept the iconic old road signs from the local area.

On the Menu: The Shed's menu includes its famous Borscht — the hearty Russian soup made with braised beef, red beets, green cabbage, tomato broth, and smoked sour cream that has been served at the Shed since it first opened — and the Glarum Grille, a specialty sandwich with prime rib, bell peppers, caramelized onions, provolone and Shed sauce, a nod to the original owner. The rest of the menu has been completely revamped with new dishes that offer a spicy spin on American classics.New meal starters include a yummy Voodoo shrimp, with a sweet and zesty Chile sauce, served with homemade shed slaw; the buttermilk breaded chicken breast with smoked gouda, pepper jelly mango, lettuce, tomato and onion, on a Crescent bakery pretzel bun, is perfect for lunch or dinner.

Choices vary between hearty burgers, including a veggie one; their popular fish and chips; a real Italian Caprese salad; its very cherry boneless pork loin, simmered in a cherry sauce, and finished with a Brandy flambé; or the summer favorite — Great Lakes cherry whitefish. For the younger set, there are chicken nuggets, grilled cheese, or chicken sandwich, noodles and cheese, or cheese pizza.

Find It: The Cabbage Shed is located at 198 Frankfort Ave. in Elberta. (231) 352-9843, cabbageshed.com.


ROCK'S LANDING – Frankfort
Combine people who are passionate about making and serving good food in a place with stunning views of Crystal Lake, and you've got the recipe for Rock's Landing. Opened last summer after a complete renovation of what was once the snack bar for the Chimney Corners Resort, guests are offered a memorable dining experience at Crystal Lake's only waterfront restaurant.

With small tables — they don't accept parties larger than six — and a rustic charm that has been accented with urban touches, the restaurant welcomes around 100 guests per night, which the owners call a "healthy" level of service that encourages lingering over the meal and taking in the views.

On the Menu: With a simple, one-page menu that reflects a Mediterranean influence, the restaurant's vision is to introduce new, flavorful dishes to an adventurous audience. For instance, Whitefish isn't offered; instead, you'll find seared halibut with baby Bok choy in a coconut curry sauce. The restaurant also supports locally sourced whenever we can — all their greens are grown locally from Lost Lake Farm, bread is from Crescent Bakery, the cheese plate is all local cheese, and a northern Michigan supplier for the fish brings it in fresh every two days. Choices include shareable, smaller plates of seafood, fresh vegetables and "tapas" like entrees including crispy purple Brussel sprouts, with an Italian bagna cauda sauce (butter, oil, anchovies, and garlic) to a real Italian Panzanella salad with house-roasted bread, a fire-roasted vinaigrette, shaved baby radish, turnip, and sunchokes. Main courses range from a vegan plate with crispy falafel, baby cauliflower, curried basmati rice, beluga lentils and caramelized fennel, to the traditional Spanish pinchos morunos — seared pork on skewers with curried basmati rice, served with classic romesco sauce made from roasted tomatoes and red peppers. All can be paired with a varied wine list and several Michigan craft beers or a specialty cocktail.

Find It: Rock's Landing is at Chimney Corners Resort, 1602 Crystal Lake Dr., in Frankfort. The restaurant is open mid-April through mid-November. Reservations are recommended. (231) 399-0158, www.rocksoncrystal.com.


TERRAIN – Bellaire
Chef Randy Minish, a Bellaire native and 2011 graduate of the Great Lakes Culinary Institute in Traverse City, launched his first restaurant, Terrain, with his sisters, Jenna Minish and Shana Minish, in his hometown. Minish had known for years what type of concept he would focus on when he got his own restaurant: contemporary American, with an emphasis on local and seasonal flavors and ingredients, concentrating on things you can get locally, throughout the entire Great Lakes region. He gets his inspiration for his food from many sources, including some of his favorite cookbooks (he owns about 150) by the likes of David Kinch, Stuart Brioza, and Nicole Krasinski.

On the Menu: One distinctly local and seasonal dish for northern Michigan in particular has proven to be popular: the restaurant's cream of wild ramp soup (wild ramps with sumac croutons and puffed wild rice). The roasted beet salad (beets, arugula, shaved apple, goat cheese, pecans, black pepper, and strawberry vinaigrette) is another top pick. In the appetizer department, you'll find smoked salmon chips, with hot smoked salmon processed into a mousse and served on potato chips fried in-house. House-made pasta has also proven to be a hit with customers, including the spaghetti (with basil pesto, tomato, lemon, and parmesan cheese) and handkerchief pasta. But the star of the entrée show so far has been the rainbow trout (with parsnip puree, roasted sunchokes, and sunchoke chips, sumac, roasted tomatoes, and herb sauce). Desserts include vanilla custard (with honey, house-made blueberry-ginger jam and an almond sugar biscotti), and house-made ice creams made with ingredients like Bare Earth teas and Mundos coffee.

Find It: Terrain is located at 213 N. Bridge St., in Bellaire. (231) 350-7301 or search "Terrain Restaurant" on Facebook.


THE TOWNE PLAZA (pictured) – Traverse City
Former architect Chris Hoffman offers casual fine dining both indoors and al fresco, served upon the corner of Cass and State streets in Traverse City, where the Towne Plaza resides. So far, the restaurant has become best known for its breakfasts, but dinners at the Towne Plaza certainly deserve their due. Hoffman said the focus at the restaurant has always been making people comfortable and wanting them to enjoy themselves. Apparently, his customers have been doing just that, since the Towne Plaza has just begun its eighth year in business.

On the Menu: Some of the most popular breakfast items are the pancakes (with fresh blueberries and maple syrup); the root vegetable gratin (turnips, rutabagas, carrots, parsnips, Swiss chard, and mushrooms, topped with raclette cheese); the veggie omelette (with spinach, feta cheese, artichokes, tomatoes, Kalamata olives, and Bibb lettuce), and four versions of eggs Benedict.

There is some strong Italian influence on the dinner menu, a result of Hoffman having worked in a restaurant in Italy for a month on one of his trips abroad. Grilled romaine salad (with lemon juice, Parmigiano-Reggiano, olive oil, pancetta and crostini); potato gnocchi (with roasted vegetable béchamel, mozzarella, tomato and basil); arancini (mozzarella-stuffed risotto, smoked tomato sauce and balsamic reduction); and pecorino and sea salt fries all bear witness to this.
Pork is a house specialty. The Towne Plaza's sign is a pig, and there is a boxed section in the middle of the menu titled "Pig in the Plaza," whose listings are some of the restaurant's best-selling dishes, including Porchetta, a savoury, fatty boneless pork roast of Italian culinary tradition. In addition, there is always a cut of the day (often beef) and a catch of the day (recent offerings have included grouper, halibut, and tuna) with other seafood and vegetarian options, plus dessert.

Find It: The Towne Plaza is located at 203 Cass St. in downtown Traverse City. (231) 929-0900, www.thetowneplaza.com.


BIRCH AND MAPLE – Frankfort
Completely remodeled and re-opened last year, Birch and Maple restaurant is bringing new twists to old favorites in Frankfort. The former Bayview has been transformed with a bright, welcoming feel and lots more room thanks to a new entryway, expanded seating, and a beautifully upgraded enclosed patio. Located on Main Street, the restaurant also features a view of the Betsie Bay, and is exactly what the owners had in mind when they were searching for a site in 2017.

On the Menu: Their breakfast choices are an eclectic new twist on American staples, like their popular buttermilk-brined fried chicken on a house-made waffle, served with a bourbon toffee sauce; or French toast Monte Cristo that includes Black Forest ham, American cheese, and maple syrup, and is topped with their signature crispy egg. Traditional fare is also available, including three kinds of eggs Benedict and hearty omelets. Lunch choices have likewise been modernized and elevated. Diners can expect a palate-pleasing Bistro burger; a Croque Madame topped with ooey-gooey cheese sauce and a crispy fried egg; three tasty fish tacos topped with pickled cabbage, mango salsa, fresh herbs, and house slaw; several fresh salads — Caesar, Michigan cherry and kale, or Mediterranean — plus a homemade seasonal soup each day. Popular small plates include portobello fries, with parmesan, truffle oil, red pepper flakes aioli; dinner offerings include an 8-ounce grilled prime beef filet with crispy potatoes, seasonal vegetable, smoked bleu cheese, and sautéed mushrooms; and an 16 ounce pork loin chop with Alabama BBQ sauce, green chili-cheese grits, wilted greens, and farm-fresh tomatoes. A variety of fresh salads, seasonal homemade soup choices, and pasta dishes are also available.

Find It: Birch and Maple is located at 727 Main St. in Frankfort. (231) 399-0399, www.birchandmaplefrankfort.com


LUCKY DOG BAR AND GRILLE – Beulah
Downtown Beulah's former bowling alley has been reborn as a rustic bar and grill, dubbed Lucky Dog, andits accompanyingice creamery, Cool Cat Ice Cream Bowl. Both opened last year after extensive renovation; the roof of the bowling alley had collapsed following a snowstorm, and the area where it collapsed is now Nature's Courtyard, "since nature took it down,"as the owners said.It connects the two sides of the family business and is also where the on-site meat smokers are located.Those comein handy, since one of Lucky Dog's signature dishes is its smoked wings.
On the Menu: The wings are said to vie for the restaurant's most popular dish, along with all the burgers. Smoked pulled pork is also popular,included in several optionsfrom a sandwich to nachos. Lucky Dog is also partnering with the recently opened Five Shores Brewing for a signature beerthat will be brewed just a block down the street; it will join 19 other taps at Lucky Dog.

Find It: Lucky Dog is located at 223 S. Benzie Blvd., in Beulah. (231) 383-4499, www.luckydogbarandgrille.com

Figs Breakfast and Lunch — Lake Leelanau
Not long after Brian Figueroa took a summer job at The Redheads Café and Tasting Room, a petite and long-beloved roadside eatery in the tiny hamlet of Lake Leelanau, the sister owners decided to focus on the distribution of their The Redheads-brand products. They offered to lease the space to Brian and his wife, Jamiee. The couple, who met working in a restaurant, leapt at the chance to run their own together.

"We knew it would be very time consuming, and we would have to arrange it to fit our family," said Jamiee Figueroa. (The couple has four children, age eight months to 14 years.) But as it turns out, shaping a restaurant business to suit their family's needs wasn't an obstacle; it helped make Fig's the success it is.

"We dine out a lot and have a big family," said Jamiee Figueroa. "We wanted quality food in a casual atmosphere that was small and cozy. The menu comes from Brian having a vision for locally sourced, fresh food — the food we like to eat. He wants to use every seasonal flavor he can."

If the family palate was important, family time was critical. The couple decided to focus on serving breakfast and lunch only — no dinner service.

On the Menu: Because its driven by fresh and local foods, the menu changes often — almost daily in the summer. Recent breakfast choices included Fig's sweet coconut French Toast, made using fresh Bay Bread, Guernsey cream egg batter, Michigan blueberries, Fig's lemon curd, and toasted coconut; and the Fig's Burrito, made with their own fresh ground sausage, scrambled eggs, cumin-dusted potato, organic pinto beans and Farm Country cheddar in a grilled El Milagro flour tortilla — served with Fluffy Bottom Farms cilantro yogurt and house-made hot sauce. Also a hit: Fig's Sweet Veggie Hash is a burst of flavor in every bite, with sweet potato, Loma Farms greens, organic vegetables, two poached eggs or quinoa, and locally baked bread. All breakfasts run $7-12.

As for lunch, a variety of burgers could be on the menu at any given time, including the TNT burger —turkey meat, Fig's Tasso ham, fried green tomato, pepper relish, greens, and chili aioli on a 9 Bean Rows brioche bun, served alongside Loma Farms' roasted Bok choy. Other burger choices, $16, could include Yak, beef, or lamb. Brian Figueroa does all the meat butchering in-house and makes his own soup stock.

Find It: Fig's is located at 202 W. Main St. in Lake Leelanau. (231) 256-2222 or search "Fig's Breakfast & Lunch" on Facebook.
Trending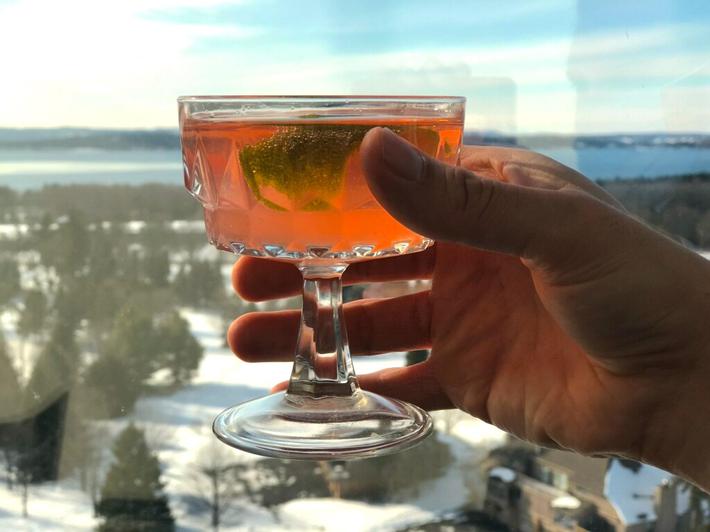 Tiny Pink Bubbles
Hey, ladies, do we have the pink drink for you: Aerie's Tiny Pink Bubbles. With a taste and body as delicious as its...
Read More >>
The Power of Our Example
Every new president faces a daunting array of problems, but 2021 will go down in the history books: Our country is under s...
Read More >>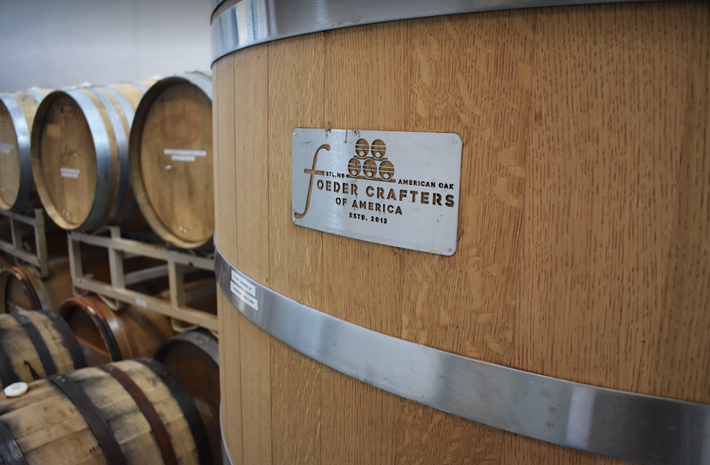 Getting Wild with the Foeder
Drinkers with a discerning eye may have noticed a couple interesting-looking wooden containers in the back of Traverse Cit...
Read More >>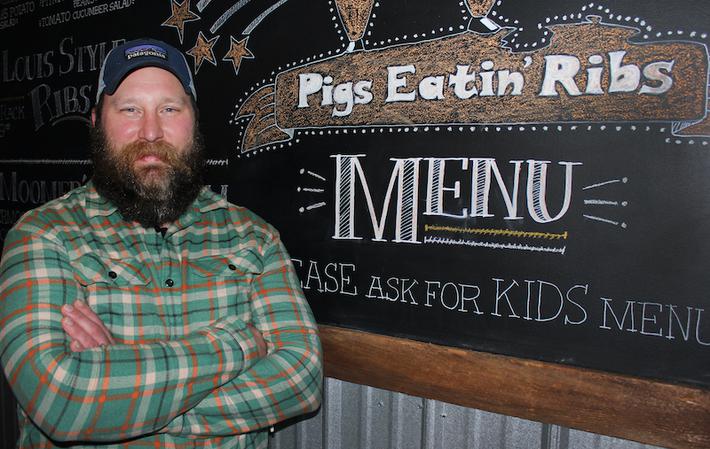 Charlevoix's Pigs Eatin' Ribs
By 2008, Charlevoix Chef Adam Kline had seen and tasted enough. The Northern Michigan food scene had stagnated, he said, i...
Read More >>
↑