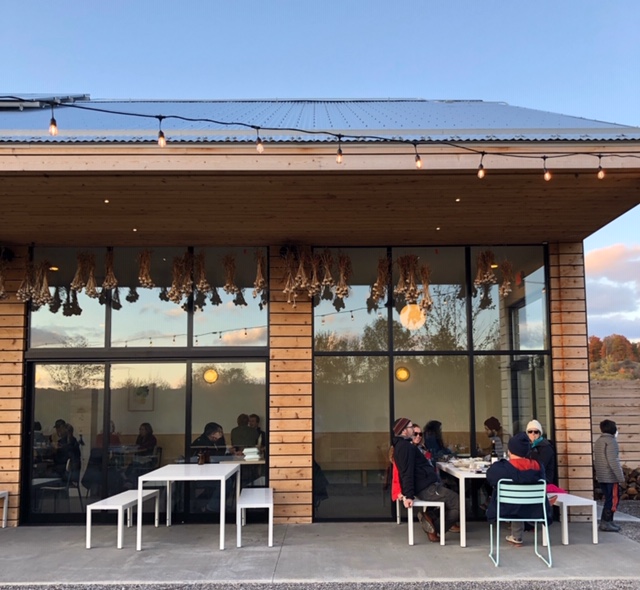 Farm Club
A love of the land — and its bounty — grows in Leelanau
To paraphrase the famous line from the 1989 film Field of Dreams, "If you build it, they will come." That's certainly what happened with the dream that Little Fleet's Gary and Allison Jonas and Loma Farm's Nic and Sara Theisen realized upon launching Farm Club in mid-July this year on the Leelanau Peninsula.
"It has been amazing," said Allison. "We thought it would take a lot longer for people to find us, but they were here immediately after we opened, and they have continued to come." Gary concurs: "The first three-and-a-half months have been all about trying to keep up with the demand."
AN AGRICULTURAL EXPERIENCE
The Jonases and the Theisens, who co-own Farm Club, are longtime friends who share a love of the land and fresh, healthy food. Their complementary backgrounds (Allison and Gary in hospitality, Sara and Nic in farming) were a perfect fit, leading them to the idea of creating, in Sara's words, "a gathering place to celebrate farming, food, and community." The venture is unique in northern Michigan — and even far beyond it. "We're not a farm-to-table restaurant," said Nic. "We're a restaurant on a farm." It's a fine distinction, but a significant one.
Farm Club is situated on 35 scenic acres just off the Traverse Area Recreation Trail (TART), near Mile 7. Its hilltop centerpiece, housing a restaurant, brewery, bakery, and marketplace, is an architecturally striking structure clad in rough-hewn cedar and topped with a metal roof and solar panels that blend seamlessly into the rural character of the landscape. (The owners worked with Traverse City's DesignSmith on the concept.) Energy-efficient floor-to-ceiling windows run the entire length of the south-facing side of the building, framing the spectacular pastoral views and leading out to a long, covered patio and a sprawling seating area with well-distanced picnic tables. A number of firepits stand ready to add warmth on the chilly days and nights ahead.
Farm Club's open and airy interior is a study in minimalism. Its polished concrete floors and light wood shiplap walls and ceilings — along with a cast-iron wood stove on a raised concrete hearth — radiate a casual, inviting simplicity that captures the vibe the owners wanted to convey to anyone who visits. "We want to be accessible and welcoming to everyone," said Gary. "In our name, the word 'club' doesn't mean exclusive — in fact, it's anything but that." Nic felt it was important that "farm" be part of the venture's name. "With all of the other things we do, I wanted to make it clear that we are first and foremost a farm."
AS FRESH AS IT GETS
Abra Berens, executive chef of the Farm Club kitchen, has a long and illustrious resumé of farming and culinary accomplishments. Her 2019 book, "Ruffage: A Practical Guide to Vegetables," was named one of the best cookbooks of the year by The New Yorker magazine and also garnered her a James Beard nomination.

"For me, the combination of Nic on the farm and Abra in the kitchen is where this place really shines," said Gary. "Every Monday, the two of them meet at Loma Farm and talk about what produce is coming up, what's in abundance, and what's on its way out. The menu is then planned around that. They work very closely together. For example, one day, Nic brought in some purple-head broccolini from the farm, and Abra got very excited about it — she started processing it immediately, and within minutes, it was part of the day's farm board. And last weekend, Abra told Nic the kitchen was running out of mixed greens, so he ran over to the farm and harvested more. A half-hour later, they were on people's plates."
As one would expect from a restaurant whose ingredients are hyper-fresh and seasonal, Farm Club's menu is printed daily. Intriguing yet approachable, its categories include snacks, boards, small plates, large plates, and desserts. A recent selection featured such diverse choices as IPA popcorn (made with Michigan popcorn and East Kent Golding hops), a ploughman's platter (with locally cured meat, fish, and cheese), fried eggplant (with cauliflower, arugula, tahini, and lentils), beans and broth (calypso beans, olive oil, garlic and thyme, with homemade bread and green salad) and a sausage plate (with spaetzle, apple mustard, and green salad). Dessert was a choice of panna cotta or rice pudding.
BEER AND MORE
Besides the incredible food, beer is a big deal at Farm Club. Brewer Corey Valdez, who happens to be Allison Jonas's brother-in-law, brews at least a half-dozen proprietary ales and lagers onsite, all with fairly low ABVs yet high in flavor. Three ciders, produced in collaboration with Left Foot Charley and Tandem Ciders, share Farm Club's 10 taps. (Collaborations are also in place with other area farms, wineries, orchards and artisan food producers.)
"Brewing is so much more of a science than most people understand," said Gary, "and Corey's background in organic chemistry [Valdez is a former professor, with a PhD in organic chemistry] really showcases that." Valdez left academics and started brewing beer professionally several years ago, and is thrilled to be part of the Farm Club team now.

"In a lot of ways, the brewery feels like a big lab," he said. "It's nice that it's on a large scale, and it's fun and physical, too." He's particularly proud of his pilsner. "We serve it from a Czech-style, side-pull tap, which makes for a very nice, rich, foamy head. It's got natural soft carbonation, and the beer itself is crisp and dry with a bit of German Nobel hop character."

His table beer and farmhouse ale are both made with wild yeast harvested on the property, and he and Nic are experimenting with other on-site botanicals, herbs, flowers or fruits that might be incorporated into the brewing process at some future date. "We want the beer to be nuanced, though, not over the top with anything," said Valdez.
The marketplace is a very special part of what Farm Club is doing, serving a lot of different needs, especially food-wise, from everyday necessities like coffee, bread and eggs to a grab-and-go case with prepared snacks and other foods. Abra will soon add take-home warm-up meal kits. "We want to offer people a safe, tasty option for when they're strapped for time or just don't feel like cooking," said Allison. Online ordering will soon be available for those and for other marketplace items, too, like locally made ceramics, condiments, housewares, and textiles, cookbooks, customized holiday gift boxes, and more.
WHEN THE SNOW FLIES …
How does a restaurant with such a strong focus on seasonality continue to be seasonal when winter comes to the farm, and the fields are dormant? "Nic is working hard to cellar a lot of vegetables so that we can feature local produce year-round," said Allison. "And he is also preserving. He made an amazing kimchi recently that we're selling in the market, and we'll have all sorts of pickled and fermented foods. Another thing we're doing is taking the spent grains from the brewery and giving them to a farmer who will use them for animal feed and start raising pigs and chickens for us."
The fact that this property is right next to the TART definitely influenced the couples' decision to buy it. "The wellness component is an essential part of our project, encouraging people get outside and be active year-round — to ride their bikes, hike, cross-country ski, or snowshoe to get to us," said Allison, adding that the restaurant's outdoor service won't stop once cold weather sets in. "We'll keep the firepits roaring out there and encourage people to come with layers and blankets. We're also going to add some of our own cross-country and snowshoe trails, so people can explore our property and then get something to eat or drink afterward." The indoors will of course be open, too, but seating will be limited.
You can tell Nic is speaking from his heart, and also for the others, when he says "Being able to share the farm so intimately with the people who come here is our driving motivation. When we commune with them and see the gratitude that they have for such an experience amid such a beautiful landscape, the gratitude for such fine food and for the preservation of the land, all of that makes a good community to live in. And the gratitude goes both ways — we wouldn't be able to pursue what we do without people who appreciate it as much as we do."
Farm Club is located at 10051 S. Lake Leelanau Dr., (Country Road 641), just north of downtown Traverse City. For more information, call (231) 252-3079, visit farmclubtc.com, or check them out on Facebook or Instagram. No reservations, except for Sunday chicken dinners. See website for opening hours. Note: Starting Oct. 31, Farm Club will open at 10AM on Saturdays with a farmers market and breakfast offerings.
**Pictured above: Farm Club's covered patio (note the garlic curing overhead) and its open-air picnic tables and cozy fire pits welcome hardy souls to dress warmly and enjoy their food and beverages outside — even when the snow flies! An outdoor tent will be added soon.
Trending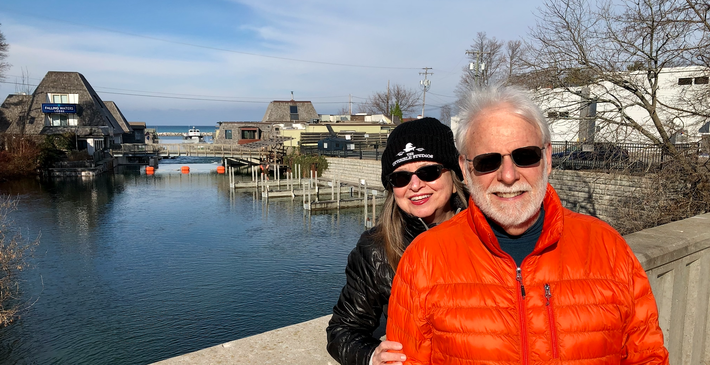 Leland Noir
Rebecca Reynolds and Jim Carpenter didn't listen much to podcasts when, four years ago, they decided to use their ow...
Read More >>
Are You a Fascist? Take the Quiz and Find Out!
Fascists rarely know they are fascists. My dog doesn't know he's a dog, but he's still a dog. Fe...
Read More >>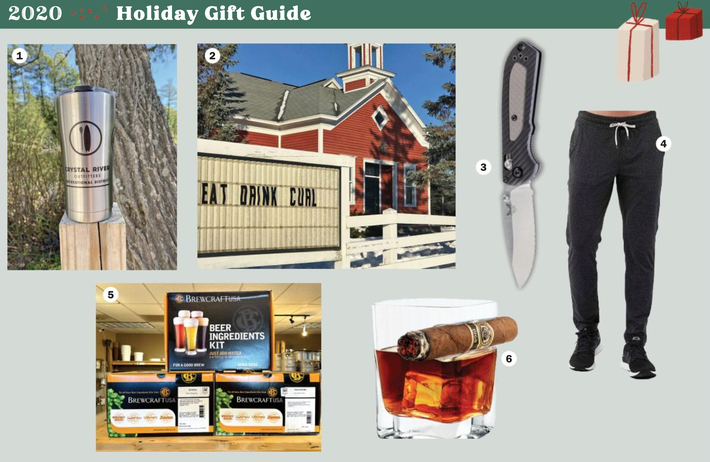 Gifts For Him
1. CRO Icons Stainless Steel Tervis TumblerFor the modern-day mountain man, the gift of mobility is always a good bet. Thi...
Read More >>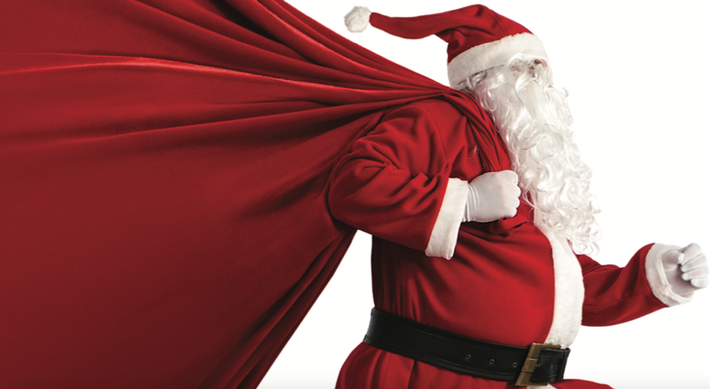 Your 2020 Holiday Gift Guide is Here!
1. Ugear DynameterChances are good the puzzle-lover on your list has completed dozens of one-dimensional challenges in l...
Read More >>
↑