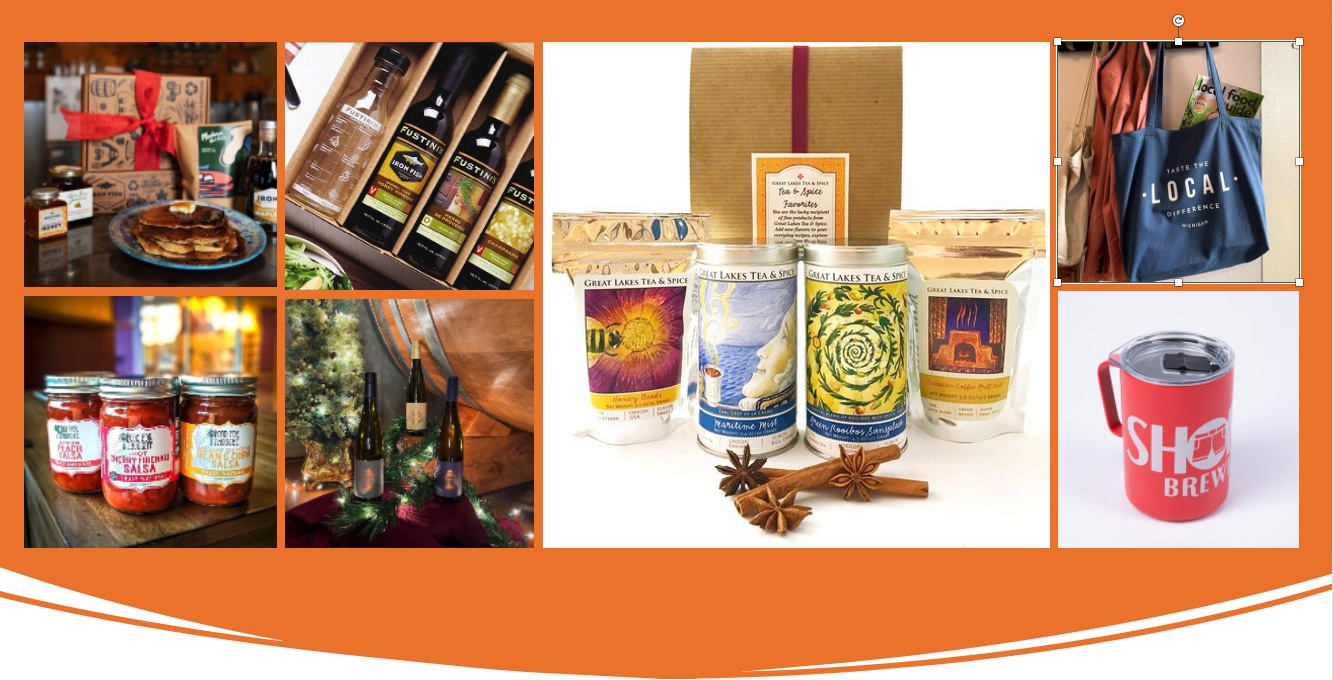 Flavors of the Season, NoMi Edition
You can definitely taste the difference with these local treats
There's nothing more satisfying than making a list, checking it twice, and getting all your gifts purchased and wrapped before December hits. Actually, we can do you one better: Taste the Local Difference has done all the list work for you.
If you haven't heard of Taste the Local Difference—a Traverse City born and bred nonprofit that has expanded to cover the rest of the state—odds are you've still encountered them throughout the years, whether at a farmers market or with one of their local food magazines.
The food consulting, media, and marketing agency is all about bringing local food to the fore, and this year they've put together a Michigan Local Gift Guide that's full of locally-made food, drinks, and home goods—think mugs, bowls, candles, and more—to make your holiday shopping a breeze. You can find the full guide online at michiganlocalgiftguide.com, and we've pulled out a few special treats from NoMi makers you won't want to miss.
For the Chef
There's a little hair of the dog in Iron Fish Distillery's breakfast kit ($70), making it the perfect choice for whoever is in charge of the grown-ups' Christmas morning breakfast. Here's what's included: Bourbon Barrel-Aged Maple Syrup and Whiskey Barrel-Aged Honey from Iron Fish; Celebration Jam from Wee Bee Jammin (aka strawberry preserve jam with a touch of champagne); and a pancake/waffle mix pack from Traverse City's Modern Bird.
For the Flavor Fiend
Great Lakes Tea & Spice of Glen Arbor sure knows how to put together a beautiful package. Their Tea and Spice Favorites Gift Box ($63.80) has a gorgeous presentation, complete with cinnamon sticks and star anise for a whiff of fall when you open the box. The pack includes two of their bestselling teas—Green Rooibos Sunsplash Herbal Blend and Maritime Mist: Earl Grey de la Crème—and two spice pouches. The Oaxacan Coffee Grill Rub is guaranteed to bring new flavor to everything from fish to filets, while the Honey Beads Crystallized Honey Sweetener replaces your Splenda in a heartbeat. (It also goes great on toast!)
For the Spicy Snacker
BYO chips and order the Salsa Favorites from Food for Thought of Traverse City ($27.50). Packed with fresh flavors, a touch of heat, and natural ingredients, these salsas will make you feel good about noshing on the couch and watching the game. Do a tasting and see which one wins your taste buds over: the peach, the chipotle bean and corn, or the hot cherry fireball.
For the Vegetarian
Being vegetarian means a lot of salad in your life. And while some greens are great, others are…well, lackluster. Be an iceberg lettuce hero for the veggie-eater in your life with the Fustini's Dressing Jar Gift Set ($75). The kit features Champagne vinegar, Herbs de Provence olive oil, and a special collaborative Barrel-Aged Honey Vinegar made by Fustini's and Iron Fish. Plus, the box comes with a bottle that has six different dressing recipes marked on the sides so you can pour, shake, and enjoy.
For the Wine Lover
Mari Vineyards of Old Mission Peninsula is offering three holiday wine trios, making it easy to pick the perfect bottles for friends and family with selective wine tastes. For sweet wine drinkers, opt for the Riesling trio, which includes Trocken, Halbtrocken, and Spätlese ($90). The Troglodyte trio has a red, white, and rosé for each palette ($80). Last, if you have a bubbly fan to shop for, try the Selection trio, which comes with a bottle of sparkling Simplicissimus and two Mari logo tumblers ($70)—the latter are much easier to wash than champagne flutes!
For the Gear Hound
Have a friend who always has the coolest brands? Get them sporting some local logos with the insulated, stainless steel MiiR Camp Mug from Short's Brewing Company ($29.95) and the stylish but sturdy Taste the Local Difference Market Tote ($20). Pro tip: Package one inside the other with a little tissue paper and your wrapping is done.
Trending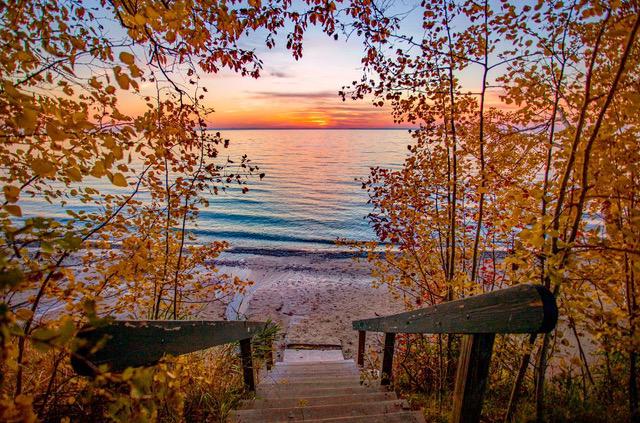 Cruisin' the Breezeway
Fall into East Jordan during the 15th Annual Autumn on the Breezeway! Choose from three different dates: Sept. 30, Oct. 7,...
Read More >>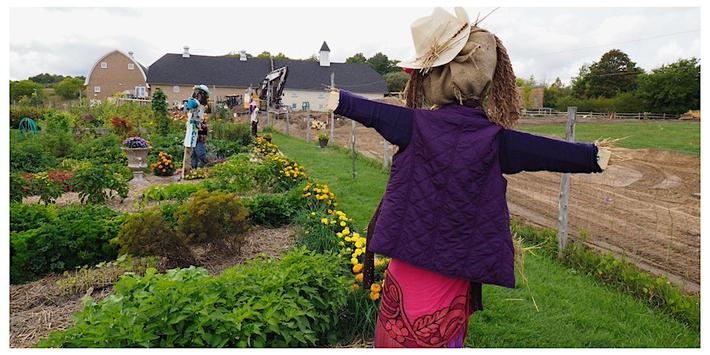 Scarecrow Szn
It may not be "spooky szn" (as the kids call it) just yet, but it does seem like it might be scarecrow szn. Th...
Read More >>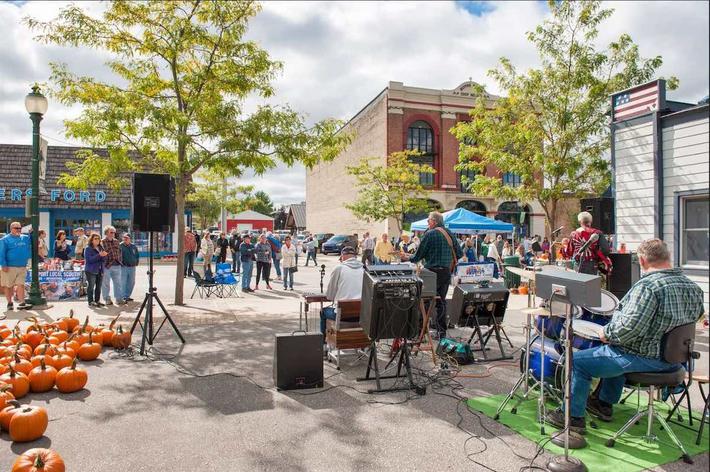 Celebrate the Harvest in Boyne City
Welcome to the season of harvest festivals! The days are getting shorter, the nights (and days) cooler, and it's tim...
Read More >>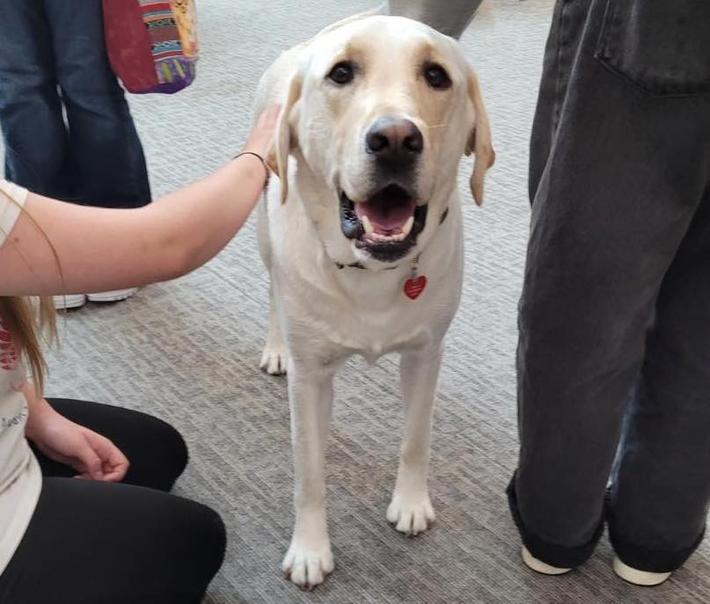 Pups on Campus
Traverse City West Senior High has brought on a very good boy as their newest staff member for the 2023-24 school year. Me...
Read More >>