Florence via Leelanau
Experience Bella Fortuna
What do you do when you travel and end up falling in love with a place? If you're Dr. Jane Fortune and Dr. Robert Hesse, you do your best to bring that sense of place right back home with you.
ARTS AND CULTURE
Fortune and Hesse, who were together for 26 years before Dr. Hesse passed away at the end of 2016, had traveled frequently to Italy, and were also longtime advocates of the arts.
Among their projects were the Joffrey Ballet, for which Hesse was executive director; the Indianapolis City Ballet, which the couple founded together; and a quest by Fortune to rescue the artworks of female artists that were trapped in storage in museums across Florence, Italy. (That quest was later turned into a book and a PBS documentary special.)

Perhaps it's not surprising that a couple who devoted their work to perpetuating art and culture developed a love for the food they tasted along the way. It was Florentine food, in particular, and the culture surrounding it, however, that spurred the idea for another project near their summer home in northern Michigan, the restaurant Bella Fortuna.
"The owners really wanted to reproduce the dining and cultural experiences that they had over in Italy, and bring those back to Lake Leelanau," said the restaurant's manager, Katie Sharpe.
Bella Fortuna opened in 2012; Dr. Hesse's half of this labor of love still lives on with Dr. Fortune right in the heart of Leelanau County at this seasonal dining destination.

DINE LIKE A FLORENTINE
Open from Memorial Day to mid-October, Bella Fortuna invites their dinner guests to "dine like a Florentine." Florentine cuisine is considered to be one of the most sophisticated in Europe, as it combines both delicate and hearty flavors and approaches them with a "slow-food" method, meaning you take your time dining so as not to rush the experience.

Located in an historic building that includes a Belgian mahogany bar dating back to the late 1800s, the restaurant's interior space includes a fireplace and comfortable seating, plus two banquet rooms for private events and a beautiful landscaped terrace for outdoor meals.

There's a traditional Italian bocce ball court so you can enjoy a refined game or two before your meal. And near the restaurant's entrance, you can even purchase Italian pottery.

"Our guests say that being here is like walking into a little piece of Italy," said Sharpe. "They say that it really captures that Italian feel, especially out on the terrazza [terrace]."

CENTURIES OF CHEFS
What the environment doesn't replicate, the food certainly does, seasoned by herbs from the restaurant's own herb garden, and overseen by Chef Mario Deruda, who hails from Sardinia, Italy.

"Every region in Italy has a particular cuisine and a particular way that they use food," Deruda explained.

"Many of the villages were isolated from each other for centuries, so they developed food specialties based on what ingredients were available in their own villages. So Tuscan cuisine — while you might see similar dishes from other regions — is very much its own thing."
Two of the most popular dishes at Bella Fortuna involve pasta — namely, their fresh fettuccini and potato gnocchi.

"Both are made right here, fresh. You can't do much better than that!" Sharpe said. "We even have guests who come in for the pasta once a week like clockwork once we're open, because they can't get pasta that fresh anywhere else out here in the winter."

LEISURELY DINNERS
The fettuccini — Salvia e Zucchini — is served with parmesan cheese, pressed sage, and zucchini; the gnocchi is available with either pomodoro (tomato) sauce or a gorgonzola cheese sauce. Another popular dish is their Vitello al Tartufo, a savory veal scaloppini.
For appetizers, Sharpe recommends the summer flavors of Proscuitto E Melone, seasonal melon topped with Italian cured meats, or the calamari served with marinara sauce and lemon.

"It's the best around, just very lightly flash-fried," said Sharpe.

Desserts include house-made tiramisu and chocolate flourless cake. And the restaurant also offers a full wine cellar that includes wines from their own vineyards — one in Leland and one, of course, in Florence, Italy.

The best way to enjoy all of the above, is, of course, to do as they would do in Florence, so take a tip from the staff, and plan out a good long visit to Bella Fortuna for your dinner.

"When you dine like a Florentine, you dine course to course," explained Sharpe. "So while you can order single dishes, the best way to experience this particular way of dining is to eat all of the courses in order: appetizer, salad, pasta, and then an entrée. Pasta is not generally an entrée in Italy, so your entrée is actually your protein, like chicken or veal."

And then, of course, in true Italian style, you must enjoy one of those desserts.

$$$ Bella Fortuna restaurant is located at 104 W. Main St., in Lake Leelanau (just south of M-204). Dinner hours are 5pm to 9pm Monday through Saturday. bellafortunarestaurant.com, (231) 994-2400.
Trending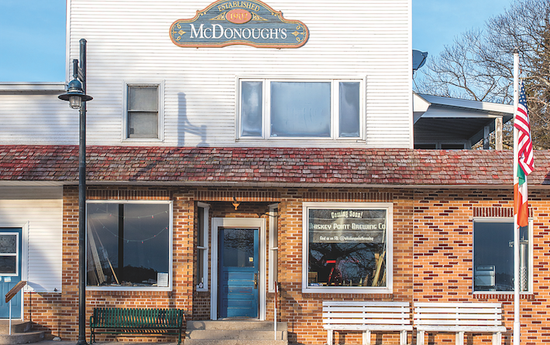 Welcome to Michigan's Most Remote Brewery
After years of planning and honing his beer-making skills, this spring, Patrick McGinnity plans to open Beaver Island's first microbrewery. Opening a craft brewery is challenging. Opening one on a remote island in Lake Michigan that's either a 15-minute plane ride or a two-and-a-half-hour ferry ride from ...
Read More >>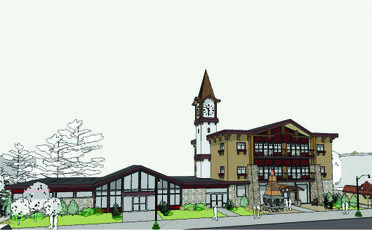 Gaylord: A boomtown Up North
Gaylord native Gary Scott had moved to Indiana, where he and some partners started a business to invest in distressed properties. He was talking to a banker in Detroit about real estate in Bloomington when he asked what kind of deals might be available in northern Michigan. ...
Read More >>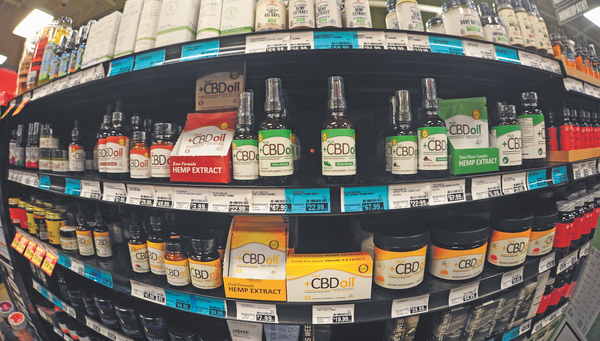 CBD Laws: Dazed and Confused
The sign outside of Family Video in Kalkaska lets drivers know the store has more than just movies. The sign reads: "CBD PRODUCTS NOW AVAILABLE HERE! CHECK IT OUT." CBD is short for cannabidiol, a kind of chemical compound that occurs naturally in hemp and marijuana plants, but does ...
Read More >>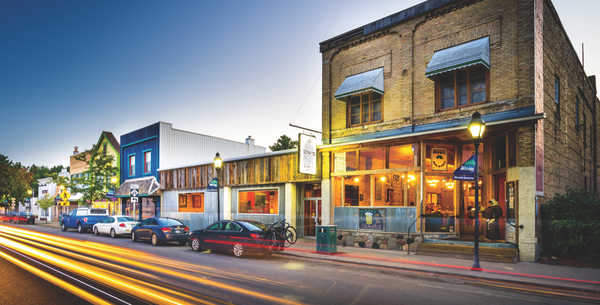 Small Up North Towns on the Rise
Spotlight on Bellaire (pictured)Seems Traverse City isn't the only place in the region making those "Best of" lists. The Antrim County hamlet of Bellaire was recently named to the list of Best Lakeside Towns in the U.S. by Country Living Magazine, alongside the likes of Vergennes, Vermont, Greenville, ...
Read More >>
↑