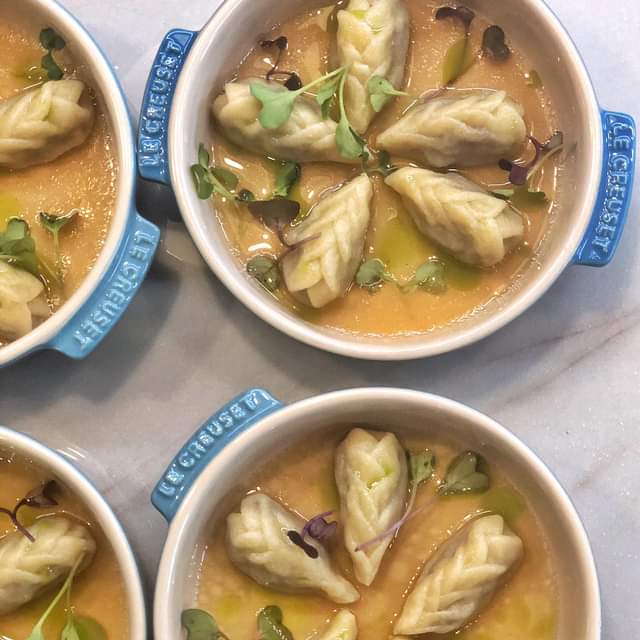 Forrest – A Food Studio
A couple redefining the art of cuisine and partnership in Traverse City
Everyone knows what an artist's studio is, but what about a food studio? For Forrest and Nicole Moline, it's a creative hub for the culinary arts. Swap out paintbrushes, canvas, and a gallery showroom for chef's knives, a stove, and a dining room, and you have the same concept — only with different mediums and materials.
Continuing that analogy, just as an artist's studio can be home to various art forms, Forrest – A Food Studio offers a variety of enticing options in the realm of food (and drink). "We started our business with private chef services but quickly adapted to cooking a wide range of menus and accommodating many different dining and dietary requests with an expanded palette of unique, personal, and memorable culinary experiences," says Nicole.
Among these experiences, Forrest and Nicole just announced the return of Friday and Saturday dinners to the Food Studio, beginning this New Year's Eve (see sidebar). And on Thursday nights, they will continue to host walk-in guests for small plates and wine pairings. They also manage their own in-house natural and organic wine shop from noon to 6pm Tuesday through Saturday, take carry-out orders for Forrest's house-made pasta, and they still have a high demand for their private chef services. And through it all, these hard-working and talented young entrepreneurs exude calmness, efficiency, and genuine warmth.
Forrest, originally from Southern California, and Nicole, who grew up in Midland, met 15 years ago when they were both living in Cleveland. "I was finishing my MS in nutrition and dietetics at Case Western Reserve University, and Forrest was cooking at three different local restaurants," says Nicole. "We lived in the same neighborhood for about a year, but we had never met because we had very different schedules. Then one day, we crossed paths at a local wine bar, and Forrest offered to come over to my apartment to cook for me sometime. We've been married now for nine years, and we still share the same passion for great food, culinary adventures, and hospitality!"
Nicole spent the majority of her post-college career working for start-up wellness companies that were later acquired by large corporations before moving to Traverse City, where the two launched Forrest – A Food Studio in 2019.

A TRUE PARTNERSHIP
While the business bears its chef's name, Forrest will be first to tell you none of its multiple facets would be possible without Nicole. "As a former senior manager of operations at a Fortune 500 company, she brings invaluable expertise in accounting, organized scheduling, customer service, and corporate management to the table," he says.
While Nicole does help with some tasks in the kitchen, she primarily drives the business side of the Studio and leaves the cooking to her husband, the chef. "We have very different strengths and skills, so there is a clear and easy definition of roles and responsibilities," she says.
Among his long list of culinary credits, Forrest has worked with Iron Chef Michael Symon in two of his restaurants, as well as with renowned Detroit chef/restaurateur and James Beard Award-nominated cookbook author Brian Polcyn. Forrest describes his style of cooking as seasonal with an innovative Californian influence and says he especially enjoys creating sauces, cooking fresh fish, and making pasta from scratch.
A sampling of recent and upcoming Thursday small plates offers a glimpse into the kind of food that one can expect to come out of Forrest's kitchen. Each month's menu always includes a meat dish, a fish or seafood dish, a pasta dish, and a vegetable dish. November featured beef short rib with ricotta gnocchi, truffle jus and chives; crab and avocado toast with garlic focaccia, artichoke, spinach, lemon, and basil; buttercup squash agnolotti with burnt cream, lemon and pine nut crumble; and a medley of Second Spring Farm cauliflower, roasted, pickled and pureed, with zhug sauce, seeded crackers, and microgreens.

For December the menu will be a grass-fed beef cutlet from Up North Heritage Farm, with green peppercorn sauce and pickled chili; black cod with parsnip, roasted mushroom, and Blis Sherry; ricotta agnolotti with veggie Bolognese sauce; and rutabaga with poached pear, gingered yogurt, and fresh herbs.
FROM THERE TO HERE
"Nicole and I always had the intention to open some sort of food business," says Forrest, "and when we moved here, we saw this building and said, 'Someday we're going to have that space.'" Their vision came to life in March 2019, when it finally came up for sale. The couple began renovations immediately – doing almost all of the work themselves.

"From the start, we knew we wanted the Food Studio to feel like home, both for us and our guests," says Nicole. "A place that would allow Forrest to have a safe and healthy environment to dream, practice, and create masterpieces, and a place for our guests to feel welcome and comfortable." The kitchen — like any commercial kitchen only insofar as it meets all health code and safety requirements — boasts a large storage island with a marbled quartz prep countertop, white subway tile walls, colorful Spanish-tiled floors, and a show-stopping Blue Star gas range with bright red oven doors. The same homelike aesthetic extends to the dining room, with its warm wood-grained floors, white beadboard and shiplap accents, mismatched upholstered dining chairs, and custom live-edge tables made by Steel Appeal in Empire (who also made the unique sinks in the guest bathrooms).
The grand opening of Forrest – A Food Studio took place on November 1, 2019. Then, just a few months into 2020, the pandemic hit. "Luckily, the size of our operation was kind of a silver lining because we cater to small groups," says Forrest. "We had a flood of requests for small private gatherings in people's homes – they felt safe there and really appreciated having the restaurant come to them. And we felt comfortable doing that, since we're both certified in safety and sanitation, and we, of course, wear masks."

Offering a wide variety of carryout, ready-to-heat meals also helped pay the bills during that first year, as did opening the wine shop sooner than planned. And 2021 has been a very successful year for Forrest – A Food Studio, according to its owners, who are more convinced than ever that they are right where they were meant to be.
"We love working together," says Nicole. "For the first part of our relationship, Forrest worked long hours in fine dining kitchens — including nights, weekends, and holidays — and I had the polar-opposite schedule with my Monday through Friday, 9-to-5 corporate job. Now, in this new line of work and being small business owners, we enjoy all the time we get to spend together and the flexibility to make our own hours. Unlike most start-up companies that are looking to scale up, grow, and expand, we want to just keep doing what we're doing in this wonderful space, serving the freshest, highest quality food and interesting wines we can, all while providing a fun and enjoyable dining experience for our guests."
Find Forrest – A Food Studio at 408 S. Union St. in Traverse City. For more information, including weekend dinner reservations, booking a private in-home dinner or other off-site events, or ordering wine or pasta for pickup, visit forrestafoodstudio.com. You can also find them on Facebook and Instagram.

WEEKEND DINNERS ARE BACK!
Beginning New Year's Eve, weekend dinners (Fridays and Saturdays) are returning to Forrest – A Food Studio. Reservations are required and will open one month in advance for the following month. January reservations will go live on forrestafoodstudio.com starting Wednesday, Dec. 1, with the first reservation actually being for the Friday, Dec. 31, New Year's Eve dinner. Check the website and social media for upcoming details, including menus.
Trending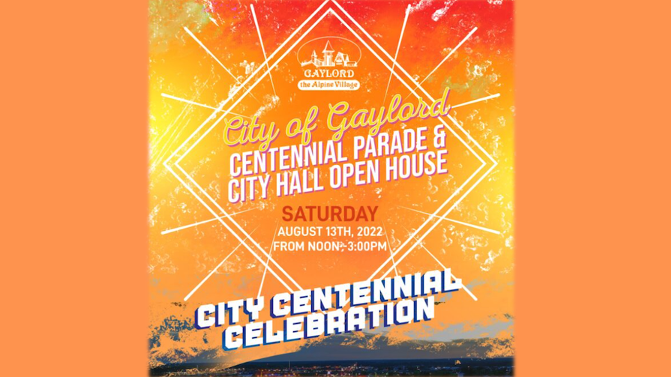 Centennial Celebration in Gaylord
The City of Gaylord is celebrating 100 years this weekend with a parade and City Hall open house. This celebration, just s...
Read More >>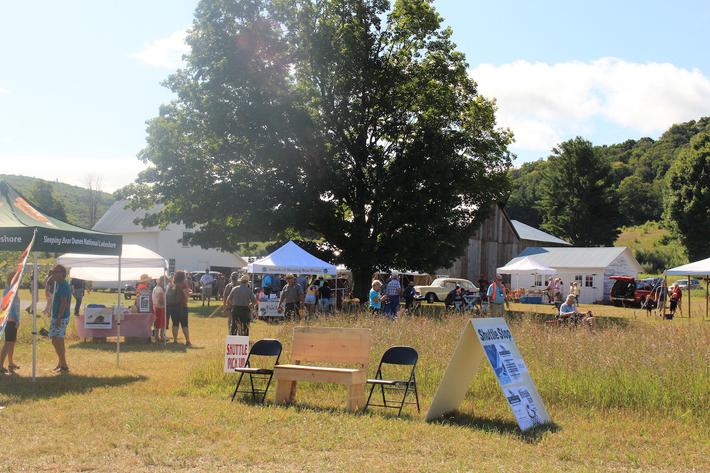 Life in the 1800s Comes Alive at Port Oneida Fair
Head to the Port Oneida Fair in the Rural Historic District of Sleeping Bear Dunes National Lakeshore to experience life a...
Read More >>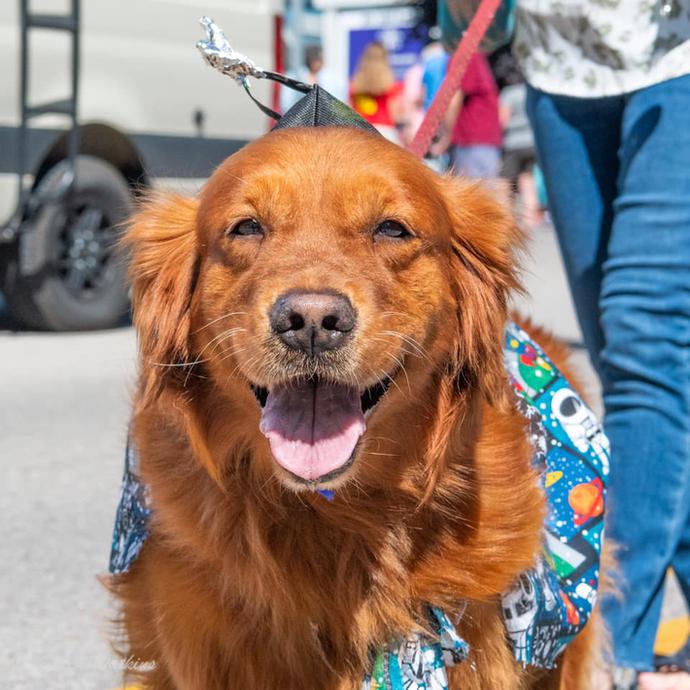 A Dog and Human Show: The Northport Dog Parade
We have three words for you: Northport Dog Parade. (If you really need more information than that, we suppose you can read...
Read More >>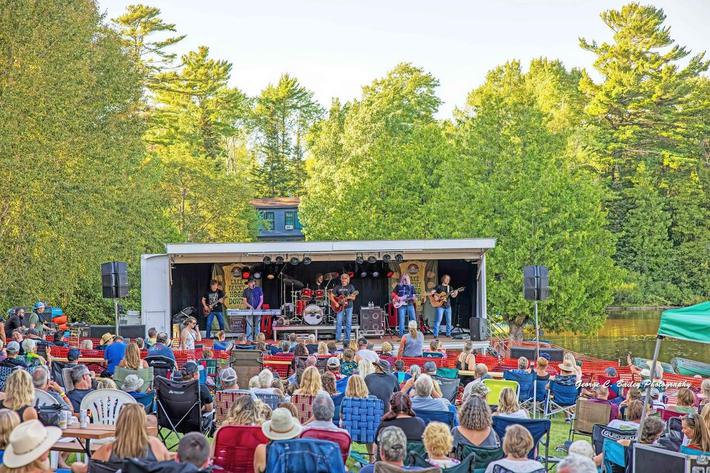 Following the Music
We wish we had infinite room in our Dates and Nitelife sections to alert you to every live music show in northern Michigan...
Read More >>