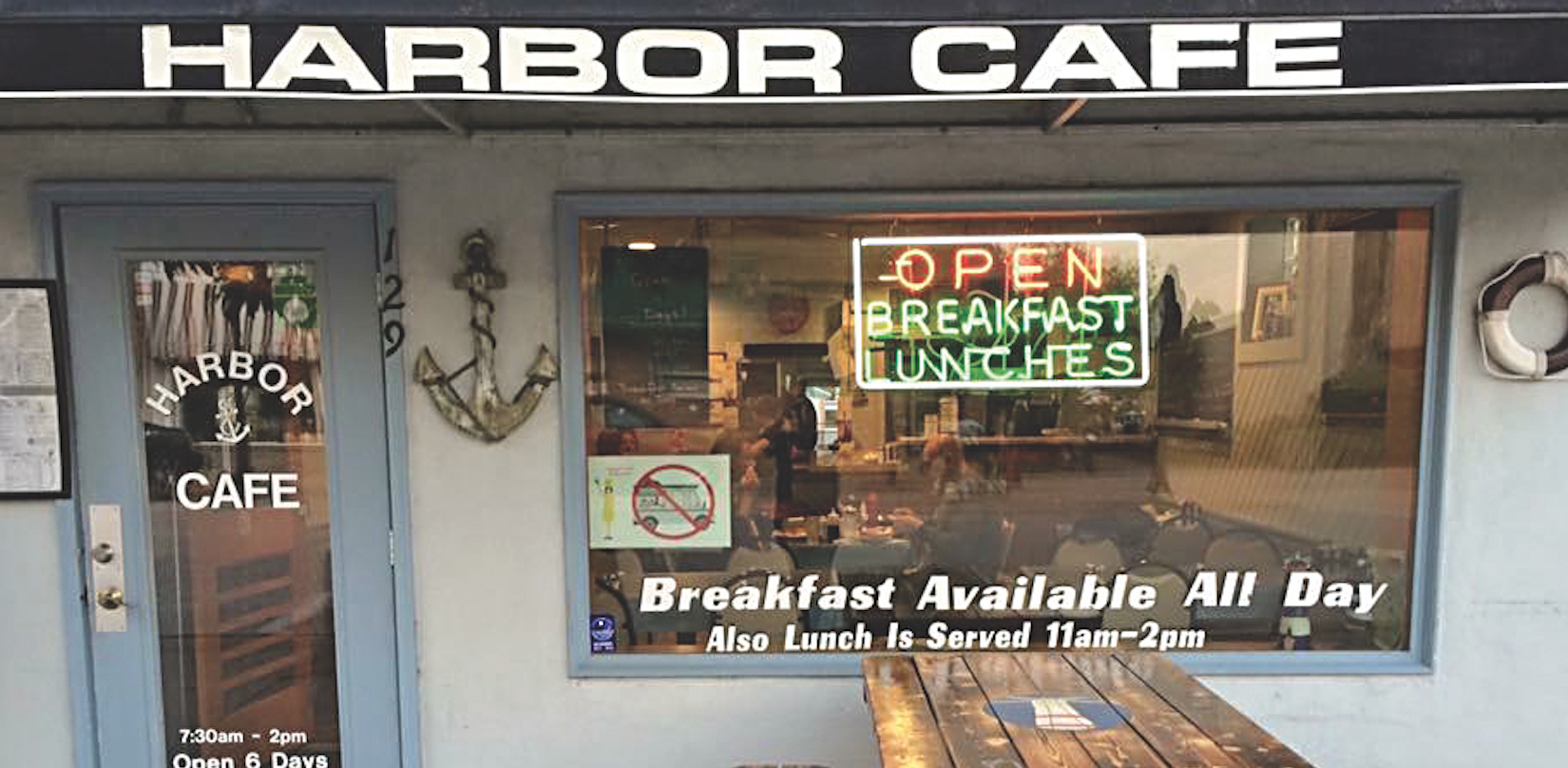 Harbor Cafe
Kay Clark may not have had any restaurant experience, nor had she ever aspired to work in a restaurant[1] , but she certainly had the hospitality aspect down pat when, in 2011, she took the bold step of buying the Harbor Café, which had been shuttered for a number of years. She did it, she explained, simply because she wanted her son, Chad, to have a place to cook.
"It's all he's ever done or wanted to do since he was 14 years old. He has worked in everything from pizza places — you should see him throw pizza dough — to high-end dining establishments, and he's good at it. So when this place came up for sale, I said, 'OK, let's try it,' and it has worked out well."

The third member of the team is Kay's daughter, Kelly, who is the head server at the café. She was the one originally responsible for luring her mother and brother from the family's hometown, near Mt. Clemens, to Elk Rapids, where she had taken up residence several years before.
THEN AND NOW
There is history in this little building tucked into the middle of River Street. Built in 1948, it started out as the unimaginatively dubbed White Front Café. ("Because of the white front outside," Kay explained with a wry smile.) It wasn't until 1987, when a new owner took it over, that it was reborn as the Harbor Café. Keeping that more appealing and descriptive name when she bought it (the actual Elk Rapids harbor and marina are just across the street and a block down the road), Kay chose a nautical theme for the logo, exterior, and interior. An anchor and a life ring hang outside, and large photos of northern Michigan sailboats and lighthouses — gifted to the family by customers — line the walls of the dining room, along with other boating memorabilia and handmade items from area friends and patrons.

"There are so many wonderful people around here," said Kay. "They just give you things because they like this place — they don't want anything in return."
In addition to a very loyal local clientele, tourists just passing through on their way to somewhere else often eat here for the first time and say "We'll be back." And, confirmed Kay, they do keep coming back, every year. Boaters from the marina are regular customers in the summer.

"They come up here early in the morning and have their breakfast, and then go back down to their boats and take off somewhere for the day," she said. But other customers keep up a steady flow of traffic to the café after that. "Sometimes it's so busy here in summer, it looks like a carnival line outside waiting to get in! On a busy day, we serve about 300 people between 7:30 and 2:00. It's crazy, but it's awesome. My son is a very fast cook, so we we're able to turn the tables with no problem. But this space is so little (it seats only 25–30 people, cozily) — I wish it were just five feet wider! People ask us, 'Why don't you buy the place next door and expand?' but I tell them, 'We can hardly staff this place now in the summer, and we're open seven days a week — we can't expand!'" (To which Kelly piped in, "I keep telling you, Mom, you should have had 10 more kids!")
Two picnic tables on the sidewalk out front provide extra seating during the busiest months, "and It's 'dog-friendly' dining out there, too," said Kay, herself a dog lover and owner of two dachshunds.
BREAKFAST: A BIG DEAL
Fast, friendly service is one reason for the Harbor Café's popularity, but in the end, it all comes down to the food. And for such a small place with a relatively small menu, there are some items, especially in the breakfast category, that you won't find at just any morning eatery. To begin with, the Cinnamon Swirl Pancakes are a must-try. You think they can't possibly taste as good as they look, but they actually taste even better. Then there's the Blueberries-N-Cream Stuffed French Toast. "And in the summer, when the sweet cherries come on, I have a local farmer who brings them to me, and we do a Cherries-N-Cream Stuffed French Toast," said Kay. "That goes over very well. People will ask me weeks before, 'Are they in yet? Are they in yet?'" Other French toast options include Peanut Butter and Banana or Peanut Butter and Jelly versions, both of which are huge favorites with not only children but also plenty of adults.
In the savory department, the Reuben Omelette (corned beef, sauerkraut, Swiss cheese and Thousand Island dressing) is one of the big sellers. "When we started making that, Kelly said, 'I don't want sauerkraut in my eggs!'" recalled Kay. And now? "It's my favorite thing on the menu," admitted Kelly.
There's also a Bacon Cheeseburger Omelette (ground beef, onion, tomato, bacon, cheddar cheese, mustard, ketchup and pickle) that has its own legion of fans, as does Kay's legendary Cherry Cactus Chili. The latter appears every so often as a special ("I make it whenever I feel like it," said Kay), and is a combination of cactus, dried cherries, ground beef, beans, and corn. A couple of current specials — which, based on popular demand may eventually land them on the regular menu — are the Breakfast Burger (topped with bacon, cheddar, hash browns and an over-medium egg) and the country-fried steak or chicken.

"With that one you've got two eggs, hash browns and toast, and it's covered with gravy," said Kay. "People really like it."
WE ARE FAMILY
Breakfast is often the choice for lunch at the Harbor Café (especially for kids, for whom smaller portions of several menu items can be ordered ), but for those with a hankering for a burger, sandwich, or salad, the lunch menu offers some solid choices too — one perhaps more "solid" than the others: the aptly named Hometown Hearty Burger, featuring not one but two half-pound ground beef patties, cheese, bacon, lettuce, tomato, and mayo, served with fries and pickle chips. You won't leave hungry!
The Harbor Café team is particularly choosy about their bread (from Grand Traverse Bakery in Williamsburg). "I always think you need a better bread for toast and sandwiches, and they do a good job," said Kay.

Coffee (from Cadillac Coffee Company in Troy) is another item that is taken seriously. Kelly makes sure it's freshly brewed, right up until the end of service: "We're a breakfast place — we have to have good, fresh coffee!" And true to the casual atmosphere here, it's served in chunky retro-style creamy-white mugs like those from diners of yesteryear.
The banter back and forth between Kay and her kids before, during, and after service is easy, fun and lighthearted, even when the café is especially busy. They work well together, with everybody chipping in wherever needed. "It's great that I can work with Kelly and Chad," said Kay. And it's obvious that her son and daughter feel the same way about her.
The Harbor Café is located at 129 River Street in Elk Rapids, (231) 264-8700. For more information, visit them on Facebook or go to http://harborcafeelkrapids.weebly.com/. $
PAYING IT FORWARD
"We can only seat about 25 to 30 people in the dining room," said Harbor Café owner Kay Clark, "but we move the tables and chairs around into different configurations to fit different groups' needs. And we have the greatest customers — people will be standing in the vestibule waiting for a table, and someone already seated will call out to them, 'We're almost finished!' or 'You can sit with us if you want to!'" She pointed out yet another example of how generous and welcoming her clientele is: "Since the beginning, we have been 'paying it forward.' If someone comes in who looks like they're struggling, we give them a free meal. If they're hesitant to accept, we tell them, 'Just go out and do something nice for your neighbor or somebody else.'
"This idea has really taken root over the years. Often, customers will just give us money now and tell us, 'Here, put this in your pay it forward fund.' Or someone will say, 'I want to pay for that table,' or 'I want to pay for his (or her) meal.' It happens a lot, and it's like a ripple effect — when people hear about it, or see it happening, they want to get involved, too." Appropriately, a hand-lettered wooden sign leaning up against a glass block side window in the café pretty much sums up the atmosphere here: "Harbor Café, where friends meet and nobody is a stranger."

[1]
Trending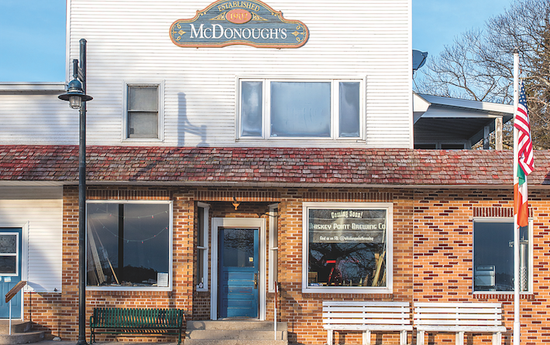 Welcome to Michigan's Most Remote Brewery
After years of planning and honing his beer-making skills, this spring, Patrick McGinnity plans to open Beaver Island&rsqu...
Read More >>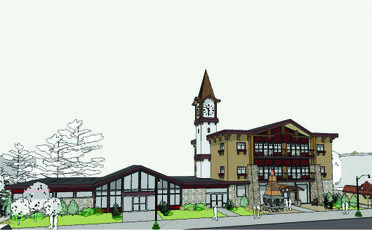 Gaylord: A boomtown Up North
Gaylord native Gary Scott had moved to Indiana, where he and some partners started a business to invest in distressed prop...
Read More >>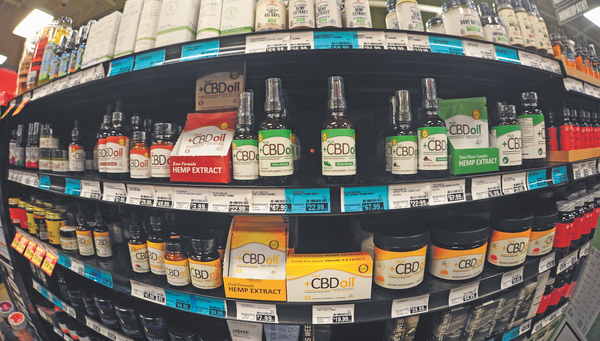 CBD Laws: Dazed and Confused
The sign outside of Family Video in Kalkaska lets drivers know the store has more than just movies. The sign reads: &...
Read More >>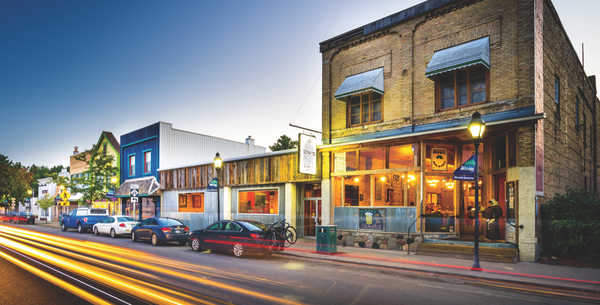 Small Up North Towns on the Rise
Spotlight on Bellaire (pictured)Seems Traverse City isn't the only place in the region making those "Best...
Read More >>
↑