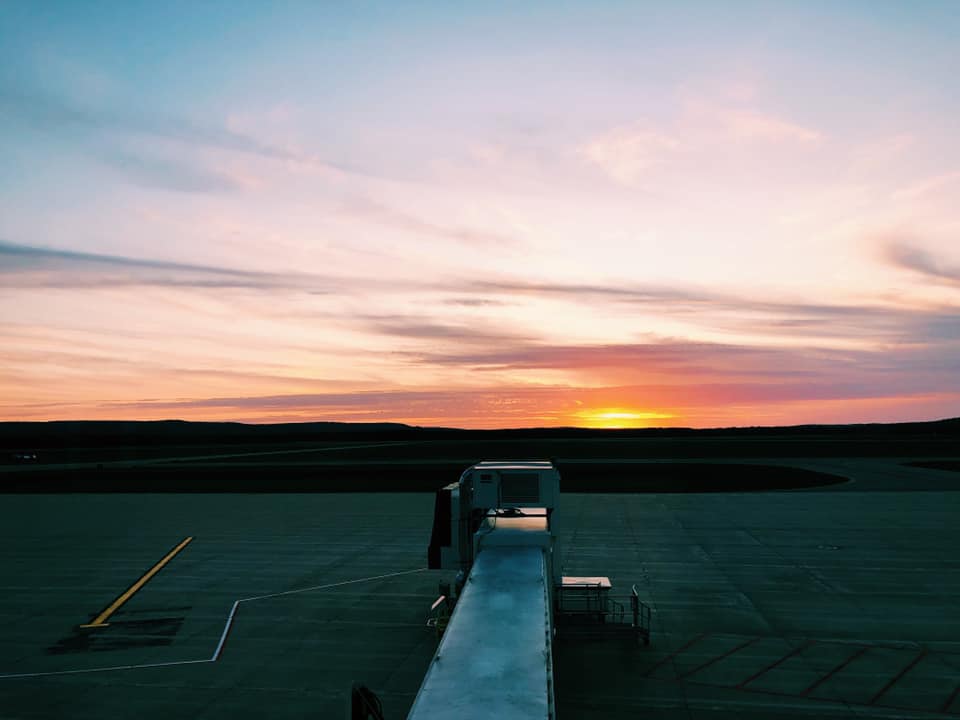 Hoppies Landing
First-class Food with a Bird's-eye View
By Eric Cox | March 20, 2021
Few restaurants offer expansive views of airport runways, but Hoppie's Landing at Pellston Regional Airport does. While there isn't big-city stream of takeoffs and landings to watch from this elevated airport eatery, there are enough to entertain aviation fans, stunning sunset views out the windows — and reasonably priced food and drinks with wings of their own.
Tiny Pellston, situated on U.S. 31 between Mackinaw City and Petoskey, is billed as the "icebox" of Michigan, consistently logging the coldest average temps in the state — yes, Upper Peninsula included.
IN THE MAIN CABIN
Perhaps that's why Hoppie's Landing — a sister to Hoppie's Tavern, on the northeast side of Burt Lake — feels so warm and cozy inside. The airport itself is lodge-style, a study in soothing knotty pine. In the terminal's main lobby, a menagerie of taxidermied local fauna greet those who arrive and depart daily to Detroit Metropolitan Airport via Delta Airlines, as well as private aircraft. Deer, bear, fish, beavers, and more oversee the human traffic hauling luggage to and fro.

Ascending a massive white cedar staircase (an elevator is also available), one arrives on the airport's second floor, where pinewood and comfortable furniture meet massive windows on the terminal's observation deck, which overlook the runways and the woods beyond.
Hoppie's Landing is also up there, sunshine pouring through its gaping glass portals, illuminating this large restaurant, capable of seating nearly 200 when unrestricted. Aside from the wide-angle views, Hoppie's feels like a super clean sports bar/restaurant with its multiple high-def TVs, old-school shuffleboard game, and Pellston High School sports memorabilia on display.
JUMBO MENU LINER
One might expect a limited menu at an eatery inside a small local airport. But Hoppie's Landing surprises with an array of offerings, including burgers and pizza, grinders, seafood, pasta, planked whitefish and salmon, ribeye steaks, a solid roster of appetizers, and more.

Hoppie's Chips and Salsa ($4.99; $6.49 with nacho cheese ) was our first selection — a satisfyingly salty and crisp basket of red and white corn chips served with a bowl of thick, savory salsa — excellent with a cold beer.
For lunch, we opted for the Daily Cod Special ($9.99) paired with an Alaskan Amber Ale, and the Smokehouse Burger ($10.75) with Sweet Potato Fries and a Cheboygan Brewing Co. Blood Orange Honey.
The cod came in three large, tennis ball-size chunks that were perfectly deep-fried and accompanied by a small portion of Hoppie's tartar sauce and a lemon wedge. Cracking one crispy nugget open, a small cloud of steam arose from the flaky white meat within. Golden brown and crunchy on the outside, these hunks of meat were tender and tasty throughout, each one disappearing quicker than the first.
Alongside the fish was a hearty side of homemade kettle chips. Some restaurants let these thick potato slices sit around too long, resulting in a chip that's just too hard and crunchy. Hoppie's does it right, serving still-warm, pleasantly crispy, and lightly salted kettle chips that pair well with the fish.
Hoppie's Landing also features maple-planked whitefish and salmon as well as perch and shrimp offerings.
In terms of hamburgers, Hoppie's Smokehouse Burger did not disappoint. The 1/3-pound patty was cooked precisely how it was ordered, and it fit perfectly on its caramelized bun. Topped with Plath's bacon, pepper jack cheese, and tangy barbecue sauce, the Smokehouse makes a great lunch or dinner. The crisped edges of the beef patty harmonize with that sauce and melted cheese, and the delicious, meaty bacon brings it all home.
Usually served with the aforementioned housemade kettle chips and a pickle, we substituted the Sweet Potato Fries for the chips. This proved to be an excellent but filling choice, as "fries" are a bit of a misnomer for these massive potato wedges. This side item is enough for two people. However, there's no mistaking that these crispy and colorful sweet potatoes pair really well with the very savory Smokehouse Burger.
SPIRITS IN THE SKY
In terms of libations, Hoppie's Landing has a plethora of offerings, including a modest wine list and some tasty signature cocktails.
A must-try: The Ice Box Martini, which plays on Pellston's reputation as Michigan's coldest town. Vodka and blue Curacao turn this concoction a cool shade while lemon juice and Sprite add sparks and hint at the coming spring.
Another of Hoppie's interesting cocktails is the Ginger Pomegranate Margarita, which features a belly-warming combination of Tequila, Triple Sec, pomegranate juice, ginger syrup, and lime, served on ice.
As we finished our meals and drinks, we watched a Delta commuter jet finish boarding and taxi out to the runway. A few minutes later, its twin turbines roared and pushed the small aircraft into a cloudless March sky, its 90-minute push to Detroit just getting started.
A few other private airplanes came and went during our hour-long visit to Hoppie's Landing, and they say the airport is busier during the tourist season. But, regardless of how much air traffic we got to witness there, we still had a good, reasonably priced meal, as well as a friendly server and super clean environment.
Find Hoppies Landing inside the Pellston Airport at 1395 North U.S. 31. www.hoppieslanding.com, www.pellstonairport.org.
Trending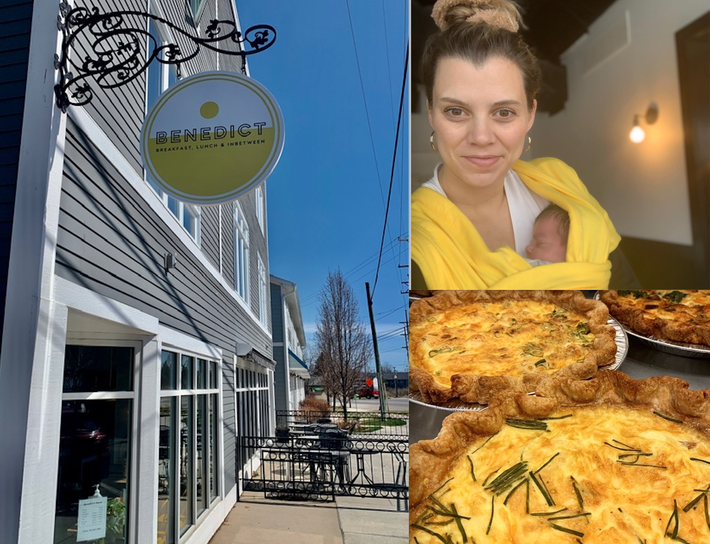 Benedict
No matter the weather, Traverse City's newest breakfast and lunch restaurant, Benedict, radiates a welcome as warm a...
Read More >>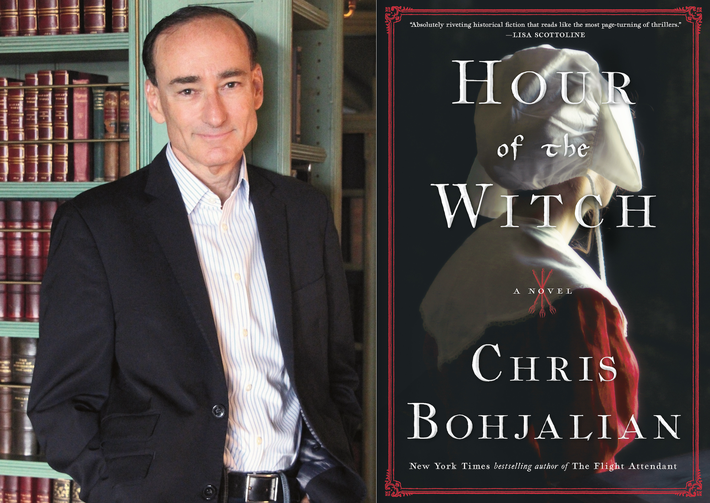 Sneak Peek: Chris Bohjalian to Talk with Locals Before Next Novel Drops
Award-winning author Chris Bohjalian is one of those people who was born to write. A schoolroom hobby-turned-carefully-hon...
Read More >>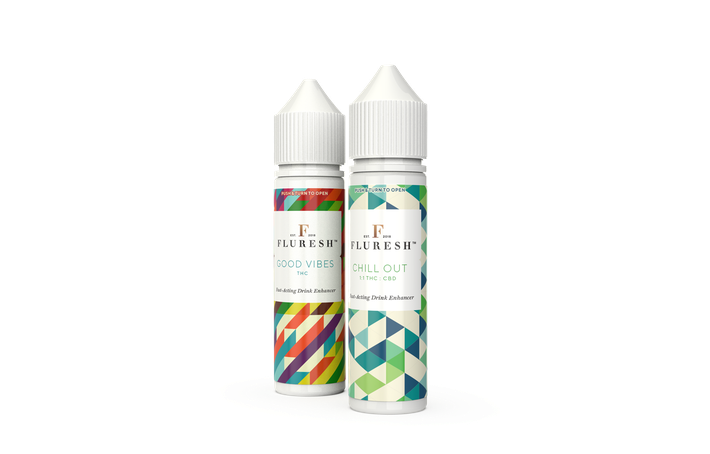 Eat, Drink, Rub: THC Products Review
Progress, thy name is marijuana. Despite what for any other industry would be major stumbling blocks — major disrup...
Read More >>
The DIY Lobotomy
"Did you read the review in The New Yorker of the new Philip Roth biography?" I asked my well-read conservativ...
Read More >>
↑