In Good Hands
Good Harbor Grill's next chapter
Way back when, Good Harbor Grill was founded on the basic idea of what owners and sailors Ann Derrick and Brendan Burrows looked for every time they made port: fresh and healthy food.
When Northern Express last profiled the restaurant in 2006, the couple had owned and operated the restaurant for 15 years. At that time, they worked the grill from May through September and then embarked for the Caribbean, where they spent the winter on their 30-year-old sailboat. They eventually added sons John and Josh to the crew, and in 2019, after decades at the helm of Good Harbor Grill, they sold the business to son John and longtime employee Cady Hall. We recently connected with the new team to catch up on their story.
A Change of Crew
John Burrows planned a career in computers, and his decision to take over the family business germinated over a number of years as he began to realize that his parents were getting ready to retire. Still, he says that he was a bit surprised by the seamless transition. "I know what can happen when a business changes hands, but we had a good team behind us," he says.
As the next generation, he has a new appreciation for the family business. "When I look back at what my parents built, the respect that I have for [them] now has grown."
Partner Cady Hall never imagined being an owner, but it seems that she was preparing for ownership without even realizing it. At 14, she started working in the family's Pine Cone ice cream shop next door. Soon she was bussing tables in the restaurant, then working as a server, and eventually in management. "I feel very lucky to be here and to help keep the place going," Hall says. "We work hard in the summer, and then in the off-season I can be a stay-at-home mom, so I feel very blessed."
We asked manager and dinner chef Kati Jackson what has stayed the same under the new ownership. "A lot!" she says. "That's the best thing about what's going on here. A lot of the original items are still on the menu." (When a menu stays consistent over generations and decades, it's a pretty good indication of longstanding quality!)
Feels like Home Port
From the outside looking in, Good Harbor Grill has the same maritime ambiance regulars know and love. (What is it about nautical blue? The fresh, vivid color just makes you feel good, especially when the skies and waters match.) A seasonal rotation of fresh flowers fills rough hewn boxes out front and inside, and nautical charts decorate the dining room. The place is small—only 50 seats—but the turnover is impressive. Hall indicates that during the busy season, Good Harbor Grill serves around 150 guests per meal.
Next door, the Pine Cone ice cream shop—Serving Ashby's Sterling: Michigan made, 14 percent milk fat, 70 flavors…yum!—shares space with Glen Arbor Bakery, the source for the restaurant's breads, including savory pepperoni garlic bread, plus fruit pies, bismarks, cherry coffee cake, and so much more.
Three Squares a Day
Frankly, based on the depth and breadth of the menu—and the proximity to excellent baked goods and ice cream—one could happily eat every meal at Good Harbor if so inclined. The choices are super fresh, locally sourced at every opportunity, and both classic and inventive.
We'll start with the most important meal of the day. The Good Harbor Combination is the perennial breakfast favorite with two fresh eggs, redskin potatoes, and choice of breakfast meat, with cracked wheat, rye, or sourdough toast. "It's very classic Good Harbor Grill [and] a very popular option," says Jackson.
Alternatively, dig into Eggs Benedict by way of the Chesapeake Bay: an authentic house-made Maryland crab cake anchoring a poached egg and fresh Hollandaise. (Choose a single or double helping.) Or try the Greek Hash: red potatoes sautéed with olives, spinach, onions, garlic, and tomatoes, topped with two eggs and feta cheese. Egg or Tofu Scrambles, omelets, griddle items, and build-your-own English Muffin are just some of the other choices.
The sandwich favorite, hands down, is the Turkey & Avocado: roasted fresh turkey breast with bacon, lettuce, tomato, avocado, purple onion, and mayo on cracked wheat loaf. A close second is the Mushroom Ham & Cheese, the Good Harbor version of grilled ham and Swiss on rye, elevated by the addition of sautéed onions and mushrooms. Vegetarians love the Portabella Wrap with herb-roasted mushrooms and summer vegetables, served in a tomato wrap with lettuce and gorgonzola cheese. Fresh soups (including the 40-ingredient Hearty Beef Chili) and salads are great lunch combos.
For the dinner hour, locally caught Good Harbor Whitefish, baked to its sweet and tender best, is topped with a choice of fresh herb butter or orange butter. Or level up to the Cherry Pecan version, with a breadcrumb crust of dried cherries, pecans, and spices. Also on the fish side, the parmesan-encrusted Lake Superior Walleye, baked golden brown, is another favorite.
International flavors include Thai, Indian, and Italian choices, and there are chicken, chops, and steak for the meat lovers, plus an ambitious array of vegetarian choices. Dinners come with a fresh, family-style salad for the table.
New to the dinner menu is a selection of starters and sides. Mussels in white wine, Shrimp Scampi, and Roasted Brussels Sprouts are just a few examples. And take a look at these nightly specials: seared sea scallops with mushroom goat cheese fritters and lemon cream; Thai BBQ braised short rib atop local veggies and kale; and Sauerbraten made with braised short rib and Brussels sprouts in a mushroom and red wine gravy served over spaetzle.
Chef Jackson is a big reader who studies cookbooks and stays abreast of culinary trends. "I like to change things up," she explains.
Add a dedicated, returning staff that truly considers itself a family, and Good Harbor Grill is set for continued smooth sailing.
Find Good Harbor Grill at 6584 Western Ave., Glen Arbor. Open daily May – November. goodharborgrill.com, (231) 334-3555. Visit them on Facebook for menu updates and special events.
Trending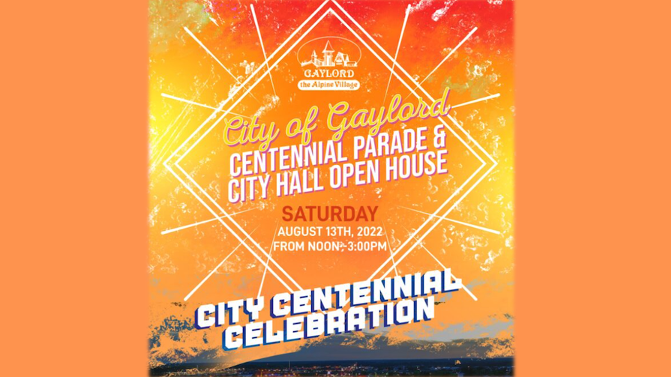 Centennial Celebration in Gaylord
The City of Gaylord is celebrating 100 years this weekend with a parade and City Hall open house. This celebration, just s...
Read More >>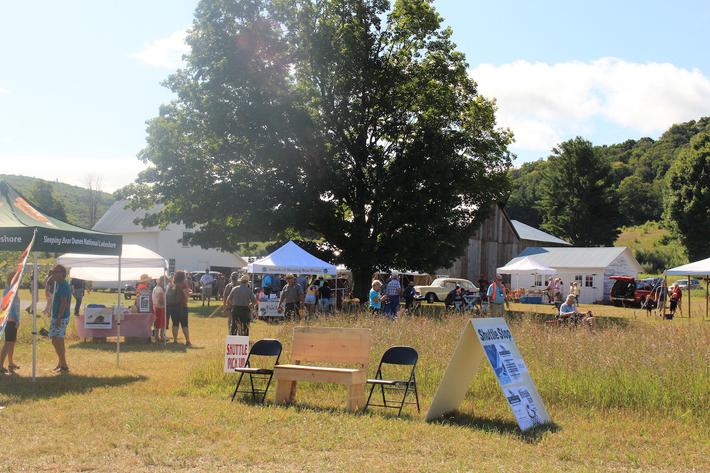 Life in the 1800s Comes Alive at Port Oneida Fair
Head to the Port Oneida Fair in the Rural Historic District of Sleeping Bear Dunes National Lakeshore to experience life a...
Read More >>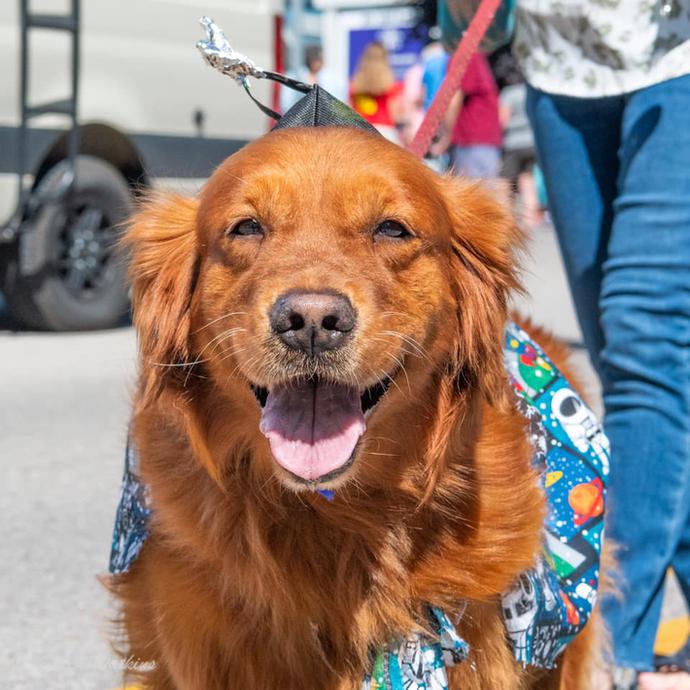 A Dog and Human Show: The Northport Dog Parade
We have three words for you: Northport Dog Parade. (If you really need more information than that, we suppose you can read...
Read More >>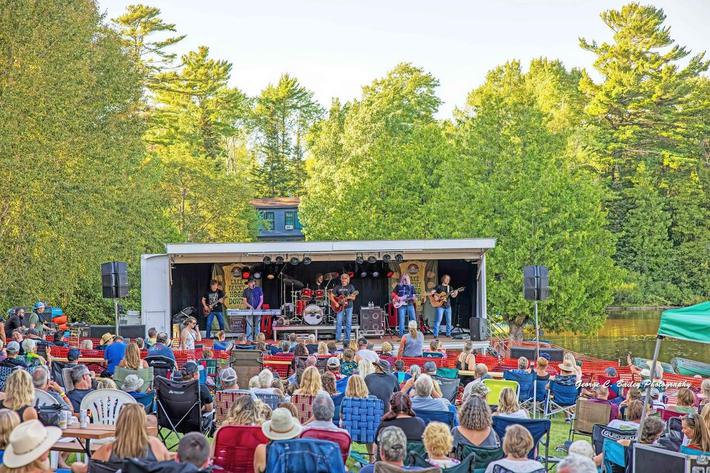 Following the Music
We wish we had infinite room in our Dates and Nitelife sections to alert you to every live music show in northern Michigan...
Read More >>