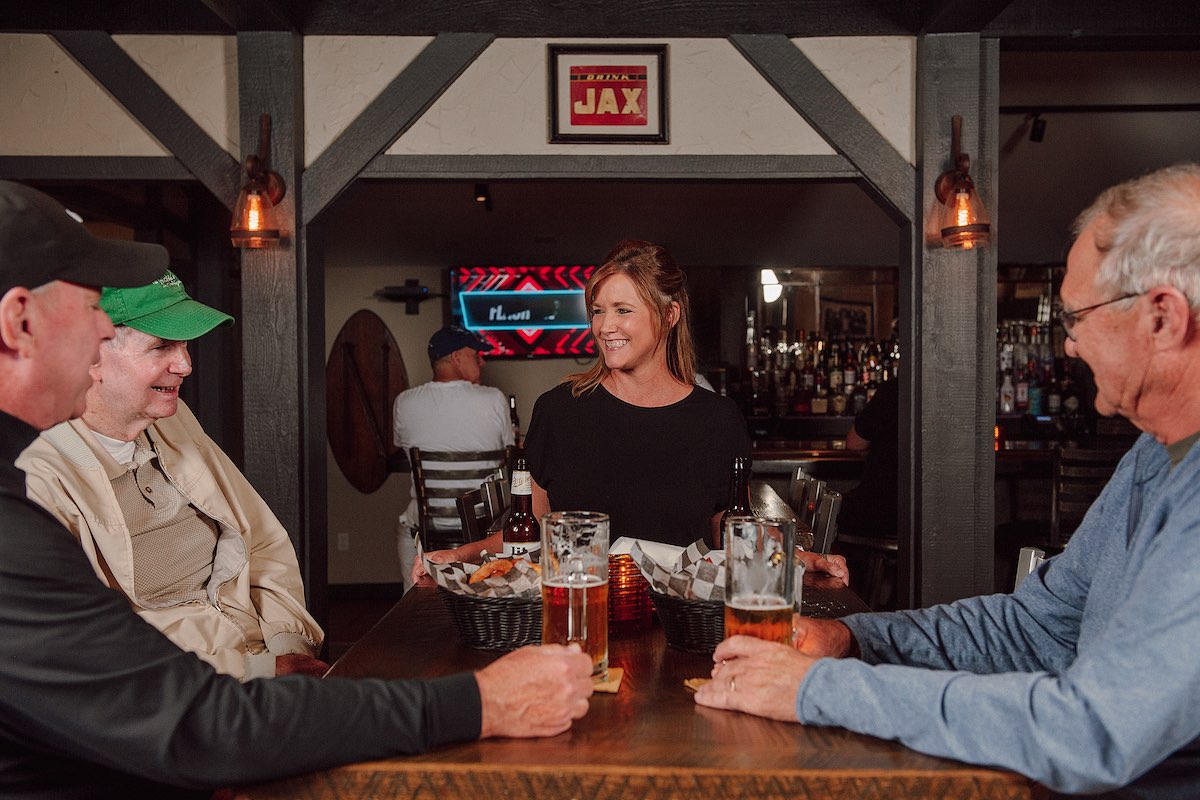 Keepin' a Good Thing Goin' at Jax
Jax Northside Food & Spirits joins the Wineguys family of restaurants
It's not every day a popular restaurant changes hands.
But that's been the case with Jax Northside Food & Spirits, a dining and drink destination in Charlevoix that's been around in various incarnations for decades and has been a go-to for year-round and seasonal residents, tourists, and golfers.
Jax's new owners are the Wineguys Restaurant Group, the umbrella name for the owners of popular Petoskey eateries including the City Park Grill, Palette Bistro, and Roast & Toast Coffee & Cafe. (The company also operates a catering business.) Jax, which overlooks the sixth green of the Charlevoix Municipal Golf Course on the north side of the Emmet County community, is the restaurant group's fourth establishment and its first outside Petoskey.
The restaurant appealed to the Wineguys for several reasons, including its location and the stewardship of the previous owners, who had taken good care of the building and had developed a great staff.
"It was a bit of a new community for us, and this presented an opportunity for us to be more involved in that community," says Joe Keedy, a partner in the Wineguys Restaurant Group and general manager of Palette Bistro, noting the company's catering division has been catering wedding and events in Charlevoix for a long time. "It really made a lot of sense for us."
He says the transition to new ownership was seamless; a few menu changes were made, but no physical improvements were needed. Most staff remained onboard as well. Keedy adds that the restaurant's loyal customer base has been welcoming and positive, and the change of ownership has attracted new customers, too.
Customer Commitment
The restaurant has been around since 2017, when Patty and Jack Strand purchased the business and made the eatery a local favorite. The building began its decades-long run as a restaurant in 1965 and has operated under other names and owners. The location's past also includes stints as an indoor roller rink (with a smooth white maple floor) and Moonlight Gardens, a dining and dancing venue.
In selling Jax Northside, the previous owners wanted a buyer who would understand and maintain their vision. "We were looking for a smooth transition that would be supportive of the loyal customer base we had developed over the years," Patty Strand explained in a press release. "The Wineguys Restaurant Group was the right fit."
That right fit includes maintaining the familiar faces of the staff, Chef Rosie Chavez, and bar manager Roxi, as well as keeping the menu focused on traditional American fare.
"I think the staff is a big part of what makes the restaurant," Keedy says. "They provide continuity with the guests. The guests like the staff and the staff is tied closely to how the guests are taken care of. We want to keep making the experience better and not disrupt things. The staff knows the space, and we could learn a lot from them and they can learn about us."
From Salad Bars to Beach Cruisers
The restaurant is well known for casual food, and the new owners see Jax as Charlevoix's answer to the 21st-century roadhouse. The expansive restaurant includes a sports-style bar, enclosed porch, and an umbrella-covered patio. On the menu, you'll find ribs and steaks, John Cross whitefish and salmon, and a selection of half-pound specialty burgers, along with other standard favorites. The salad bar is a standout as well.
"Every single customer we talked to loved the salad bar," Keedy says. "It's a fun thing and unique in this day and age. People like to mix it up."
Sandwiches include classics like the Reuben and a Chicken Buffalo Wrap and creative options like the Brisket Melt, slow-roasted brisket with swiss cheese, sauteed onions, and garlic pesto and served with au jus; and the Cheezie Carson, made with melted gruyere, cheddar, and muenster cheeses, grilled onions, and rosemary buttered toast.
Menu changes have been minimal. However, both prime rib, slow roasted and lightly smoked, and marinated flank steak are popular selections at City Park Grill, and they have been added to the ranks.
"Otherwise, we like to keep separate menus. That's kind of what we have done at our locations," Keedy says. "We like to keep menus separate, but we use local ingredients as much as we can and create everything from scratch."
The same variety of Wineguys libations, from small-batch brew to classic beers like PBR, from fine wines to craft cocktails, are now available at Jax Northside. Jax debuted a new signature cocktail this fall, the aptly named 6th Green. The cocktail is a blend of raspberry vodka, Blue Curacao, and pineapple, with the mix of colors creating a green hue. The drink is topped with an orange peel and a maraschino cherry.
Another local favorite is the Depot Beach Cruiser, a combination of Captain Morgan Rum, Malibu, and cranberry and pineapple juices. The cocktail is named after Lake Charlevoix Depot Beach, the closest beach to Jax.
The new owners also updated the wine program. "Wine is a big part of what we like to do. We expanded offerings by the glass and by the bottle to cover a lot of ground and bring more options to our guests," Keedy says, noting the emphasis is on New World wines with local offerings among them.
New Touches
One significant operation change occurred during the summer: The Wineguys reintroduced lunch, an option that disappeared during the pandemic. The addition came at the request of a local customer.
"It was a win-win for us," Keedy says. "We hired some additional staff, but it coincided with the decline in seasonal business … we didn't really need to ramp up. We've had good feedback. We've had a lot of people who are working nearby who come in to grab something to go."
The new owners also have also added a happy hour with specials in the bar from 3pm to 6pm Tuesday through Saturday. Those specials include 50 percent off all starters, which range from Herb Sundried Tomato Goat Cheese Dip to Chicken and Waffles served with apple chipotle and maple syrup. The drink specials? A selection of wine and cocktails at $5 and $1 off all beer, bottled or draft.
Another addition came this fall when Jax Northside introduced seasonal nightly features. Tuesdays are for meatloaf with demi-glace, mashed potatoes, and a fresh vegetable. Wednesday is Italian Night, with chicken parmesan and garlic bread. One other Italian entree will be featured as well. Wednesdays also feature trivia night from 7-9pm with Michael Swartz of Myclueis: Trivia. There is no cover change, but donations are encouraged for regional education-focused organizations.
Thursdays you can try the Fajita Fiesta—pick from chicken, shrimp, or steak served with tortillas, rice, refried beans, cheese, and salsa. Fridays will offer a classic Fish Fry featuring homemade clam chowder, along with fried haddock. And last but not least, enjoy Prime Rib Saturdays; the slow-roasted dish is served with fresh veggies and your choice of starch. All specials are $19 save for the prime rib, which is $25.
Find Jax Northside Food & Spirits at 757 Petoskey Avenue (U.S. 31 South) in Charlevoix. (231) 437- 6400; jaxchx.com
Trending
Pronouns 101
My first assignment in an online graduate-level class was to provide information about my background, including my pronoun...
Read More >>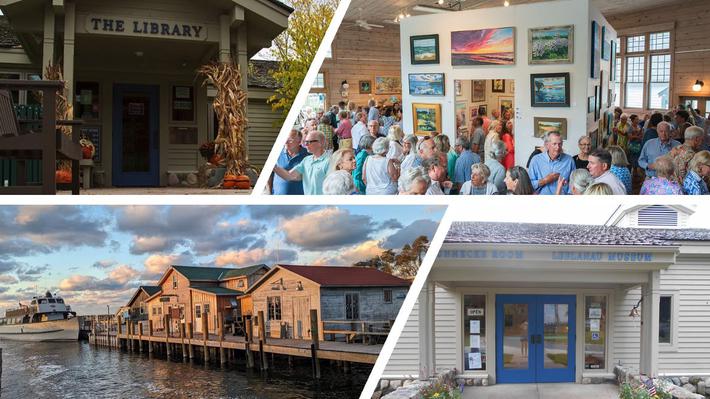 Collaboration Is the Name of the Game
How long does it take to create a cultural center? As few as three years, or as many as 170. Sometimes both. The organiza...
Read More >>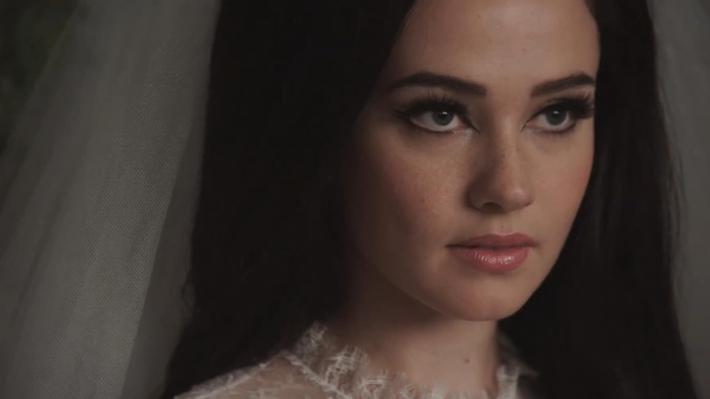 Film Review: Priscilla
While you will certainly be mesmerized by the haunting lead performance from newcomer Cailee Spaeny—and be impressed...
Read More >>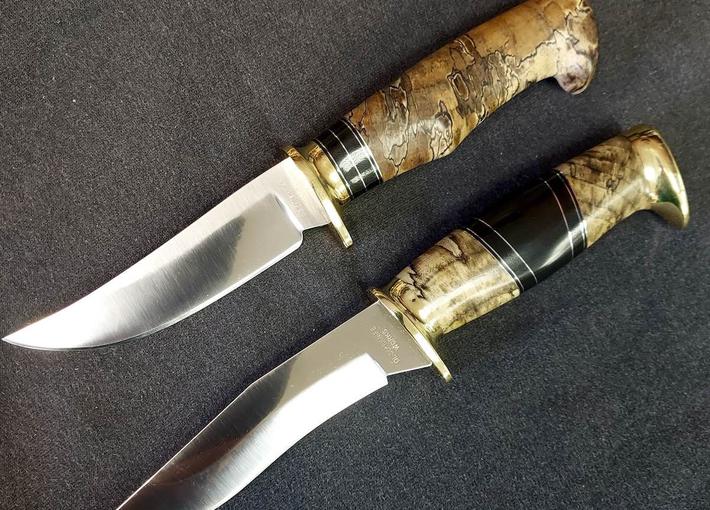 Bespoke Blades
What do you do with a battered ice skate, an old rubber puck, a cracked hockey stick, and a gob of tape? Pitch 'em, ...
Read More >>