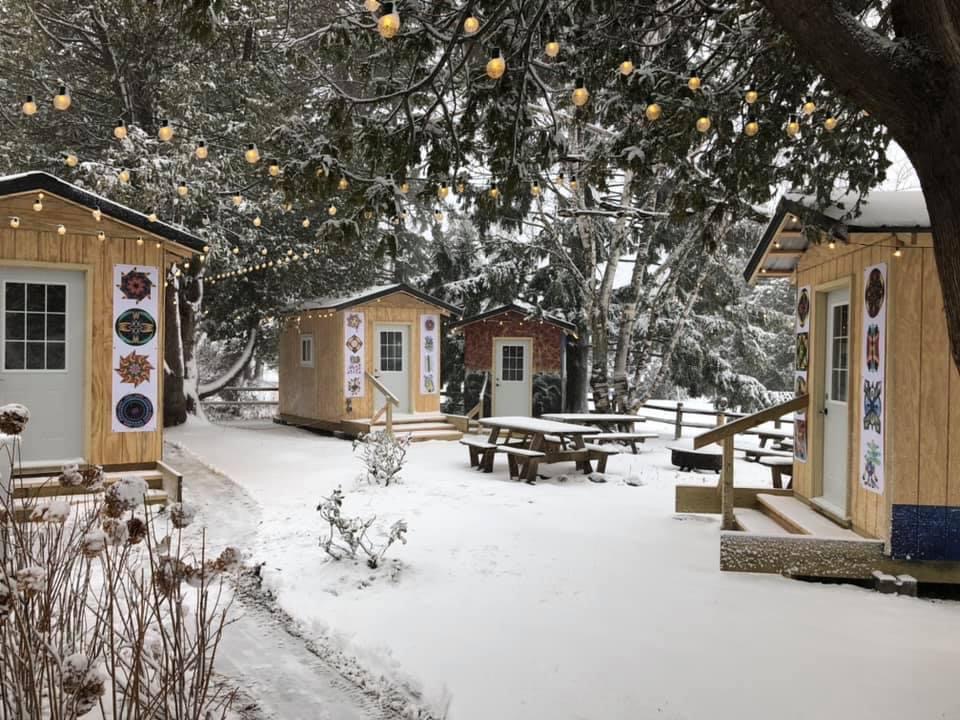 Little Traverse Inn & Gastro Pub
Private (& delicious) dining in your own posh shanty
How often, especially in northwest Michigan, do you have the chance to sample both classic English pub fare and an array of authentic dishes from India — all in one place? Now picture yourself doing just that in a quaint, custom-built, private (and heated) dining "shanty" surrounded by the splendor of a rural winter wonderland …
Graeme Leask, an accomplished chef and engaging raconteur, is originally from Scotland. He and his business and life partner, Michelle Schulte, are the proprietors and gracious hosts of the Little Traverse Inn and Gastro Pub in the heart of Leelanau County, housed in a charming structure dating back to 1890. As with everyone else in the hospitality business, the past several months have been difficult for the couple, but the spirit of community has kept them going. "We're all suffering challenges," said Leask. "COVID is a reality, and we're having to live through it and evolve with it. I'm a social animal — I miss having people in here, in the bar and at the dining tables, and I miss being able to meet and talk and chat and enjoy each other's company. This is a place to gather, and right now, the only way we can gather is separately, which is a very strange sentence to have to say."
When Leask and Schulte heard the forecast that COVID-19 would see a new surge by late fall and winter, they decided to be proactive in preparing for that inevitability. They were already doing takeout, but to accommodate onsite dining, they set about building five "ice shanties," as they call them (though that description hardly does them justice) on the large patio that is the restaurant's beer garden in summer. "We built them ourselves, from scratch, with the help of friends and neighbors who volunteered their time," said Leask. Their exteriors have since been adorned with colorful artwork from local artists.
The shanties are outfitted with tables for six — one family, household, or social bubble. Leask and his staff have a very strict sanitation policy for them, wiping down every surface in each one before and after use, and running an ozonator between seatings to sanitize the air as well as the surfaces, all of which takes about 30 minutes. To allow time for that cleaning process and accommodate more guests, reservations for the shanties are limited to 1½ hours, but there's no charge to use them. Although a deposit is required, 100 percent of it goes toward the guests' dinner costs. As Leask explained, "We only do the deposit because the last thing you need when you've only got five tables is somebody not showing up."
Leask said he has always loved to cook. "I started working in restaurants as a 17-year-old, washing dishes at an Indian place in Scotland. But the chef there, a fellow from Kashmir named Mohammed Bashir, realized that I had a passion for cooking, and within a couple of weeks, he had me helping him do all the prep, and then moved me up to the line. He taught me so much — he was a great chef and a great mentor." Later, after other restaurant stints, Leask got the opportunity to train in Bologna, Italy, and Lyon, France.
Yet as much as cooking appealed to him, he ended up doing something completely different in his first career, which had him traveling and living internationally as a market researcher for a British textile firm. Grand Rapids was one of his markets, and he eventually ended up moving there and staying for about 20 years, switching gears back to the culinary field to open a catering business. He also started (and still operates, though it is currently on hold) a travel company specializing in "destination immersion" tours for small groups to the United Kingdom and other destinations.
Annual personal vacations from his Grand Rapids base had him staying much closer to home, however. He was drawn to the lure of northern Michigan, especially the Leelanau Peninsula. "I fell in love with the area — it reminds me a lot of my home in Scotland, although maybe not quite so rugged," said Leask. "And I love the culture of the County — the people are phenomenal, and there's a great sense of community, which is very important to me. Eventually, I began looking for the right place to open a restaurant here." Then, on Christmas Eve in 2010, he got a call from his good friend Guillaume Hazaël-Massieux (chef-owner of French restaurant La Becasse in nearby Burdickville), telling him that the Little Traverse Inn was on the market. "I came up here the first weekend in January to check it out, signed the papers, and we remodeled and opened up in June 2011."
Despite the logistics involved with service, the Gastro Pub's full menu is offered in the outdoor shanties. And that menu, which Leask dubs "an amalgamation of comfort foods from around the world," is delightfully diverse, although the main influences come from the United Kingdom, Ireland, and India. Popular classics from the U.K. include Scotch Eggs (house-made bulk "banger" sausage wrapped around a hard-boiled, farm-fresh egg, panko-crusted, flash-fried and served on a bed of greens with house-made whisky-mustard sauce on the side), Shepherd's Pie (tender lamb and hearty vegetables topped with roasted garlic and leek mashed potatoes), and Beef Wellington (prime-cut tenderloin coated with mushroom duxelles, wrapped in filo pastry, roasted to perfection and served with complementary sides).
A few of Leask's Indian specialties include Onion Bhaji (spicy, crispy onion fritters], Lamb Vindaloo (tender lamb cooked in a zesty potato stew made with eighteen different spices, served with naan bread and pickled vegetables), and Byriani (a savory Kashmiri stew of spinach, onion, and tomatoes, a fusion of aromatic spices and dried Kashmiri chile, with the option of adding chicken or shrimp). "It's just so much fun cooking Indian food," said Leask. And guests obviously enjoy eating it, too — the best-selling dish on the whole menu is Chicken Tikka Masala (a creamy, smoky, onion, garlic, ginger, and tomato-based dish with coconut milk).
Beyond British and Indian fare, the Gastro Pub also does takes on American fare, such as Fried Chicken (served with mashed potatoes and scalloped corn), Mac & Cheese (house-made cheese sauce, ham, pickled jalapeños, and panko bread crumbs, served with minted peas), and prize-winning burgers, the customer favorite of which is the Chutney Burger (stuffed with jalapeños, cheddar and bacon, topped with Canadian bacon, Swiss cheese, and jalapeño mayo, and served with and Leask's legendary apple and tomato chutney).
"We get all of our produce locally in the summer — I work with a lot of area farmers," said Leask. "The variety and quality of what you can get here is awesome. We try to source as much local fish as possible, too. But I only buy Scottish salmon – I'm a wee bit particular there." Two dishes featuring it on the menu are the Salmon Bridie (salmon baked in a filo crust with cream dill sauce) and Grilled Salmon Salad (with seasonal vegetables, goat cheese, and tomatoes, drizzled with citrus vinaigrette].
The restaurant's dessert menu offerings are, in a word, decadent. At the top of the list: Sticky Toffee Pudding (warm sponge cake with finely chopped dates, toffee sauce, and house-made custard). Occasionally, Leask also prepares a favorite Scottish dessert called Cranachan (heavy whipping cream blended with honey and whisky, layered with house-made granola and raspberry puree, and topped with fresh raspberries shaved dark chocolate).
The entire beverage menu is also available to diners in the shanties. It goes without saying that good whisky (the preferred spelling in Scotland) is to be had here, considering Leask's Scottish heritage. He also proudly announces that his private collection of scotch numbers nearly 40 different brands. His daughter Gemma, the restaurant's bartender, boasts her own personal collection of an equal number of different gins. "She's a real aficionado," said Leask. "There are unique botanicals in so many gins nowadays, and she has created several specialty cocktails to highlight that." And it seems that expertise in the realm of beverages runs in the family: Leask's other daughter, Ciaran, is a brewer at Pike 51 in Hudsonville.
Among its own beer selections, the Gastro Pub offers cask-conditioned ales — an old traditional method of serving beer on tap via a special vacuum pump. "What makes it different from a regular tap is that there is no nitrogen or CO2 infused into the beer," said Leask. "That gives it a much creamier, smoother texture, and the flavor profiles of cask-conditioned beer are more well-rounded." The focus is on local breweries for those three tap handles, but the featured beers change often. The only tap handles that never change, Leask said, are those serving cider from Suttons Bay's Tandem Ciders, or Guinness.
"We love Leelanau County, and we can't wait to be the community's 'living room' again," said Leask. "But for the time being, we'll be the community's fire pit and shanty garden, and look forward to when we can be together with our friends and neighbors again the way we used to."
We are a very casual, come-as-you-are environment. We want to provide all of our guests with a high-quality dining experience without all of the pomp and circumstance. Even when inside dining is possible again, you're not going to find a white tablecloth here. We want people to feel relaxed and welcome. With the holidays behind us now, I'm sure things will slow down a little bit, but we're here, we're still doing takeout, we're keeping the shanties open, and that has allowed me to get at least three people back to work. We have a core group of 10 to 12 folks that I try to keep working year-round — they're part of the family. We're a tight-knit group and they are very important to me — I want to look after them."
Leask said he and Schulte feels very fortunate to have a lot of local customer support. "Our thanks go out to everyone who's been helping us keep the lights on. We have folks who come by once or even a couple of times a week, and that's the joy of doing what we do. I mean, I love to cook, but just as much, I love to entertain. One of my favorite quotes is from J.R.R. Tolkien: 'If more of us valued food and cheer and song above hoarded gold, it would be a merrier world.'"
Little Traverse Inn and Gastro Pub is located at 149 East Harbor Hwy in Maple City. To order carryout or reserve a shanty, call (231) 228-2560, visit littletraverseinn.com, or check out their Facebook page. Winter Hours: Monday, Wednesday, Thursday and Friday 3pm – 9pm, Saturday 12pm – 9pm, Sunday 12pm – 8:30pm, closed Tuesday.
Trending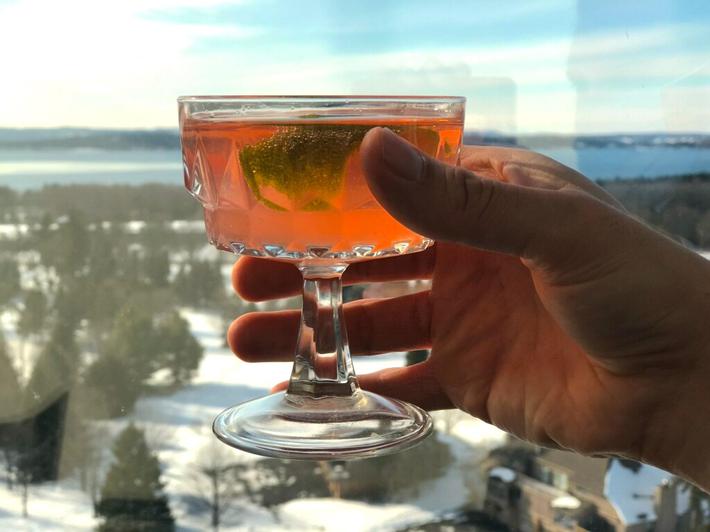 Tiny Pink Bubbles
Hey, ladies, do we have the pink drink for you: Aerie's Tiny Pink Bubbles. With a taste and body as delicious as its...
Read More >>
The Power of Our Example
Every new president faces a daunting array of problems, but 2021 will go down in the history books: Our country is under s...
Read More >>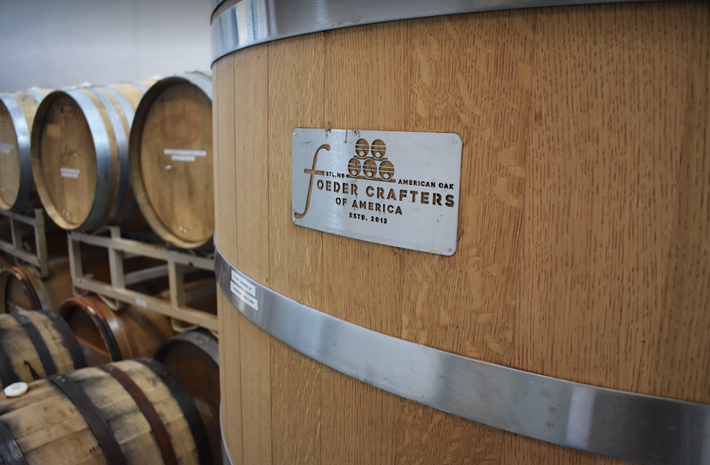 Getting Wild with the Foeder
Drinkers with a discerning eye may have noticed a couple interesting-looking wooden containers in the back of Traverse Cit...
Read More >>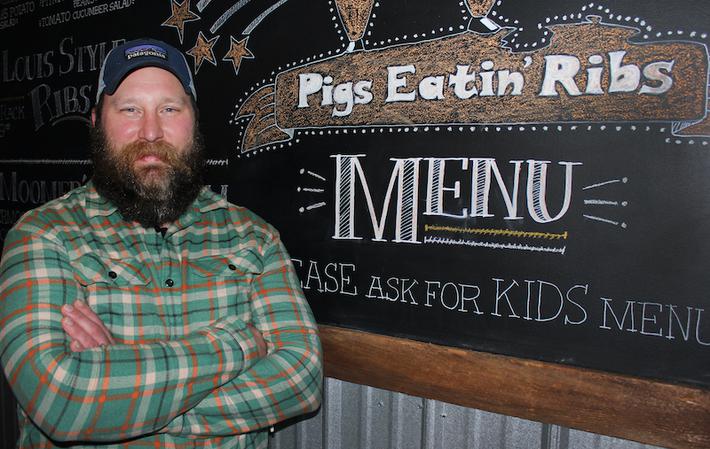 Charlevoix's Pigs Eatin' Ribs
By 2008, Charlevoix Chef Adam Kline had seen and tasted enough. The Northern Michigan food scene had stagnated, he said, i...
Read More >>
↑