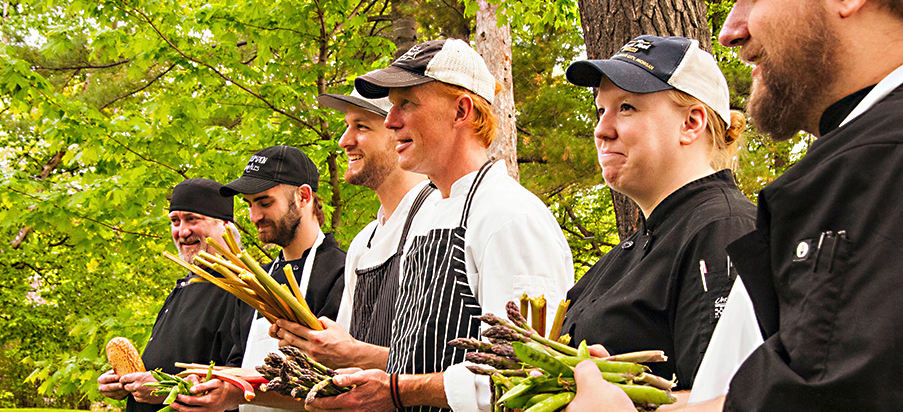 Mission Table
Of-the-moment cuisine on idyllic Old Mission Peninsula
Rising up and out from Traverse City for 18 miles between East Bay and West Bay, Old Mission Peninsula offers breathtaking blue water vistas that stretch for miles in each direction. But the landscape surrounded by the water is equally noteworthy: a unique microclimate with a bucolic patchwork of fields, farms, orchards, and vineyards whose bounty is highly prized at local tables — among them, Mission Table restaurant, located about halfway to the tip of the peninsula overlooking scenic Bowers Harbor.

"At the risk of sounding overly dramatic, there is something special about the property we sit on that drives our cuisine," said Paul Olson, managing partner of Mission Table. "This is an incredibly magical setting — peaceful, relaxed and so naturally beautiful — a place where we want people to come and enjoy wonderfully fresh local fare in a comfortable atmosphere with an amazing view and be taken care of by our restaurant family."

THE CALL OF THE NORTH
Olsongrew up in the suburbs of Detroit and started working in restaurants as a 16-year-old. By the time he graduated from Michigan State University, he knew that he wanted to be a chef and enrolled in the Culinary Institute of America (CIA) in Hyde Park, New York. His CIA degree led to the further honing of his culinary skills in various French restaurants on the East Coast, where he and his wife Barbara stayed for 18 years. But when a job offer in Michigan presented itself, they jumped at the chance to return to their roots.

In addition to an intriguing new career opportunity, there were several other places and things pulling the couple back to northern Michigan, none of which will surprise anyone who lives in or visits this area: Sleeping Bear Dunes, the bays, the wineries, the farms, the annual Detroit Red Wings training camp, the Great Lakes Culinary Institute, sandwiches from the Leland's Village Cheese Shanty and Traverse City's Chef's In, burgers from Art's Tavern in Glen Arbor … .
"All that and more made for a great place to be and to raise our kids. The list is endless," said Olson. "The bottom line is that not many people can say they live 30 minutes from one of their favorite places on earth where they used to vacation every summer — in our case, Glen Lake. Old Mission Peninsula is a beautiful place, too, and we are lucky to have such an incredibly scenic commute to work. There are even two bald eagles that nest nearby and often swoop overhead. I certainly didn't see any eagles riding the subways in Manhattan!"

Olson started as the chef of the Bowers Harbor Inn and the Bowery (the former names of what are now Mission Table and Jolly Pumpkin) in April 2008.
"The most appealing thing to me when I took the job was knowing that both establishments would be renovated and updated, a brewery and party space would be constructed, and I would be able to help develop the new concepts," he said. "The Bowers Harbor Inn especially needed to be transformed from the white-linen/come-once-a-year/special-occasion place to something more current, and Mission Table was the result. As it turned out, our timing was perfect, as we caught Traverse City in a major growth phase."
Mission Table and Jolly Pumpkin share the same building, but are totally different restaurants, with separate entrances and separate kitchens, but Olson developed the menus for both establishments. Barbara Olson serves as events director for the entire property.

SPRINGING INTO SUMMER
Mission Table's menu changes with the seasons. As of this writing, the spring menu was still in effect, offering such delicacies as house-made fettucine (with morel cream sauce,) salt-roasted beet salad (with greens, maple yogurt, walnuts and red wine vinaigrette), flash-fried cauliflower (with lemon-garlic aioli and jalapeno vinaigrette), an 8-ounce American Wagyu beef burger (with raclette cheese, bacon jam, greens, turmeric aioli, sliced tomato and truffle fries), lake trout (with asparagus-potato hash and ramp green butter cream), and vegetarian lasagna (with acorn squash, sweet potato, basil bechamel, goat cheese, fromage blanc and mozzarella).

The summer menu is scheduled to begin after the solstice on June 21, but — as in every season — it will only be written and tweaked as various ingredients become available. Olson did hint that most of the proteins stay the same at this time of year, while sides will change as new produce comes into season. A new brunch menu will be introduced, too, and it will also reflect the increasingly varied produce selections, with a few lighter items than those offered on the spring menu.

"Over the years we have been lucky to develop unique relationships with many of our local suppliers, like Ed and Cindy John at Treaty Fish Company in Peshawbestown — from lake to plate within 24 hours, and sometimes the same day," said Olson. Select farmers, both on Old Mission and around the region, provide produce, greens, and herbs for the restaurant, among them Norconk Farm, Loma Farm, Nicholas Farm, Werp Farms and Shangri-La Too Farm. Mission Table also grows several types of herbs and greens, chicken of the woods mushrooms, and Cayuga, Foch, and Baco Noir grapes on its own property.

Mission Table's conscientious approach to food doesn't stop with the procuring of ingredients from nearby. A strong sustainability and environmental awareness aspect is also at the core of its operation. "We do as much as possible to not harm the environment," said Olson. "We have a composting program with one local farmer who takes our vegetable scraps to feed his pigs, and another farmer uses our spent grain from the brewery for feed for his livestock. We also have someone who collects our spent fryer oil and converts it into biodiesel fuel."

NEW SEASONS AHEAD
Another career step is ahead for Olson; he's gradually transitioning away from the day-to-day operations of Mission Table to work with its management group, Mission Restaurant Group, as director of culinary development. "My new role involves supporting the chefs at our 15 current properties and assisting in the opening of future projects, which over the next two years will include restaurants in Detroit, Dearborn, East Lansing, Ypsilanti, and Bay City. Here at Mission Table, the torch will be carried by our longtime general manager Jim Demarsh and our chef de cuisine, Adam Raupp, who already capably run the show," he said. Just as with his seasonal cooking, this is the next season in Olson's culinary life.

And speaking of seasons — now and throughout the summer, weather permitting, guests can enjoy lunch from Jolly Pumpkin or dinner from Mission Table on the latter's spacious deck.

Mission Table is located at 13512 Peninsula Dr. in Traverse City. Summer hours for the restaurant are 5pm to 9pm seven days a week, with a full dinner menu daily, plus a three-course chef's tasting menu Sunday through Thursday. Guests are welcome to bring in wine to enjoy with their meal for a $15 corkage fee. Brunch is served from 10:30am to 3:00pm on Sundays.The tasting room is open from 11am to 5pm daily during the season and, in the off season, weekends only.(231) 223-4222, www.missiontable.net.

THAT'S THE SPIRIT!
Adjacent to the main dining area at Mission Table, an attractive tasting room offers samples and sales of beers and spirits from the on-site microbrewery and distillery that are part of Jolly Pumpkin's operation. Strangely enough, legend has it that another type of spirit also makes an occasional appearance inside the old building — the ghost of Genevive Stickney, whose husband, Chicago lumber baron Charles Stickney, originally built the structure in the late 19thcentury as a summer home. "Yes, the legend is true," said Olson. "The building is haunted. Nothing crazy, but some things have happened that I can't explain."



Trending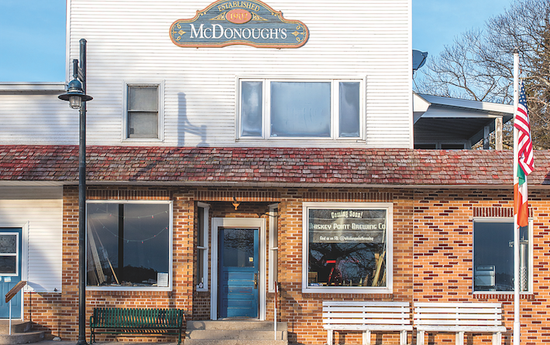 Welcome to Michigan's Most Remote Brewery
After years of planning and honing his beer-making skills, this spring, Patrick McGinnity plans to open Beaver Island&rsqu...
Read More >>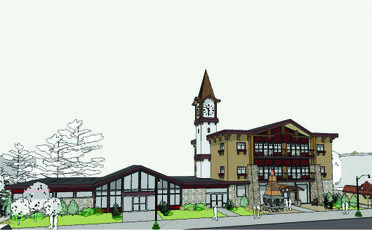 Gaylord: A boomtown Up North
Gaylord native Gary Scott had moved to Indiana, where he and some partners started a business to invest in distressed prop...
Read More >>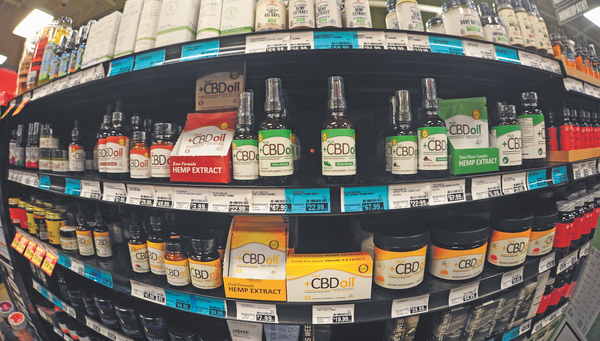 CBD Laws: Dazed and Confused
The sign outside of Family Video in Kalkaska lets drivers know the store has more than just movies. The sign reads: &...
Read More >>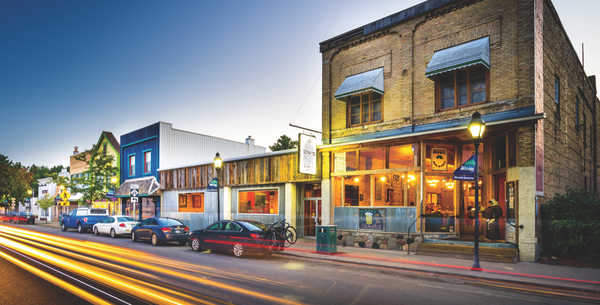 Small Up North Towns on the Rise
Spotlight on Bellaire (pictured)Seems Traverse City isn't the only place in the region making those "Best...
Read More >>
↑