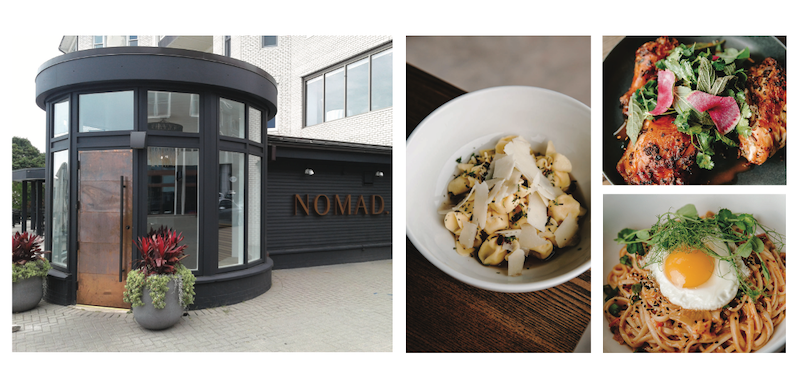 No More Wandering for This NOMAD.
Bay Harbor restaurateurs create small plates destination
The Morrison family is on a winning streak. Their game? Some of the best food in the North, from waffles and omelets to ceviche and filets.
These are the folks who brought you Maple + Batter—the reimagining of the beloved Original Pancake House—just last year. Twins Philip and Bryant Morrison and their wives Laura and Jamie opened their new venue, NOMAD., on May 11, with the same assurance, laser-like attention to detail, and speed (a two-month turnaround) as with their first effort.
Not surprisingly, NOMAD. has quickly become the area's go-to spot for elevated small plates and entrees. Their space on Bay Harbor's Front St., redone with help from Chatham House Interiors, is stunning: A copper-clad front door (unlacquered to develop its patina over time) opens to a compact glass-fronted rotunda, with a chandelier of cascading wooden beads above and white marble tiles below. Inside, stone and metal play against flat black walls, dimensional wood slat panels, and polished concrete floors.
The overall feel is bright and airy, thanks to the industrial style windows flooding the space with light. (In warmer months, the accordion window and the glass garage door open to the harbor breeze, allowing the ambience to be both seen and felt.) The dining area seats 90+ at the bar, tables, and banquettes, with seating for an additional 120 on the outside patio.
Mix & Match
We humans appreciate the ritual of excellent food shared at the communal table, and that's exactly what NOMAD. does. Their menu—small plates, snacks, and entrees—is meant to be sampled and shared.
Executive Chef Eric Basta says that a table of four to six patrons will order between eight and 10 different small plates and snacks, and/or a selection of sharable entrees. Dishes arrive at the table as they are ready, and the speed of delivery reflects the deliberate pace in the kitchen. "We get really busy really fast," he adds.
The choices are refined and inventive, yet still accessible, with a variety of both menu items and price points. For example, enjoy Jalapeño Cheese Biscuits with Maple Butter for just $10 or indulge in the NOMAD. Burger, a Wagyu patty with seared foie gras, bacon jam, and arugula, served with a bottle of the coveted Celani Ardore Cabernet Sauvignon for $300. (The serious foodie/oenophile will completely get this idea.) Or enjoy the burger by itself for $48. The additional cost is for the wine, which, by the way, has sold out in the state, thanks in part to this divine pairing at NOMAD.
Chef Eric says that Bao Buns are "the biggest seller, by far." And one can see why: four Wagyu Beef Tsukune Sliders are paired with hoisin, miso mustard, pickled onions, and mustard greens. Another favorite is the miso marinated Black Cod with baby bok choy, sticky rice, chili flakes, and pickled ginger. Or indulge in the 10 oz. center cut Prime Filet with cognac truffle mushroom sauce, chives, fresh herbs, and wild mushrooms.
For an accompaniment, travel to the other side of the menu and add some Smashed Potatoes with fresh herbs, crème fraiche, and caviar. Another favorite is the chef's "adult version" of buttered noodles: Brown Butter Agnolotti stuffed with ricotta and tossed in brown butter, pepitas, pecorino romano, and fresh herbs.
Chef Eric rounded out the selections with his grandmother's recipe for Spicy Sausage Rigatoni in a smoothly blended sauce of San Marzano tomatoes, herbs, ground veal, spicy Italian sausage, and whipped ricotta. (Note: about half of the current menu will change on October 1 to reflect the new season.)
Dessert & Wine
To finish the experience, try the Almond Cherry Tart, Key Lime Pie, Belgium Chocolate Mousse Cake (because ganache should be its own food group), or Cheesecake Tacos. Pastry and Sous Chef Hans Jessen has spent decades in the role of executive chef for both independent venues and major hoteliers, and his curated pastries, gelatos, and sorbets will always be house made. No matter which you choose, a serving of French press coffee pairs beautifully.
And speaking of drinks, NOMAD. has a full bar and an evolving wine list, reflecting what's new and what complements the menus. Patrons can also choose from a small selection of seasonal crafted cocktails.
"We try to keep the crafted drinks to three or four ingredients," explains bar manager Mike Krysmalski, "[because] this is a high volume bar."
Bonus for wine lovers: Emulating a long-running urban trend is a bank of personal wine lockers at the restaurant, available by subscription, which are disguised behind a grid of backlit semi-opaque glass. Each holds 12 bottles; owners can bring their own vintages or buy at a discount from NOMAD.
Tried & True
In designing this menu, Chef Eric and the NOMAD. team tested 50 dishes over a two-month period, narrowing the list to the current 28. Their choices reflect the group's affinity for global influences, referencing American, French, Asian, and Italian cuisine. "[We] are all foodies, and we all travel extensively," he explains.
Additions to the menu will come from careful testing of trends and ingredients and will honor the changes in season in the spirit of the true nomad.
"We will keep those key items that people really love," Philip Morrison says, "and then shift sections of the menu and swap items in and out. For example, we might sample 14 dishes, and then choose eight to put on the menu."
A promising dish that didn't make the cut might appear as a special, so patrons will have good reason to keep an eye on what's happening at NOMAD. In 2023, the restaurant will add a pizza oven for artisanal pies, and the Morrisons also hope to add lunch to the schedule.
Reservations are strongly suggested and are accepted through OpenTable. Visit nomadbayharbor.com or call (231) 881-9090. 795 Front St, Bay Harbor.
Trending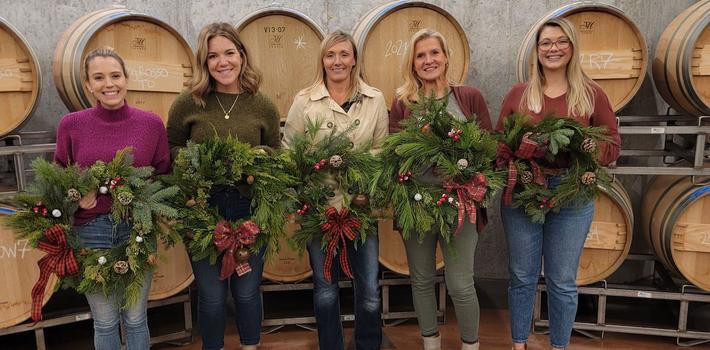 Wine & Wreaths at Mari
If you like wine and wreaths, you'll want to head to Mari Vineyards on Old Mission Peninsula. A 90-minute wreath-mak...
Read More >>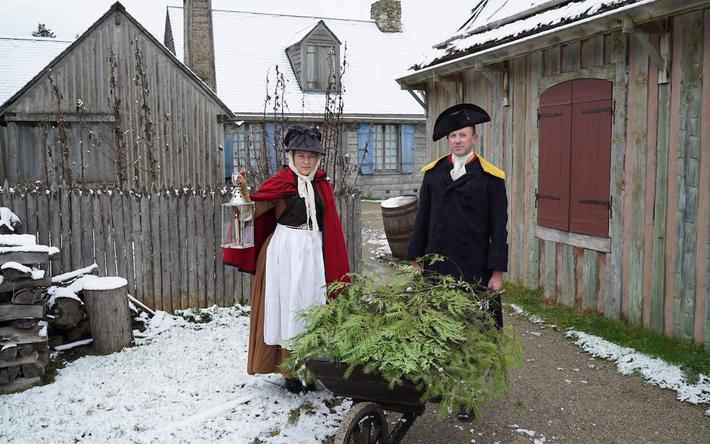 A Colonial Christmas
Christmas is coming to Colonial Michilimackinac in Mackinaw City on Dec. 9. Storytellers will bring to life the stories of...
Read More >>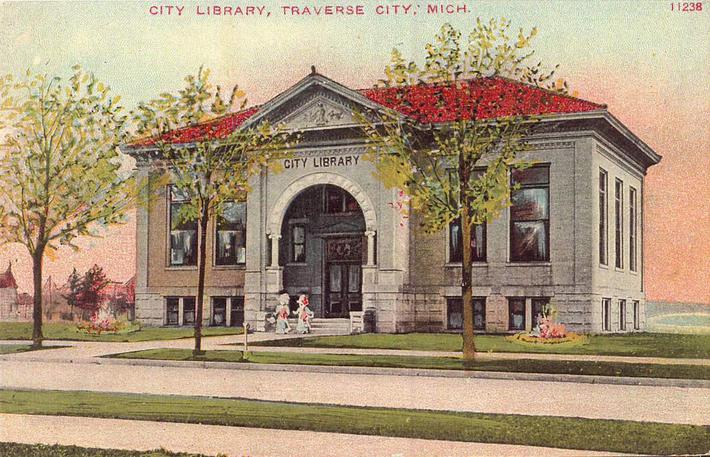 A Literary History of TADL
Next year, the Traverse Area District Library (TADL) will celebrate 155 years of lending books and knowledge in northern M...
Read More >>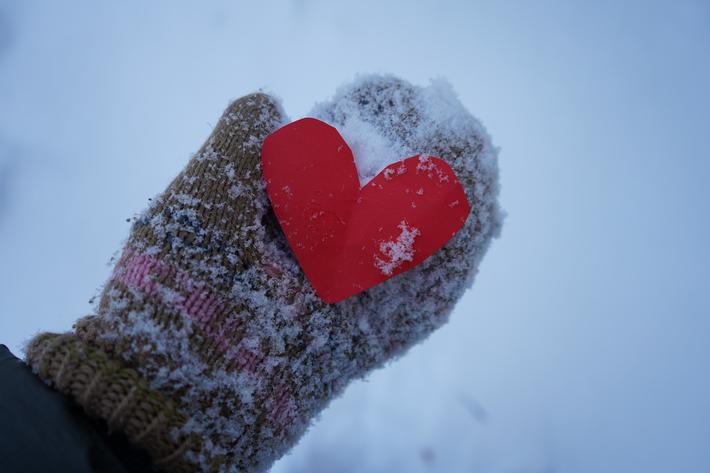 Merry Mittens
The Mitten Real Estate Group of Traverse City is helping make the season bright by kicking off their first Mitten Drive, w...
Read More >>