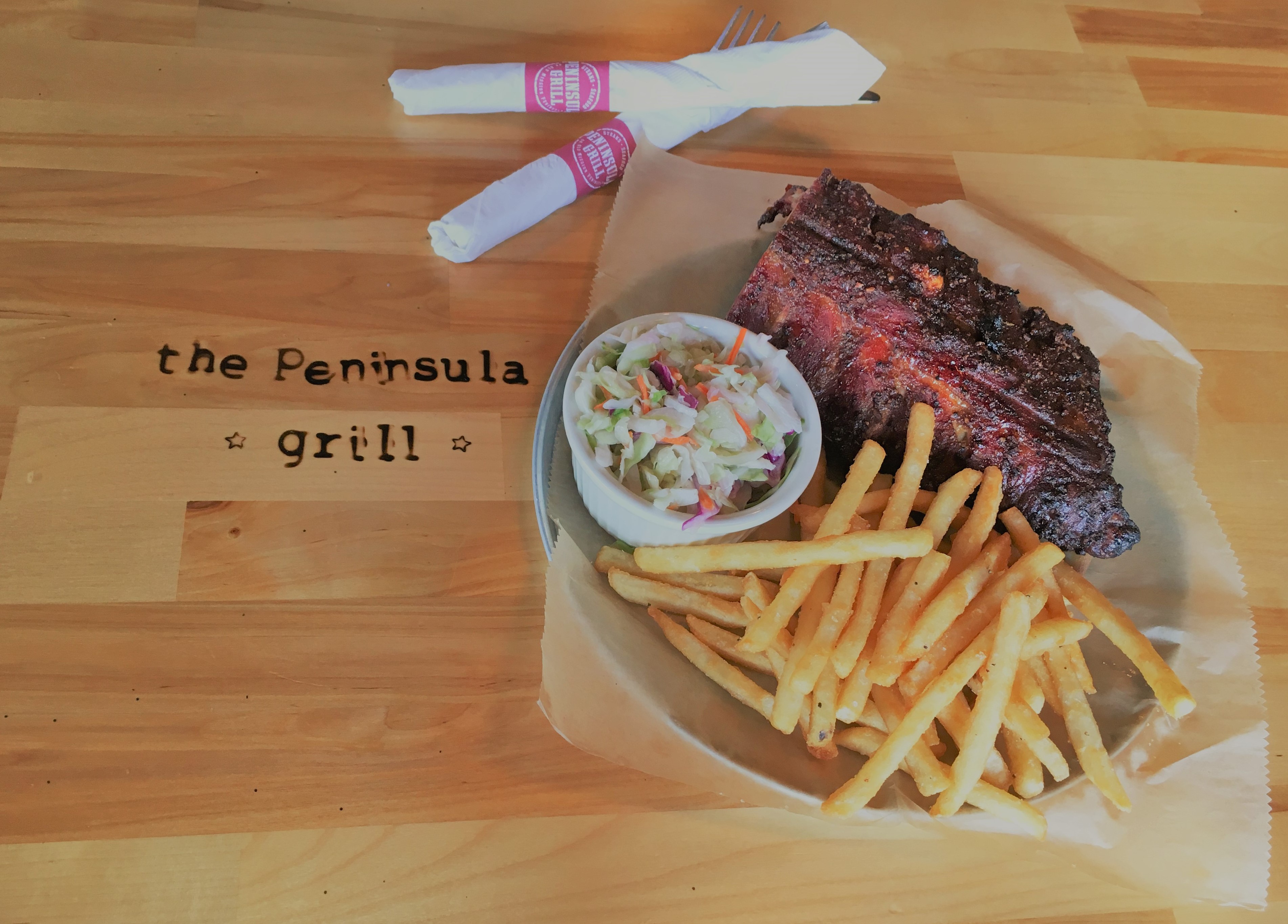 Old Mission's Peninsula Grill
A food, wine, and deli destination — and bartending institution — in the middle of Traverse City's prettiest wine trail.
Located almost smack-dab in the middle of Traverse City's 19-mile-long Old Mission Peninsula, the Peninsula Grill can fairly be described as "off the beaten path" for the majority of Traverse City residents — let alone for those around northern Michigan. From the base of Old Mission, Peninsula Grill is a 10-mile drive north along M-37. According to co-owner Jennifer Davies, though — who runs the restaurant with her husband, Mark Davies — the drive has come to be less of an obstacle for customers over time.

"In the early years, it was hard to get people out here," Davies said. "Even living where we were at the time [near the base of Old Mission], everyone would just go to town for dinner. They wouldn't think to make that northward turn and head up the Peninsula."

That was 2001, when Davies and her husband had left their corporate jobs in Detroit to open a restaurant Up North. The establishment they purchased, the site's predecessor, was called Molly's By Golly, but they rebranded it Peninsula Grill just in time for a Memorial Day Weekend grand opening — perfect timing, considering the number of summer tourists who make the drive up Old Mission Peninsula to see the views and find themselves hungry along the way.

The off-season, however, was tougher. Back then, the Peninsula — and nearby Traverse City, for that matter — had far fewer residents and fewer year-round walk-in businesses to attract tourists.

A RISING TIDE
A few things have changed since. First, major housing development activity on Old Mission has brought a substantial piece of Traverse City's population considerably closer to Peninsula Grill's front door. But even more significant, Davies says, has been the explosion of wineries on the peninsula. As Old Mission Peninsula has morphed into a destination for wine tours and bachelorette parties, Peninsula Grill has ramped up its day-to-day traffic, too.

"Our location, being in the middle of the wineries — which have tripled in number since we got here — has been really lucky," Davies said. "A lot of the wineries are serving food now, small plates and things like that, so they compete, but they also don't compete in terms of us being a full-service restaurant."

The result, Davies says, is that many wine enthusiasts who make the pilgrimage to Old Mission Peninsula will stop by Peninsula Grill when they inevitably need a bit to eat. The peninsula's rising-tide-lifts-all-boats growth isn't an accident, either. On the contrary, Davies says that the peninsula has become its own mini wine and food scene, where all the proprietors know one another and actively work to funnel customers each other's way.

Peninsula Grill has always done that, at least until they couldn't anymore. "We used to be able to feature every local winery on our menu," Davies said. "Now, we definitely can't, just because there are so many. But I still feel that the restaurants and the wineries out here all work together and help each other. We send people to all the wineries, and the wineries send people to us, so it's a nice working relationship we all have out here."

While Old Mission's growing stock as a wine and food destination has certainly changed some things for Peninsula Grill, though, other things have stayed the same. Longstanding customer favorites — like the cherry chicken salad, the chicken penne pepper-jack soup, and the fried pita chips served with artichoke dip — have stuck around despite the restaurant's twice-annual menu refreshes. The signature beer — the "Motorboater," an IPA brewed in partnership with Right Brain Brewery — remains on tap. But perhaps most significantly, Johnny Rokos is still tending bar.

ON THE ROCKS? SEE ROKOS.
Davies says that Rokos is his own kind of institution among Peninsula Grill regulars. He's worked at the restaurant for 25 years, dating back to its Molly's By Golly days. When the Davies bought the restaurant, Rokos decided to stay on.

"We like to joke and say that Johnny came with the business," Davies said. "It's like an extension of his living room here. He loves to come to work. And if he doesn't remember your name, he'll definitely remember what you drink."

Rokos hearkens back to a different era of bartender, one where the job was just as much about forging long-lasting customer relationships as it was about mixing quality cocktails and hustling to get patrons their drinks quickly. He's an X-factor that helps Peninsula Grill continue to thrive in the off-season, even when the winery traffic dies down for the year.

"This is a local watering hole," Rokos said. "And even with as good as the restaurant and the food here are, they're made even better by the people we have as regulars here. It can be middle of winter, and the bar will be full."

If you do happen to find yourself at the Grill as the days get shorter and the temperatures outside get colder, Rokos certainly has the drink for you. Called the Johnny Java, the coffee-themed cocktail is Rokos' own invention. It's a mix of coffee, Bacardi 151 rum, Kahlua, and Godiva chocolate liqueur, topped with whipped cream and served in a sugar-rimmed glass. Rokos sets the 151 on fire as part of the preparation process, making it just as fun to watch him craft the cocktail as it is to drink it. It's become a signature of the Peninsula Grill bar, in part because patrons will see the pyrotechnics from the dining room and request their own Johnny Java out of pure curiosity.

"It can be 90 degrees outside, and people will still order that drink," Rokos said.

Bad Dog Deli
Peninsula Picnic HQ
In the same building as Peninsula Grill is another one of Old Mission's most beloved culinary destinations: Bad Dog Deli. Known for its made-to-order sandwiches, which come stacked with premium ingredients like Boar's Head deli meats and out-of-this-world chipotle mayo, Bad Dog Deli has established its own following over the years.

In the early days, Davies says that the deli "wasn't the deli." In fact, it wasn't much of anything. When she and her husband bought the building, they weren't sure how to use the space.

"It was just this odd extension of the building," Davies said. "There were arcade games, and I think we maybe had a pool table, but that was about it. A lot of kids would go back there to play, or we'd host private parties, but it was underutilized."

Eventually, the idea for the deli came to mind. Since then, Bad Dog has been serving the carryout dining niche in the Old Mission food scene. While customers can dine in if they choose, Manager Ardy Huey notes that most Bad Dog Deli patrons treat it as an express dining option. They call in their sandwich orders and pick them up 15 or 20 minutes later, usually taking them to go. It's an especially popular option in the summertime, when customers are looking for an easy lunch to take to the beach or out on the boat.

It's not just sandwiches, either. Bad Dog also serves homemade pizzas and sells beer, wine, and other beverages to go. It's the perfect spot to stock up on supplies for an impromptu picnic.


Trending
Moving Dirt And Stone
This year is taking a toll on me. I'm more sluggish. It's harder to get out of bed each morning. I have muscle pain that I...
Read More >>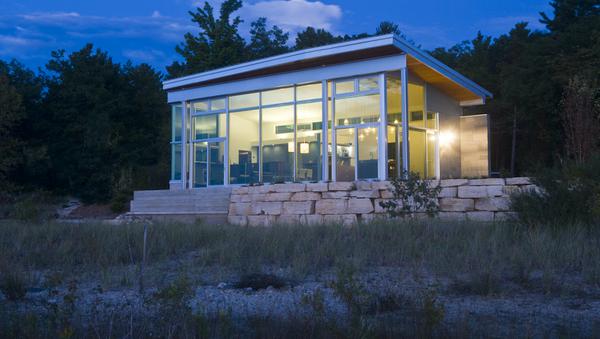 Northern Michigan Modern
From rustic log cabins to Victorian-style homes all the way to more traditional suburban-like developments, northern Michi...
Read More >>
Warts And All
Project 1619, a product of New York Times Magazine writers, is a potential public school curriculum that attempts to redef...
Read More >>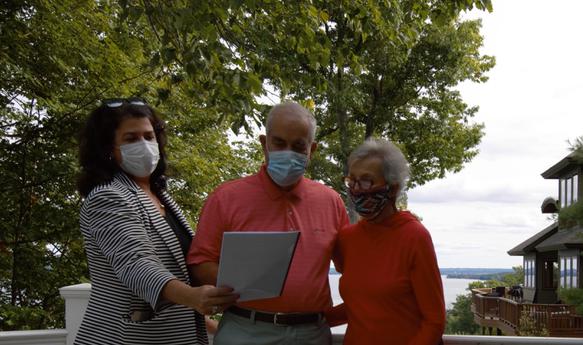 Pandemic Brings Even More Heat To A White-Hot Real Estate Market
There's a mad dash going on in real estate: companies bailing on their massive corporate office buildings, families ...
Read More >>
↑